Published on
Amazing accomplishments have occurred in meteorology over time, one accomplishment being the art of forecasting severe weather and another being the ability to forecast for many days in advance.
Usually it is very difficult to forecast severe weather more than a day in advance due to atmospheric unknowns and variabilities. Even with that as a known factor, many forecasters and the Storm Prediction Center in April of 2012 knew a big event was possible and warned of the development up to a week in advance!
As days got closer to the big event, there were severe weather threats on Thursday April 12 that we attempted to chase. Thursday, April 12 I got up early and decided I better chase this next series of days and left early to drive from Kansas City to Wichita. We all drove together and went to Garden City for what we call a "blue sky bust," a day where severe weather is possible but not one thunderstorm develops. The cap held too strong but looking back it was likely the trough in the jet stream was still just a bit too far to the west.
On April 13, the Forever Chasing team went to Central Oklahoma and encountered a messy storm chase. After watching storms develop on the south side of the Oklahoma City metro and dealing with some roads that were wet and about getting stuck, we tried to get in position of a tornado that started entering the city of Norman. It was tough to see but we did go where the storm did hit later and saw damage to windows, minor roof damage and to trees and power lines.
As we drove back to Wichita that evening, the focus of the weather world was still on Saturday the 14th instead of the tornado that just hit Norman. It was as if everyone knew something bad was on the horizon.
That evening, thunderstorms developed and dumped rain over the area we expected to have a high probability of severe weather the next day. Often, thunderstorms lingering around in the overnight hours and into the morning hours can reduce the severe weather threat of what is perceived to be a big day due to less instability and a more worked over atmosphere.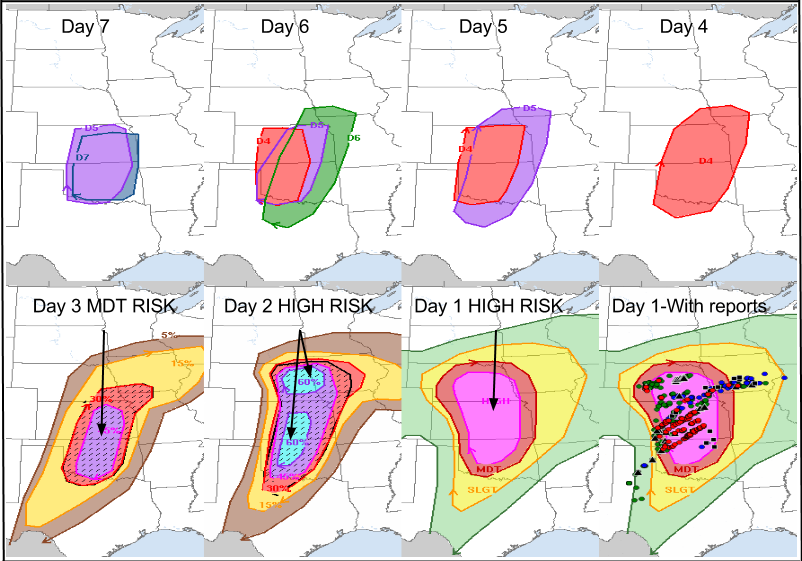 Storms continued to fire and around 10 am CDT, severe thunderstorm and tornado warnings were ongoing in Western Kansas. Again, storms firing this early in the day may signify a reduction in the severe weather risk later in the day, however this was not a typical severe weather setup as the forecasts for the last week had been strongly suggesting.
An immense amount of hype regarding this severe weather outbreak warranted the need for two vehicles for chase operations. We simply did not have enough seats for everyone that wanted to go. Coordinating two vehicles added stress to an already crazy weather day that was just beginning to unfold. Luckily, we stayed in contact using walkie talkies. Only one vehicle had radar data and the ability to stream live video back to KAKE-TV and our online audience.
Another problematic factor was storm movement. In general, these severe storms and tornadoes moved off to the northeast at 40 to 55 miles per hour, which is considered quite fast. With storm motions moving so quickly, it was more of a "spotting" day, sitting in one spot and watch the storm as is goes by, rather than a chase day.
We started our day by heading west of Wichita and then north into Stafford County on a severe thunderstorm. It was difficult to keep up with due to the robust storm motion. This storm would later produce several large tornadoes that tracked from Rice County to just southwest of Salina, Kansas (my hometown and another major distraction).
After getting behind that storm, we positioned ourselves for a storm near the Kingman-Reno County line, just south of Pretty Prairie, Kansas. This storm produced a few weaker tornadoes and was much easier to keep up.
The distraction of whether Salina would be hit by the supercell to the north was racing through my mind. Radar signatures showed what looked like a violent tornado signature on radar and I kept reading about reports of a wedge heading that way. While I was trying to enjoy the supercell we were on, I was clearly distracted. Thoughts of the tornado devastating my hometown crossed my mind.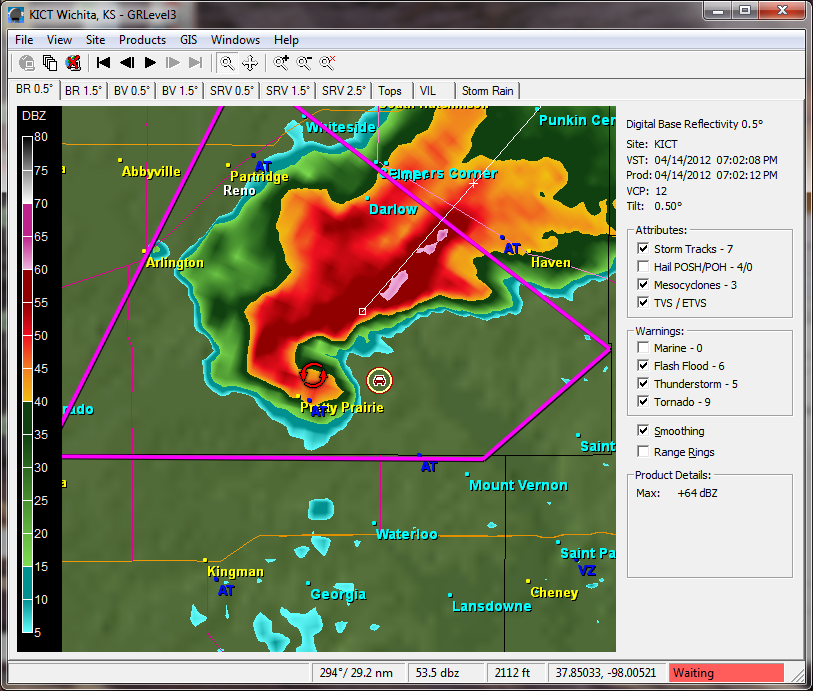 As the chase went on, our storm weakened as the supercell to the north took some of the energy. We were in between storms and indecisive on which area to target next. We were too far south to chase the Salina supercell and the next cell was just getting its act together on the Oklahoma state line. The tornado ended up missing Salina as it cycled in between tornadoes right over the city!
We opted to jump south to the storm rolling up from Oklahoma because the storm motions were northeast and we knew we could get in a favorable position. Before we decided to go south, I vividly recall a south wind creating an extremely humid and hot low-level environment. For mid-April, this is not common in Kansas and I knew then we were in a very rare situation and the potential existed to have large violent tornadoes into the overnight hours.
We decided to drive south and I remember getting gas in or around Wichita as the sun started to set. The storm on radar looked better organized and was likely growing in strength due to an undisturbed environment.
We pulled over southwest of Wellington and could start to see the tornado in part due to the intense lightning that surrounded the storm. I remember seeing power flashes that evening as we attempted to follow the tornado into the southern parts of the Wichita metro and city of Wichita.
As we tracked the tornado north into the populated area, a feeling of hopelessness came over us knowing that this tornado was about to affect thousands of people. Thankfully the tornado veered off to the east, missing most of Wichita. The strongest tornadic winds affected Western Sumner County and was rate an EF-3 as it went through the Oaklawn subdivision in south Wichita.
As the storm moved through Wichita we ended up getting separated from the other chase vehicle due to traffic congestion as well as debris littered in the streets. Spirit Aerosystems sustained damage, as well as several manufactured homes in Oaklawn.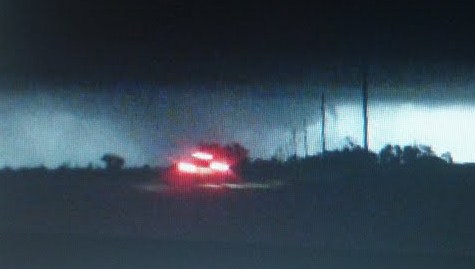 Explaining the emotions of this day is tough. We knew several days in advance that it had the potential to change many lives and destroy large swaths of property. While the tornado threat was high, and while many tornadoes did develop, we were thankful that the loss of life was minimal for such a high-end kind of severe weather day. I learned a valuable lesson on this day: always have a contingency plan in place, and hope for the best.