Published on
Where to begin…Dodge City, KS in 2016 is one of those days that chasers either busted really hard or scored a goldmine. We were the latter….
The Forecast
May 24th 2016 started out as your typical day in the US Plains. Warm southerlies from the Gulf of Mexico bringing plenty of moisture and a dryline from the west bringing the dry heat from the deserts. A very typical scenario for May in Oklahoma/Kansas/Texas.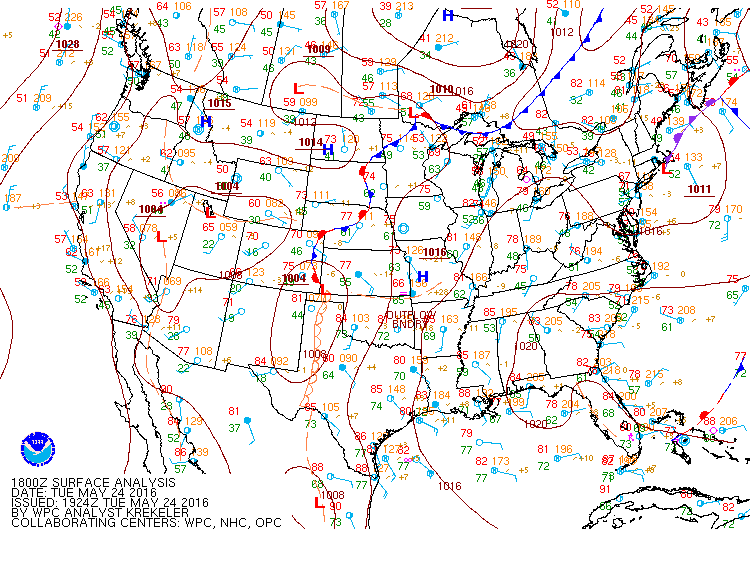 Above depicts the surface profile of the atmosphere before storms began initiating. As you can see, a dryline extends from the Low into Texas, a stationary front extends into Colorado, Nebraska into North Dakota. This stationary boundary caused quite a bit of tornado activity in northeast Colorado. An outflow boundary was also extending from west to east and pushing south near the KS/OK border. Below is our surface analysis and target area for 1pm CDT:
Our target area was the Oklahoma panhandle to start the day and work our way north from there. A special balloon launch was initiated by the NWS Dodge City office at 1900 UTC: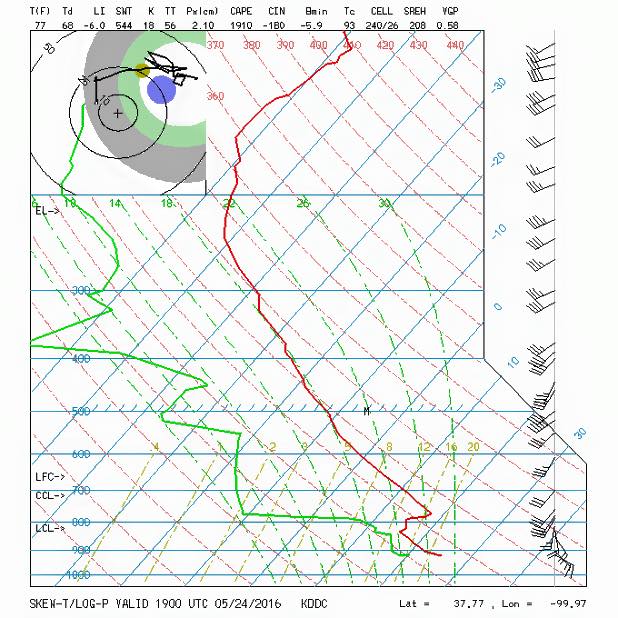 This sounding revealed a strong capping inversion at roughly 800MB and a strong inversion at 800MB to roughly 550MB due to dry air aloft. Wind profile revealed veering winds with height and an elongated hodograph. This sounding is a good example of a "loaded-gun" sounding. Because of this sounding, the NWS proceeded to issue a tornado watch: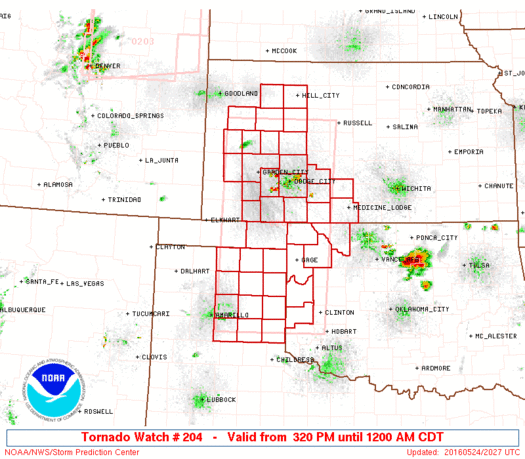 "PRIMARY THREATS INCLUDE…SEVERAL TORNADOES LIKELY WITH A COUPLE INTENSE TORNADOES POSSIBLE WIDESPREAD LARGE HAIL EXPECTED WITH ISOLATED VERY LARGE HAIL EVENTS TO 3 INCHES IN DIAMETER POSSIBLE SCATTERED DAMAGING WIND GUSTS TO 70 MPH LIKELY"
The Chase
To this day, this chase remains one of my greatest achievements as a forecaster. We drifted into an area somewhere near Plains, KS where an agitated cumulus field was evident. While most people spread out going after the storms north or in the Texas panhandle, we stuck to our forecast.
At roughly 5pm CDT, what became known as the the Dodge City storm exploded in the field right next to us. This storm went on to produce 11 tornadoes.
The first tornado was a beauty. It was long-track and perfect for capturing time-lapse video:
We followed the storm as it drifted north and recycled many times. We then witnessed it recycle an drop sisters…no 3 tornadoes at the same time!
Radar velocity at 6:17pm CDT

Radar reflectivity at 6:16pm CDT
The tornado that emerged next was quite strong and impressive. Here is a video of us trying to keep up with it and some time-lapse video. This video went viral on ABC Weather's Facebook page over the next few days with over 40 Million views:
After a tornado fiesta, we parked the car to enjoy this violent tornado and were treated with sister tornadoes. Here is the resulting images:
Needless to say that we could have probably retired after taking these images, but we kept going. The storm took us through Dodge City itself as a monster wedge tornado threatened the city:
With all the tornadoes that this storm was dropping, most chasers forgot to watch out for another hazard…large hail. This storm was dropping grapefruit-sized hail. I feel sorry for whomever decided to chase in the bear's cage on this day.
To this day, the Dodge City tornado day remains some of the most photogenic tornadoes we have witnessed across North America.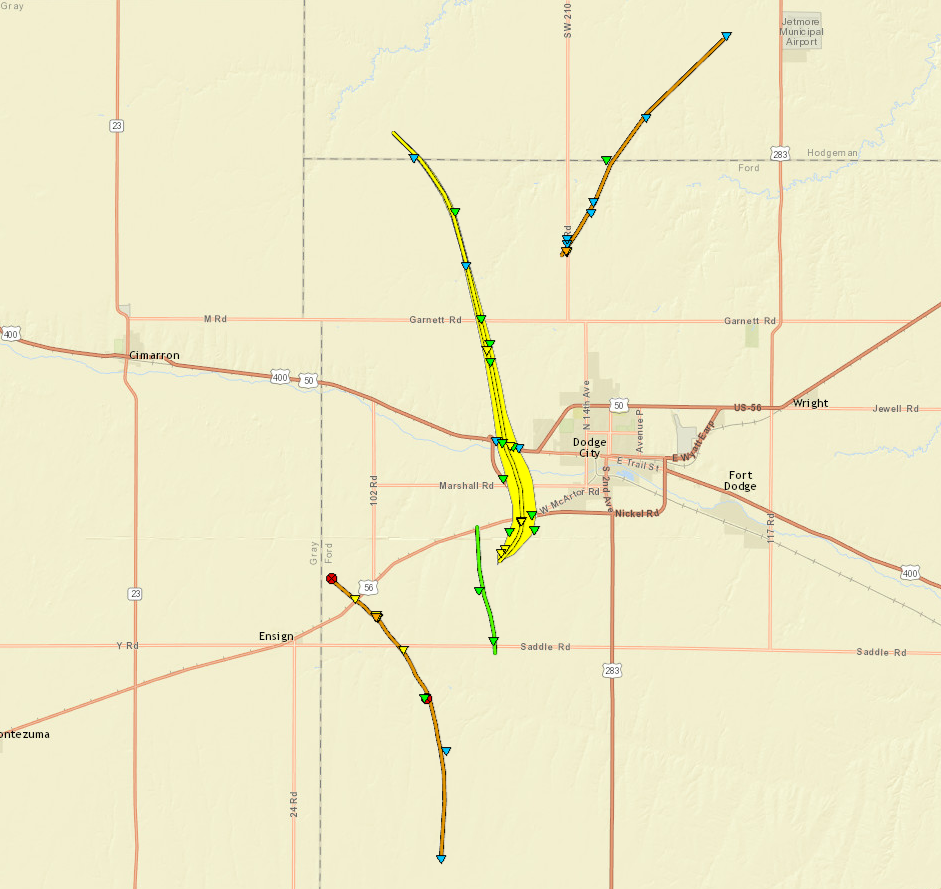 "One supercell produced numerous cyclic tornadoes starting few miles north of Minneola with the last tornado dissipating about 6 miles south southwest of Jetmore. EF3 damage was produced a few miles east of Ensign were a house was destroyed as well as around 6 miles north of Dodge City. Some notable damage with these tornadoes includes a house that was destroyed just east of Ensign, a semi overturned on US50, numerous homes along highway 50 just west of Dodge City were heaviely damaged (at one home there were two injuries), a large propane tank was reported leaking at 14th and Denim and a building at the landfill north of Dodge City was destroyed." -NWS DDC