Published on
Not many people chase blizzards and for good reasons. Either it is too dangerous or simply boring, blizzards are our Canada's "hurricanes". We get some pretty intense Winter storms and blizzards and the Prairie Provinces are hit especially hard each year.
The Forecast on March 6th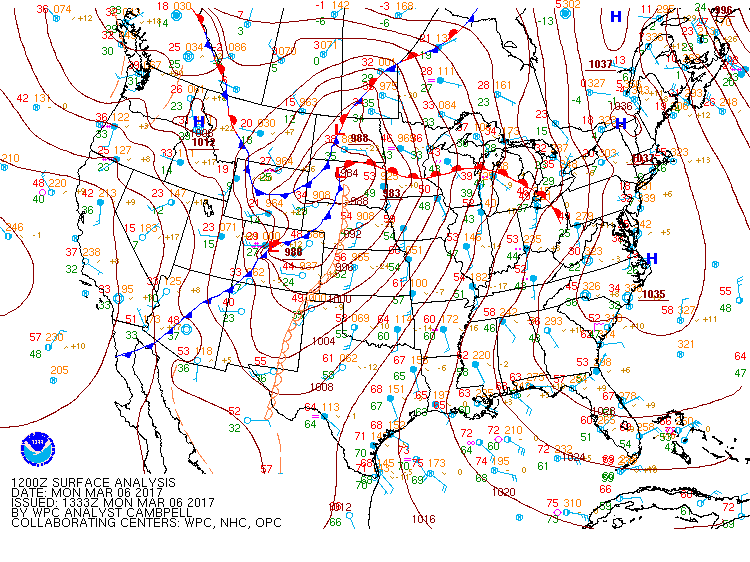 Above is a morning analysis of the fronts and the low that would impact Manitoba/Saskatchewan on March 6th 2017. As depicted above, a stationary front was bringing mixed-precipitation and freezing rain to southwestern Manitoba. The Low in South Dakota will eject northward over the next 48hrs.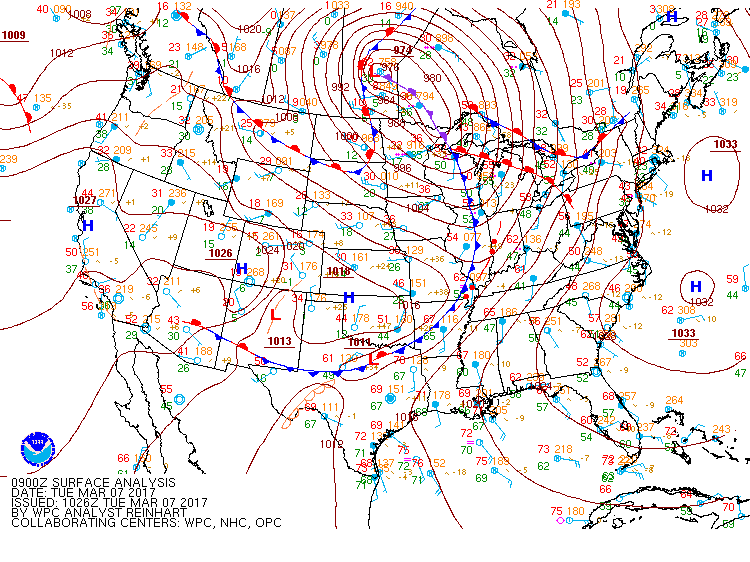 The low that impacted the Midwest began occluding northward into Manitoba as the day progressed on March 6th and went crazy on March 7th. A 974MB low is depicted above, dragging cold air on its backside from the Arctic. As the low deepens, the winds increase substantially. Combined with the funneling/terrain effects of the Manitoba escarpment, a historic blizzard unfolded for western Manitoba and southeastern Saskatchewan.
March 6th
It all started on March 6th when I decided to head west from Winnipeg towards the expected blizzard. At this time, blizzard warnings were in effect by Environment Canada:
12:07p BLIZZARD WARNING ISSUED by Environment Canada. A powerful winter storm will bring blizzard conditions to western Manitoba this evening. Freezing rain is possible today. Isolated thunderstorms are occurring near the international border. An intense low pressure system tracking north from Montana will bring heavy snow and strong NW winds to the region beginning later today. NW winds of 50-60 km/h with gusts as high as 90 km/h will combine with the heavy snow to reduce the visibility to near-zero in whiteout conditions tonight. These conditions will persist Tuesday for SW Manitoba. Further north, the parklands area will see slight improvement Tuesday as the heavy snow tapers off. However, in these regions, blowing snow will still be occurring Tuesday, but not with the near-zero visibility. By Tuesday morning, snowfall totals with this system will be in the 10-15 cm range over the southwest, and in the 20-35 cm range further north toward the dauphin region. Latest indications are that sufficient snow will fall in the Brandon and Pilot Mound regions for blizzard conditions to develop. These areas have thus been added to the blizzard warning. In addition, a few thunderstorms have developed in North Dakota and have tracked northward into southern Manitoba. In areas with the temperature below zero these thunderstorms could result in significant freezing rain accumulation in a short period of time. Freezing rain or freezing drizzle is also occurring sporadically throughout parts of southwestern Manitoba. Meteorologists are closely monitoring the path of this system and will issued further warnings if necessary. This is a major storm system. Highway closures are likely. The public is advised to postpone travel in western Manitoba, eastern Saskatchewan and northern Manitoba until the storm passes. Travel is expected to be extremely hazardous due to reduced visibility. Road closures are possible. Avoid outdoor activities. end/paspc"
Needless to say that they were wrong about the snowfall totals. Freezing rain turned almost instantly to heavy wet snow on March 6th late-afternoon. Winds picked up and the power went out to most of the City of Brandon. The power wouldn't be restored for at least 24hrs.
Seen above was the radar depiction of the transition line headed for SW Manitoba on March 6th 2017. Visibility became non-existent across Brandon:
At this point I had to try and get some sleep and wait it out. Usually, when I chase overnight blizzards, the conditions are over by the time I wake up and I go explore the aftermath. This was not the case for this blizzard.
Tuesday March 7th
When I woke up, conditions were worst…I heard about stranded motorists on Trans-Canada Highway just west of where I was in Alexander, MB on social media. I filled up on gas and grabbed some gas station food and headed west on the back roads. The conditions were much worst than I could have imagined…
I documented what I saw from Brandon to Alexander. What should have taken me 20mins took roughly 3hrs. This was because I couldn't go more than 20kmh, dodging abandoned cars and meter-high snowdrifts. Luckily, I only got stuck once. This is what I was dealing with:
I managed to make it to the trapped motorists, where I rendered assistance where I could. However, fuel was badly needed. Motorists had been trapped overnight and the temperature was dropping below -20C with 80kmh wind gusts, it felt more like -40.
These cars/trucks were filled with people! The RCMP and volunteer firefighters set up an emergency shelter in the town of Alexander, where >50 people were taking refuge. I continued to document the event:
I decided to head on the highway to see if anyone required assistance, when I stumbled on a car in the ditch. There were motorists on snowmobiles bringing water/food to the stranded motorists from Alexander, they came to help us assist the motorist. This is when the worst happened. A semi going way too fast on the closed highway struck a snowmobile, critically injuring him.
The RCMP and EMS showed up on the scene to evacuate the motorist to the hospital in Brandon. At this point, temperatures felt like -40 and the blizzard re-intensified. Winds and more snow began pouring down in the area. EMS and I had to caravan to Alexander with zero visibility.
EMS caravan

Alexander, MB where they moved wreaks from the highway

Emergency shelter in Alexander, MB

Alexander, MB buried by snow. March 7th 2017
March 8th
After being escorted back to Alexander, the blizzard raged all night. However, I was running on empty, with roughly 58kmh left in my tank. There was no fuel in Alexander, I had to either park at the emergency shelter and wait to be rescued like everyone else, or try to make it back to Brandon, a 27kmh drive…I decided to drive back to Brandon at roughly 4am, one of the most terrifying drives of my life. With zero visibility I had to go 10kmh, avoiding abandoned cars.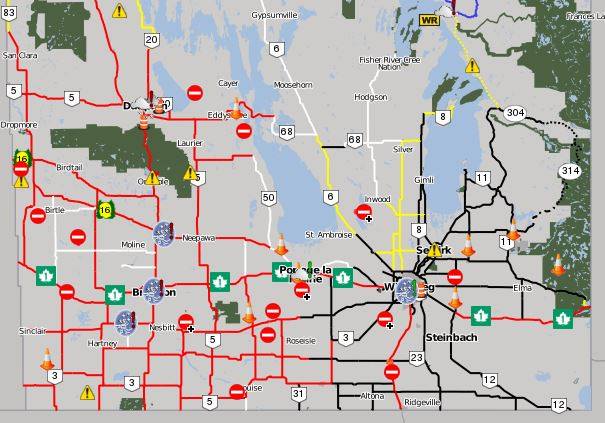 The Aftermath
Needless to say this will be an experience I will never forget. This is why we always chase with emergency equipment on board of our vehicles. Blankets, extra gloves, emergency kits, flashlights, tow chains, emergency lights, snacks, water, etc.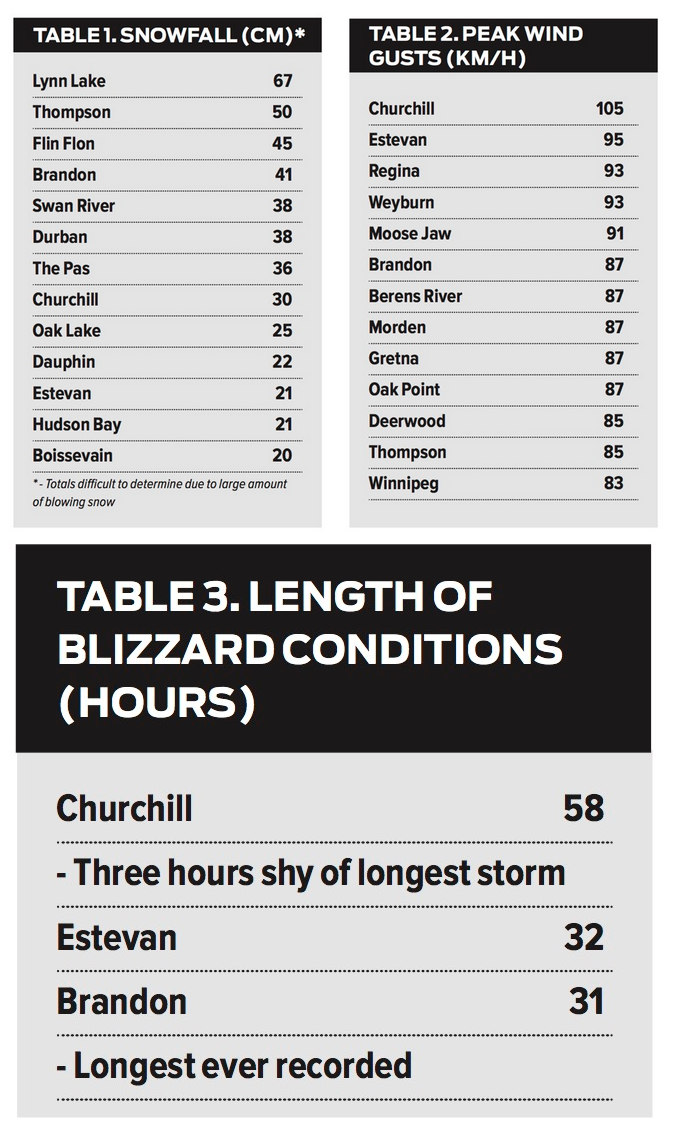 This blizzard will go down as the longest ever recorded for 31 consecutive hours for Brandon, MB and only three hours shy of longest on record for Churchill, MB with 58 consecutive hours! Brandon received 41cm and experienced peak wind gust of 87kmh, however sustained winds of 80kmh or more were witnessed for 31hrs.