Published on
2019 was an interesting year for me. I moved to Ontario in summer 2018 to continue my Bachelor in Physical Geography at York University. Moving from the Prairie Provinces, I was not looking forward to being back around southern Ontario, especially in regards to storm chasing.
2019 was a very slow year for Ontario, but it had its moments, which made me think, "meh, this place ain't so bad after all". The shelf on July 20th was one of those moments.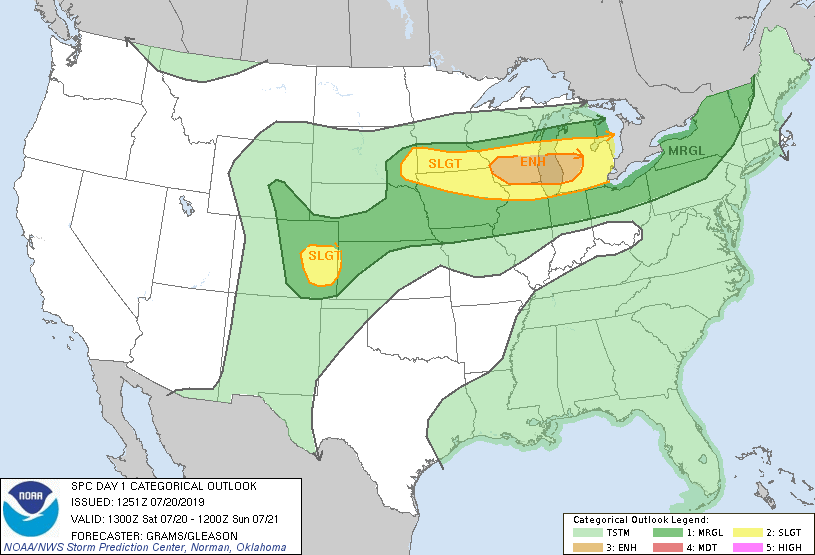 July 20th was one of those days that started with a massive MCS across the Midwest United States, which would eventually move east into Ontario. For those of you reading this and going "ahhhhh", then you can understand why I won't even bother going into the forecasting details and why I won't even bother talking about the tornado potential. Let's just keep it at the Day 1 outlook above and by saying that severe storms were going to move into southern Ontario later that day.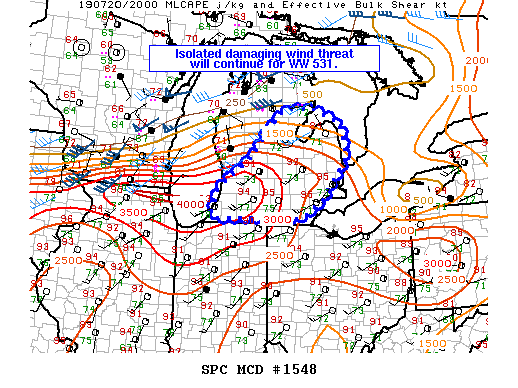 That day had plenty of instability and unidirectional shear, so damaging downbursts was going to be the primary risk. I decided to go to Pinery Provincial Park on the Lake Huron shore in the afternoon and essentially enjoy a day at the beach! That's one thing that I have to say kudos to Ontario is that you can have a beach as your target area and wait for storms xD
It was getting pretty late and it had been a very warm day (mid-30C). As most people were packing up to head home, I saw the MCS head straight for me across the Lake. One could say I was in perfect position!
This monster was hauling towards me and was definitely packing some damaging winds with it. Keep in mind, I was on a beach, in this Provincial Park, filled with tall trees… As it got closer, other people decided to stay for the show.
When I started getting sandblasted is when I took a run for the car. Moments later, huge downpours and damaging winds impacted the park. I was left driving roughly 10km dodging trees and branches that had fallen on the road. I can't imagine how awful it must have been for the people that were camping in tents…
I was able to time lapse the whole storm as it crossed across Lake Huron, which yielded this video:
This day made my summer! It was great to enjoy a beach day and get this awesome storm too, I went home quite happy.