Published on
June 12th in 2017 was one of those chases that everyone knew what was going to happen. One lone supercell or two were going to develop in southeast Wyoming and move slowly east into the Nebraska panhandle. The problem with that chase area is the lack of roads and internet service. Basically, you are chasing old school and sometimes blind, so it was the kind of chase for experienced chasers. Knowing the terrain and storm interactions certainly gave you an edge on this day.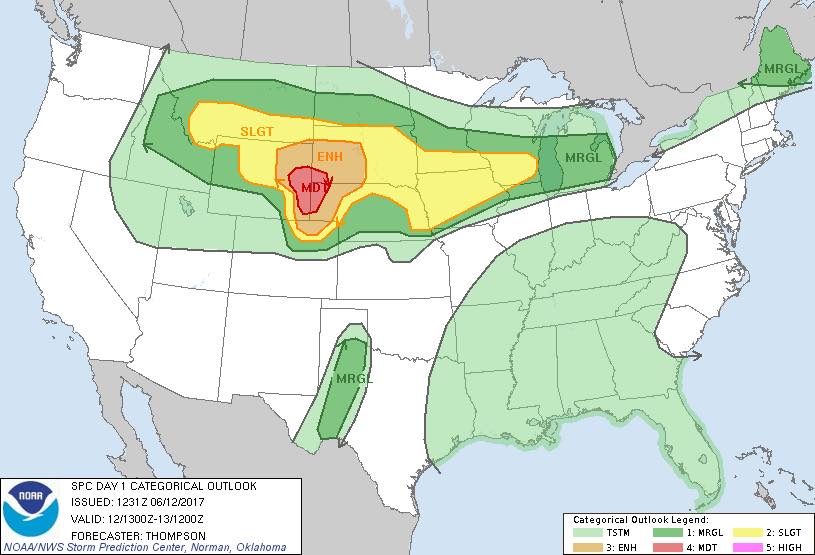 The Storm Prediction Center had issued a MODERATE risk with a 15% hatched tornado risk for the area. Since it was still fairly early in the season, there were a lot of chasers/tours still out there. For tours and tourists travelling long distances to see tornadoes, beautiful Wyoming and Nebraska panhandle was hard to pass up.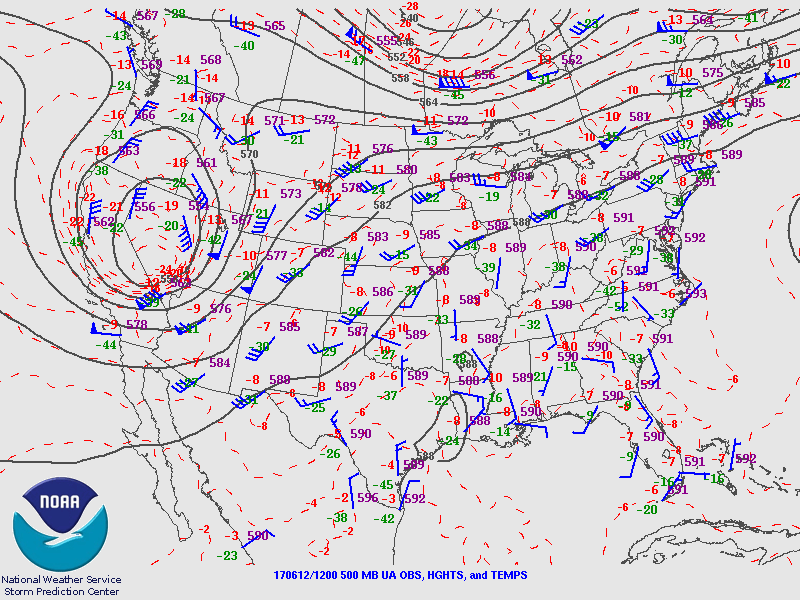 I actually really liked this setup and could not find much to complain about. The day before, I decided to head out from Winnipeg, MB and sleep in Sioux Falls, SD. I then woke up early and headed to Rapid City, SD then south through the Black Hills to enter Wyoming. When a large 500mb trough ejects into the Continental United States as depicted above in early June….You chase. Period.
A combination of upslope flow, great upper-level forcing, really good moisture, large instability and very good deep-layer shear came together nicely and converged on southeast Wyoming and extreme northern/northeastern Colorado. Dew points were a bit too high in Nebraska panhandle and there was a bit of cloud cover to burn off in the target area. I knew that, if there was going to be photogenic tornadoes on this day, it would be in southeast Wyoming as the storms became severe quickly and remain fairly high-based. As they moved east into the richer environment, they would likely become high-precipitation and any tornado would be obscured by the rain.
While most began their day around Denver, I began mine in South Dakota. Therefore, I would approach any developing storm from the north, rather than from the south. I knew I had to get there early to have any play on these storms.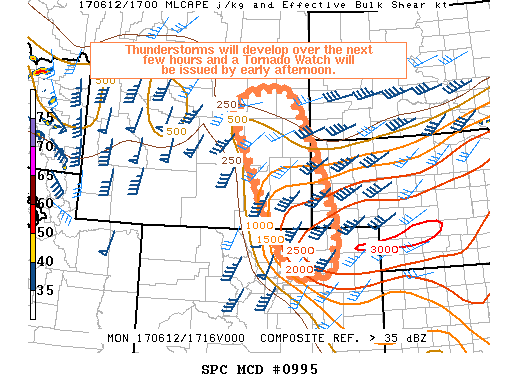 Mesoscale Discussion 0995
   NWS Storm Prediction Center Norman OK
   1229 PM CDT Mon Jun 12 2017

   Areas affected...Portions of eastern Wyoming...northeast
   Colorado...western Nebraska and southwest South Dakota

   Concerning...Severe potential...Tornado Watch likely 

   Valid 121729Z - 121930Z

   Probability of Watch Issuance...95 percent

   SUMMARY...Potentially rapid development of severe thunderstorms
   including supercells is expected by early-mid afternoon.  Tornadoes, some potentially strong, along with very large hail and damaging winds will be possible.  A Tornado Watch will be issued by early afternoon.

   DISCUSSION...Surface observational trends show a very moist upslope low-level flow across the discussion area at 17z with surface dew points in the mid 50s-lower 60s. Breaks in cloud cover are allowing for steady diurnal heating and moderate/strong surfaced-based buoyancy is expected to be in place by early-mid afternoon. Latest visible imagery depicts a few towering cumulus clouds along the west edge of the deeper moisture across central Wyoming, and thunderstorm development will become likely over the next couple of hours with continued heating/low-level upslope flow and large-scale ascent in advance of an upper low over Nevada. Strengthening mid-level flow will result in deep-layer shear of 50-60 kts across the area, favoring supercell structures as the initial storm mode. Very steep mid-level lapse rates will be favorable for very large hail, and increasing low-level winds with time will result in long hodographs with substantial low-level curvature/low-level SRH.  Given this setup, strong tornadoes will be possible this afternoon. 

   Given recent observational trends, a Tornado Watch will be needed
   early this afternoon.

   ..Bunting/Hart.. 06/12/2017
An MCD went up pretty early at 12:29 pm CDT, which had me a bit worried about early initiation. About 50mins later, a PDS tornado watch was issued for the area, as I was hustling to cross the SD/WY state line.
URGENT - IMMEDIATE BROADCAST REQUESTED
   Tornado Watch Number 317
   NWS Storm Prediction Center Norman OK
   110 PM MDT Mon Jun 12 2017

   The NWS Storm Prediction Center has issued a

   * Tornado Watch for portions of 
     Northeast Colorado
     Western Nebraska Panhandle
     Southeast Wyoming

   * Effective this Monday afternoon and evening from 110 PM until
     800 PM MDT.

   ...THIS IS A PARTICULARLY DANGEROUS SITUATION...

   * Primary threats include...
     Several tornadoes and a few intense tornadoes likely
     Widespread large hail expected with scattered very large hail
       events to 4 inches in diameter likely
     Isolated significant damaging wind gusts to 75 mph possible

   SUMMARY...Isolated intense supercell thunderstorms are expected to develop across the watch area this afternoon.  Giant hail and strong tornadoes will be possible in the most intense storms.

   The tornado watch area is approximately along and 60 statute miles east and west of a line from 50 miles north northeast of Douglas WY to 55 miles southeast of Fort Collins CO. For a complete depiction of the watch see the associated watch outline update (WOUS64 KWNS WOU7).
It is pretty rare that a tornado watch is maxed out in EF2+ tornadoes and that the SPC uses the words like giant hail. This was not unwarranted considering the soundings observed near the area: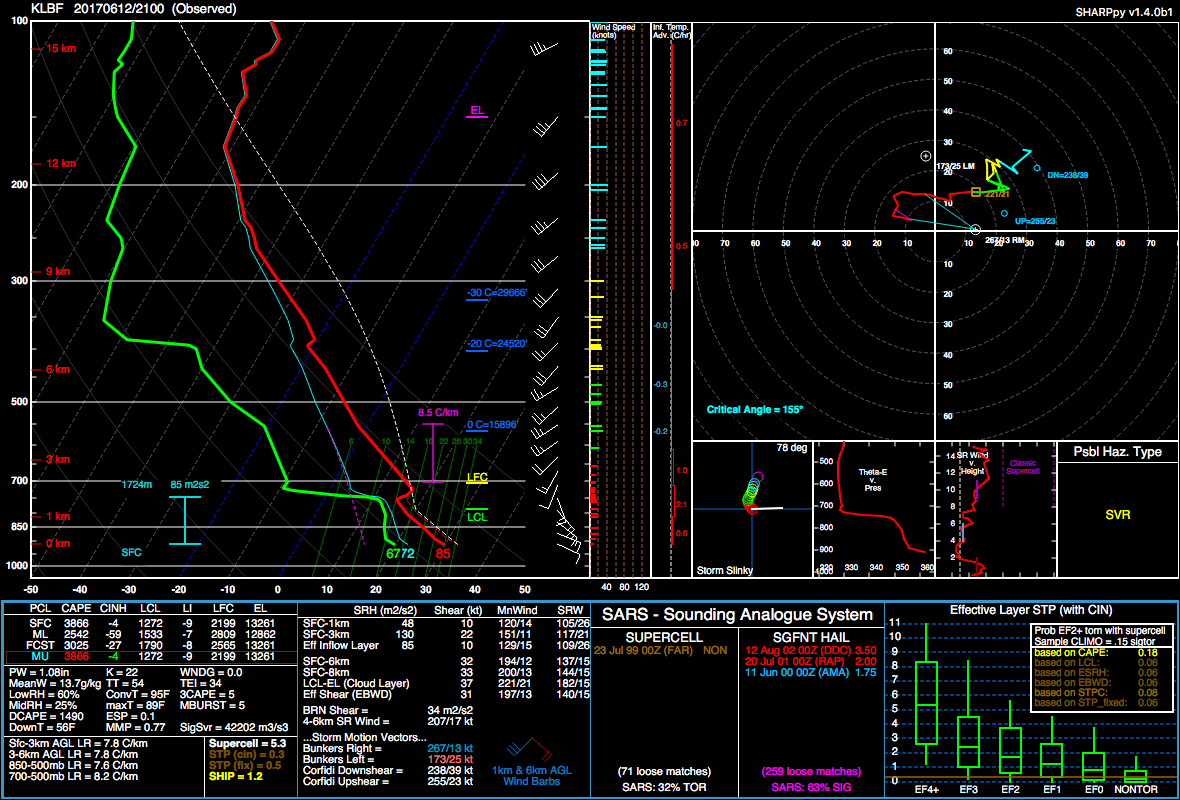 The warm front started initiating some pretty intense storms across northern Colorado around the 2:00 pm MDT time frame as I started moving south across southeast Wyoming. At this point, the upper-level winds were screaming and cloud cover was being quickly moved downstream. The surface temperature was nearing 30C as the cloud cover got removed. The moisture was unbearable, similar to when we were in Moore, OK on May 20, 2013.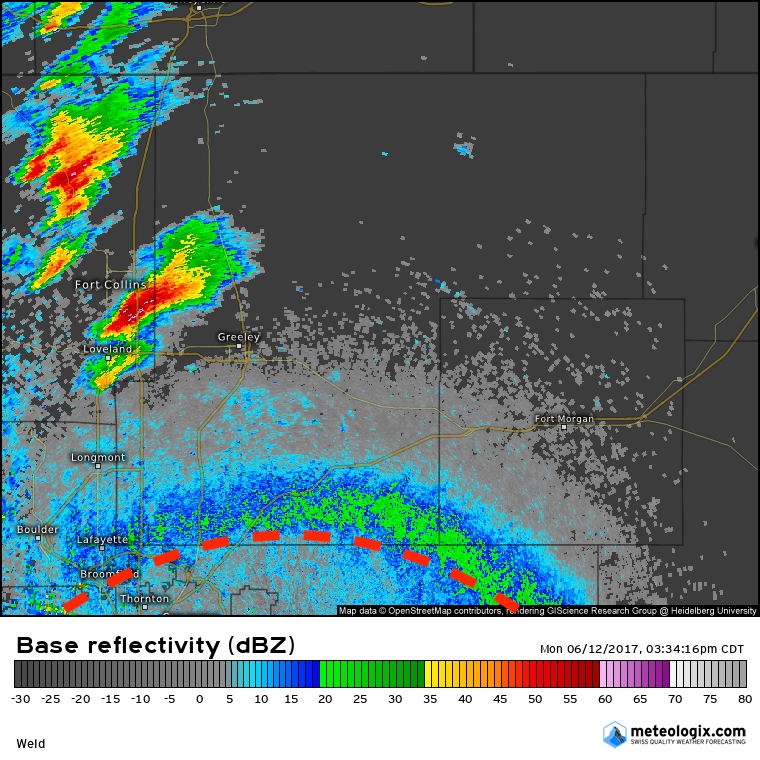 Made my way south toward the cluster of storms firing near Guernsey, WY (my initial target) as I entered about an hour and 30mins of no data or civilization. That was a long hour and a half of not knowing what the storm was doing….
As I regained cell service at 3:29 pm MDT, the storm had congealed into one dominant supercell and had barely moved. It was tornado-warned just south of Guernsey, WY and was just south of me. I was happy I had nailed the target area 🙂
I moved east-southeast to get a vantage point and let the storm come to me, didn't want to punch due south due to tennis-ball size hail being reported…I got in position near Fort Laramie as a hook developed and the anvil moved over me:
At this stage, I had a pretty good view of the mesocyclone as it began making a b-line toward me:
I knew this think was packing some 4 inch hail so as some as the first quarter-size hailstones dropped I moved. This thing was spinning like a top in the mid-levels and a wall cloud developed over Fort Laramie:
This storm was very high-based and any touchdown would have been very obvious. From the picture above, I would have been in perfect position for a developing tornado. The storm got closer and it was apparent that it was becoming outflow-dominant and not much was coming out of this storm besides large hail.
Not having any shelter nearby, there was no point in loosing a windshield in this storm. Besides, this storm was now being cutoff by this southerly storm:
I needed to head east toward Scottsbluff, NE and fast to overtake the storm. This storm was receiving…too many reports of tornadoes….I actually made it to Scottsbluff as the storm was entering town. I was able to position myself just to the east of it and watch it. To this day, I did not observe a single tornado on this storm, even though so many people reported some…Most likely, these were rain-wrapped. It was not by lack of being in great position too, you be the judge:
Managed to get a few good lightning shots as there was possibly a tornado right in front of me? But I doubt there was:
I let the storm pass me as it became an HP mess and wanted to check out the bear's cage one last time before loosing daylight:
As the storm passed I followed the rotation, which intensified right in front of me:
At this stage (8:03 pm CDT), I am quite sure a tornado was wrapped in the rain right in front of me. It is hard to see, but this was what the visibility looked like while looking north:
The tornado was in there somewhere. As I followed it north, I observed considerable damage and a train knocked over. Truckers on the CB confirmed a tornado had come through the area as their semi's got knocked over.
After gassing up in Alliance, NE, which was flooded like crazy and grabbing some gas station food. I headed north and followed the storm as it moved north-northeast toward South Dakota after dark to shoot some lightning. This storm did not disappoint:
Ended up going back to South Dakota and hitting a truck stop on I-90 to sleep for the night, before heading back to Winnipeg, MB the next day. A nice 4000-5000kms round-trip, the life of a storm chaser!