Published on
The June 18th day was our redemption chase for missing the Pilger, NE EF4 twins. This day was the last day of a bigger tornado outbreak from June 16-18 that spanned from Montana to Ontario, Canada. While looking at forecast models for June 16th and after an relatively inactive year, I decided not to chase Nebraska on this day…We all know what happened and so we had to redeem ourselves on June 18th.
The Forecast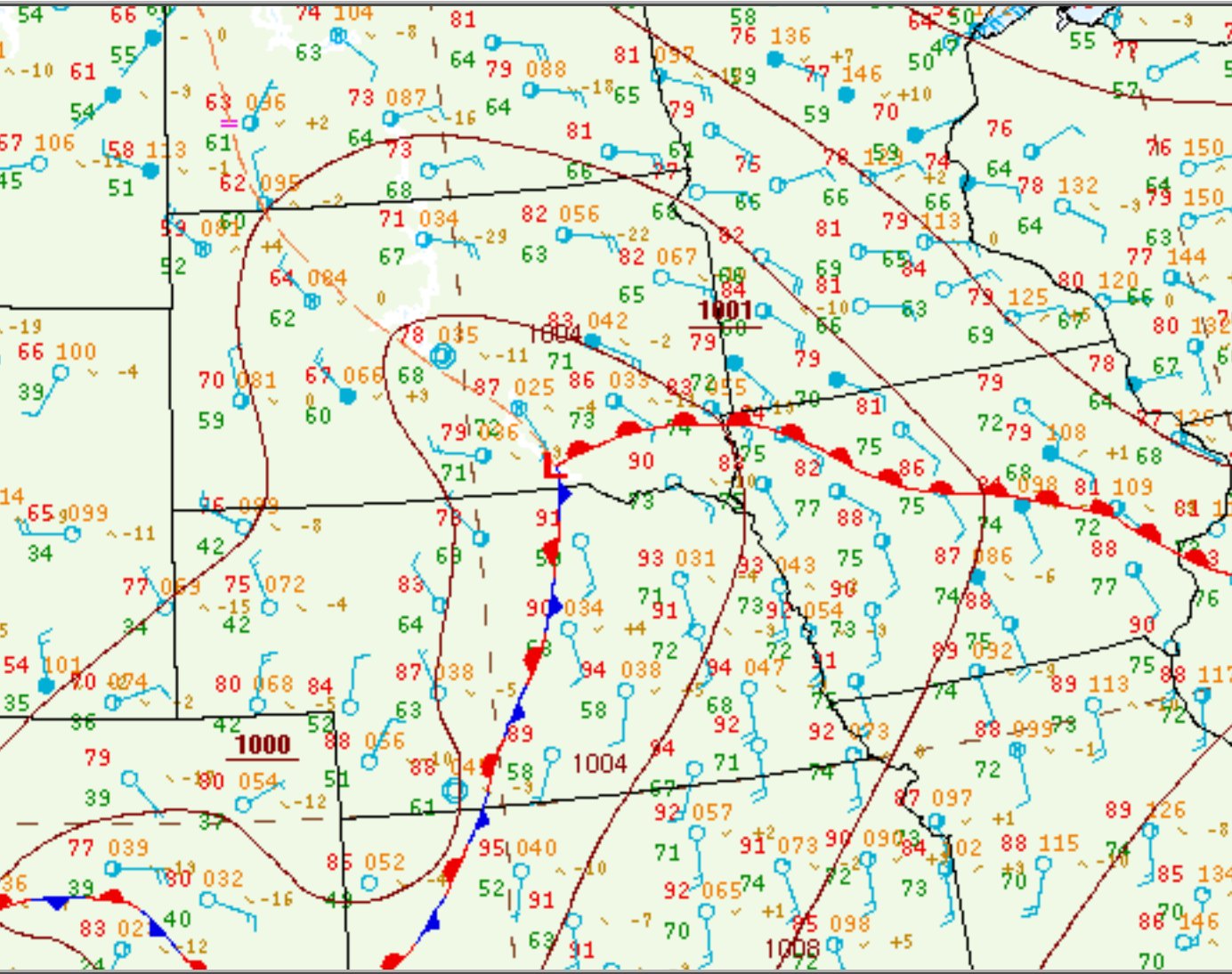 Won't get too hung up on the forecast for this day as it was pretty straightforward. A warm front was lifting north into South Dakota and the front was the target for supercells later that day. This day also marked a pattern shift for North America.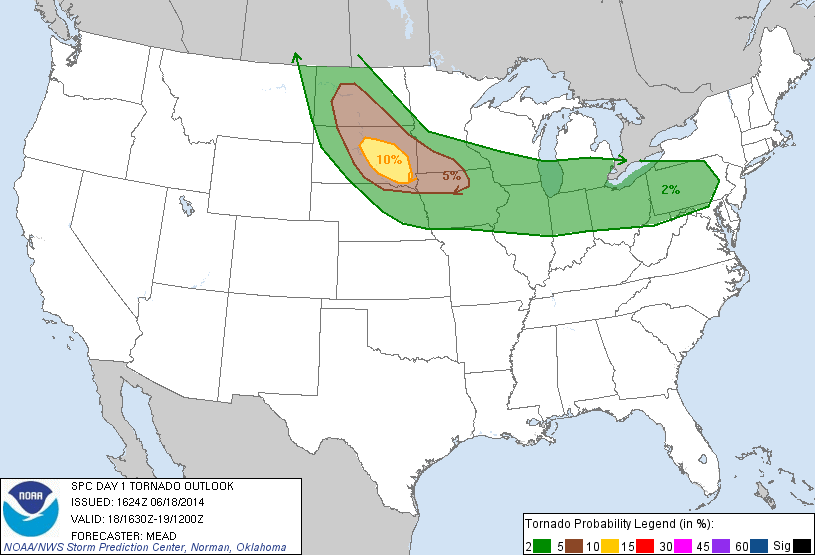 SPC had a 10% tornado probability along the warm front and a 2% probability extending all the way into Saskatchewan.
The Chase
We departed Winnipeg around 6:00 am in our trusty brand new hatchback and drove some 800 km to Sioux Falls, SD where we proceeded a little west near initiation. Quite the drive, but it paid off big time. Around 6:00 pm is when it started going a little crazy for us.
As we go through this timeline, I recommend having the Highways & Hailstones tornado map opened with the June 2014 filter and zooming in near the Alpena EF4 track.
We observed our first tornado in a field somewhere west of Wessington Springs. The lightning on this storm was insane, probably to most intense CG barrage I have encountered to this day:
After this tornado, we proceeded south to get closer and encountered a wedge tornado southwest of Wessington Springs:
Hard to say where this was on a map, but I think this was the EF2 near Spring Valley Colony, SD. We followed this storm east as it continued dropping tornadoes. Now it gets a bit fuzzy, but according to the National Weather Service storm survey, the above wedge lifted and the tornado below dropped, therefore making them two separate tornadoes (EF2 intensity each), when I previously believed this was one single tornado! This makes sense, since the below video was filmed as the tornado was parallel to the highway we were on (look at the H&H tornado map for reference).
We continued east as this tornado lifted and observed a multi-vortex tornado develop just southwest of Wessington Springs, where it would later strike the town:
The RFD was wrapping around us at this point and we were worried about hail, so we bailed east. The Wessington Springs tornado became rain-wrapped anyways so we moved on a newly developing storm south of Lane. The southern mesocyclone can be seen on the above velocity scan near Aurora Center, SD.
As we approached Lane, SD, we were immediately treated with more tornadoes. The above video was looking just south of the highway we were on. We proceeded further east as this tornado was seemingly headed our direction (straight north), which was unusual. We let it pass behind us:
As I was filming this tornado, I was actually unaware that another tornado was roping out right above our heads. While the NWS counts the above tornado as one single tornado, which later became the Alpena EF4 tornado, there were sister tornadoes on this storm:
At the start of the above video, you can clearly see two ground circulations and later this huge funnel associated with it. This was definitely two tornadoes:
Above shows the funnel spinning right above our heads. I was pointing my camera straight up in the second image. The tornado was not touching down at that specific time as it was lifting, but the video above shows it had previously touched down.
As the Alpena EF4 moved north, it began taking many shapes. From stovepipe, to wedge, back to cone and eventually to a beautiful backlit rope tornado:
The video below shows the evolution of the tornado as we headed north and followed it towards Alpena:
All in all, quite the redemption chase with 6 tornadoes documented! We also documented the powerful Alpena EF4 tornado from start to finish (roughly 40 mins). We saw three EF2's and one EF4. Some stats from the NWS survey on the Alpena tornado:
Rating: EF-4
Peak wind: 170 mph
Path length: 11.65 miles
Path Width: Half mile
Fatalities: None
Injuries: One
It was well worth the 8-9hrs drive we had to do to get back home that day after the chase!!