Published on
June 27th 2015 was one of those days that we were pretty lucky in our misfortunes. After rushing for a tornado warning in Manitoba, our car broke down. However, we were able to catch a great tornado in North Dakota a few hours later.
The Forecast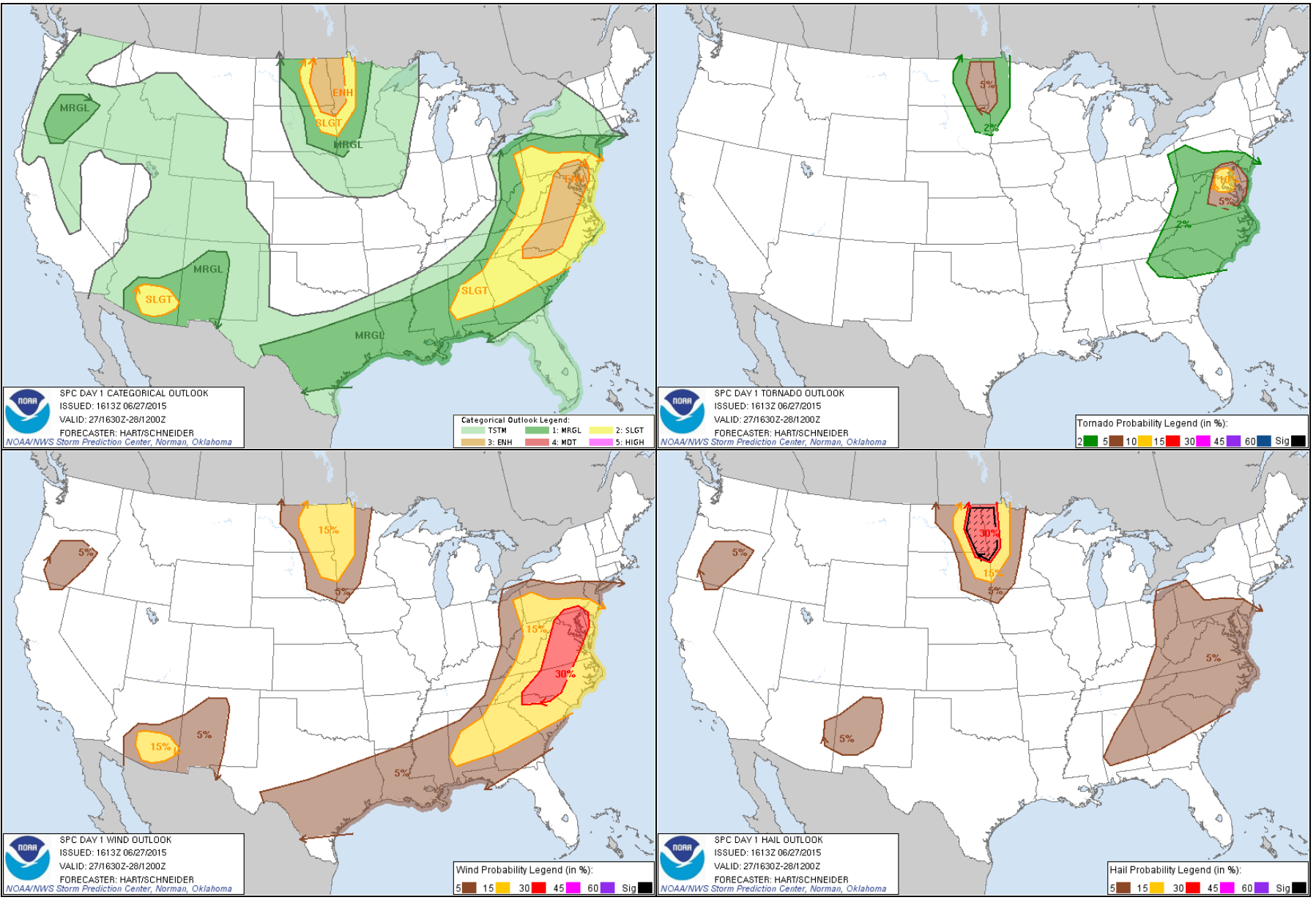 The SPC had an ENHANCED risk of storms with a 5% tornado risk for the Red River Valley. However, this outlook was only issued at 1630Z (it wasn't the 0600Z outlook).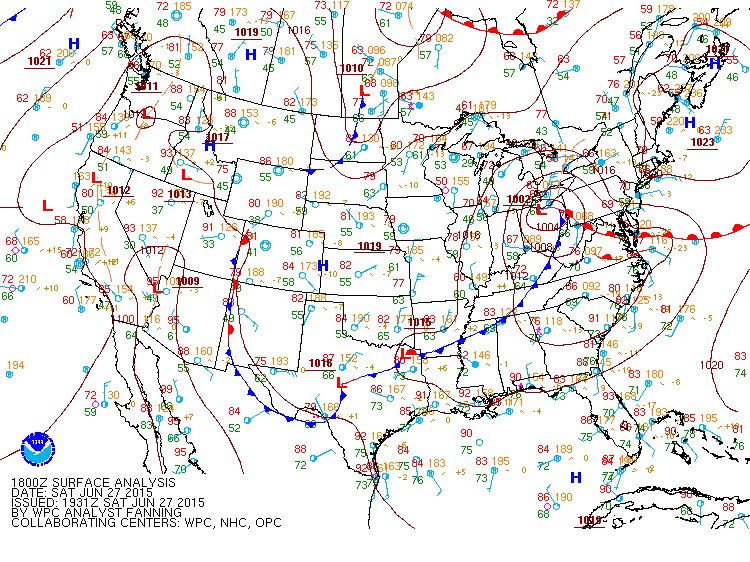 It was a pretty straightforward setup with a Low in southern Manitoba drifting southward and dragging a cold front into central North Dakota into northwest South Dakota. Storms were expected to initiate along the cold front with higher wind shear near the low. The target was the ND/MB border south of Carman, MB for initiation.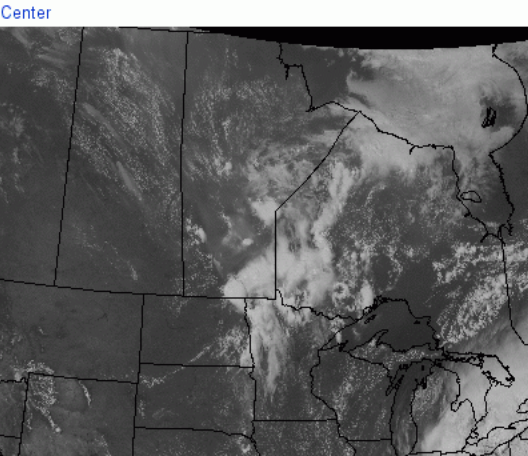 Roughly around 1900Z (2pm CDT), a storm exploded right next to Carman, MB and began drifting southeast. Above is the satellite screenshot depicting the exploding storm just north of the MB/ND border. It went tornado-warned quite quickly. A tornado watch was issued stateside: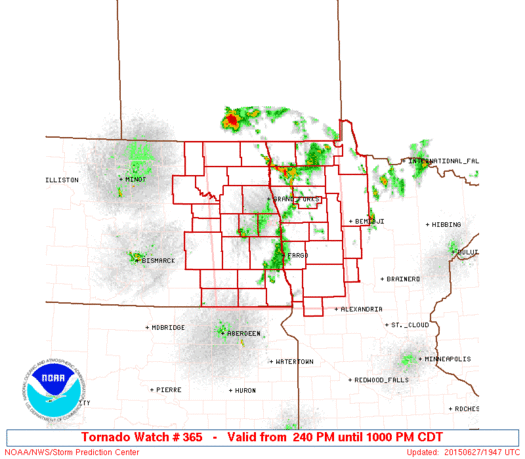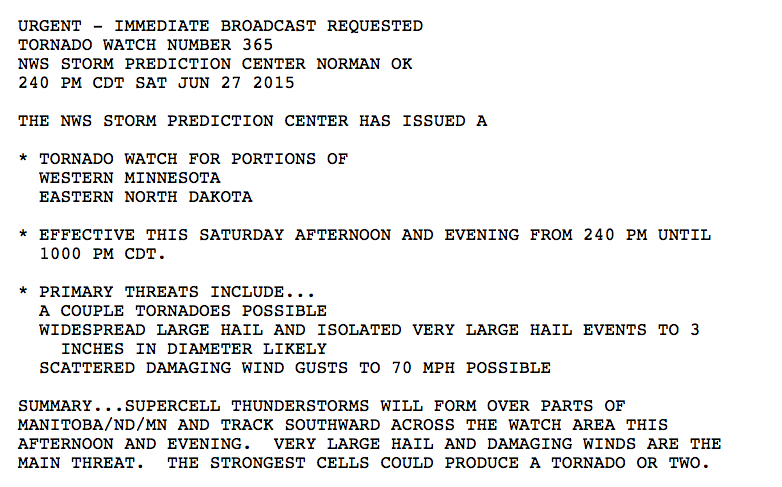 The Chase
We started heading for the tornado-warned storm south of Carman. As we were core punching the storm to get on the southern side of it, my timing belt broke and the car broke down….It just happened that one of our team member was following us on spotter network. He pulled up right behind us. We asked him "chasing?" he said yes. I asked, "can we hop in?" he said let's go!! I was never happier that someone was following my spotter network dot then in that moment haha!
The storm continued to intensify as it crossed into North Dakota. The border agent told us the storm had dropped golf ball to tennis ball sized hail as it crossed. Our team member was now driving, he had never seen a tornado before and he had just celebrated his birthday. We had to get him this tornado.
Around 6pm CDT, the storm finally did it for is. What would forever become known as "Kyle's birthday tornado", a nice cone tornado near Arvilla, ND:
This tornado was a classic cone backlit tornado and with a rainbow! What's not to like.
This tornado was a nice reward after a frustrating day of chasing. Shortly after this, we continued chasing on another storm, but this was definitely the tornado of the day. That is saying a lot, considering there were 35 tornadoes reported on this day in the US according to the SPC: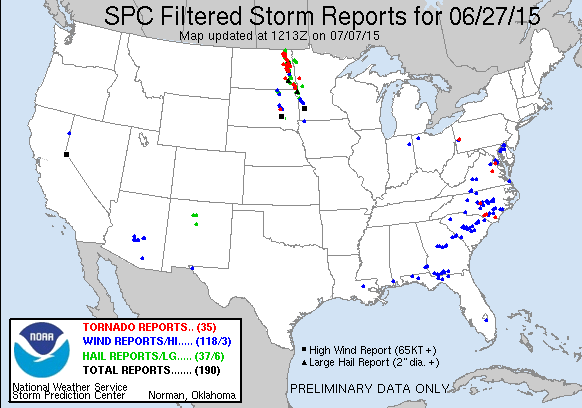 We started heading back toward Winnipeg, MB after eating some victory steaks. Once we reached Winnipeg, a severe storm was going through the city and I took this picture:
To this day, this remains one of my favorite storm pictures. While I was stuck with getting the chase car towed overnight, we got a very nice tornado and photogenic storm, so it wasn't all bad!