Published on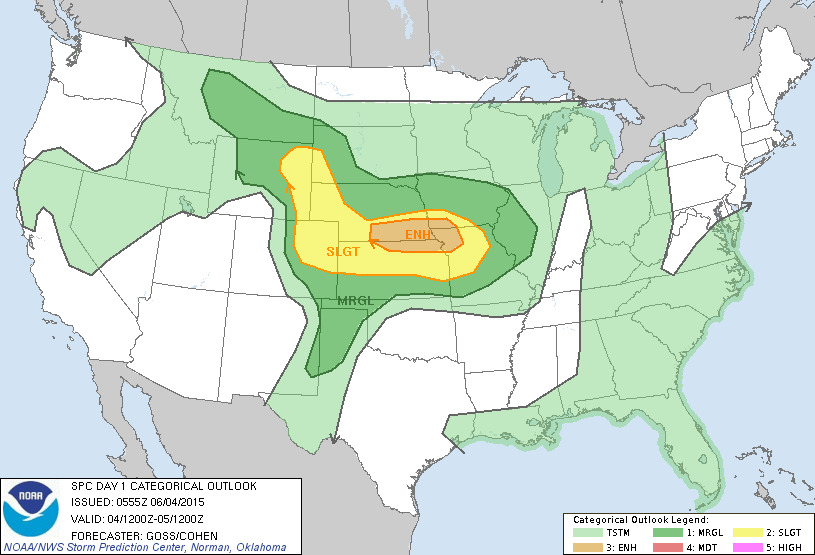 June 4th 2015 in northeast Colorado will be a day that a lot of chasers remember OR regret for many years to come. The Storm Prediction Center (SPC) had issued their outlook, with an ENHANCED risk for severe storms for parts of Kansas/Nebraska. Very rarely do I disagree with an outlook issued by the SPC, but on this day, I did not agree with this 2% tornado risk in northeast Colorado.
My Forecast
We began our day in Limon, CO. Limon is a little community on Interstate 70 (I-70). After looking at forecast models and surface observations, I could not understand why most chasers were heading east into Kansas. Per my analysis, Kansas was more of a late-evening threat and Colorado was the place to be.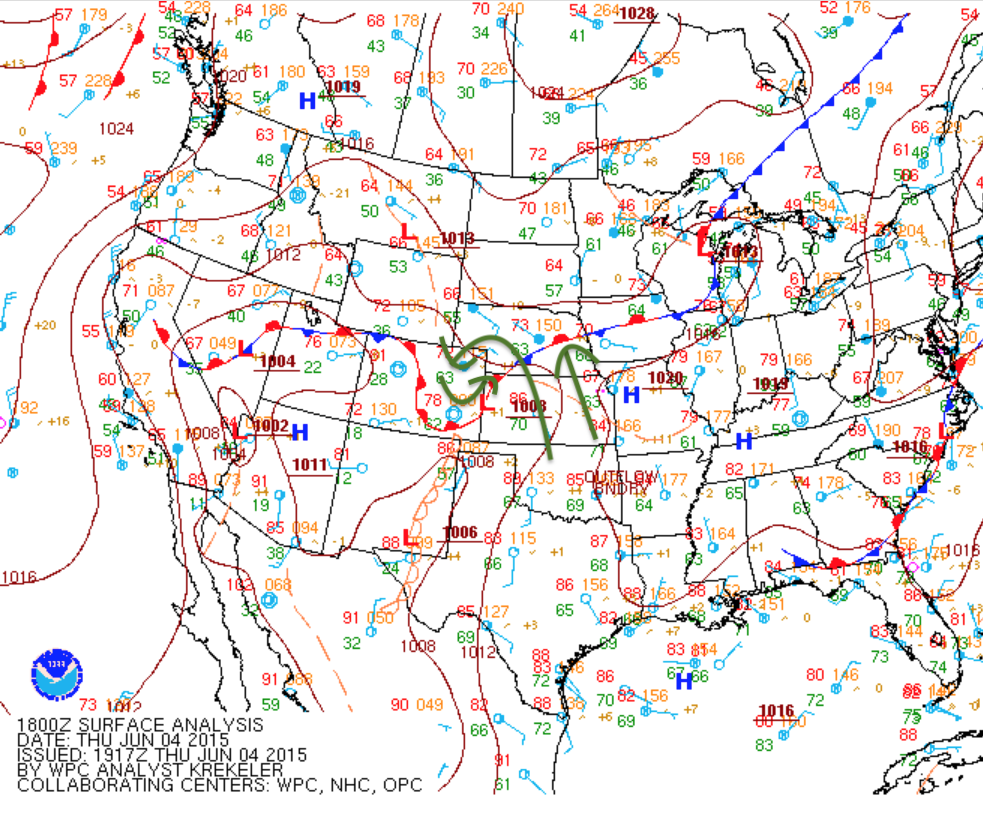 The surface analysis above depicts a classic storm setup for Colorado, often referred to as the "Denver Cyclone", which is when a Low pressure sets up shop near the Kansas/Colorado border and funnels warm/moist air from the Gulf of Mexico east of the Rocky Mountains (depicted by the green arrows). After seeing this being depicted by forecast models, I figured I was in the perfect place for some pretty significant supercells later in the day. Orographic lift should provide the necessary "kick" in the atmosphere east of Denver for some robust storms.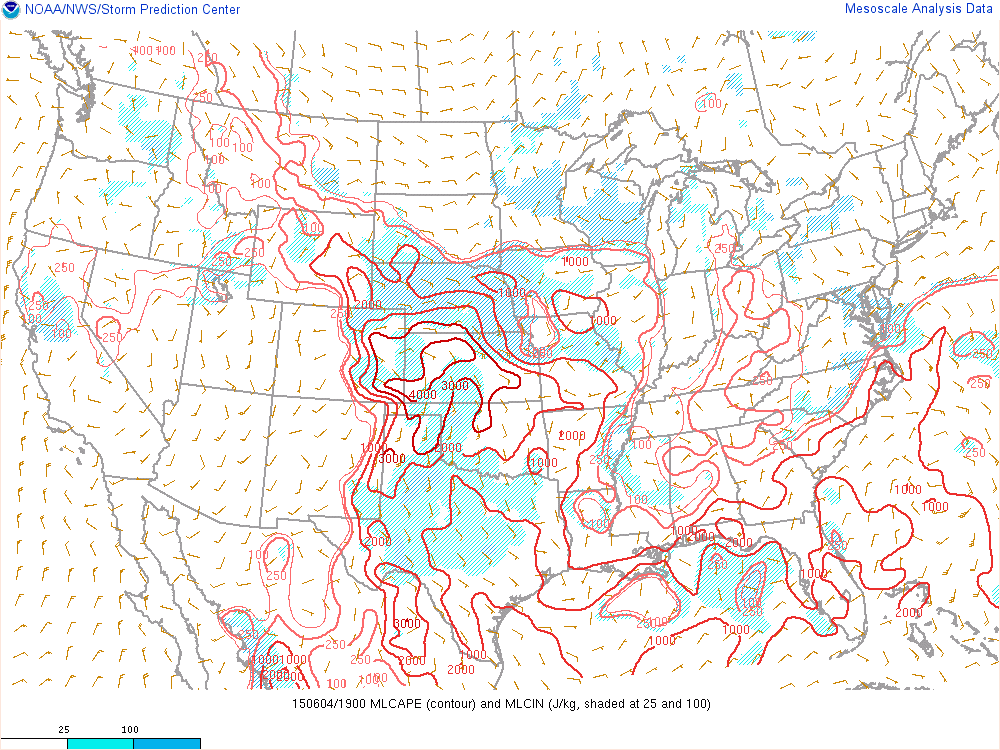 At roughly 2pm CDT (or 1pm local time), surface analysis depicted an uncapped atmosphere in northeast Colorado and parts of Kansas. We knew storms were going to initiate within the next hour. With an environment around Limon, CO of ~3000J/kg of MLCAPE and 4500J/kg of SBCAPE, robust updrafts were expected.
The Chase
At roughly ~3pm local time, a massive storm exploded just west of Limon (depicted above/below). This storm was nearly stationary and gave quite a sight:
This storm started dying as another massive supercell developed south of Limon:
We headed towards this storm as it quickly became a "right-mover". Right moving supercells are not fully understood, but are believed to be a product of the coriolis force and terrain influences. This storm intensified and began dropping tornadoes just outside of Simla:
At roughly 5pm MDT, the National Weather Service issued a tornado warning on our storm.
Radar reflectivity at 5:13pm MDT

Radar velocity at 5:05pm MDT
As we headed towards Simla to get a better look, the storm dropped a long-track cone tornado:
The storm then began to turn right even more and intensified substantially over Simla, dropping baseball-sized hail while recycling:
As we were getting pounded by hail in Simla, we witnessed something rarely seen in storm chasing, a massive "bell-shaped" mesocyclone:
This storm just kept on giving. We proceeded to follow the storm outside of Simla and witnessed something we will never forget. The storm intensified further and dropped sister tornadoes, one being anticyclonic.
The picture above went viral overnight for a reason. This depicts a "textbook" supercell mesocyclone, an anticyclonic tornado on the left and a cone tornado on the right. After witnessing this, we proceeded to get even closer, where we got a closer look at another tornado:
The storm dropped one final tornado (the 7th of the day):
The storm began to loose strength near dark and became more high-based. We ended our chase by witnessing the death of the storm:
We headed back to Limon for the night and enjoyed our victory steak after seeing a total of 7 tornadoes and a once in a lifetime storm structure. While the NWS only confirmed 6 tornadoes, we believe that the tornado outside of Simla (third tornado) and the sister tornado lifted and dropped again. However, there is little evidence of this. To this day, the Simla, CO chase remains one of our proudest forecasting and chasing moment. Out of the 8 tornadoes reported in North America that day, 6 were confirmed near Simla, CO. However, we counted 7 for that day based on our pictures and videos.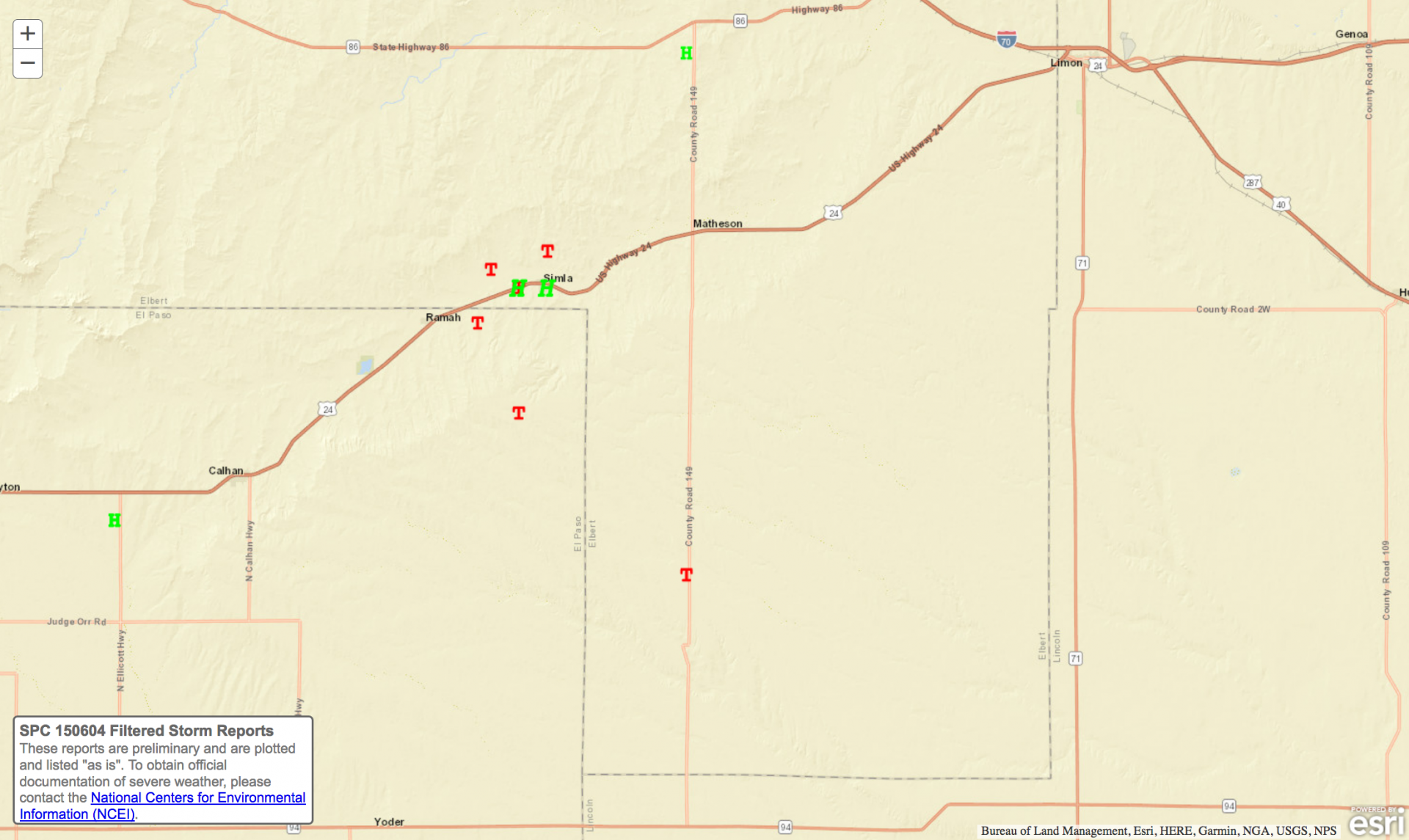 According to the National Weather Service storm survey, "The Elbert county tornadoes that affected the Simla area and southeast Elbert county have been rated an EF1. There were a total of 6 tornadoes over Elbert County. 3 of the tornadoes were anti-cyclonic. Below is a map of the Elbert/El Paso county damage points." -NWS Denver/Boulder, CO