Published on
May 27th represented the third week in Tornado Alley. It was getting exhausting and the hotel routine was getting to be repeats off an old record. However, waking up in Denver, it was one of those chases where you know everything is going to go right and your forecast will be extremely accurate, you know those days? Well it worked out alright.
It was a pretty classic High Plains chase, with a low pressure system ejecting or developing in northeast Colorado in the lee of the Rocky Mountains. This is refereed to as lee cyclogenesis (the more you know). A diurnally driven dryline was moving across the Texas panhandle and a pseudo-stationary front was going to set up across northeast Colorado and extend into Nebraska. You guessed it, this meant HP-dominant storms. However, I figured there was a window of opportunity right when the storms developed to drop some tornadoes before they get too messy, as is usually the case while chasing in this area. Basically, it was very important to nail the forecast and be on the storms as they initiated.
There were 3 targets:
The dryline in TX panhandle;
Stationary front in Nebraska and
Near Denver, where the storms would initiate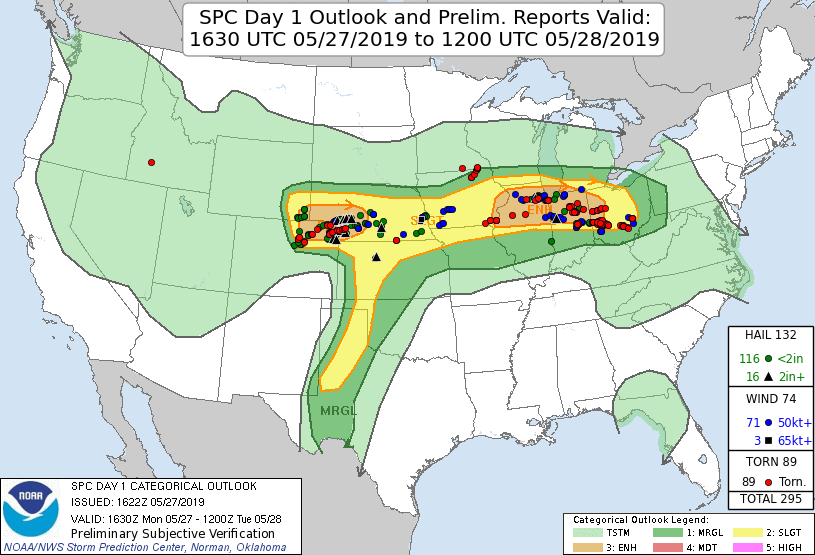 I thought the cap wouldn't break in Texas, which it didn't and that the Nebraska storms would come later. So I stuck to Denver. Went for a long breakfast as I knew a storm would develop just east-northeast of Denver…and it did.
A lone storm started firing just over Aurora, as they tend to do in that area and began developing a hook echo fairly quickly. However, having a visual of it, it was very high-based. In any case, this was a good indication of a mid-level mesocyclone. Here is what it looked like:
This storm quickly became severe-warned and I knew that very cold air aloft would promote very large hail, so had to stay ahead of it before the storm chasing herds started heading for it!
Had a lone supercell to myself for a good 20-30mins. But as a tornado watch was issued and this lone storm was clearly heading into it, it didn't take much time before everyone began converging on it near Fort Morgan.
As the storm matured and began right-turning, it encountered warm moist air as it came off the higher terrain and began developing low-level mesocyclones and strong mid-level rotation. It wasn't long before a very large area of low-level rotation began to develop:
The storm then developed two well-defined wall clouds and several funnels. Other chasers and myself were amazed by this storm, which was generating some intense inflow winds. Nobody could believe that this storm never produced a tornado. While meeting up with other chasers later on, I learned that there was a tornado at this stage of the storm:
The storm then completed its mature stage and the downdraft finally killed off the updraft of the storm. However, not without giving out a final "hooya" by spinning right over my head 🙂 Can you spot the funnel?
After this, some chasers were pissed off because they had just caught up with the storm haha. I proceeded to the next storm, which was crossing the CO/NE state line. I observed it moving into Sterling, CO as a tornado-warned storm:
What a beauty this thing was! This storm was spinning like a top, but never produced any tornadoes that I saw.
It then began moving east fairly quickly and paralleling the Interstate, so had to constantly reposition. It caught a lot of chasers and people off guard by dropping some ping pong to baseball-sized hail. Evan saw a few chasers in the median on the Interstate after they hydroplaned into the ditch and got stuck in thick mud. They got destroyed as the core of the storm went over them.
I took cover to let the storm pass as it was moving pretty fast and I didn't want to get destroyed by hail. I knew it was going to be bad. I stopped in Big Springs, NE, where some 4 inch hail was coming towards me:
I took cover under a gas station and waited for it to come to me:
This storm caused extensive flooding and damage across town:
Overall, a fun and successful chase, but not so much for the people that got caught in it!