Published on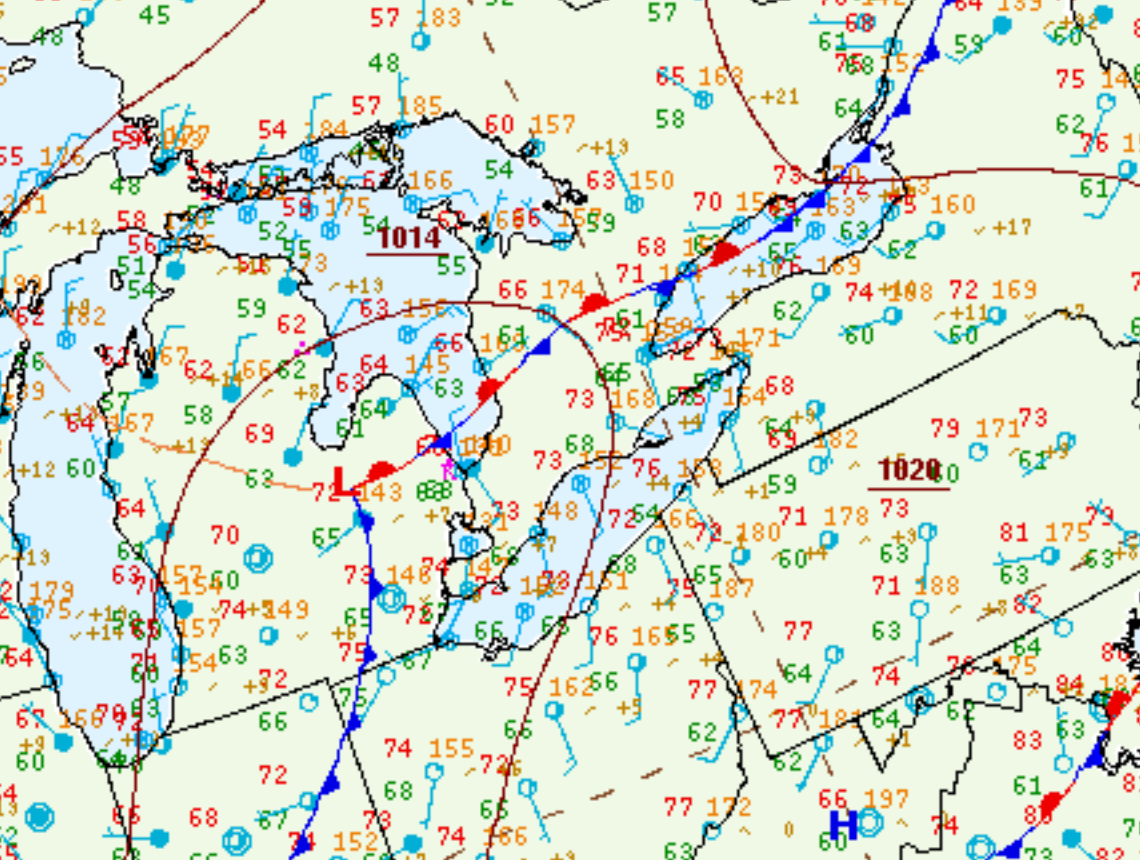 Ontario storm chases are starting to all blend into one big season of chasing mostly rotating rainstorms and a few thunderstorms. Since I began chasing in 2013, I have never intercepted so many severe "thunderstorms" that had no lightning associated with them. August 3rd was no exception and was another early storm day for southern Ontario. A stationary front would set the stage for a busy morning/early afternoon.
A tornado watch was issued in the morning as storms came onshore from Lake Huron and started moving eastward. I headed to Fullerton to intercept the storms. I was pleasantly surprised as I was greeted with a shelf cloud. I was not expecting much!
This was a strange storm, usually the rotation is to the southern end of the cell, but this storm was moving north-northeast with a couplet on the northern edge of it ahead of the shelf cloud. On top of this, the southern extent of the shelf cloud was also moving towards the north, which meant I had to position myself north of it and let it run me over and reposition myself every 5mins!
The storm went tornado-warned as clear rotation was evident on radar and visually. The storm struggled in the low-levels near Rostock and went through multiple stages of high-based outflow dominant to surface based.
The storm was now merging with other clusters and became a big blob over me, therefore engulfing me in rain. I decided to punch through the storms and go east to get a visual. I knew this storm wasn't done and I was right. As I emerged near Gads Hill, the storm went surface-based and exhibited intense rotation:
Some "real" storm chasing could now begin 🙂
This storm was now hauling north-northeast and ingesting every developing storm in its path. I had to get right next to the couplet to see it. As I observed fast rising motion I called Environment Canada to report an imminent tornado as I lost visual in the rain. I continued north with the storm and stayed with the couplet when I saw a large wall cloud just over Poole:
I spent about 5-10mins under that couplet to observe a few L/R moving rain bands, but nothing too interesting. Moved east to stay with the storm:
As I hit traffic and entered Elmira, an impressive wall cloud was observed:
Even tho this is just a picture, you can "see" the rotation in it! Traffic killed me at that point and it was really hard to keep up with the storm. Ended up just behind the area of circulation:
I decided to ditch the storm and head to Kitchener and try and wait for that storm, but the cell was basically all rain, so I decided to head for a new storm developing over Woodstock, which turned out to be another rainstorm:
So I followed another developing storm near Hamilton all the way home to get "cored" in Burlington:
It was an interesting chase and unexpected nice structure and rotation near Gads Hill, so cannot complain!! Below is a recap video of the full chase:
Ontario chasing is proving to be quite dangerous, with a spice of disappointment. Chasing here is quite dangerous as most of the storms are packed with rain and to "see" tornadoes, you need to be either in the rain or right next to it with little time to flee. This leads to make more and more "bad" decisions that you would likely never make when chasing in other parts of the country or in the U.S. On top of that, you are constantly chasing near major metropolitan areas with plenty of traffic. It is astounding that no storm chaser has been killed chasing in southern Ontario yet.