Published on
May 9th 2016 was one of those days that just worked out for us. A day like this is what I imagine living in Oklahoma City might look like.
The Forecast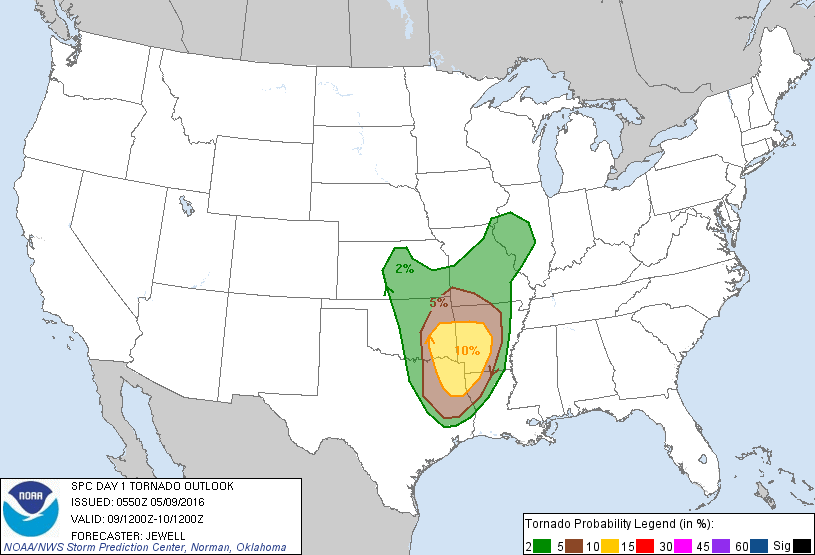 We started off our day, like most people probably on this day, in Oklahoma City. I knew storms would fire in the early afternoon and move off to the east into less favorable chase terrain (i.e. trees), so wanted to be on the storms early on.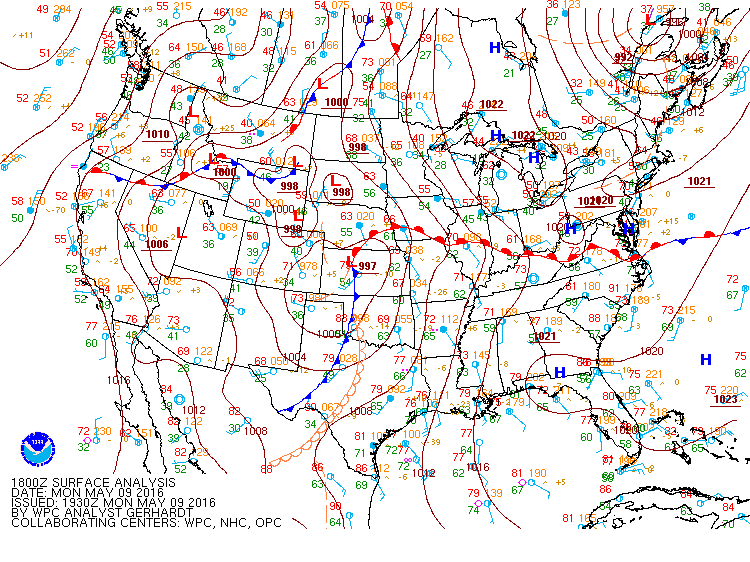 A fairly straightforward setup was ahead. A dryline would set up shop in western Oklahoma, slowly progressing eastwards towards the I-35 corridor before a sharp cold front would overtake this. Explosive supercells were expected along the dryline. Our preliminary target was I-35 near Wynnewood, OK.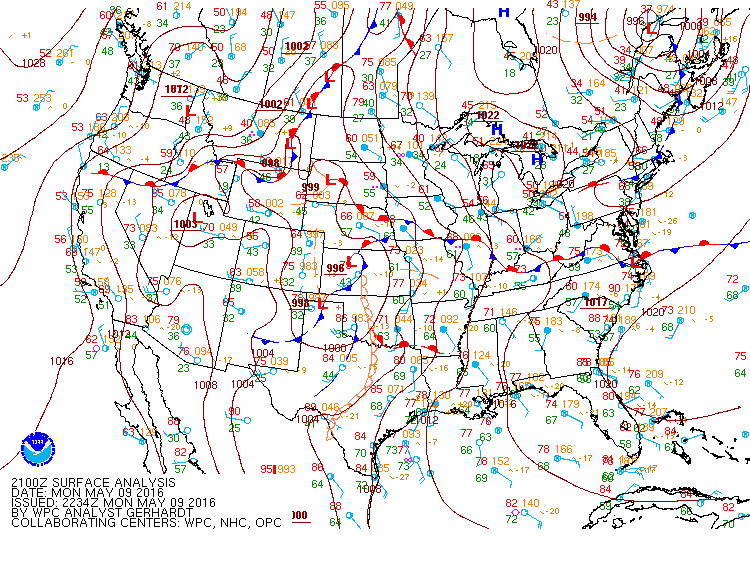 Something to keep in mind as we go through our chase log is the above 2234Z surface map. A warm front is seen setup up in southern Oklahoma. This will cause the supercell near Davis to drop a monster wedge tornado, which if it had caused damaged, would of been categorized as an EF5 easily.
The Chase
Around 3pm, we were parked off I-35 in a field observing cumulus blow up, when a clearly marked supercell exploded west of Wynnewood. We then proceeded to head towards it. It went severe rather quickly:
It went tornado-warned as we were right in front of a developing tornado. It wasn't long before it dropped a long-track violent tornado near Elmore City, OK:
We kind of lost track of time and location at this point. While we were filming this we were getting hammered by golf ball sized hail. We got our first windshield crack of the season on this day!
The tornado lasted for quite a long time, 21mins (according to NWS survey) and over 9 miles. We kept tracking it and snapping pictures of what became known as the Katie, OK EF4 tornado.
According to the NWS storm survey, "the tornado varied in movement between northeast and southeast as it approached and crossed county road 1680. A home was destroyed near county road 1680 and Indian Meridian Road where an EF4 rating was applied (DI 2, DOD 9). Further east, a fatality occurred when the tornado destroyed a modular home. After destroying another home, the tornado moved northeast and dissipated near Interstate 35."
The mobile home, where the fatality occurred, is shown below. It is eerie to know that we photographed a house that someone died in…
The storm recycled as it moved east and across I-35. It dropped a wedge tornado just north of Davis, OK, which moved east and north of Sulphur, OK. Watch below as the storm possibly interacts with the warm front, recycles and drops a monster tornado: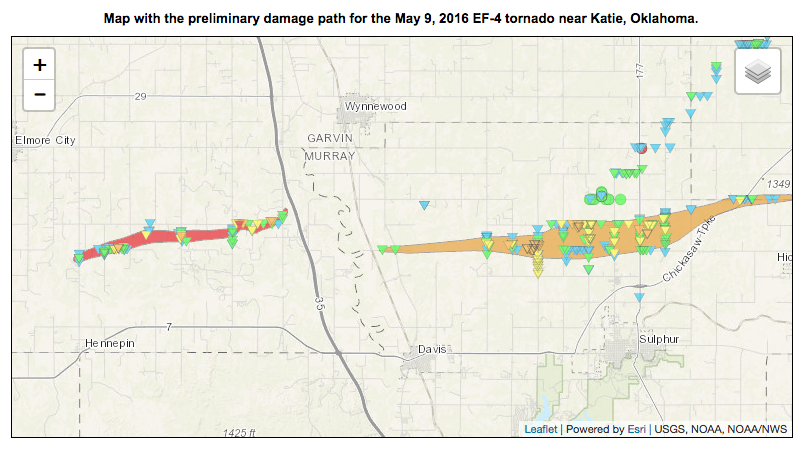 In the video above you can hear me scream "that's a ***** EF5" (or perhaps you can't). The reason for this was that the shear size/strength of this tornado was insane. You can see for yourself in these videos. Be warned that the video below contains strong language.
Velocity at 4:40pm CDT

Reflectivity at 4:41pm CDT
To this day, we still think the Sulphur, OK tornado should have been classified as an EF5 tornado. However, the enhanced Fujita scale considers extent of the damage for rating. Since the Sulphur tornado didn't cause much damage, it retained the EF3 category similar to the El Reno, OK 2013 tornado. However, DOW 7 (Doppler On Wheels) measured 212mph winds on the Sulphur tornado, well over the EF5 200mph classification:
The Aftermath
About a week after this event, we went to document the aftermath of the Katie, OK EF4 tornado: