Published on
July 19th was an interesting chase day. Most chasers had dismissed it since it was a MARGINAL risk for severe storms across Manitoba and North Dakota.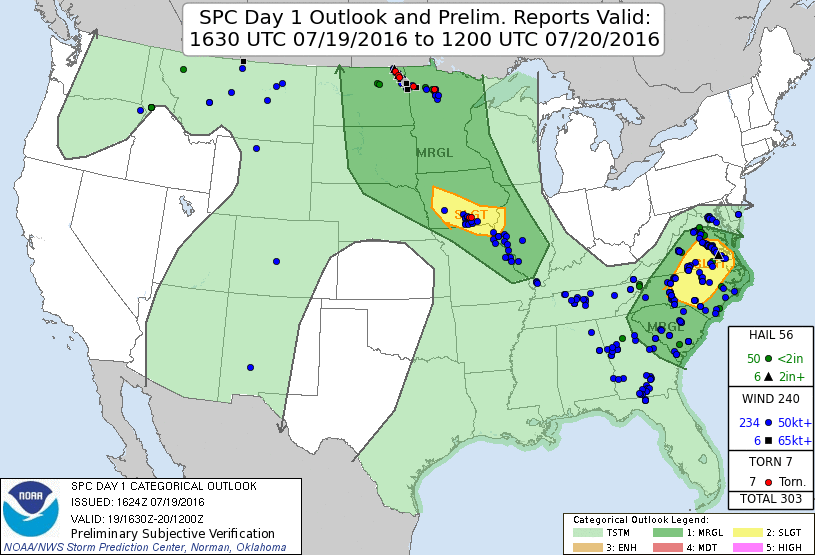 It was understandable that most people did not even consider chasing, but I like these kinds of setups, they are always surprising. Some storms were ongoing in the early afternoon near Portage La Prairie and that generated an outflow boundary that would later make the storm go crazy in North Dakota.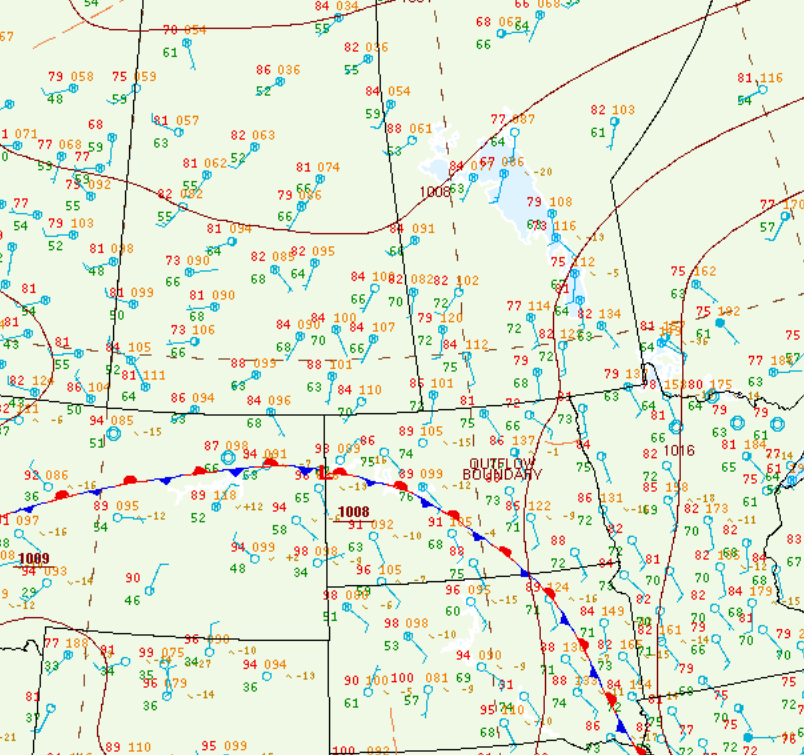 I was thinking that if a storm can fire south of the ongoing junk near Westbourne (see below), then I would have a shot at a decent supercell.
I was pretty much bang on, a cluster of storms fired near Treherne around 1pm CDT:
I was still in Winnipeg at the time, but I was driving towards my target area. A severe thunderstorm watch was in effect for most of southern Manitoba:
I got pretty close to the almost stationary storm near Treherne as it began exhibiting rotation on radar:
The storm actually went tornado-warned, so that surprised a lot of chasers that decided to sit this day out haha!
I got a pretty good view of the storm at this point as I began heading south:
The storm was fairly outflow dominant, so I decided to stick pretty close to the area of greatest rotation. I decided to chase the Bear's Cage for the rest of the day:
Keep in mind, it was only 2:30pm at this point! Plenty of chasing left to do. This was my view as the hook echo went over Somerset, MB:
The storm almost produced outside of Somerset:
The storm had some decent hail with it and it was starting to move southeast towards the North Dakota border, so I needed to haul south and cross before the storm overtook me.
The storm was still packing a punch, but became more high-based as it moved south (possibly due to terrain?), so I figured it was actually dying at this point.
So…I was quite wrong, the storm recycled big time after I crossed into ND:
I stayed in the Bear's Cage as I figured that would be the only way I would be able to see any tornadoes out of this storm. This storm was very HP, so that meant constantly repositioning to avoid the now tennis ball sized hail.
The storm went tornado-warned as I was sitting right next to some major rotation near Mountain, ND:
The storm did not produce a tornado, even though several tornado reports were received at this point (I was sitting in it if there was one), here is the closest it came to producing right in front of me just west of Mountain:
The funnel dissipated and the hook started catching up to me:
Decided to move east to Mountain and get cored, because I love hail:
The hail caused flash flooding in the small town and large hail left holes through some structures (my windshield was already cracked haha):
I wasn't able to catch up to the storm after that, but it was getting near dark anyways, so I headed to Fargo for some food. Got a nice display of mammatus:
It was a pretty successful chase considering the low risk that was issued. My motto is if you chase everything, you won't miss anything…right?