Figure 1 shows the surface observations at 7:00 am CDT, which shows a stationary front extending across central Alberta and southern Saskatchewan, a low pressure developing on the Saskatchewan/Montana border, a cold front extending from the low to Texas and a warm front in eastern North Dakota.
Two scenarios are likely to have evolved throughout the day across southern Manitoba:
The warm front lifted north during the day and triggered thunderstorms across southern Manitoba or
The most likely scenario (given the hour the tornado was reported to have occurred), the low began moving southeast throughout the day, dragging a cold front across southern Manitoba, which triggered thunderstorms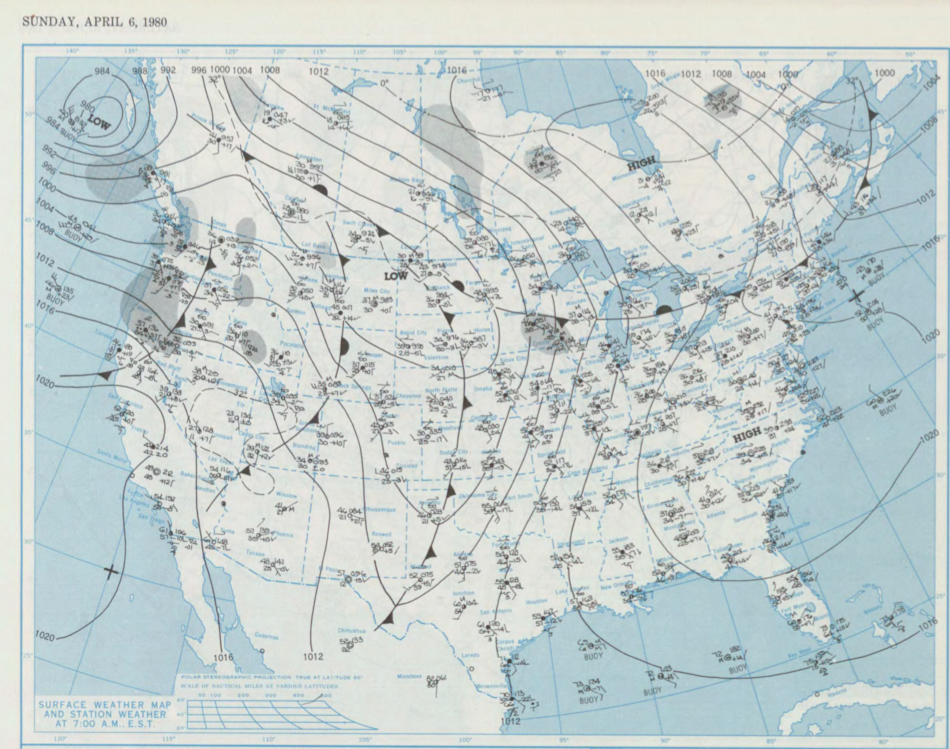 According to Environment and Climate Change Canada (2018), an F0 tornado touched down at 7:20 pm CDT near Altona, MB. The track and width of this tornado was not documented by ECCC. The tornado caused no injuries, fatalities or property damage.
---
Sources
NOAA Central Library. (2020). U.S. Daily Weather Maps. Sunday April 6, 1980 [PDF]. Retrieved from https://library.noaa.gov/Collections/Digital-Collections/US-Daily-Weather-Maps
Environment and Climate Change Canada Data. (2018). Canadian National Tornado Database: Verified Events (1980-2009) – Public. Retrieved from: http://donnees.ec.gc.ca/data/weather/products/canadian-national-tornado-database-verified-events-1980-2009-public/