This probable, long-track tornado passed from Pickle Lake to Wunnammin Lake, inflicting heavy damage around Karl Lake. Its damage path may have been dozens of kilometres in length. Around Karl Lake, large swaths of forest were totally decimated with trees uprooted, snapped and shorn off at their tops.
Figure 1 depicts the surface observations at 10:00 pm CDT, which shows a significant low pressure system near the Manitoba/Ontario border with a cold front extending into northwestern Ontario and a warm front extending east into James Bay. While we don't know when this tornado touched down, we know that this cold front was the focus for significant thunderstorms on the evening hours of July 17th. These thunderstorm were responsible for significant downbursts and this tornado.
The length and path was estimated. It is unlikely that this tornado was long-track as it was likely embedded in a microburst as a brief spin up, rather than a significant tornado.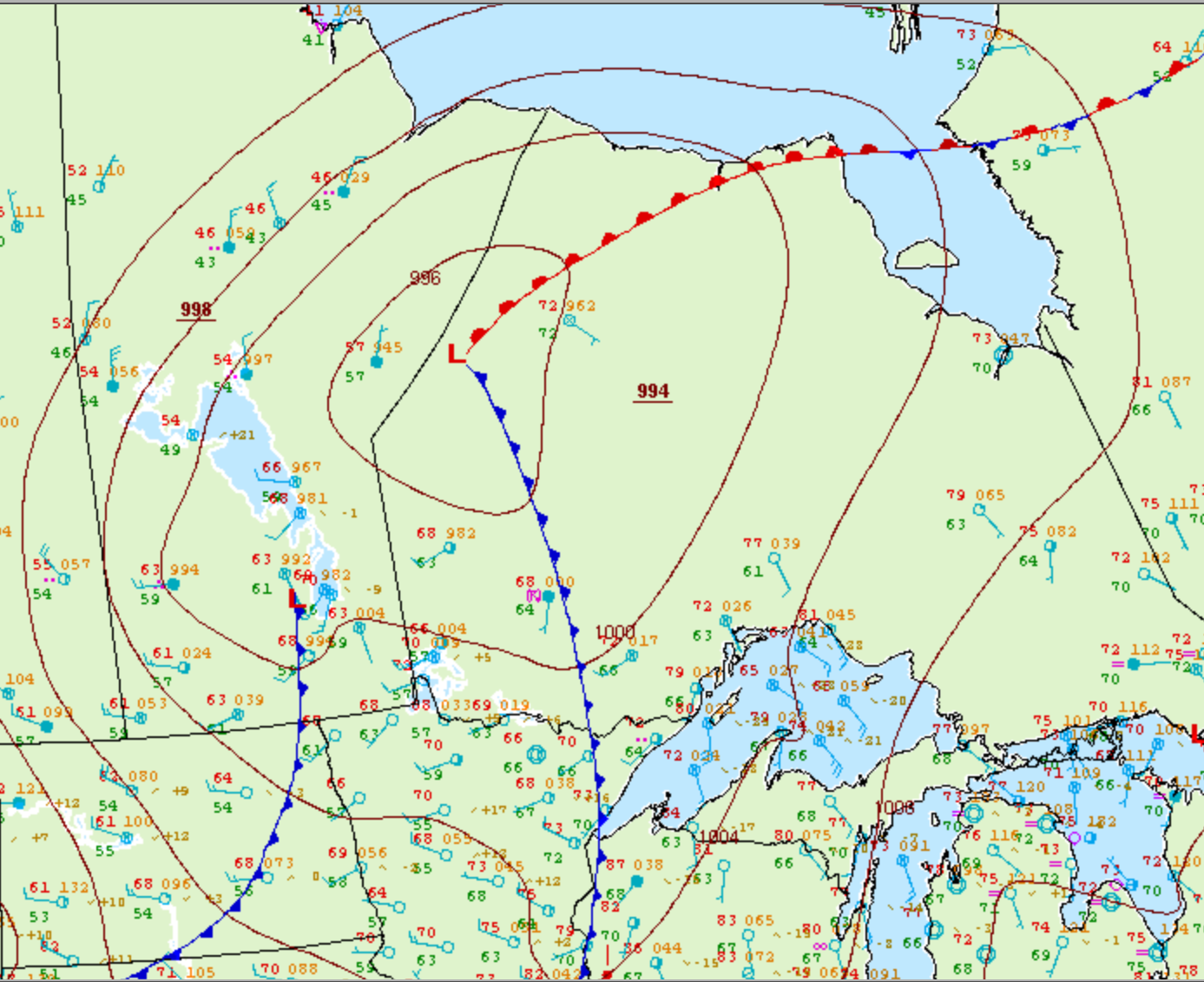 According to Environment and Climate Change Canada (2018), an F0 tornado touched down near Karl Lake, ON. The path and width of the tornado was not documented by ECCC. The tornado caused no fatalities, injuries or property damage.
---
Sources
NWS Weather Prediction Center Surface Analysis Archive. (2017). Surface analysis 03Z Mon Jul 18 2005. Retrieved from: https://www.wpc.ncep.noaa.gov/archives/web_pages/sfc/sfc_archive.php

Environment and Climate Change Canada Data. (2018). Canadian National Tornado Database: Verified Events (1980-2009) – Public. Retrieved from: http://donnees.ec.gc.ca/data/weather/products/canadian-national-tornado-database-verified-events-1980-2009-public/