This probable F1 tornado touched down on the east side of Lake of the Woods. At Gill's Morson Marina, two 20 tonne houseboats were picked up and thrown dozens of metres. One that was on the water at the time (the other was on a trailer ashore) had a woman aboard, and she sustained injuries but managed to swim ashore safely.
At another nearby marina, Canada North Houseboats, docks and storage buildings were damaged and destroyed. Throughout Morson, trees and hydro poles were snapped and several homes were damaged, one of which had its roof torn off.
Figure 1 depicts the surface observations at 7:00 am CDT, which shows a stationary front across southeastern Manitoba and northwestern Ontario. A thunderstorm (marked as "R") is also ongoing in extreme southeastern Manitoba. The stationary front became the focus for thunderstorm development throughout the early morning hours of July 31st, which ultimately led to this F1 tornado.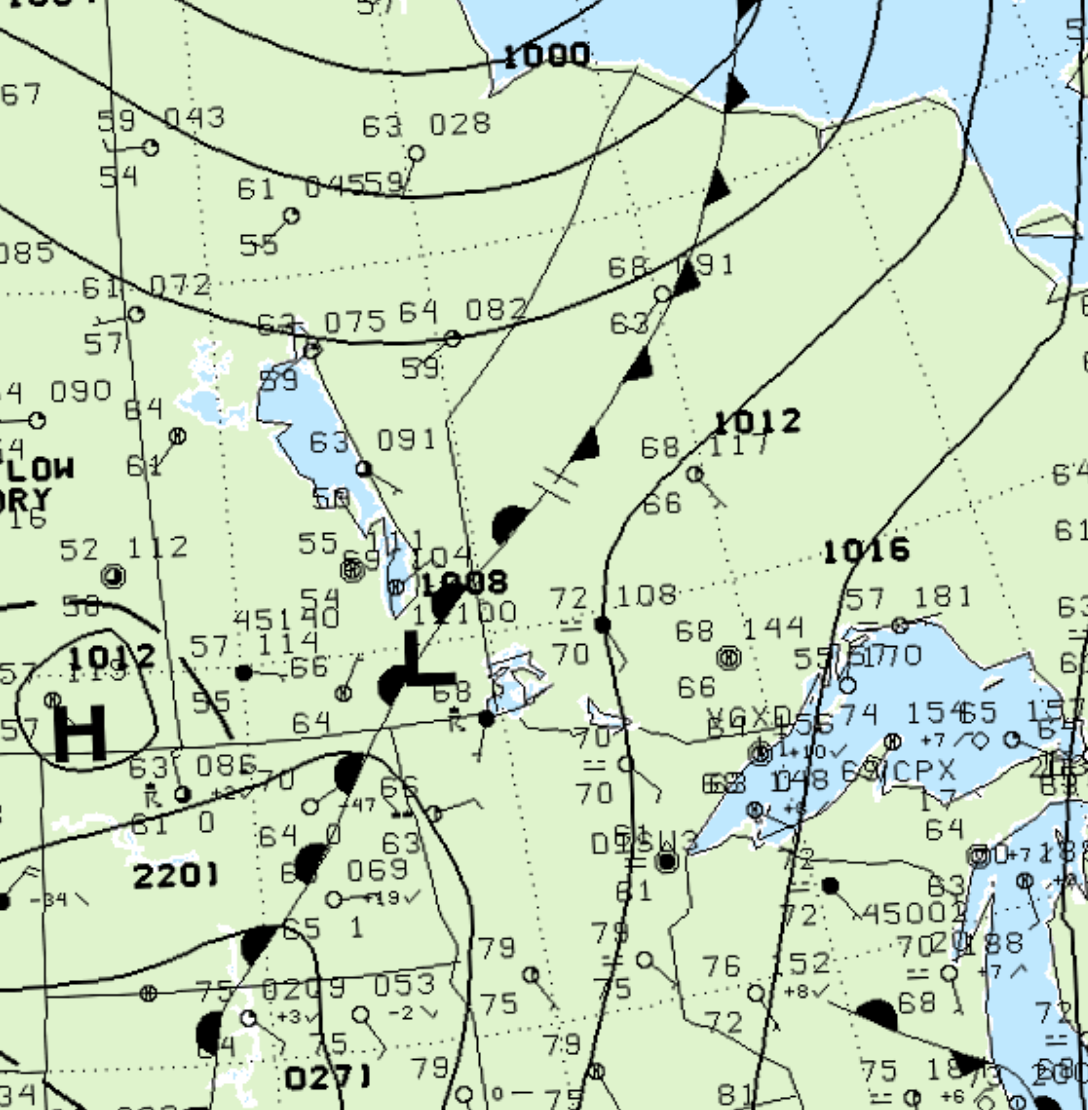 According to Environment and Climate Change Canada (2018), an F1 tornado touched down at 6:35 am CDT in Morson, ON. The path and width of the tornado was not documented by ECCC. The tornado caused no fatalities, but injured one person and caused $8 thousand dollars in property damage.
---
Sources
NWS Weather Prediction Center Surface Analysis Archive. (2017). Surface analysis 12Z Tue Jul 31 2001. Retrieved from: https://www.wpc.ncep.noaa.gov/archives/web_pages/sfc/sfc_archive.php

Environment and Climate Change Canada Data. (2018). Canadian National Tornado Database: Verified Events (1980-2009) – Public. Retrieved from: http://donnees.ec.gc.ca/data/weather/products/canadian-national-tornado-database-verified-events-1980-2009-public/