Guelph slammed by F2 tornado; extensive damage to 100s of houses, some destroyed
This tornado touched down at 8:12pm, then remained on the ground for twenty-three minutes as it tore to the southeast across southern sections of the city. It was a large and ominous cone tornado that was fully condensed to the ground, churning with debris from trees and buildings, a shocking and terrifying sight for residents of the city as they watched it tear through.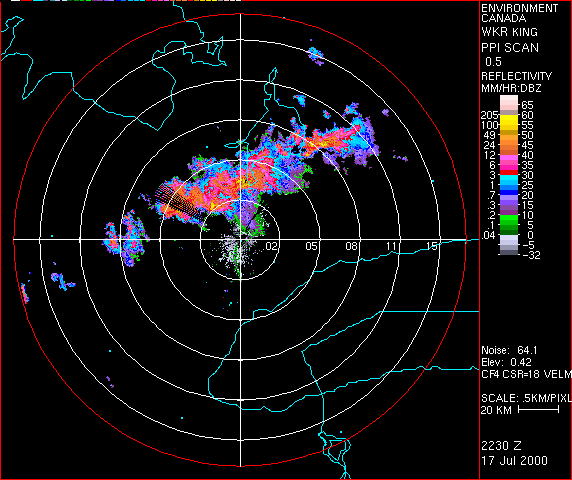 The tornado initially touched down in Silvercreek Park where trees were twisted, snapped and uprooted, and it continued to cause tree damage as it moved out of the park and into residential streets. It passed along and adjacent to Edinburgh Road South and steadily increased in intensity as it approached Harts Lane West. There, a farm was struck, its house and outbuildings receiving extensive F1 damage. Southeast of there, in the Hamilton Corner area, it tore apart the Arkell Church, sweeping away the building's cloakroom and tearing up roofing and siding.
Next the tornado took a slightly more easterly jog, tearing through the heavily-populated Pine Ridge subdivision. Dozens of houses were significantly damaged with windows shattered and sections of roof ripped off. At one house, the entire garage and most of the roof were torn away and scattered. Another house under construction was levelled entirely. Throughout the neighbourhood, trees were snapped and uprooted and power poles knocked down. Fifty homes in the subdivision suffered heavy damage and several families were displaced.
More amateur video (Credit Brad Ivany) of the Guelph Tornado 16 years ago today. Part 1/3 pic.twitter.com/F4u6L0F9J2

— ON Tornado Research (@researchtornado) July 17, 2016
Part 2/3 Guelph Tornado (Video: Brad Ivany) pic.twitter.com/mihuRKKkSw

— ON Tornado Research (@researchtornado) July 17, 2016
Part 3/3 of Guelph Tornado captured on tape by Brad Ivany 16 years ago today #onstorm #onwx pic.twitter.com/5x65y0Q3XX

— ON Tornado Research (@researchtornado) July 17, 2016
OTD in 2000: F2 tornado tracks through SE end of Guelph. Home video shows it touching down. pic.twitter.com/iFQfhIC8zb

— ON Tornado Research (@researchtornado) July 17, 2016
The tornado was captured in photographs and on video by a number of witnesses, a large cone that was fully condensed to the ground with the debris from houses lofted high in the air and swirling at its base. One woman suffered minor injuries and was treated for bruising, and preliminary estimates put the damage at over $2,000,000. The original damage survey of the Guelph tornado, conducted by Environment Canada researcher David Sills, is available here.
This was the most damaging of three tornadoes to touch down in South Central Ontario on July 17, 2000. The others: