Published on
I started chasing while in college. Although college demanded a lot of my time, I made time during the spring of 2007 to monitor severe weather.
The day of March 28, 2007 is a day I will never forget. Justin Dean and I had looked at model data over the previous few days and had a suspicion that a few tornadoes would be possible. I jumped in the car the morning of March 26, 2007, leaving Manhattan Kansas to meet Justin in Salina, and then we proceeded west down I-70 with a target of Colby, Kansas.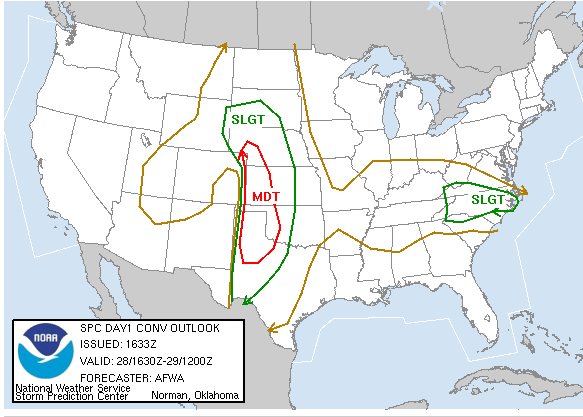 Mobile data in 2007 was a lot trickier than it is today. We stopped for lunch in Hays, looked over data (thanks to a hotel with an open wifi connection) and then continued west. We arrived in Colby, grabbed a quick bite to eat and quickly departed as the first tornado warning in our region was issued.
We watched as a couple of brief tornadoes danced around north of Sharon Springs, but the storms did not appear to be overly menacing. The tornadoes appeared to be of the landspout variety, which generally do not cause a lot of damage.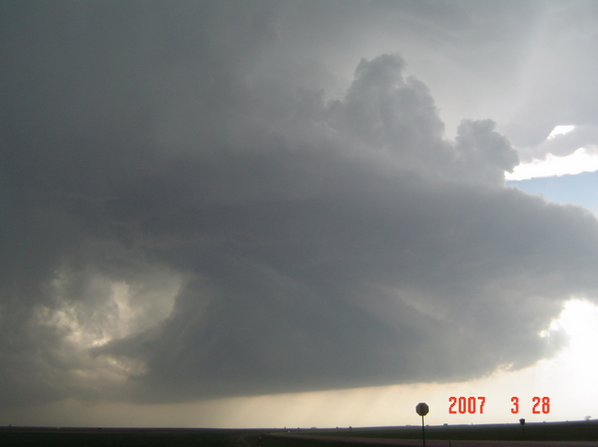 The situation took a quick turn as the sun set. The low-level jet cranked up and storms began to evolve into more prolific tornado-producing supercells. Justin received a phone call from Jon Behle asking if we could see a large tornado just off to our north. At this point, we had to wait for lightning strikes to be able to see the base of the storm. As we turned, a lightning bolt illuminated a large tornado several miles to our north. I immediately called our media partner and began an hour of continuous severe weather coverage.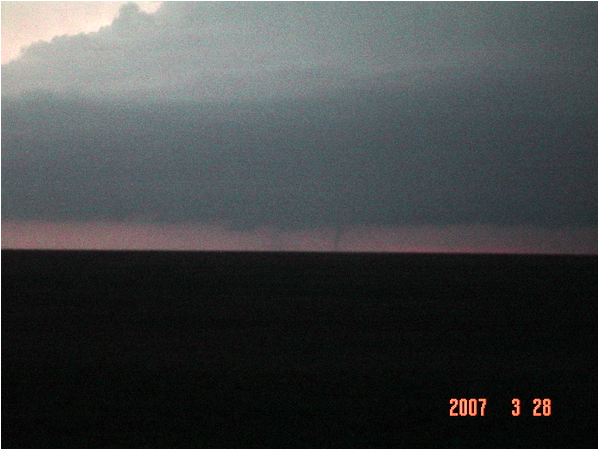 The tornado moved nearly due north for almost an hour as Justin and I raced to keep up with it. Crossing Sherman County into Cheyenne County, just missing the town of Bird City. At one point along its track, it was producing a secondary "satellite" tornado that was moving beside the main tornado. The tornado dissipated, so we felt it was a good opportunity to see if Bird City had damage from this large wedge tornado. Thankfully, it had missed the town just to the east.
We continued north to keep up with the supercell, now driving on roads that were made for farm equipment. Justin turned around, and in doing so slid into the ditch. The ditch was full of water, which made the car rock back and forth while we attempted to get out.
After being stranded for a while and having no luck calling authorities to help us out, we got out and started walking. We found a farm house about a half mile from our location and took shelter in the garage. Little did we know, another tornado was on the ground a few miles west of our location.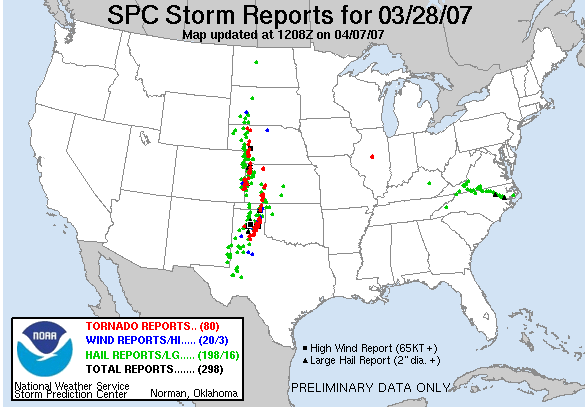 Once the storms passed, we walked back to the car and got in touch with the Rawlins County sheriff's department. She put us in touch with a local farmer that she thought would come to our assistance. Sure enough, about 3 am, the farmer arrived with his tractor to pull us out. We thanked him gratefully and started our 5 hour journey home.
We arrived in Salina after sunrise. Jon had left a note on my car wondering if we survived the night, as our phones had died several hours earlier. We learned many valuable lessons that night, and a great friendship was solidified.