Published on
Early observations this day were in agreement with models that an organized line of storms would descend into the desert around Phoenix that evening and would be preceded by a couple rounds of potentially strong but more isolated storms in the northern part of the state. I started the chase off near Twin Arrows, south of Interstate 40. Storms were popping up by the time I got there and updrafts strong enough to get some photogenic bases, lowerings and downdrafts.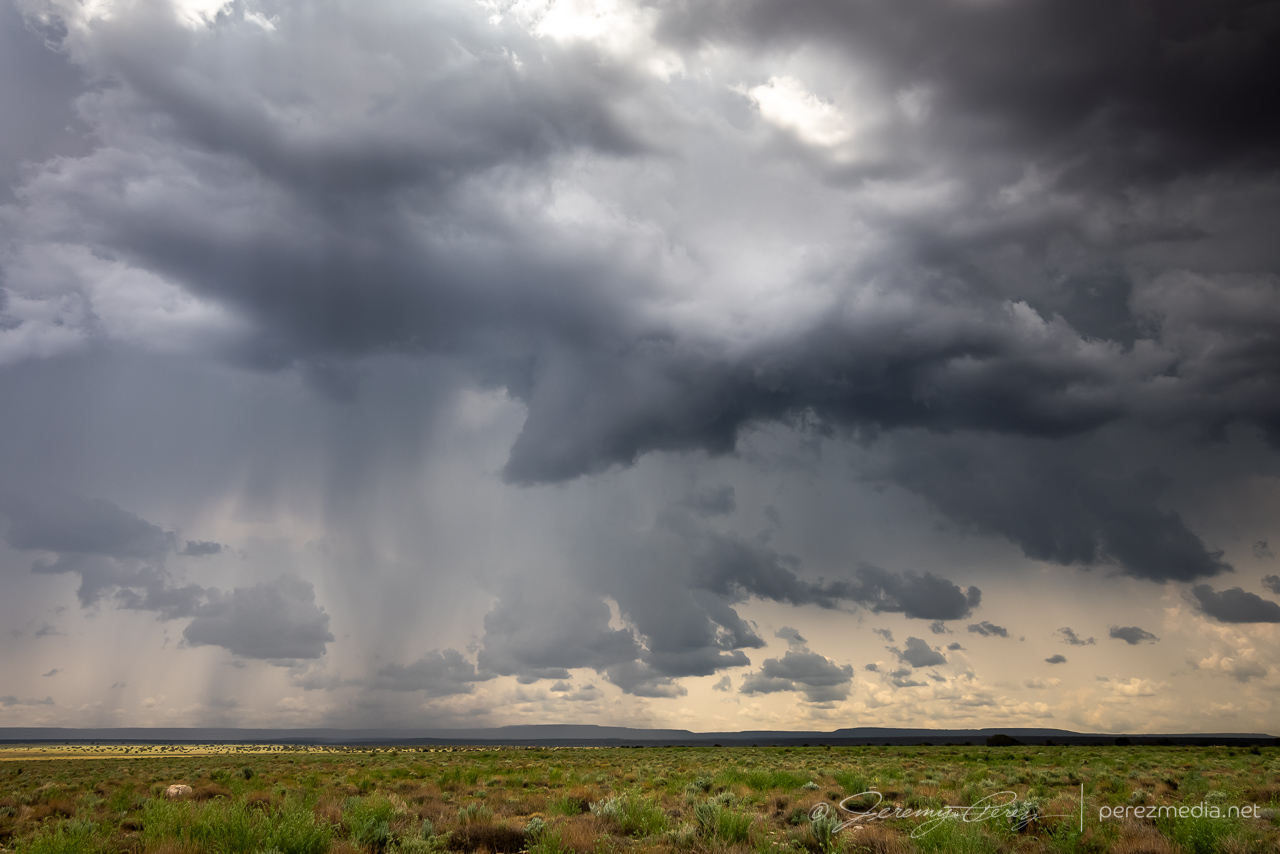 A couple cells strengthened west of my location. The one closest to Flagstaff developed a velocity couplet and picked up a severe warning, while the one closer to me seemed to be struggling but also developing transient areas of rotation. I decided to stick with it, since my plan was to keep a lead on developing storms eastward then south toward Phoenix. I do wish I had gotten a better look at that stronger cell though.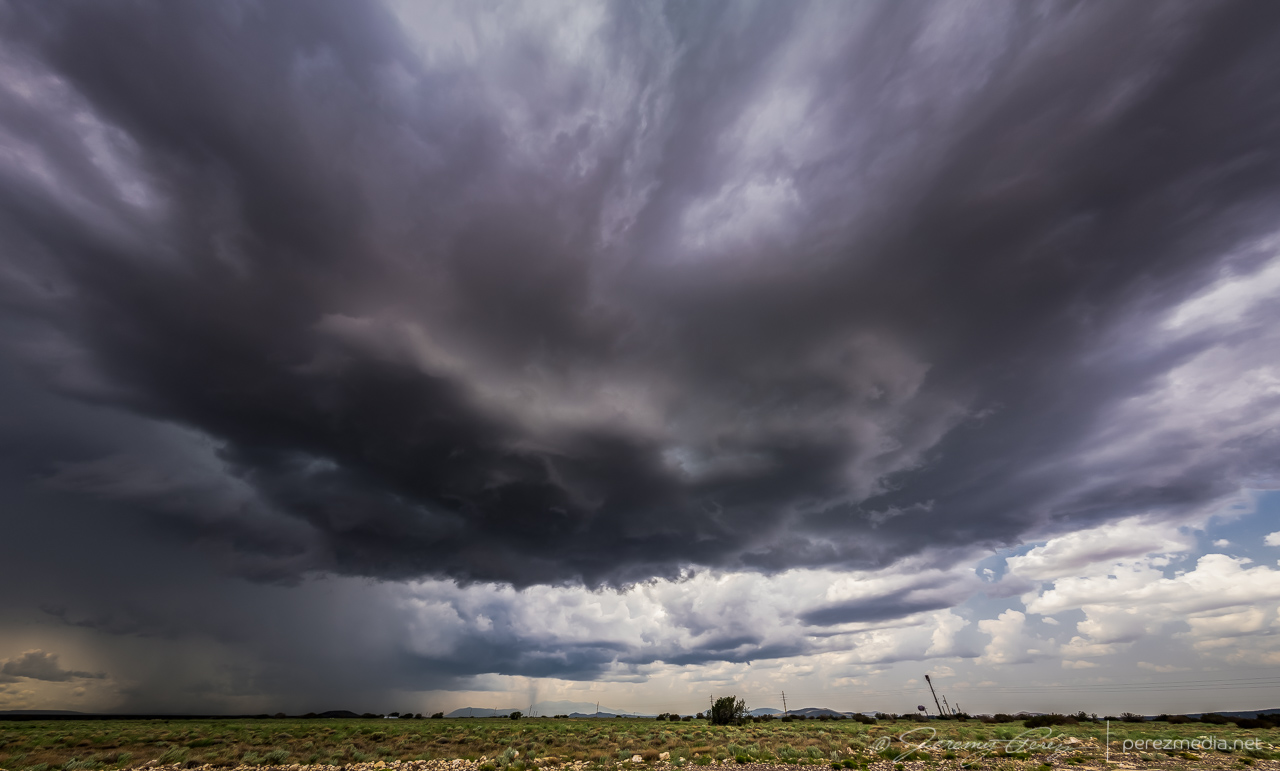 As that cell moved overhead, it displayed some beautiful vorticity in the updraft before I had to move to get out of the rain. After that, I headed to Winslow and dropped south on Route 87. The idea was to ride new development moving off the Rim into Verde Valley. However, things didn't ignite the way I hoped. A line of storms went severe warned off to my east, but were too far off for any decent views.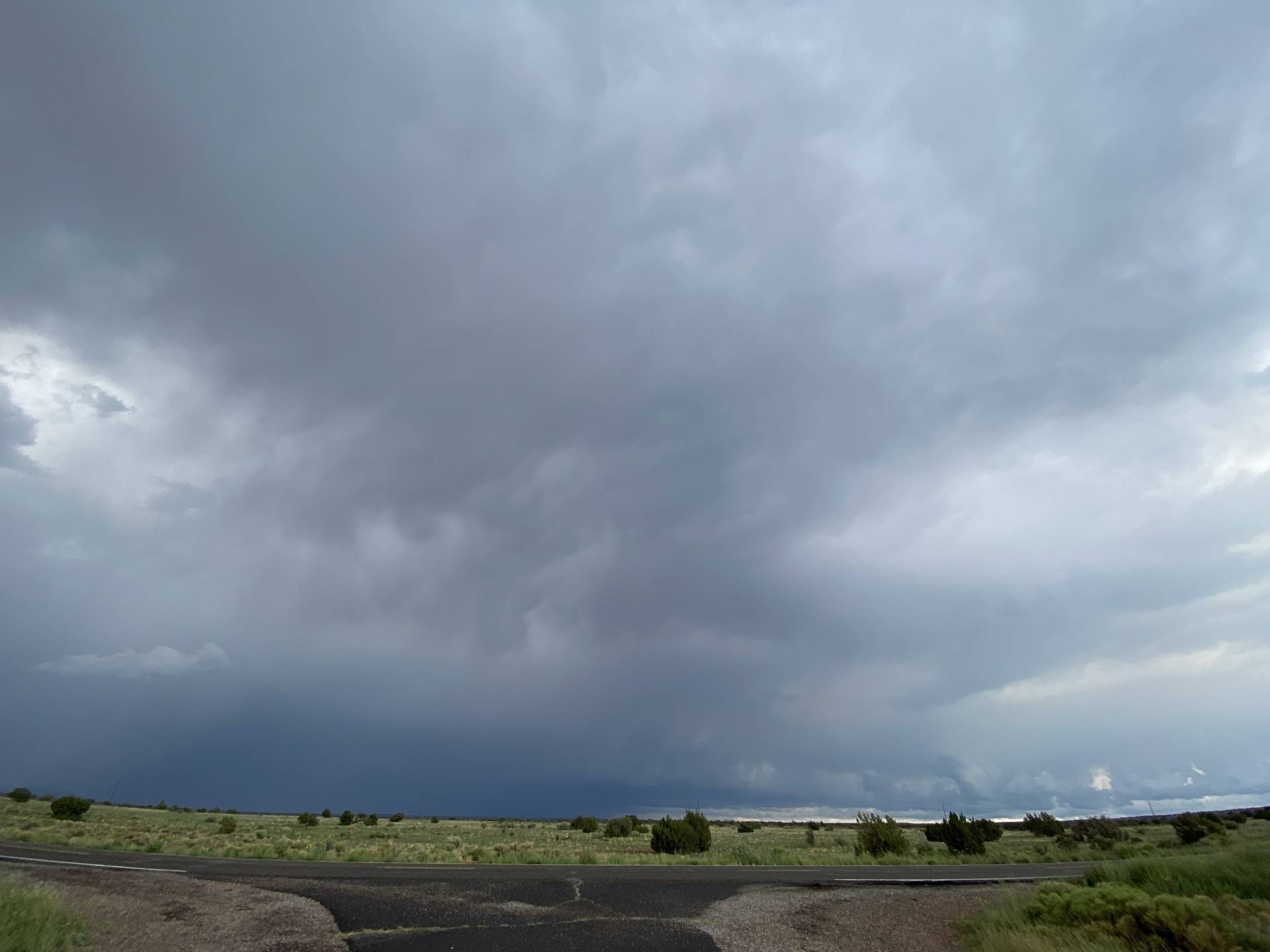 So I dropped on down to a hillside vantage on the east side of the Camp Verde and took a conference call while waiting for some activity. Storms gradually started popping again in the general area.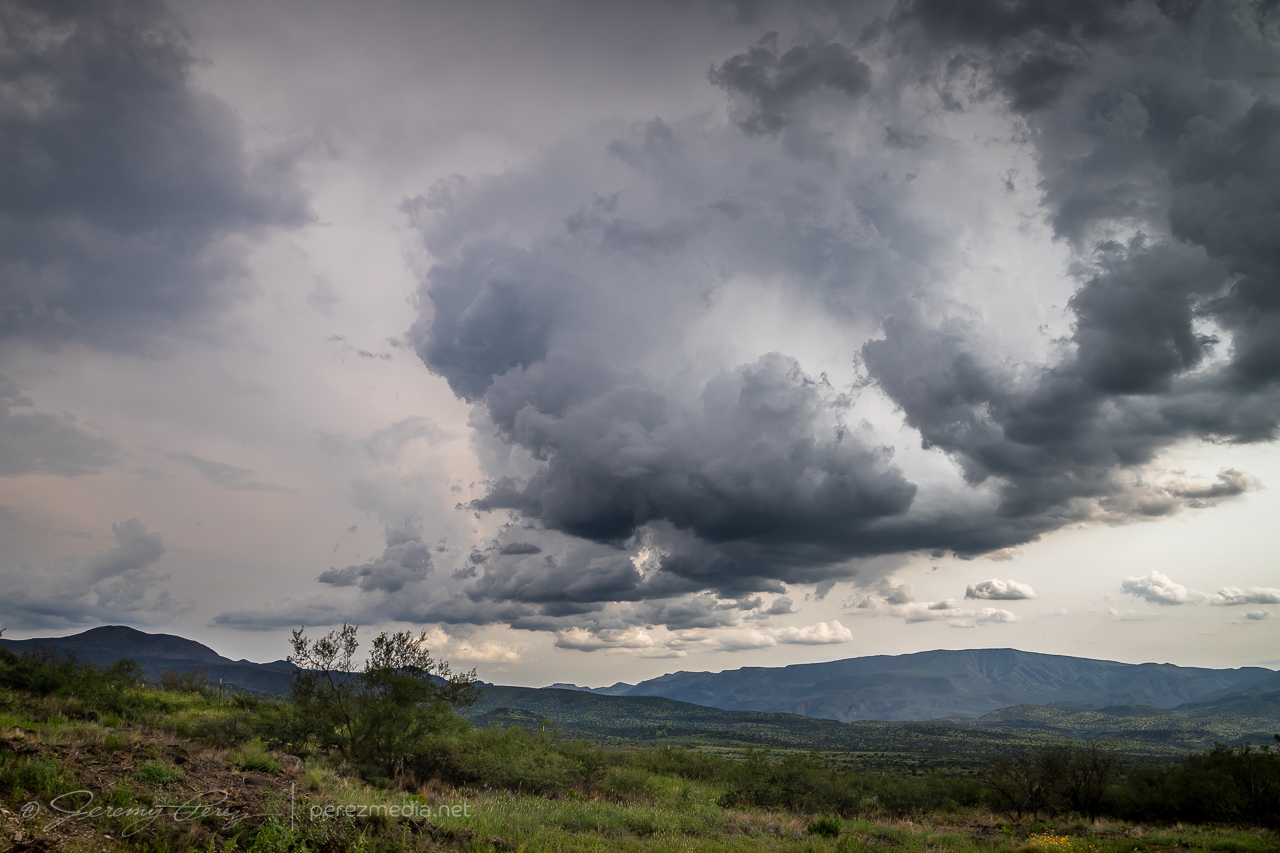 Finally it looked like something might be strengthening to the north, so I headed to a vantage on the west side of Camp Verde. As the northern cell strengthened, I scouted around for a good spot to tripod some attempts at lightning triggering. Someone else apparently likes the views in that area and had buried a couple beloved pets in that spot. The general vicinity looked like it had been periodically weed-whacked & kept up.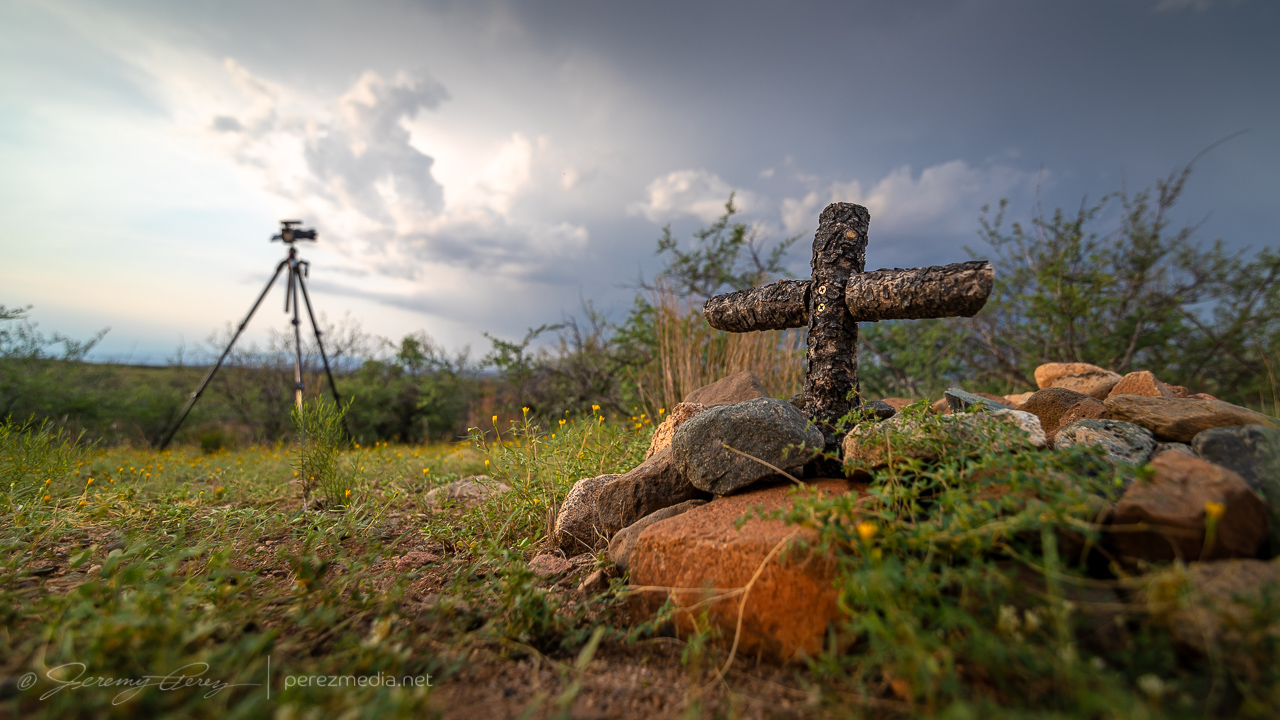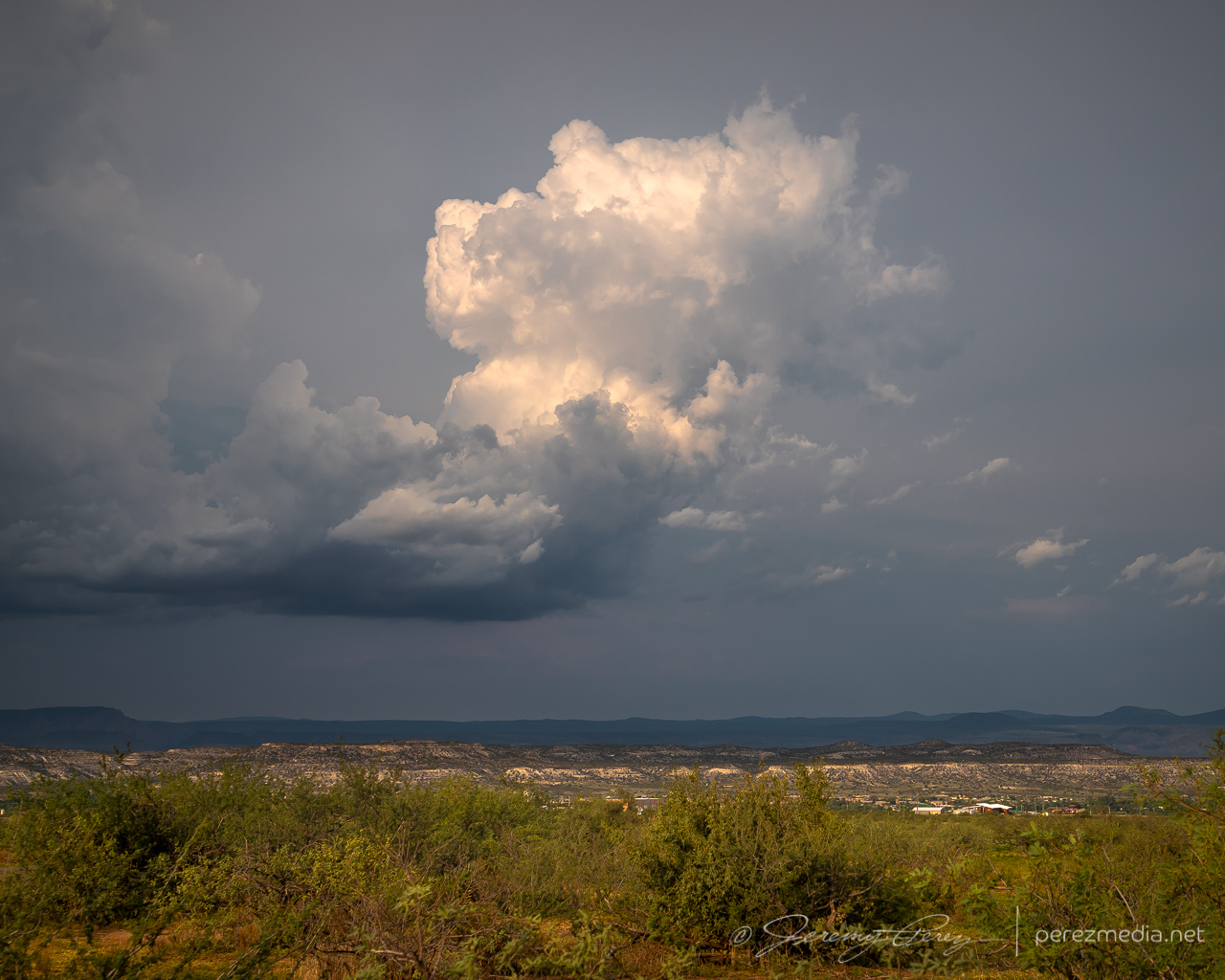 The cell to the north continued to strengthen, picked up a velocity couplet and a severe warning as it gathered what was probably some decent structure on the other side of the precipitation.
Thankfully, I did manage to snag one CG strike out of that one before I had to head further south.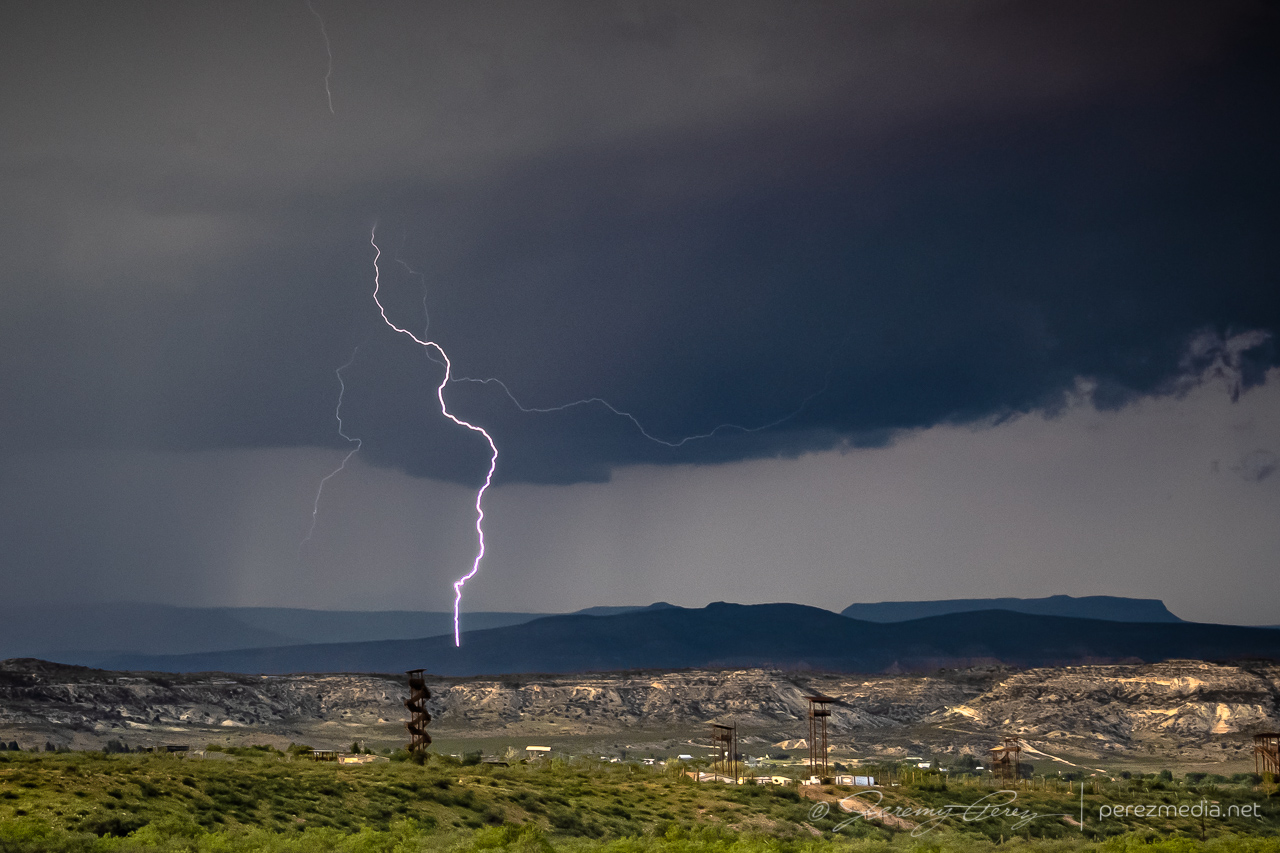 As I made my way onto the desert floor and headed east, storms over the Sierra Ancha were growing as expected and it looked like I'd be in good position to set up at a site I had scouted on Google Maps just north of Rio Verde. As I approached, lightning was illuminating the tops of the storms and I was hopeful for some good photo ops. But within a mile of my vantage, I saw that my road was closed due to being washed out by flooding over the last few days. I tried to find another nearby spot with a view over the treetops, but failed on that. So I backtracked several miles to another scouted spot and made my way to Tom's Thumb Trailhead. It was a just-in-time setup, as the storms were quickly rushing into town and were almost on me.
Lightning was constant, but I wasn't seeing any bolts outside the clouds or rain. The shelf cloud looked pretty good though and I started grabbing shots with the saguaro, palo verde and nearby peak.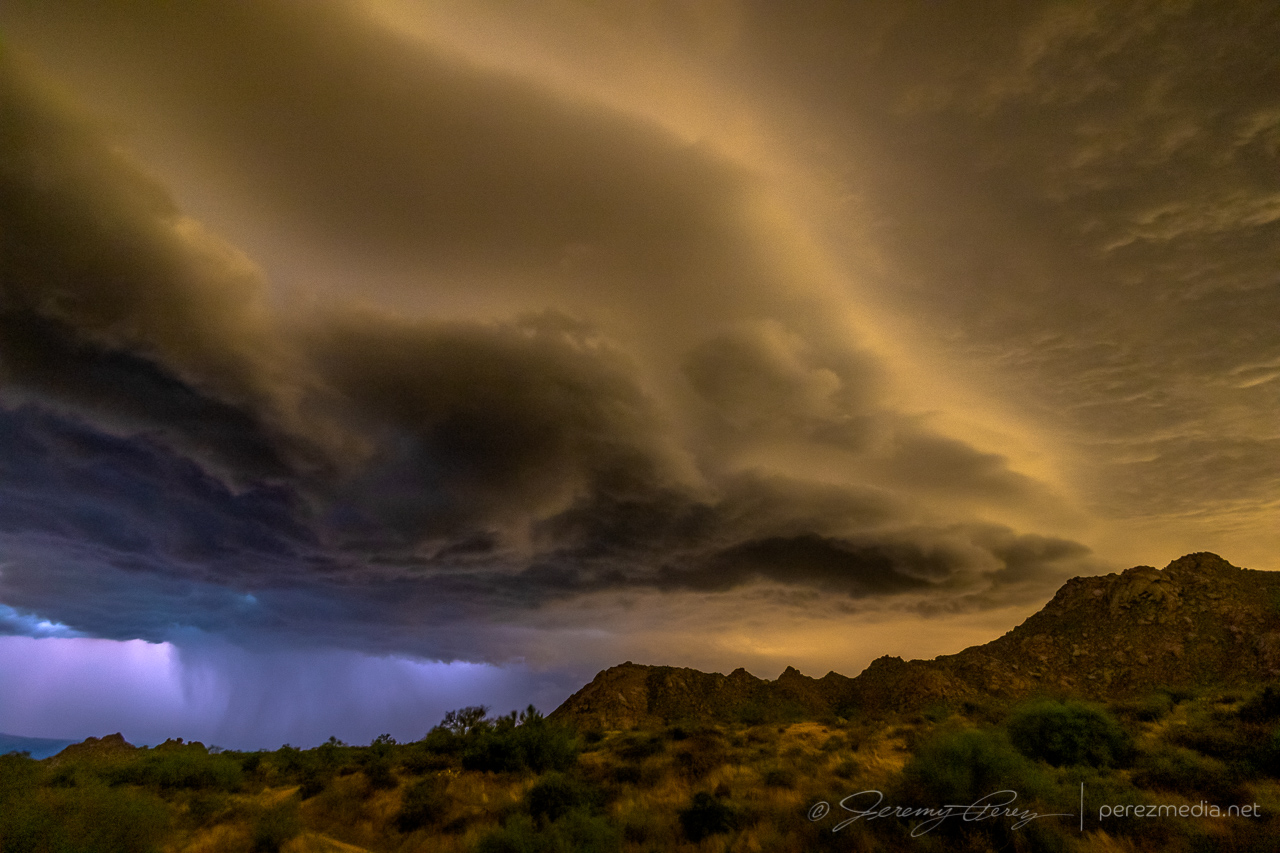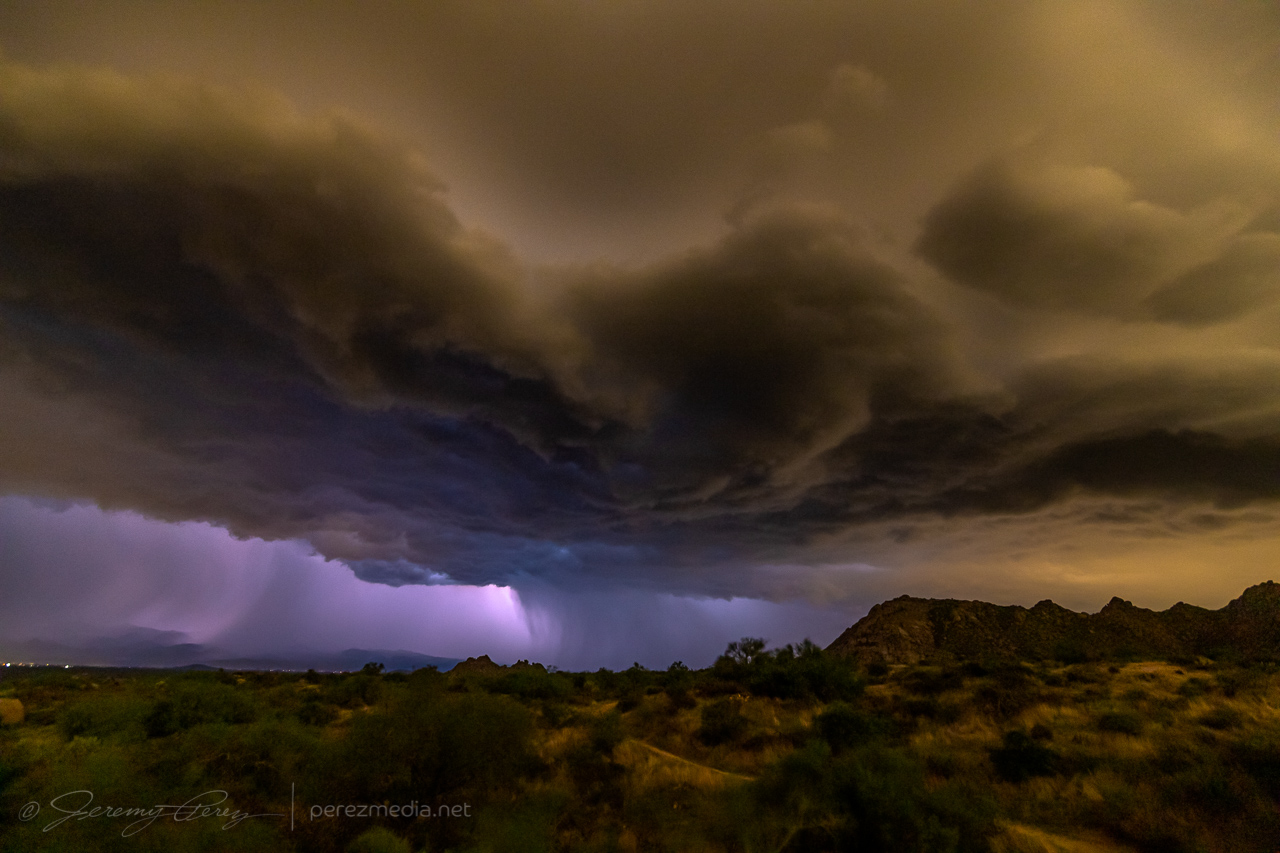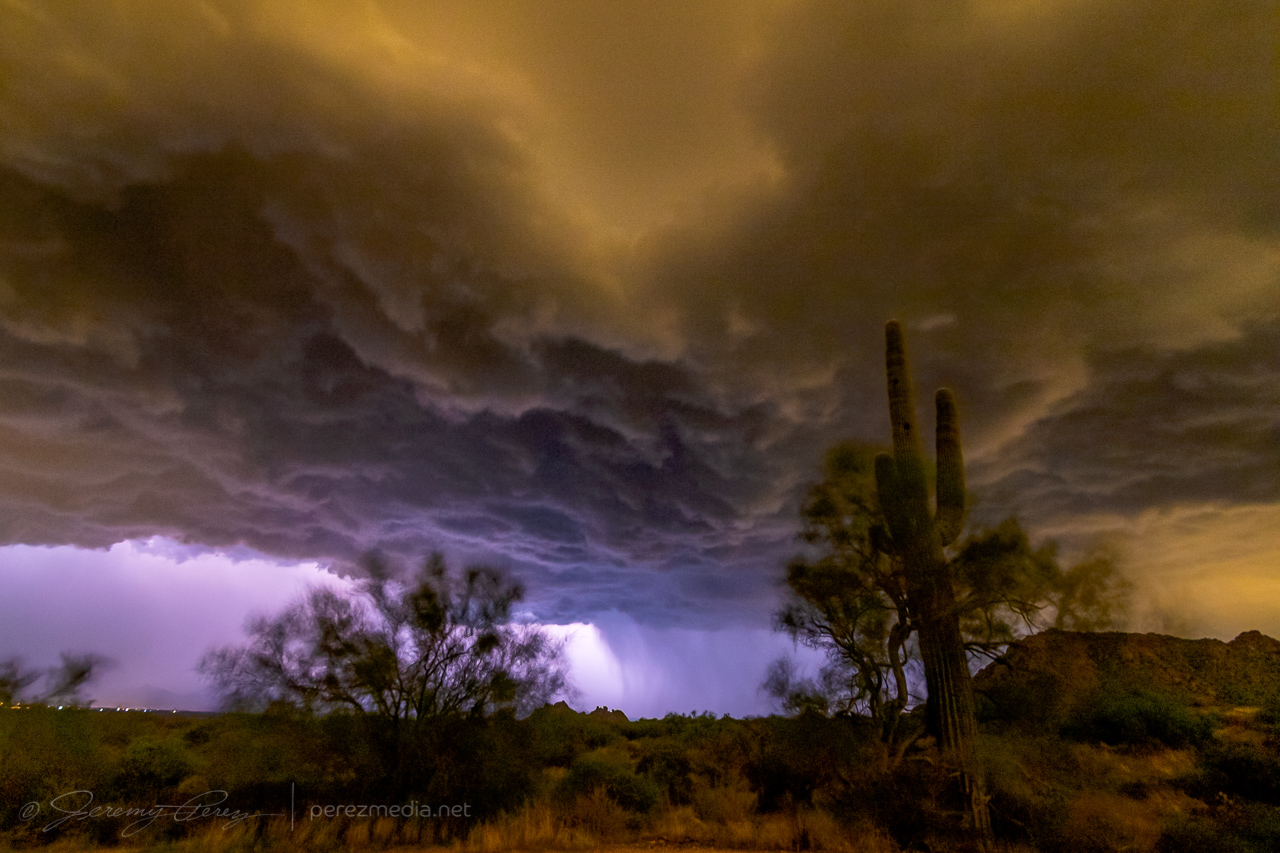 I had about 7 minutes to get those shots before the gust front was on me and rain was growing heavy. I rushed to get off the dirt road leading there before it got swamped, and made my way to the Phoenix Sonoran Preserve to try and get some more shots, but intracloud lightning was the only thing happening.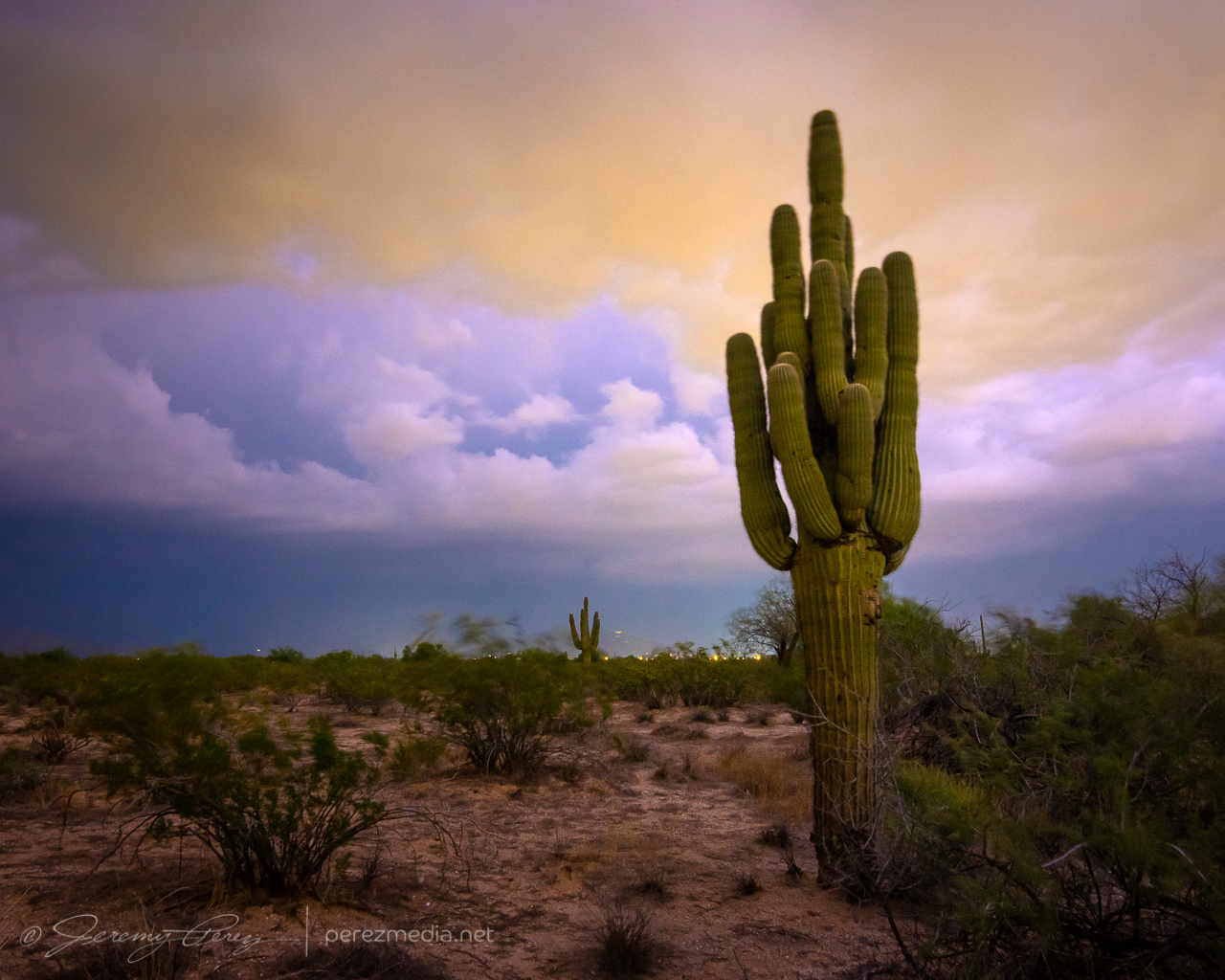 Another couple cells looked like they were firing to the north and I managed a couple cloud-to-cloud bolts out of that before calling off the lightning attempts.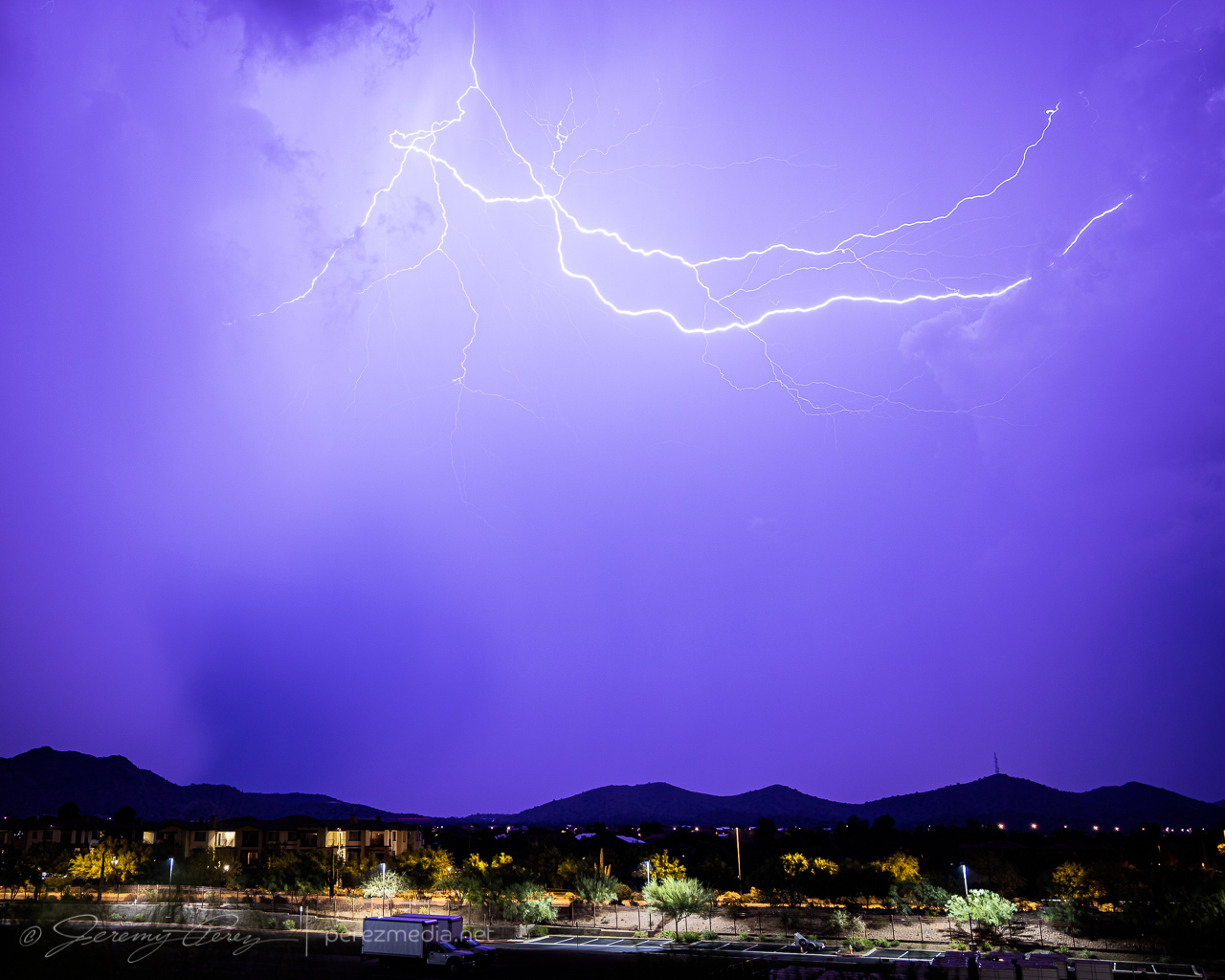 As I headed toward Interstate 17 to head back home to Flagstaff, I had to weave around a few palo verde trees that had been blown down into the road. I stopped to send in a spotter report on those, and then headed home.