Published on
May 22nd, 2010, was the second day of my first storm chase on the plains. When my daughter and I checked out of our hotel in Chadron Saturday morning, I had no idea what an incredible day this would be. Forecast models showed the triple point positioned across north central South Dakota by afternoon with ample moisture, huge CAPE, and shear favorable for tornadic supercells. The cap was sturdy but there was hope that it would erode enough to allow storms to reach their potential.
Our first destination was Pierre, SD. When we arrived, I tried to find a book store where I could pick up a DeLorme South Dakota Atlas, but we were foiled. The manager at one book store said "we really don't have that many roads in South Dakota"…heheh. Cumulus were beginning to fire to the north-northwest and we couldn't waste any more time tracking one down. So we had to rely on our single-page Rand McNally map which gives no clues about local and farm roads.
As we headed north on US-83 at 2140Z, the cumulus field was starting to pull itself together and definitely looked like it was going to beat the cap.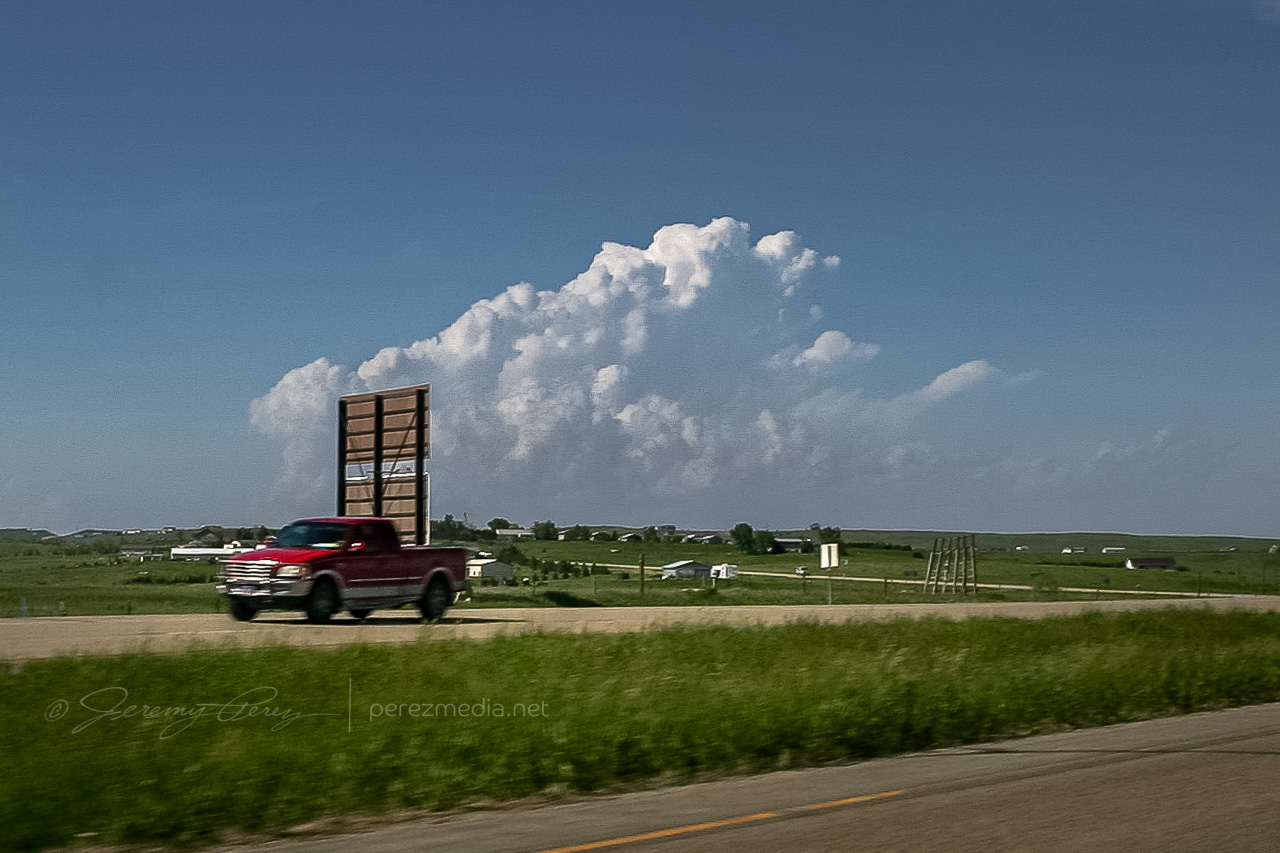 It was exciting to watch it grow and to realize that we were going to be in good position to intercept if it did explode. And it did! By 2215Z, it was pushing up a firm anvil, and by 2235, it was straight ahead, sporting a robust flanking line.
Features under the base began to lower and take shape as we approached the junction with SD-20 where we headed east to gain more ground on the storm.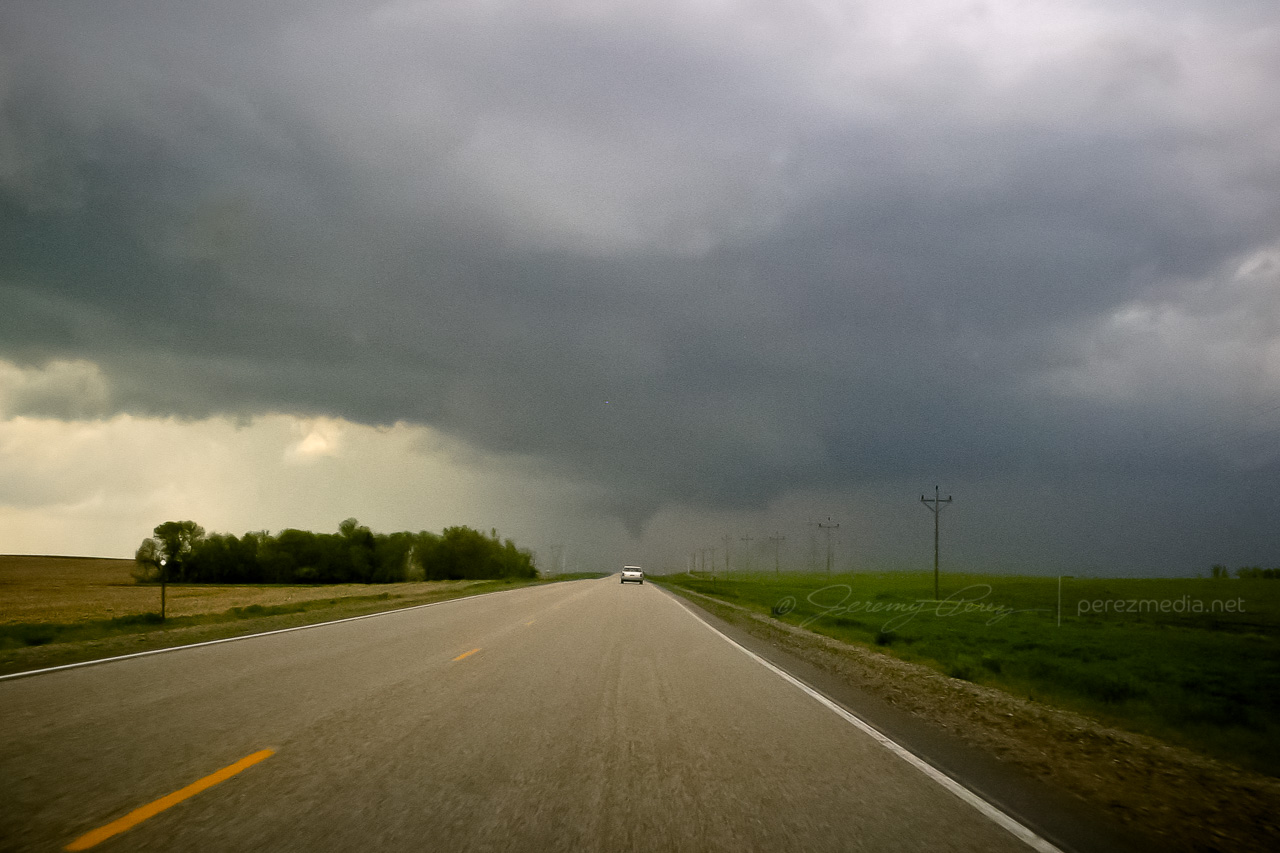 Thirteen miles to the east, we turned back north on SD-47 and by 2300Z, we were watching a foaming wall cloud being fed by a well-defined beaver tail.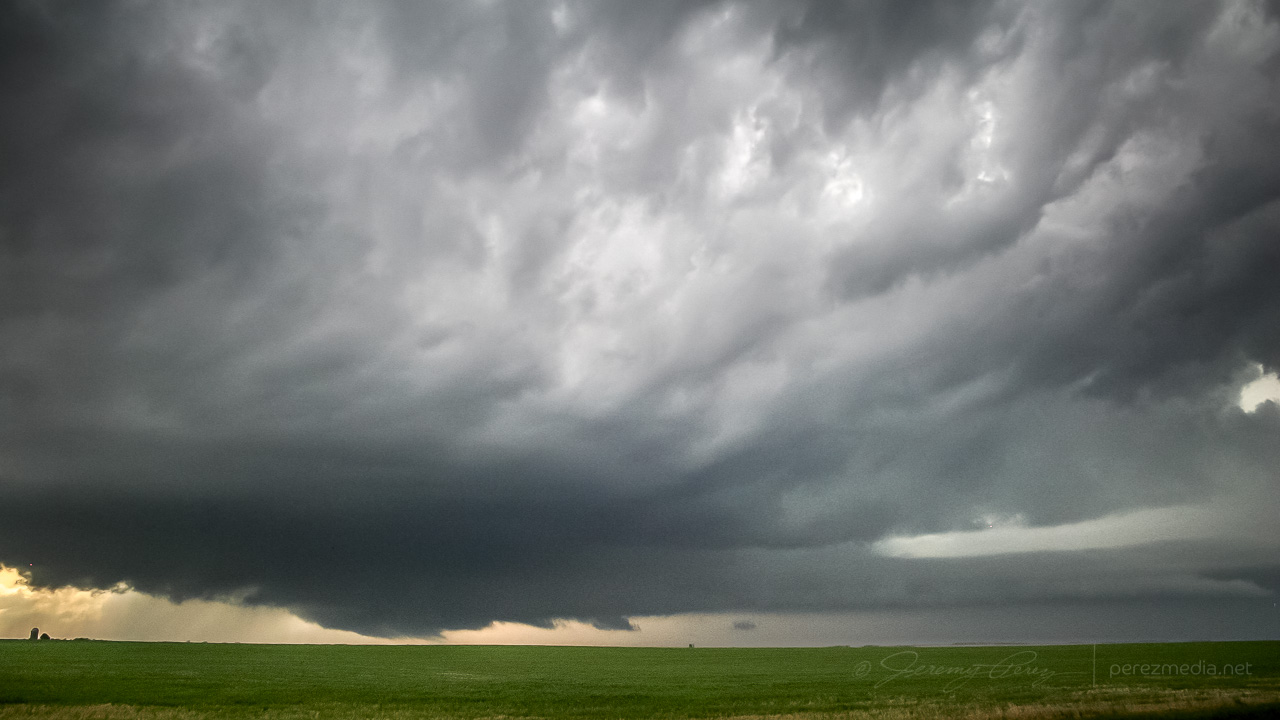 It's difficult to describe the sense of anticipation as we drew close to the point where it would cross the road. I did not want to set up where we would find ourselves beneath the mesocyclone. But I didn't want to position so far away that we couldn't see the churning details that were resolving better and better as the storm approached. We found a field access and backed in so we could quickly pull out and reposition if needed.
As the meso approached, warm humid wind pushed hard against our backs, urging us to surrender to the storm's gaping appetite. A golden light seeped beneath the base and RFD began to stir up ragged masses of dust on the far side like a cage going up around the ring. The array of rising, rotating, intertwining structures had me completely awestruck–it made me think of a grand design spiral galaxy in fast motion, the monster at its core threatening to burst to life.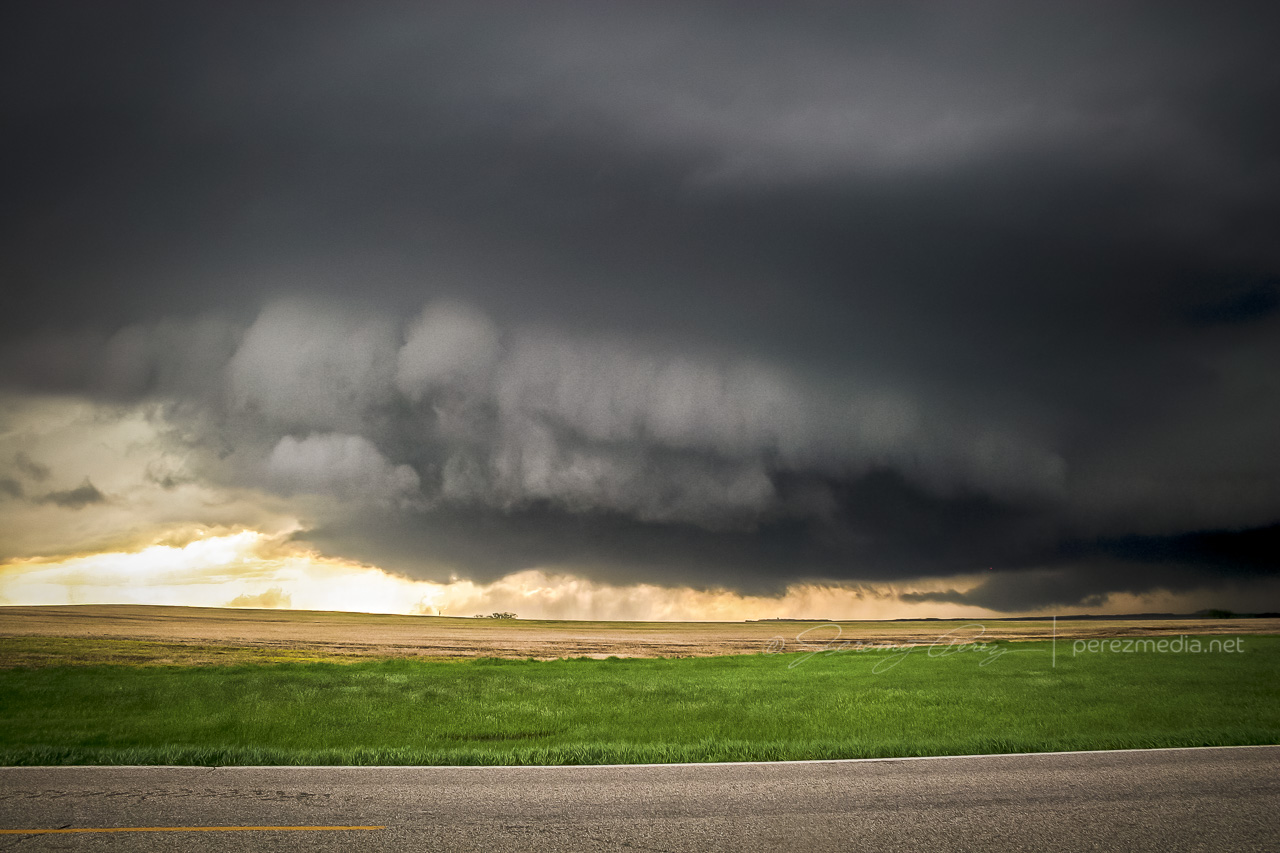 While the heart of the meso was on track to pass north of us, the growing rim of the toothy RFD shelf looked like it was going to pass too close for my sensibilities, so we dropped further south. As we drove, the south side of the meso began to drop and tighten up–things were getting ready to happen before our eyes. We found another pull out about a half mile further south and watched as rain wrapped under the base, while the RFD gust front arced onward.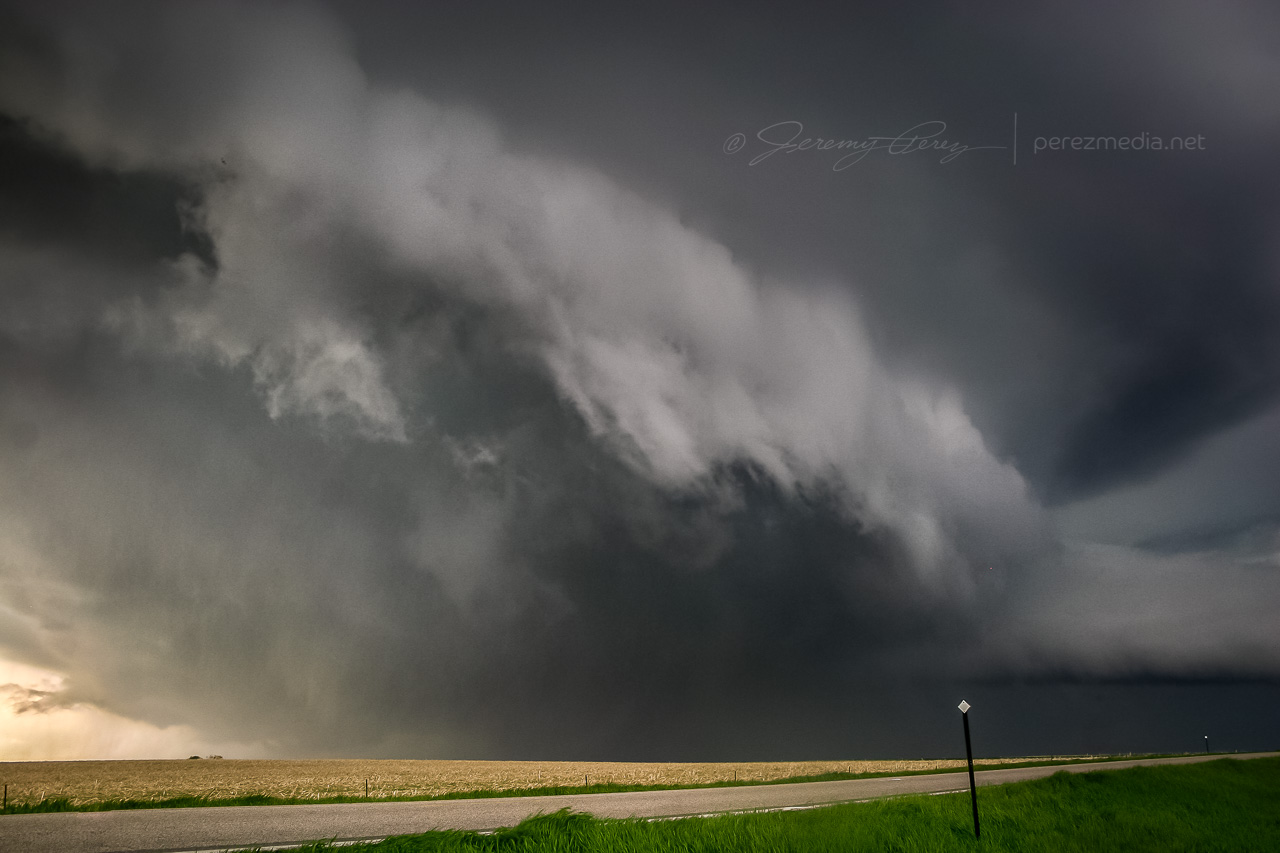 As the mist of precipitation cleared, the hulking mass of a wide cone-shaped funnel emerged from the shadows of its wall cloud (2315Z).
As it slowly moved from left to right, the cone got fatter and then slowly pulled upward, a pale uvula drooping from the singing mouth of the storm.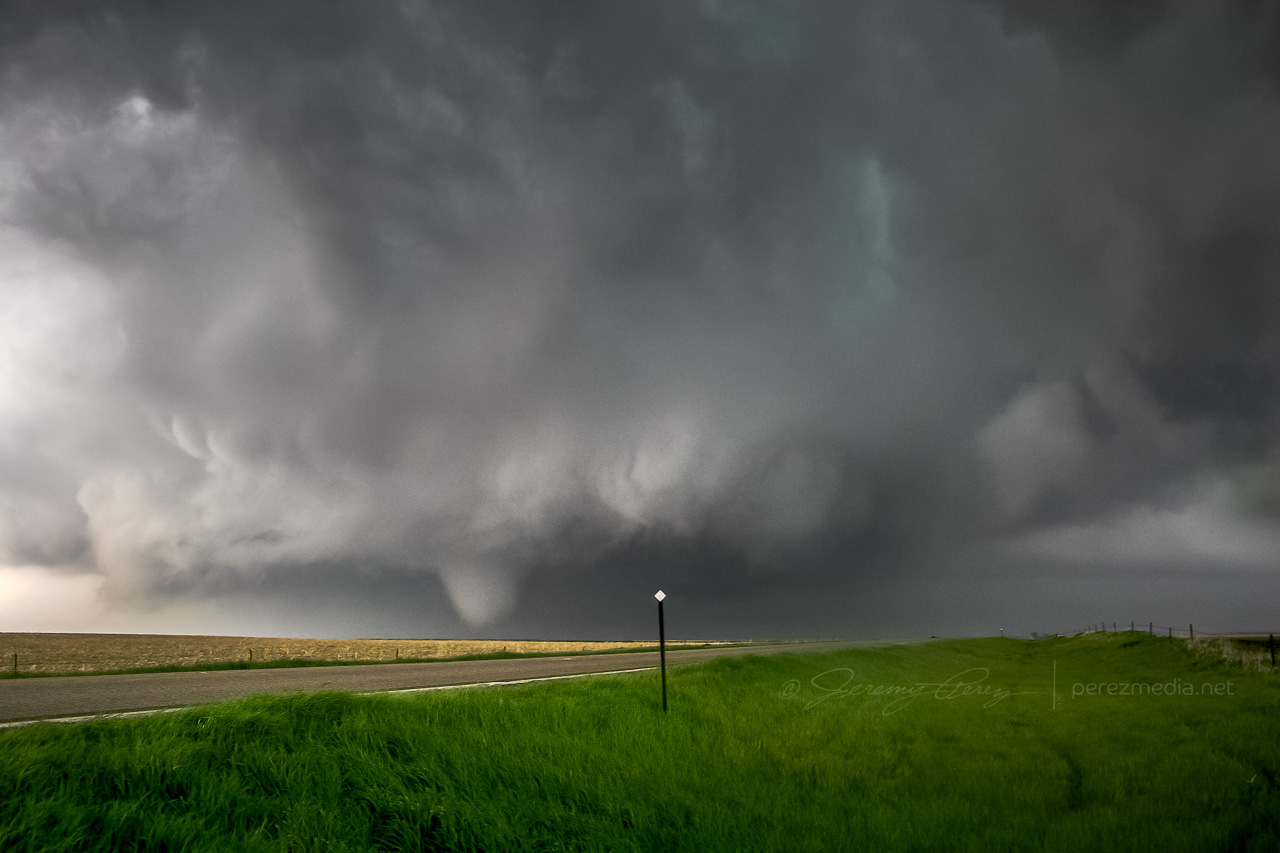 At 2317Z, the bulbous funnel formed a ground churning drillbit. Within seconds, it had finished sampling the farmland and began to degrade into a ragged finger that faded into another curtain of mist. By the time the meso crossed the road (2319Z), the condensation funnel was all but invisible.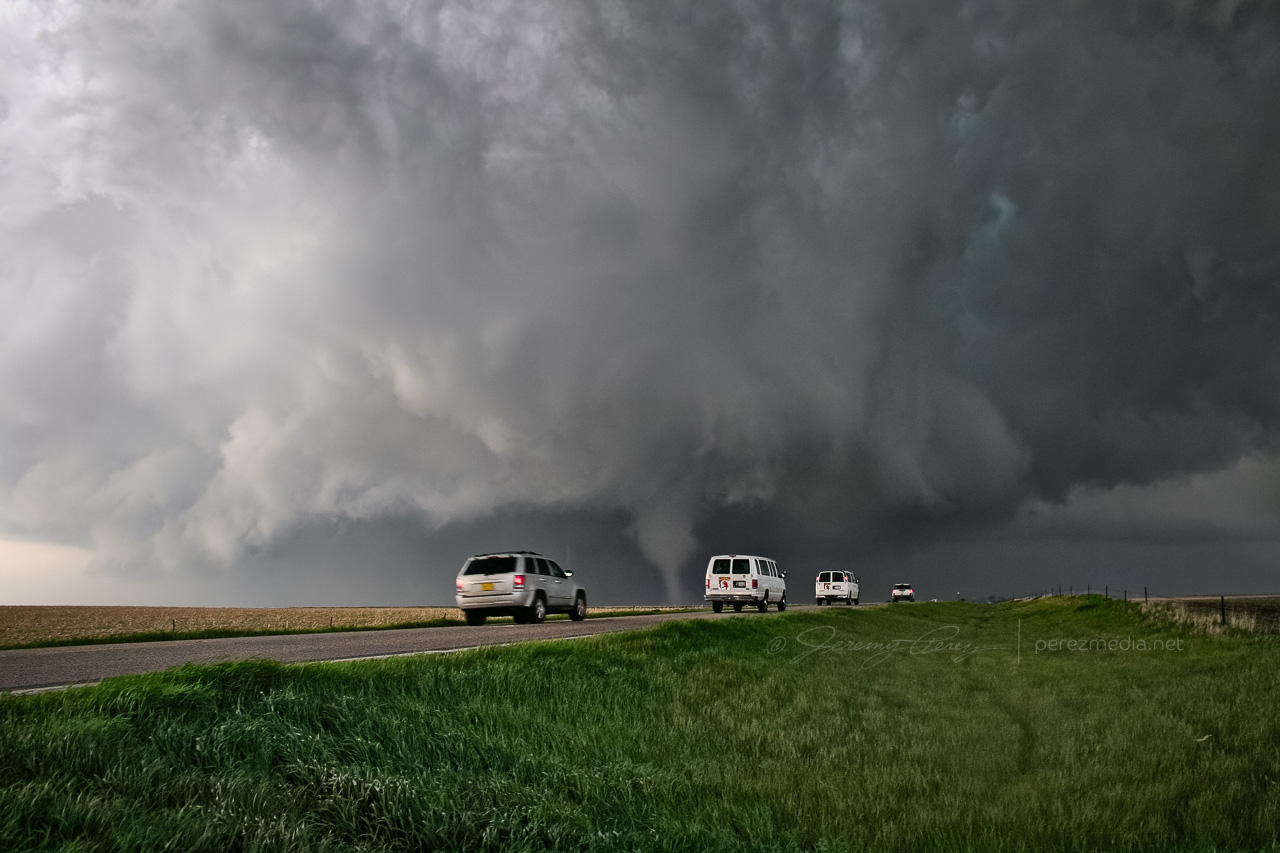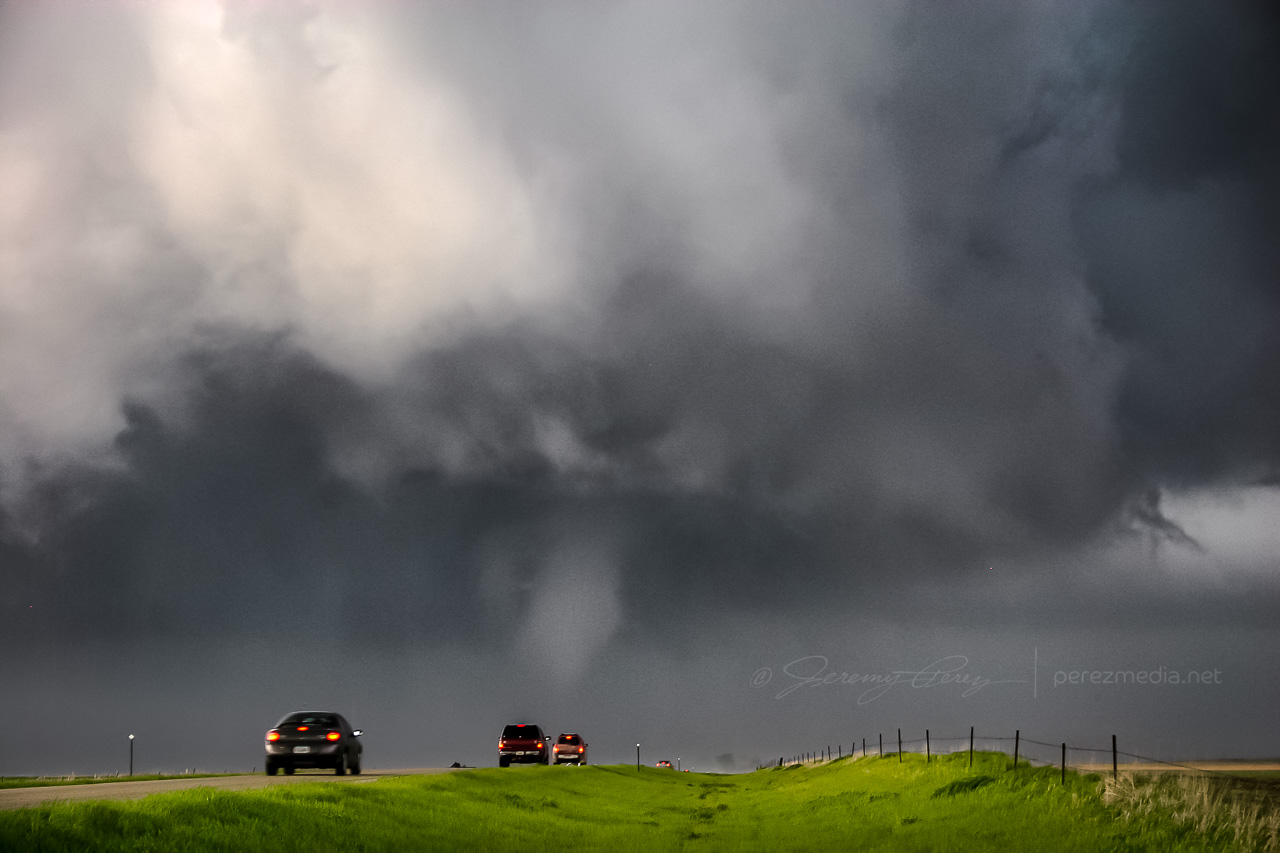 A minute later at 2320Z, the flying curtains of rain parted to reveal the tornado planted firmly to the ground again on the other side of the road.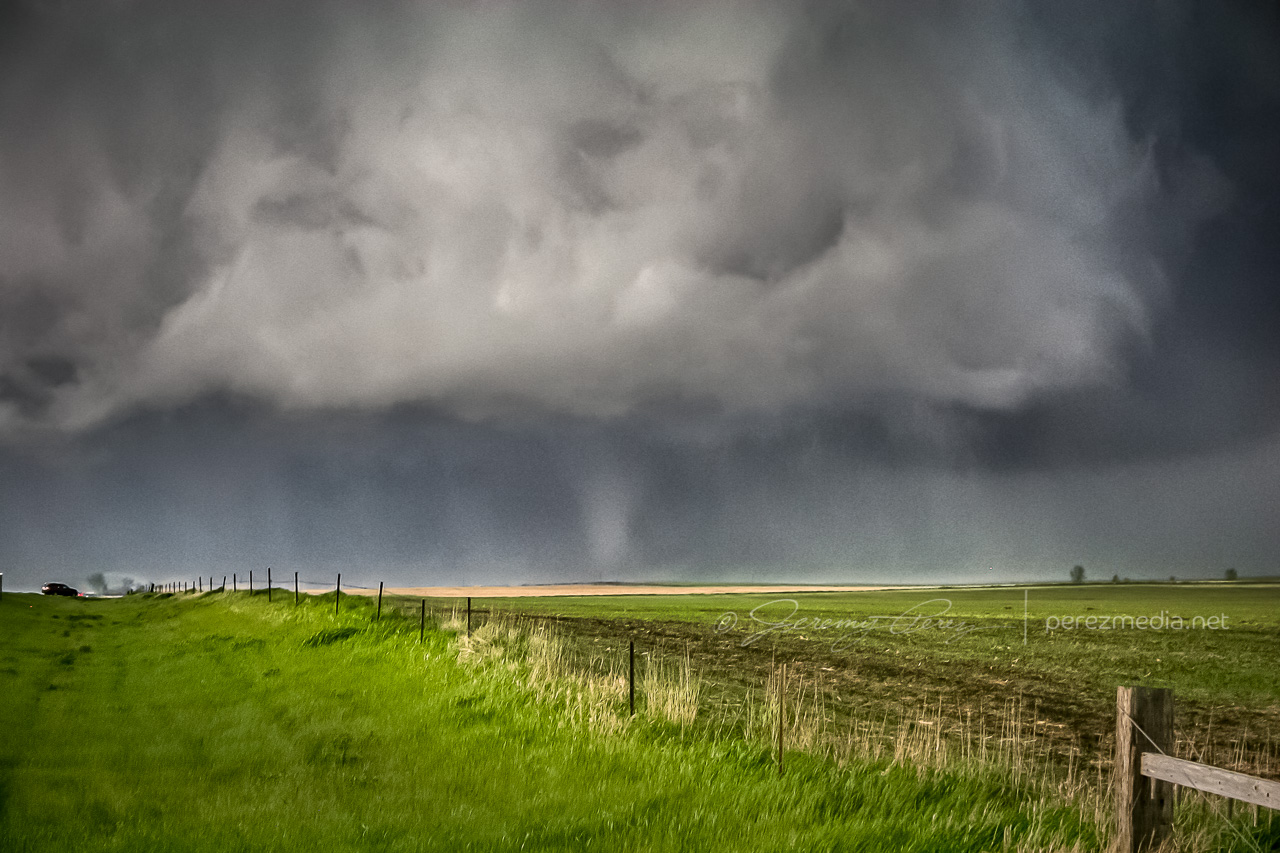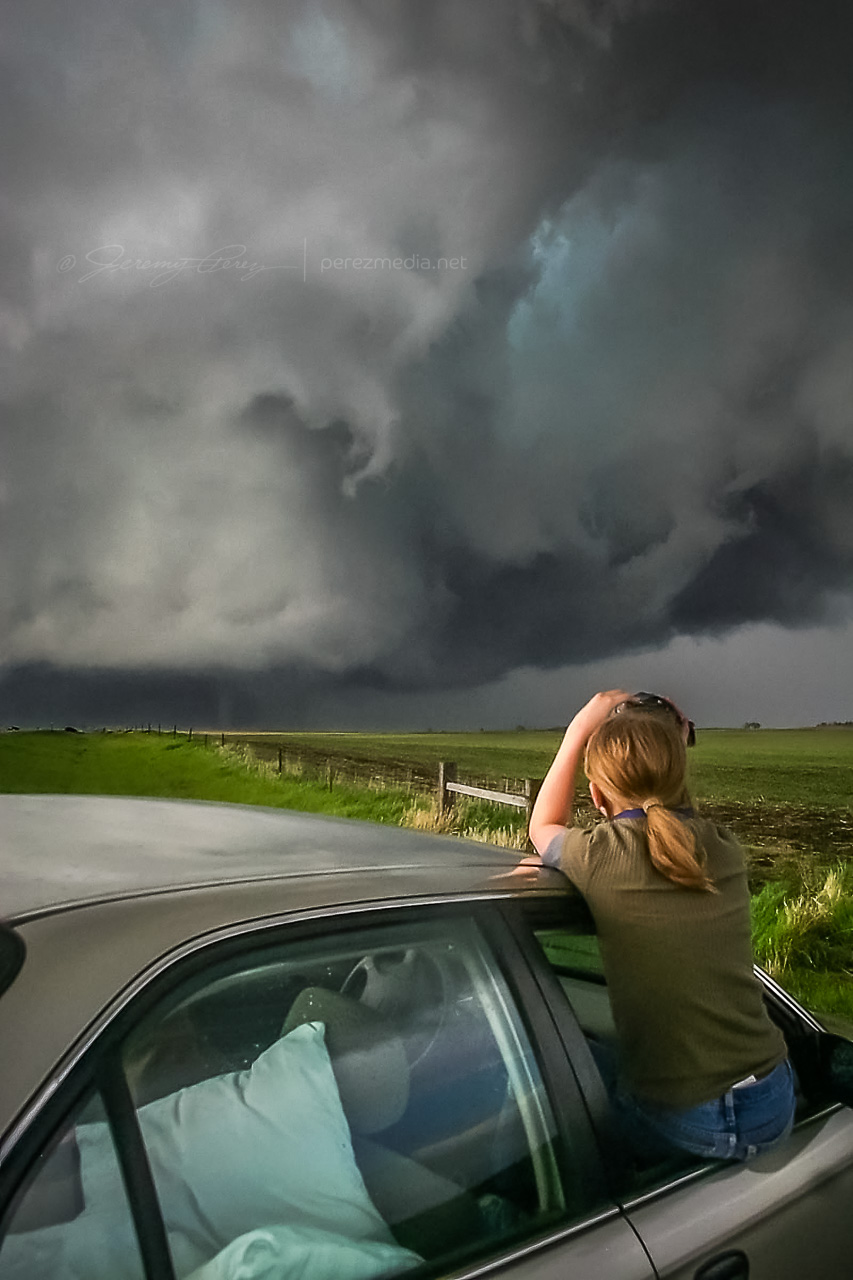 As the tornado disappeared into the rain and the storm receded, we got back in the car and headed north on SD-47 to find a leaning power pole and vehicles blocking the road where the tornado crossed. As we prepared to turn around, the TIV rolled by heading south.
We spent the next 30 minutes looking for another option to get up to US-12 by way of the unpaved grid. As we drove, the extended gust front of the supercell roiled overhead like the unkempt fur of a great hairy beast.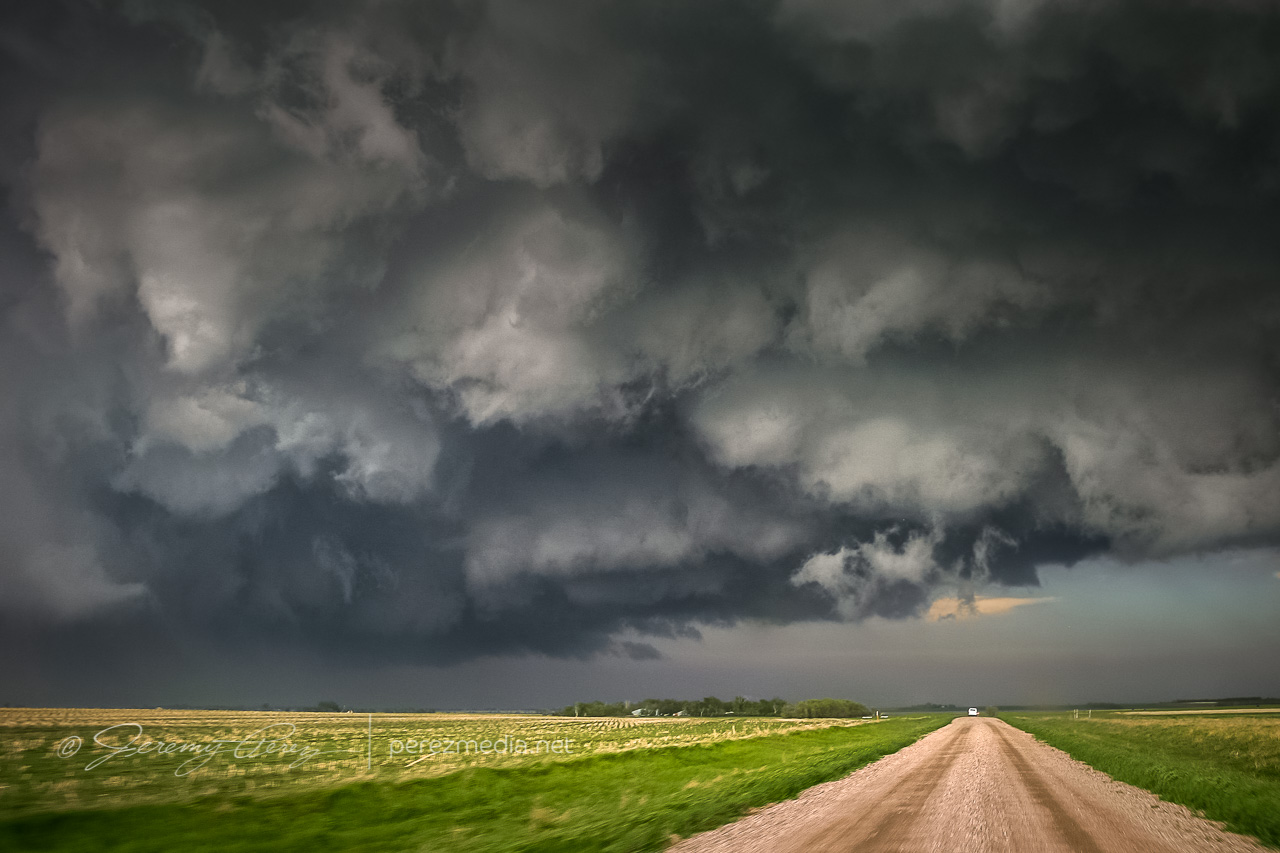 Since we were behind and south of the storm and the roads were dry, I wasn't concerned about getting stuck in a precarious position, but I was a little frustrated that we were going to lose it. While we were rumbling down these roads, the tornado—unseen by us—had grown to its wedge phase as it passed Bowdle. At 2351Z, we reached a high point that allowed one last look at our next tornado of the day. The distant, silhouetted elephant trunk appeared for mere seconds before disappearing behind more rain.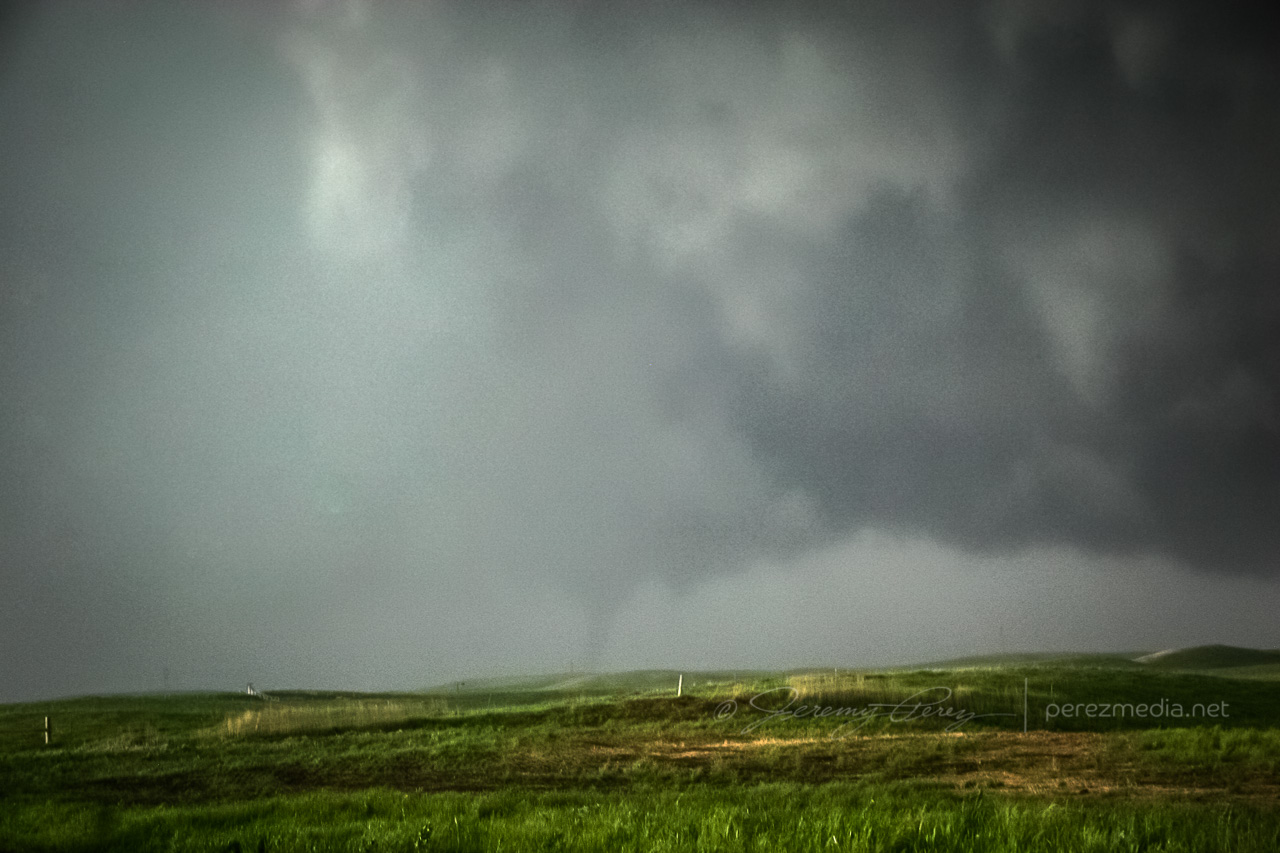 We finally reached US-12 and paced eastward. We followed a ragged, brightly lit mass of rain and rotating scud that may have belonged to another inflow region that was forming south of the main cell. We shot photos and video along the way until we were stopped by emergency management vehicles at the junction of US-12 and US-253 at 0022Z.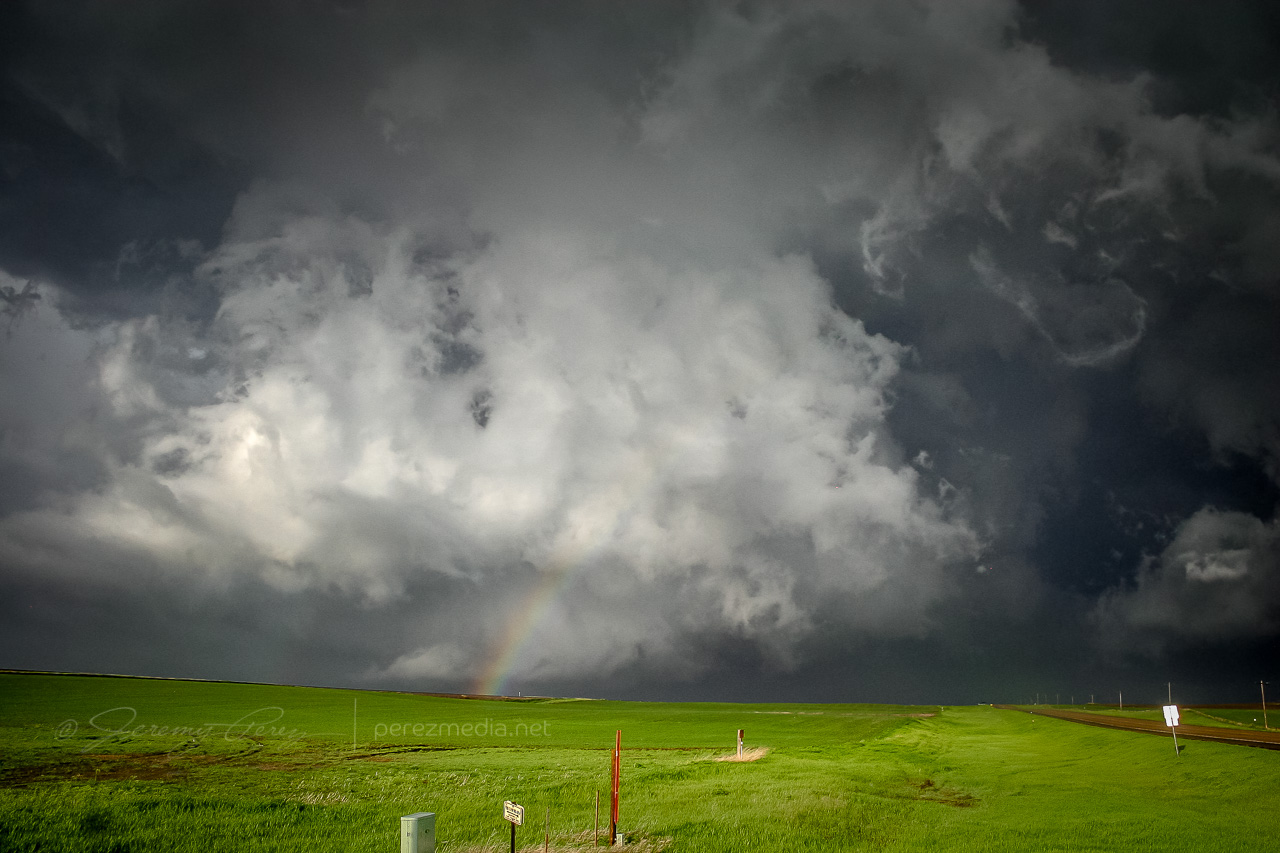 After shooting some more photos, we turned around and headed back toward Pierre. On the way back, we were treated to gorgeous views of other cells soaring into the fertile sky.
Although it would have been nice to have positioned ourselves to see the wedge that this storm produced, we were beside ourselves excited to have seen such an indescribably powerful and stunning event on our second day of chasing. We drove back to Pierre, worn out and hoping for another great chase in Kansas the following day.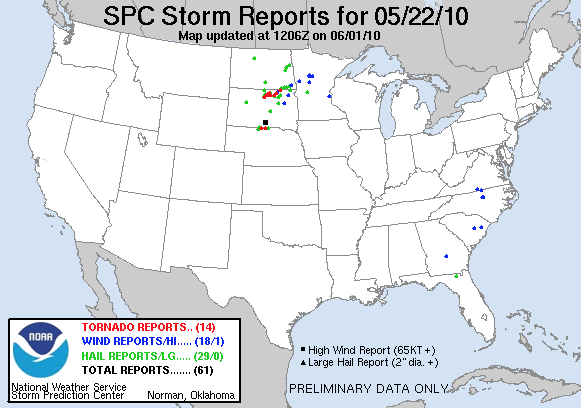 Jeremy Perez
Flagstaff, Arizona
perezmedia.net