Published on
On July 1sts the spc puts my area in a general TSTM risk which is upgraded to a marginal for wind and hail the next morning. At 213 PM the Storm Prediction Center Norman issues Mesoscale Discussion 1142 mentioning the probability for several clusters of thunder storms which may pose a low end risk for small hail or damaging winds. Discussion below
Mesoscale Discussion 1142
   NWS Storm Prediction Center Norman OK
   0213 PM CDT Fri Jul 02 2021

   Areas affected...Portions of Western New York...and Pennsylvania
   into the Mid Atlantic

   Concerning...Severe potential...Watch unlikely 

   Valid 021913Z - 022045Z

   Probability of Watch Issuance...5 percent

   SUMMARY...Several clusters of thunderstorms may pose a low-end
   severe risk for small hail or damaging wind gusts through this
   afternoon. Limited storm organization suggests a watch is not
   needed.

   DISCUSSION...Beneath the center of a deepening upper low over the
   Allegheny River Valley, several clusters of thunderstorms have
   developed this afternoon across portions of western New York and
   Pennsylvania. Partial clearing under the -17C 500 mb cold pocket has
   allowed weak to moderate buoyancy (500-1000 J/kg of MUCAPE) to
   develop supporting robust updrafts. Vertical shear remains quite
   weak with regional VWPs sampling on average below 25 kts of
   effective shear. Clusters of multi-cell storms will likely continue
   through this afternoon with the potential for one or two damaging
   wind gusts or small hail given steep mid-level lapse rates. 

   Farther to the east, residual cloud cover along the cold front
   moving east through the Mid Atlantic will slow surface heating and
   limit diurnal destabilization. While better surface moisture exists
   here along the coast, the eastward displacement from the plume of
   steeper mid-level lapse rates should result in less available
   buoyancy. This should be compensated somewhat by stronger effective
   shear around 30 kts, though storm coverage should be lower. Isolated
   damaging wind gusts will be possible with storms that develop before
   moving completely offshore this evening.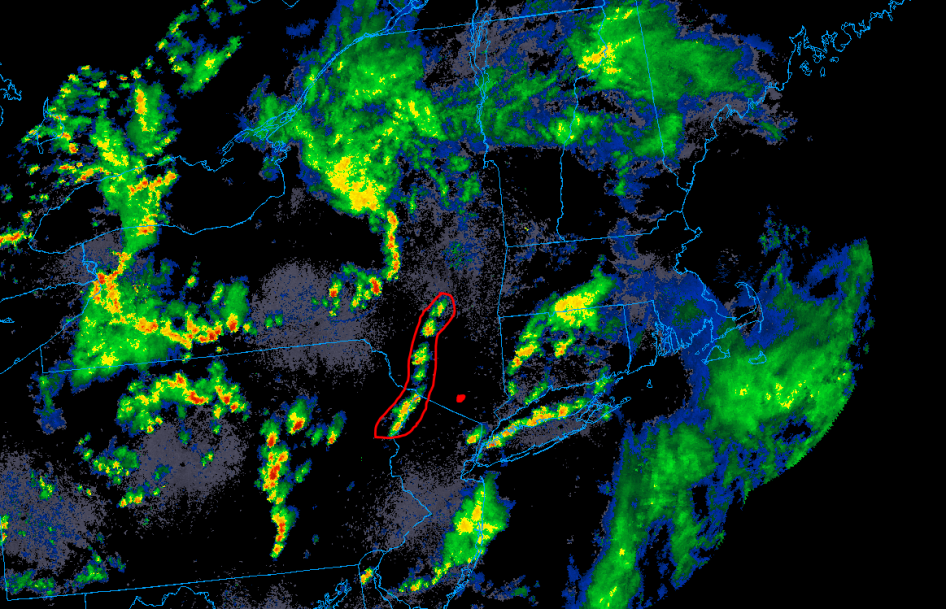 At 20:25Z I noticed on radar a cluster of convection forming just to my west moving east at 30mph and in a somewhat favorable environment for storm evolution. at this point to a more elevated area down the road for a better view and didn't see much so heeded back home for a few.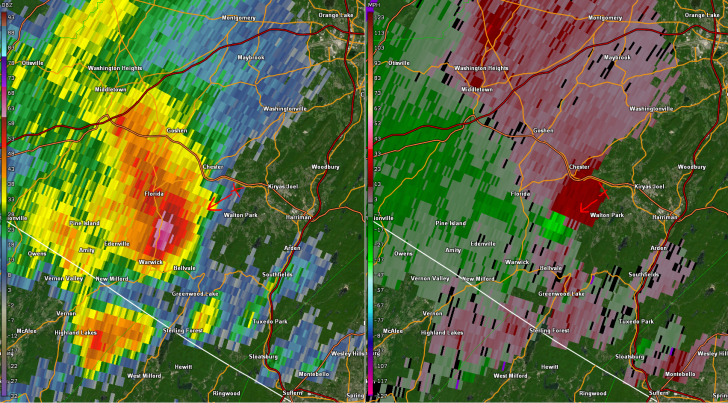 At 21:28Z I was once again on the road and this was the view. The pictures and radar line up to the same time.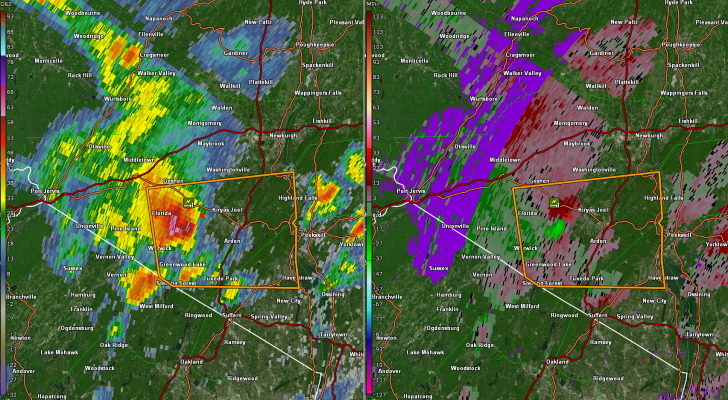 At 21:34Z the storm began to show a blue tint with a very intimidating shelf cloud and at around this time is when I saw reports from the storm coming in to my west and some read that it was producing large hail and wind gusts estimated to be at 70-80mph. I then decided to head back to the house to get footage of the storm about 3 minuets after these pictures were taken.
storm analysis: The storm brought wind to my area of 45-55mph with areas about 1 mile to my west getting gusts near 80mph with extensive damage to trees and some roof damage. I measured a hail stone of 1.25 inches or (half dollar sized) which was the biggest I found and most stones were about 0.5-1 inch in diameter.
REPORT LOCATIONS
WHAT WAS REPORTED
MONROE NY
ORANGE COUNTY
HALF DOLLAR SIZE HAIL REPORTED.
CHESTER NY
ORANGE COUNTY
TREES REPORTED DOWN AROUND TOWN.
MONROE NY
ORANGE COUNTY
NUMEROUS TREES REPORTED DOWN