Weather summary
for Ontario and the National Capital Region
issued by Environment Canada
at 10:53 a.m. EDT Thursday 11 June 2020.

Discussion.

Severe thunderstorms occurred in portions of Southern and Central Ontario on Wednesday June 10th. Numerous reports of wind damage were received across many locations. In addition, scattered large hail and at least two tornadoes were reported. Below is a preliminary summary of reports received by Environment and Climate Change Canada as of 11:00 am EDT, Thursday June 11th. 
Tornado reports: 
Glencoe area around 7:50 pm EDT. Damage to trees and some buildings reported. Belmont area around 8:30 pm EDT. Numerous reports of tree and some structural damage. These tornadoes are currently under investigation by the Northern  Tornadoes Project to determine the track length and intensity. 
Observed wind gusts: 
Chatham-Kent Municipal Airport: 120 km/h at 7:21 pm EDT. 
Ridgetown: 96 km/h at 7:35 pm EDT. 
Muskoka Airport: 102 km/h at 7:42 pm EDT. 
Billy Bishop Toronto City Airport: 89 km/h at 10:32 pm EDT. 

Wind damage reports: 
Muskoka region: Numerous reports of tree damage and power outages. 

Bracebridge: Numerous trees uprooted or snapped. Numerous power outages and damage to utility poles. Minor roof damage to some homes. 

Windsor: Trees uprooted or snapped along with power outages. 
LaSalle: Trees uprooted or snapped. 
Blyth: Trees uprooted or snapped. 
Goderich: Trees uprooted or snapped. 
St. Joseph: Tree damage along with significant blowing dust. 
Huron County: Reports of hydro wires down and trees across roadways. 

Leamington: Tree limbs snapped. 
Barrie: Tree limbs snapped. 
Innisfil: Tree limbs snapped. 
St. Thomas: Trees uprooted or snapped. 
South London: Tree limbs snapped. 
Oshawa: Tree limbs snapped. 
Hail reports: 
Windsor: Numerous reports of nickel to quarter size hail with some reports of up to golf ball size.

Please note that this summary may contain preliminary or unofficial information and does not constitute a complete or final report.

End/OSPC
---
The Forecast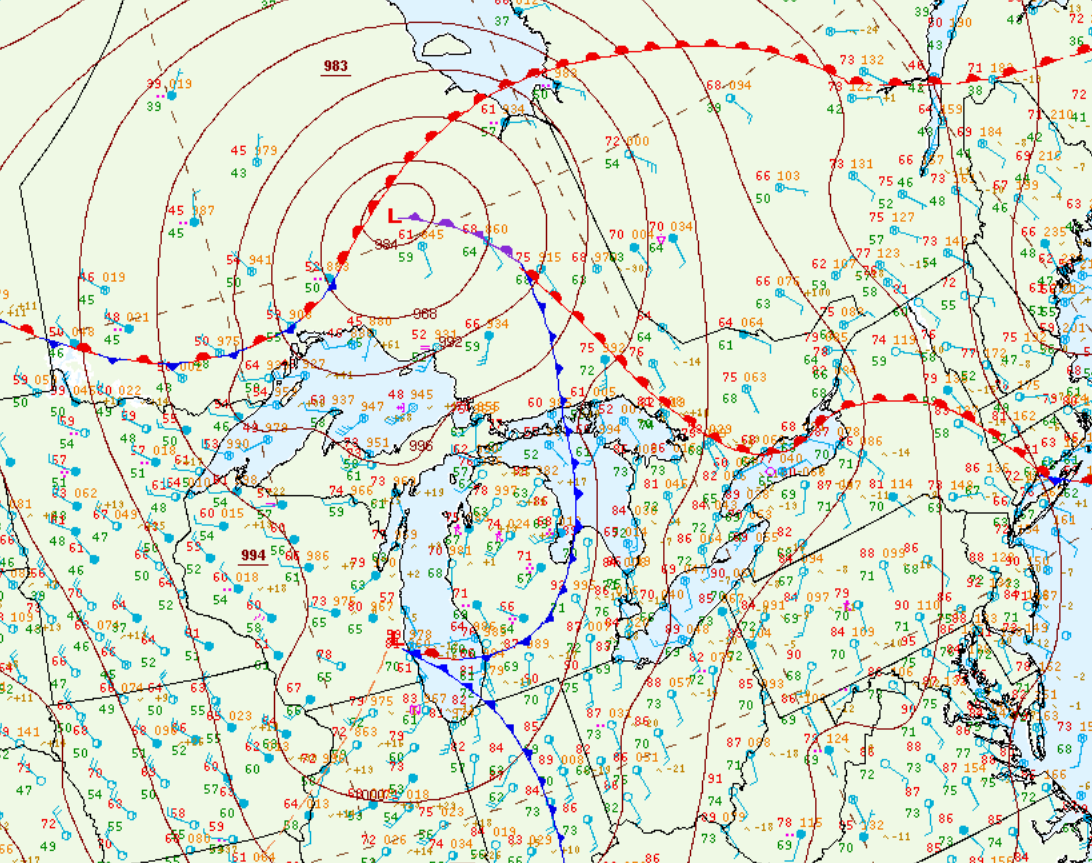 Figure 1 depicts the surface observations at 2:00 pm EDT, which shows a low pressure system occluding across northern Ontario (remnants of Tropical Storm Cristobal) with a cold front extending south across Lake Huron and Michigan and a warm front extending southeast across southern Ontario. The cold front was the focus for severe thunderstorms across southwestern Ontario in the afternoon and evening hours of June 10th, which ultimately led to this long-track tornado. Preliminary report shows a track of 18 km and a preliminary EF1 rating.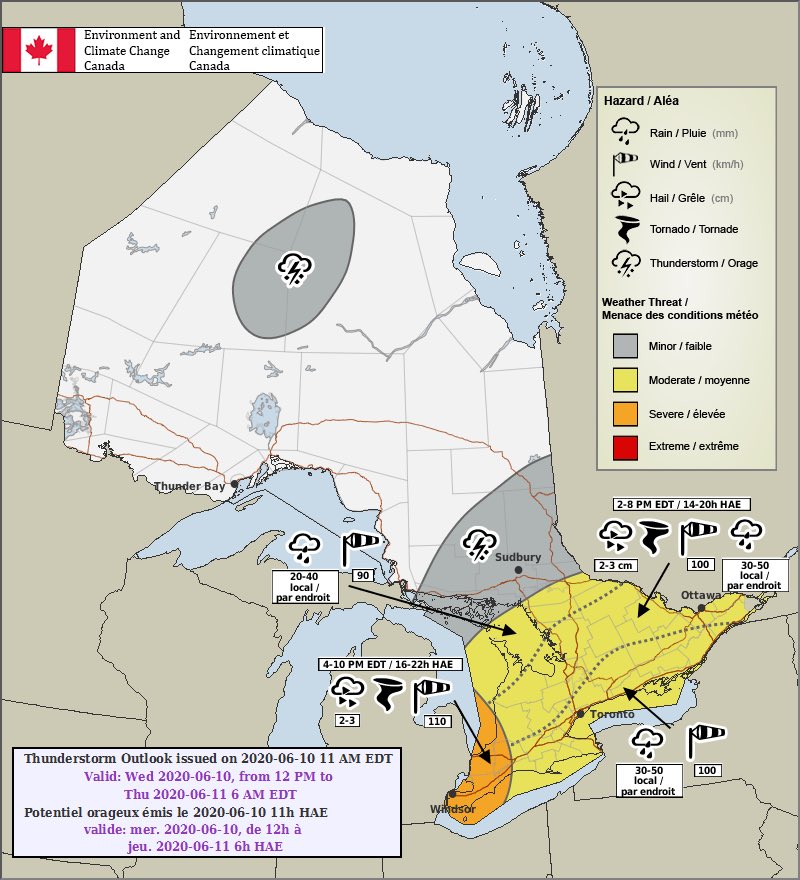 A moderate risk of severe weather was issued by the Storm Prediction Center, which included southwestern Ontario.
---
Sources
NWS Weather Prediction Center Surface Analysis Archive. (2017). Surface analysis 18Z Wed Jun 10 2020. Retrieved from: https://www.wpc.ncep.noaa.gov/archives/web_pages/sfc/sfc_archive.php