According to CBC News (2004), a tornado touched down on the south side of the City of Brandon in Manitoba in the afternoon hours of June 15th. A car lot and a trailer park were damaged. Windows were broken and trees uprooted, but there don't appear to have been any injuries.
Figure 1 depicts the surface observations at 1:00 pm CDT, which shows a low pressure system on the Manitoba/Saskatchewan border with a stationary front extending south across southern Manitoba and North Dakota. This front was the focus for thunderstorm activity in the afternoon hours of June 15th, which ultimately led to this tornado.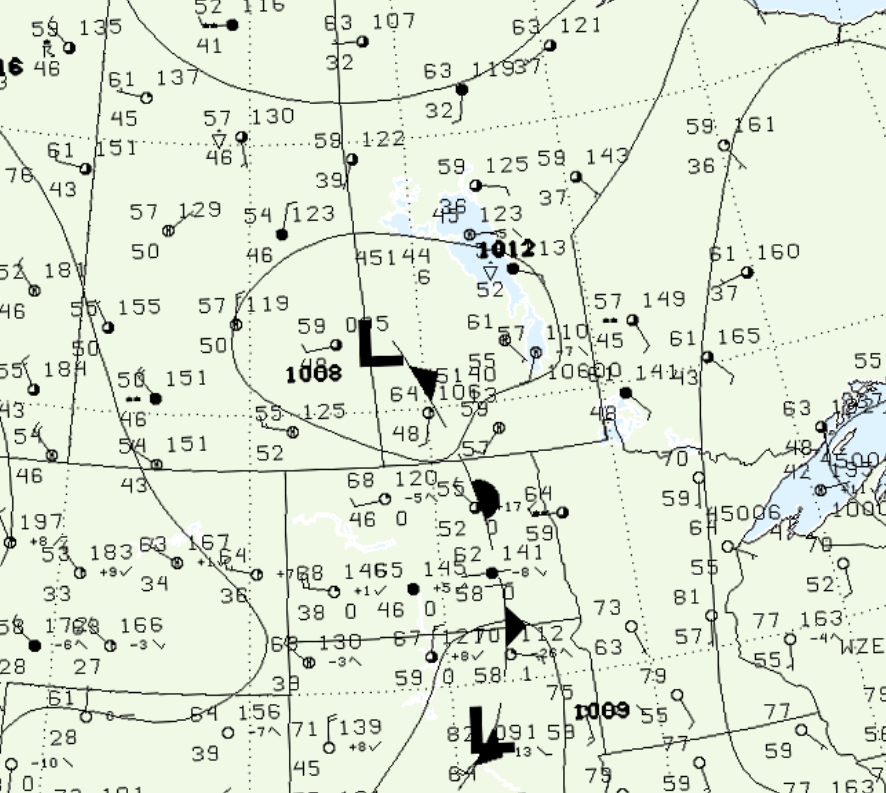 According to Environment and Climate Change Canada (2018), an F1 tornado touched down at 2:45 pm CDT in Brandon, MB. The path and width of the tornado was not documented by ECCC. The tornado caused no fatalities, injuries or documented property damage.
---
Sources
CBC News. (2004, June 15). Tornado touches down in Brandon. CBC News. https://www.cbc.ca/news/canada/tornado-touches-down-in-brandon-1.508522

NWS Weather Prediction Center Surface Analysis Archive. (2017). Surface analysis 18Z Tue Jun 15 2004. Retrieved from: https://www.wpc.ncep.noaa.gov/archives/web_pages/sfc/sfc_archive.php

Environment and Climate Change Canada Data. (2018). Canadian National Tornado Database: Verified Events (1980-2009) – Public. Retrieved from: http://donnees.ec.gc.ca/data/weather/products/canadian-national-tornado-database-verified-events-1980-2009-public/