This rare, early-season tornado touched down 7 km northeast of Clifford in northern Wellington County at about 3:50 pm. Its path was 3.5 km long and 200m wide, along which trees were downed, barns were damaged and sheds destroyed. In addition, one farmhouse had windows shattered and suffered minor damage to its roof. A pair of farms near the intersection of Minto Normandy Town Line and Ayton Road were particularly hard hit.
At one of the more extensively damaged farms, the top was blown off of a silo, a machine shed was torn apart, and a large corner section of a well-constructed barn was ripped off leaving a gaping hole through the structure. Debris from the damaged and destroyed buildings was carried for hundreds of metres, strewn through fields and left hanging from telephone wires. In addition, the owner of the farm reported that every tree on the property was damaged; many were uprooted and snapped, while others left standing had branches twisted and torn.
At the next farm over, three large cylindrical grain bins were destroyed. The bins were well constructed and bolted into cement pads, but were torn from the foundation and tossed 200m across the property. One of them came to rest atop the remains of a large equipment shed that had been demolished.
The meteorological conditions on the day of the tornado were not particularly conducive to severe weather; surface temperatures were cool, there was very little instability and shear was not overly impressive. Indeed, the tornado developed as the result of a mesoscale accident. As an isolated but non-severe thunderstorm cell was overtaken by an approaching line of storms, the interaction led to the spin up. The circulation that resulted from the merger was brief, but strong enough to produce the tornado.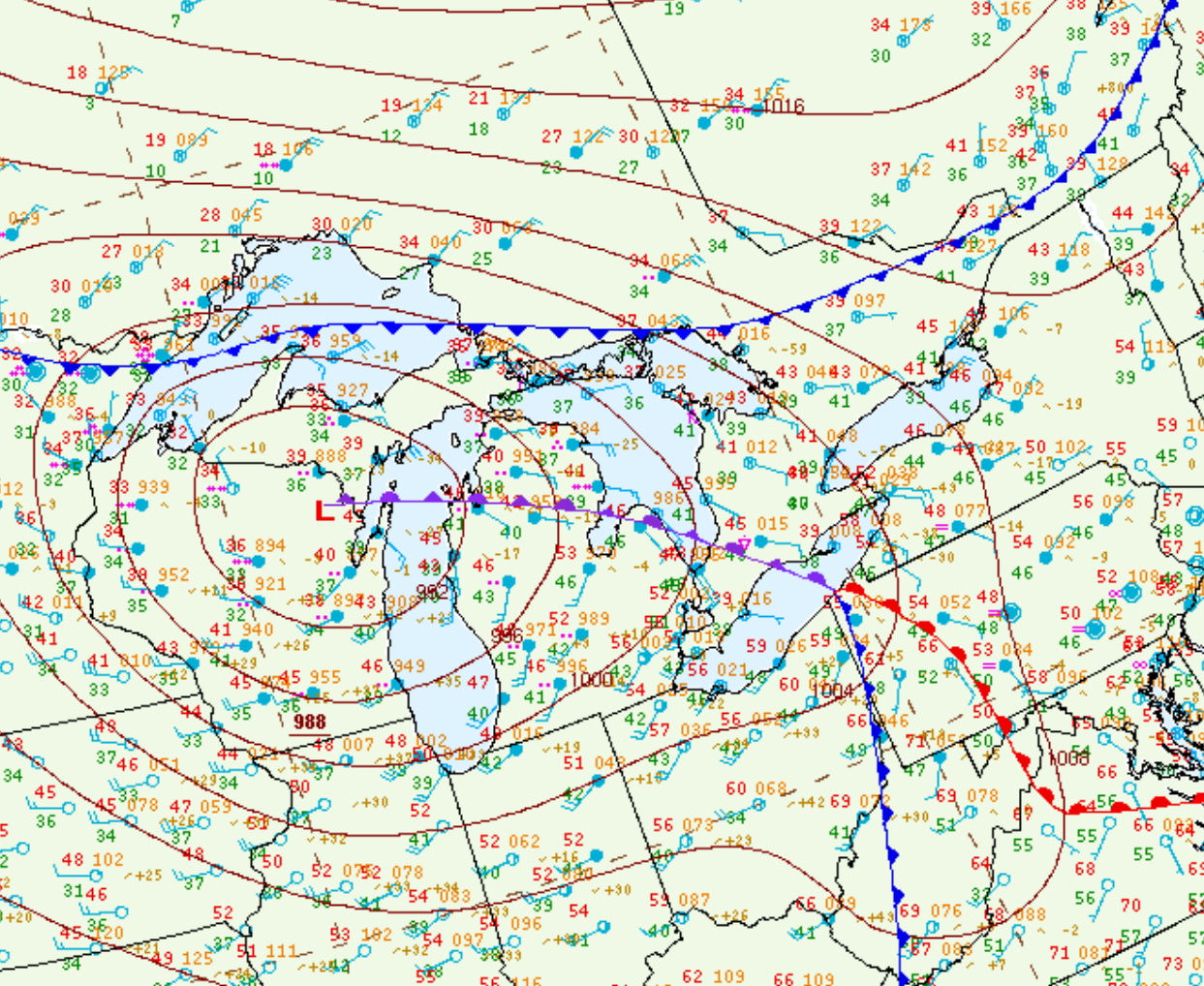 Figure 1 depicts the surface observations at 11:00 am EDT, which shows a strong low pressure occluding across Lake Michigan with an occluded front across southern Ontario. This front was the focus for thunderstorm activity in the early afternoon hours of March 16th, which ultimately led to this tornado.
---
Sources
NWS Weather Prediction Center Surface Analysis Archive. (2017). Surface analysis 15Z Wed Mar 16 2016. Retrieved from: https://www.wpc.ncep.noaa.gov/archives/web_pages/sfc/sfc_archive.php