This tornado, the most destructive of the outbreak, touched down at 8:30pm and devastated the village of Combermere. On the ground for 29km and with a width of 400m, forest was completely decimated along the twister's path, with trees snapped, shorn off and debarked. Hardest hit was the Opeongo Resort, a trailer park and campground where dozens of vehicles and campers were destroyed. Most were crushed by falling trees, but a few were blown apart.
Several cottages on the property were also heavily damaged or destroyed, one of which had its roof and a few walls torn away. Miraculously, no injuries were reported at the park, however Environment Canada investigators speculated that this may not have been the case had the heavy forest not born the brunt of the winds which likely prevented vehicles and cottages from being picked up and thrown. As the tornado moved on, more cottages were damaged and destroyed along the Opeongo River, and the Home Hardware in town had its roof ripped off.
This was one of seventeen tornadoes that touched down in Southern and Eastern Ontario during the evening hours of August 2, 2006. Until it was surpassed in 2009, the tornado outbreak set a record as the largest tornado outbreak ever recorded in Ontario.
Figure 1 depicts the surface observations at 5:00 pm EDT, which shows a low pressure over Georgian Bay with a cold front stretching into Michigan. This cold front became the focus for intense thunderstorms in the evening hours of August 2nd, which ultimately led to a tornado outbreak across southern Ontario.
Watch issued at 5:49 pm, Wednesday August 2, 2006
Warning issued at 7:16 pm, Wednesday August 2, 2006
Warning ended at 10:58 pm, Wednesday August 2, 2006
Watch ended at 11:25 pm, Wednesday August 2, 2006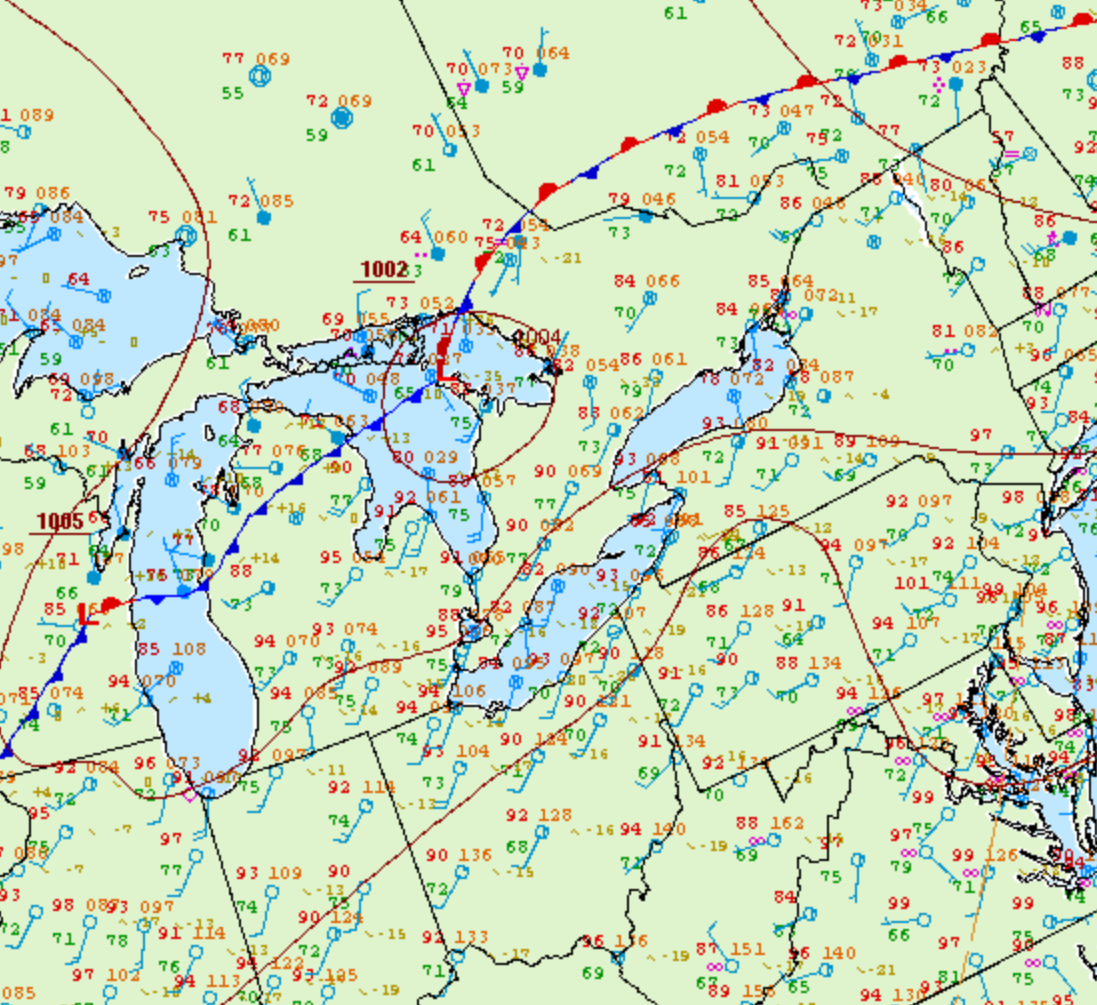 According to Environment and Climate Change Canada (2018), an F2 tornado touched down at 8:10 pm near Combermere, ON. The tornado travelled for 28.8 km with a maximum width of 400 metres. The tornado caused no fatalities, injuries or property damage.
---
Sources
NWS Weather Prediction Center Surface Analysis Archive. (2017). Surface analysis 21Z Wed Aug 2 2006. Retrieved from: https://www.wpc.ncep.noaa.gov/archives/web_pages/sfc/sfc_archive.php

Environment and Climate Change Canada Data. (2018). Canadian National Tornado Database: Verified Events (1980-2009) – Public. Retrieved from: http://donnees.ec.gc.ca/data/weather/products/canadian-national-tornado-database-verified-events-1980-2009-public/