Touching down at around 10:20 am, this weak F0 tornado knocked down trees and caused damage to a few industrial buildings on the south side of Fergus. One of them, a Zellers retail store, had roofing and sheet metal siding torn off and thrown nearly 400m. In addition, signs were knocked over and a heavy air-conditioning unit was shifted. It touched down during a line of thunderstorms that produced wind damage across Southern Ontario.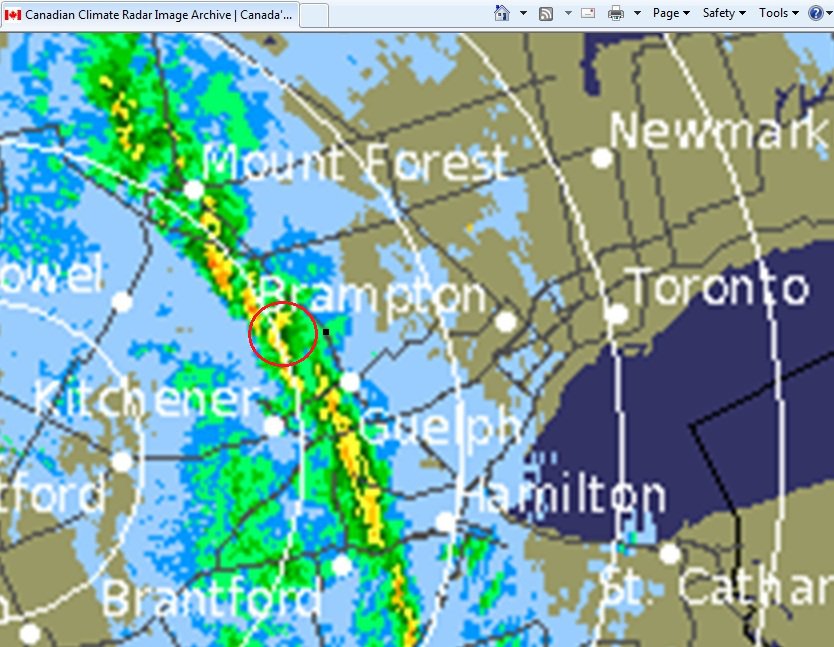 Highways & Hailstones contributor and CANWARN spotter Ryan Dobbie submitted this record of his experience with the tornado and its aftermath:
'On the day in question I was home for study week and visiting family as it was just my birthday the previous weekend. My mother and I headed out before lunch to do some shopping. Afterwards I wanted to stop by Zellers to get some extra school supplies; at the time this was one of their very few surviving stores. As we drove up Tower Street heading to the South side of town only a few minutes down from where we just stopped, the skies to the WSW turned deep grey/black. Naturally I was intrigued by this as this was not a day when storms were forecast, only a chance for showers.
As we entered the parking lot I noted several fast moving heavy rain bands from the field across the main road (HWY 6 S/Tower Street). Within a minute we had parked and the winds were picking up. We decided to wait out the rain in the car and we watched as we started to notice heavy objects and the sedan begin to rock with the increasing winds. Some highway construction cones and various debris began to be thrown about the parking lot in front of us not more than 50 feet. Other customers ran into the store or stayed in their vehicles until the winds passed.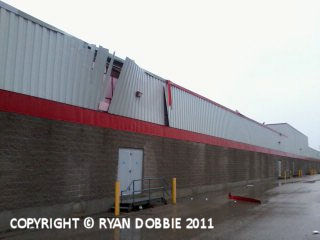 Following the winds and rain, my mother and I headed into the store quickly to check on others for injuries (I was an active St John Ambulance Member at the time). No one was injured, thankfully, and hearing reports of structural damage upstairs in the office area I headed outside and observed several areas of damage. I was not CANWARN trained at the time so i called Dave Patrick to report the damage to him and EC. After a bit Dave arrived and with him Mark Robinson and party to film damage and get a quick interview. Following several witness reports EC confirmed this as an F0 and the first tornado of 2011′.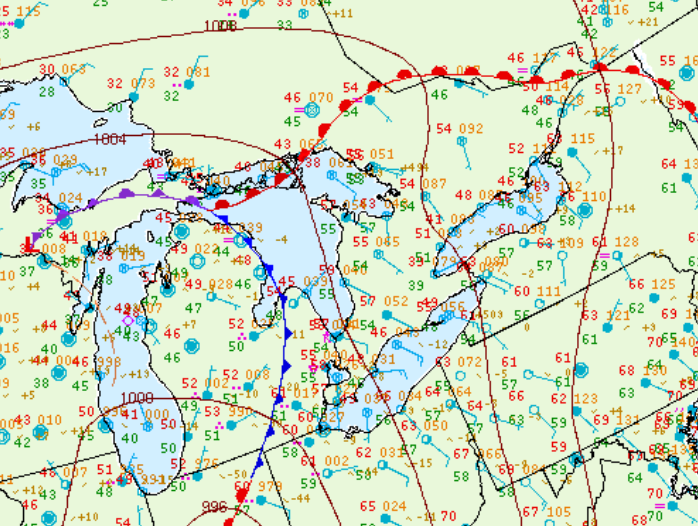 Figure 3 depicts the surface observations at 8:00 am EDT, which shows an occluding low pressure across the Great Lakes with an advancing cold front across Michigan and southerly flow across southern Ontario.
---
Sources
NWS Weather Prediction Center Surface Analysis Archive. (2017).Surface analysis 12Z Wed Apr 27 2011. Retrieved from: https://www.wpc.ncep.noaa.gov/archives/web_pages/sfc/sfc_archive.php