Figure 1 depicts the surface observations at 2:00 pm EDT, which shows a cold front moving across western Massachusetts and a trough across eastern Massachusetts. The cold front became the focus for thunderstorms across central and eastern MA in the early afternoon hours of August 21st, which ultimately led to this tornado.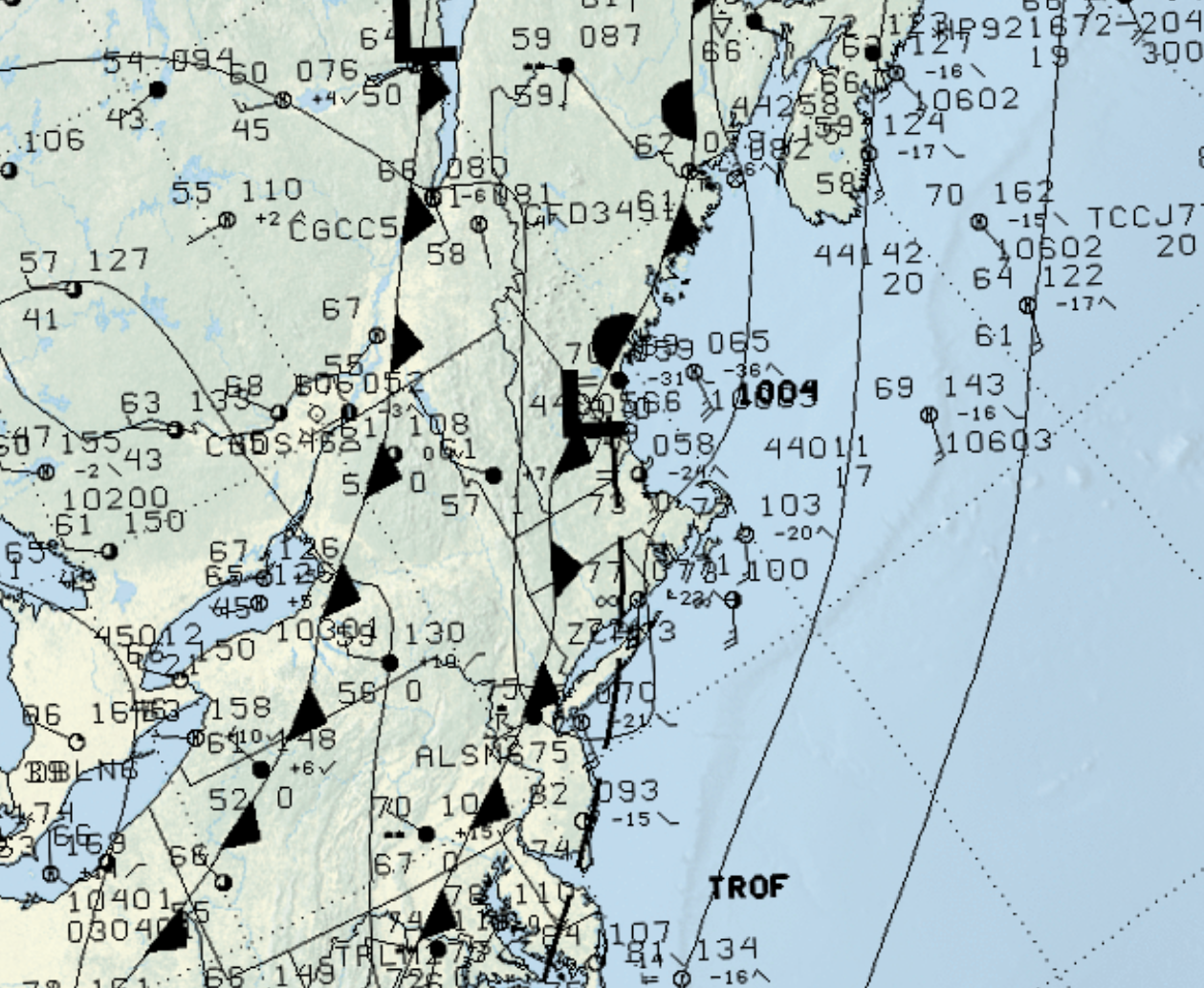 URGENT - IMMEDIATE BROADCAST REQUESTED
   SEVERE THUNDERSTORM WATCH NUMBER 772
   NWS STORM PREDICTION CENTER NORMAN OK
   125 PM EDT SAT AUG 21 2004
   
CORRECTED FOR  ADDING SUFFOLK COUNTY AND ADJACENT  MARINE ZONES
   THE NWS STORM PREDICTION CENTER HAS ISSUED A
   SEVERE THUNDERSTORM WATCH FOR PORTIONS OF 
   
     CONNECTICUT
     MASSACHUSETTS
     CENTRAL AND NORTHERN NEW JERSEY
     SOUTHEAST NEW YORK
     SOUTHEAST PENNSYLVANIA
     RHODE ISLAND
     COASTAL WATERS
   
   EFFECTIVE THIS SATURDAY AFTERNOON AND EVENING FROM 125 PM UNTIL
   600 PM EDT.
   
   HAIL TO 1 INCH IN DIAMETER...THUNDERSTORM WIND GUSTS TO 70
   MPH...AND DANGEROUS LIGHTNING ARE POSSIBLE IN THESE AREAS.
   
   THE SEVERE THUNDERSTORM WATCH AREA IS ALONG AND 60 STATUTE MILES
   EAST AND WEST OF A LINE FROM 25 MILES EAST SOUTHEAST OF
   PHILADELPHIA PENNSYLVANIA TO 25 MILES NORTH OF BOSTON
   MASSACHUSETTS.
   
REMEMBER...A SEVERE THUNDERSTORM WATCH MEANS CONDITIONS ARE
FAVORABLE FOR SEVERE THUNDERSTORMS IN AND CLOSE TO THE WATCH AREA.PERSONS IN THESE AREAS SHOULD BE ON THE LOOKOUT FOR THREATENING WEATHER CONDITIONS AND LISTEN FOR LATER STATEMENTS AND POSSIBLE WARNINGS. SEVERE THUNDERSTORMS CAN AND OCCASIONALLY DO PRODUCE TORNADOES.
   
DISCUSSION...THUNDERSTORMS CONTINUE TO INTENSIFY ALONG/AHEAD OF COLD FRONT MOVING INTO SRN NEW ENGLAND.  WITH A VERY MOIST AND UNSTABLE AIR MASS AND STRONG LOW LEVEL SHEAR PROFILES...DAMAGING WIND POTENTIAL EXPECTED TO INCREASE WITH THE DEVELOPING LINE OF STORMS AS THEY MOVE EWD ACROSS SRN NEW ENGLAND.
   
   AVIATION...A FEW SEVERE THUNDERSTORMS WITH HAIL SURFACE AND ALOFT
   TO 1 INCH. EXTREME TURBULENCE AND SURFACE WIND GUSTS TO 60 KNOTS.
   A FEW CUMULONIMBI WITH MAXIMUM TOPS TO 500. MEAN STORM MOTION
   VECTOR 24040.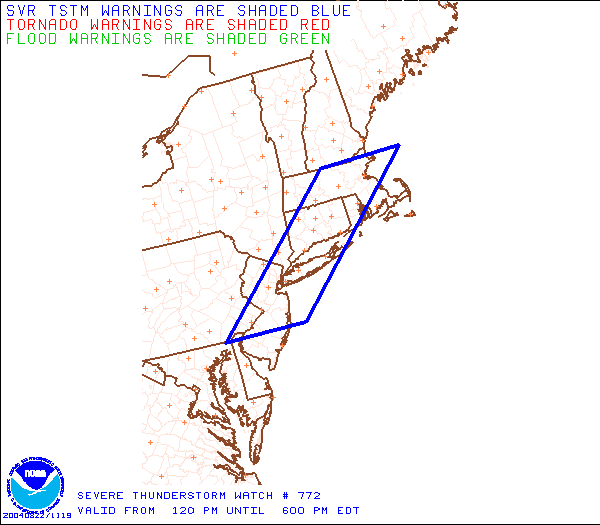 The Franklin, MA F1 tornado of August 21, 2004 impacted Norfolk County in Massachusetts. According to NOAA (2019), the F1 tornado caused no fatalities or injuries, but caused $1.5 million dollars in property damage. The tornado touched down over Cottage Street at 3:55 pm EDT. The tornado travelled for 6 miles and had a maximum width of 40 yards.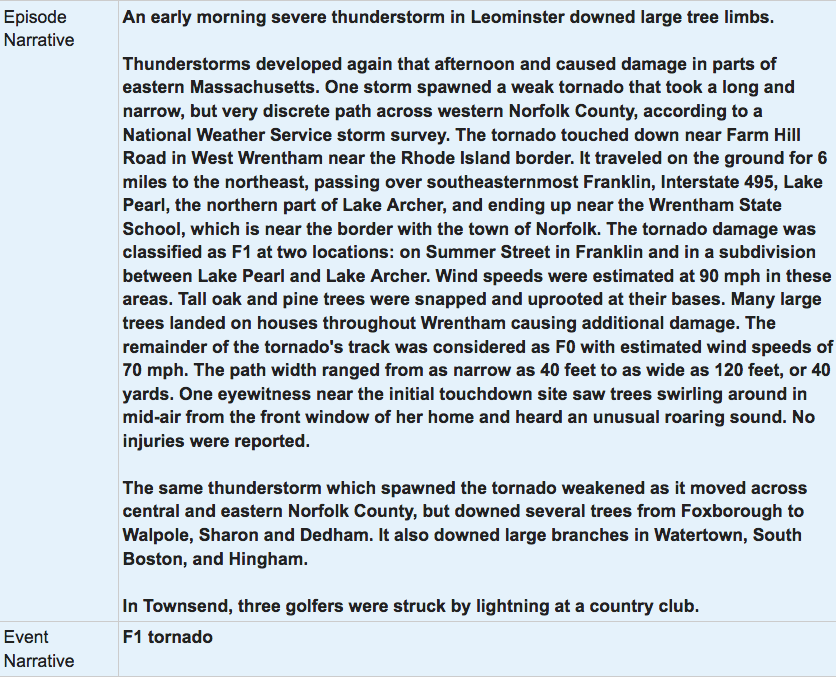 ---
Sources
NWS Weather Prediction Center Surface Analysis Archive. (2017). Surface analysis 18Z Sat Aug 21 2004. Retrieved from: https://www.wpc.ncep.noaa.gov/archives/web_pages/sfc/sfc_archive.php
NWS Storm Prediction Center. 2020. Severe Weather Event: Aug 21, 2004. Retrieved from https://www.spc.noaa.gov/exper/archive/event.php?date=20040821
Richard Hamel. (2017). August 21st, 2004 Wrentham / Franklin, MA Tornado Damage. Retrieved from http://www.bostonstormchaser.com/Chase%20Days/August%2021-2004.htm
NOAA National Centers for Environmental Information (2020). Storm Events Database. Retrieved from: https://www.ncdc.noaa.gov/stormevents/