EF2 tornado slams Glenarm farms; trees snapped, trailer, barn and home destroyed
This low-end EF2 struck Glenarm at approximately 3:00pm, snapping trees and destroying a house, a barn and a trailer. It was 500m in width and travelled for 7 km. Along its path, a trailer home and an old barn were destroyed, power poles were downed and many trees were snapped or uprooted. Significant damage occurred at a farm on Glenarm Road, which had its drive shed damaged and the roof ripped from a barn.
The most significant damage from the tornado occurred at a house on Elm Tree Road which had its roof and an exterior wall torn off. Debris from the wrecked home was scattered through neighbouring fields and left wrapped around trees and hanging from hydro wires. The couple who owned the house were inside at the time, and the husband reported being tossed from his bed and thrown against a the bedroom wall, however both escaped without serious injury.
It was reported that local residents witnessed the tornado, watching as debris swirled through the air and trees were 'peeled' out of the ground. Other witnesses reported hearing a freight train and seeing a 'white swirl'. This was one of three tornadoes that touched down on May 21, 2013. The others:
Dalston (EF0)
Elmvale (EF0)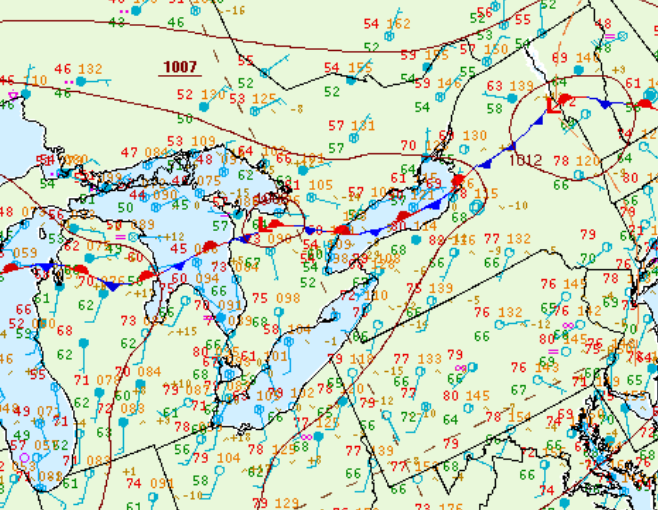 Figure 1 depicts the surface observations at 11:00 am EDT, which shows a stationary front across southern Ontario with a low pressure over Midland. This front became the focus for intense thunderstorms, which led to three tornadoes across southern Ontario on this day.
---
Sources
NWS Weather Prediction Center Surface Analysis Archive. (2017). Surface analysis 15Z Tue May 21 2013. Retrieved from: https://www.wpc.ncep.noaa.gov/archives/web_pages/sfc/sfc_archive.php