In the early afternoon, at around 1:00 pm on July 4, this tornado touched down to the south of Nechigona Lake, in Northwest Ontario. With a path that was up to 800m wide, it travelled to the east for 13km before lifting near Mamakwash Falls.
Along its path, Environment Canada noted entire swaths of forest levelled by the tornado. Through the heavy forest, all trees were uprooted, snapped and thrown.
The tornado crossed Goose Lake just south of Loon Haunt Outposts fishing camp, which was filled with visitors at the time, narrowly avoiding disaster. Fishermen on the lake captured photos of the supercell storm and large cone tornado as the camp was impacted by golf ball sized hail. The hail, as large as 'handballs' caused extensive damage to cabins.
Figure 1 depicts the surface observations at 1:00 pm CDT, which shows a low pressure system on the Manitoba/Ontario border with a trough extending into northwestern Ontario. This trough became the focus for thunderstorm development in the early afternoon of July 4th, which ultimately led to this F2 tornado.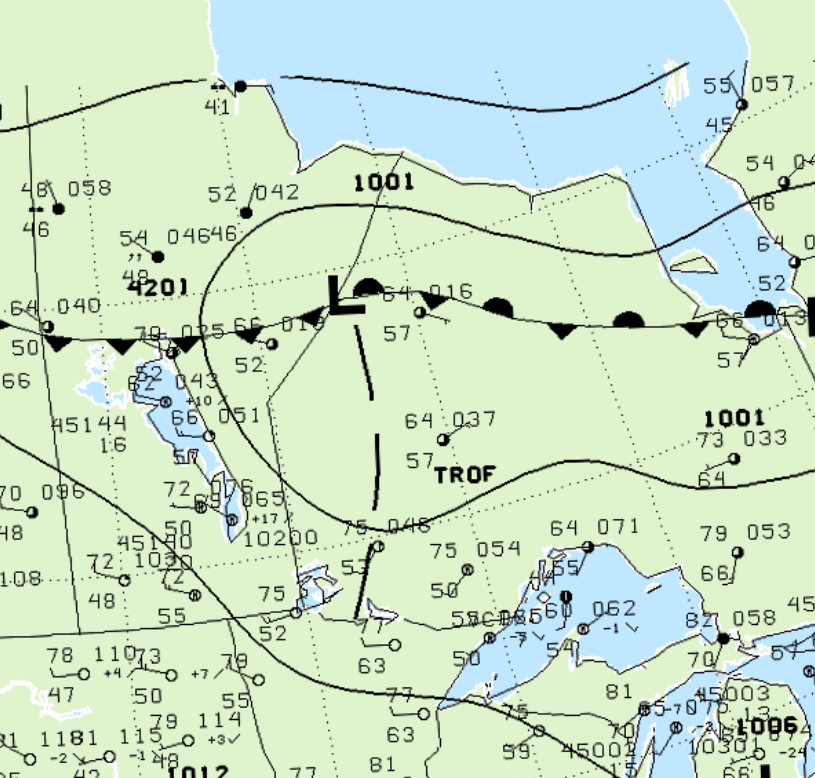 According to Environment and Climate Change Canada (2018), an F2 tornado touched down at 2:00 pm CDT near Goose Lake, ON. The tornado travelled for 13.8 km with a maximum width of 300 metres. The tornado caused no fatalities, injuries or property damage.
---
Sources
NWS Weather Prediction Center Surface Analysis Archive. (2017). Surface analysis 18Z Fri Jul 4 2003. Retrieved from: https://www.wpc.ncep.noaa.gov/archives/web_pages/sfc/sfc_archive.php

Environment and Climate Change Canada Data. (2018). Canadian National Tornado Database: Verified Events (1980-2009) – Public. Retrieved from: http://donnees.ec.gc.ca/data/weather/products/canadian-national-tornado-database-verified-events-1980-2009-public/