Figure 1 shows the surface observations at 7:00 am CDT, which shows a low pressure system in northern Manitoba with its associated occluded front extending south. A cold front is observed extending south across southern Manitoba and into the High Plains of the United States and a warm front across northwestern Ontario. The low began its occlusion stage across Manitoba during the day of July 16th. As it did so, the cold front began moving east-northeast and triggered thunderstorms across southeastern Manitoba, which ultimately led to this tornado.
This tornado was part of a tornado outbreak that occurred across southeastern Manitoba on this day: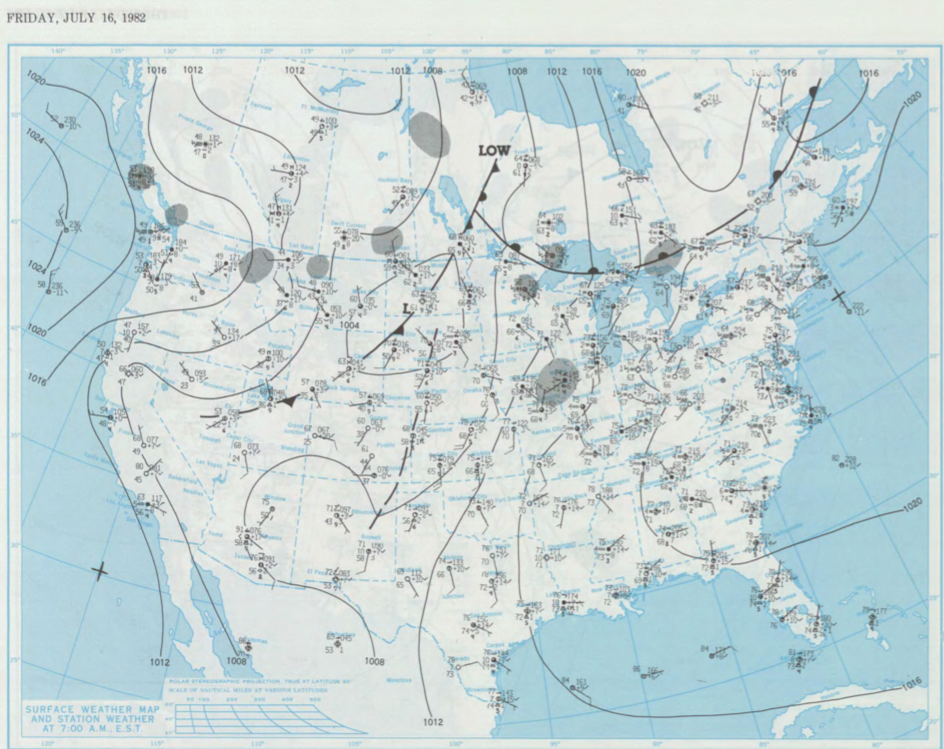 According to Environment and Climate Change Canada (2018), an F0 tornado touched down at 11:30 pm CDT southeast of Graysville, MB. The track and width of this tornado was not documented by ECCC. The tornado caused no injuries, fatalities or property damage.
---
Sources
NOAA Central Library. (2020). U.S. Daily Weather Maps. Friday July 16, 1982 [PDF]. Retrieved from https://library.noaa.gov/Collections/Digital-Collections/US-Daily-Weather-Maps
Environment and Climate Change Canada Data. (2018). Canadian National Tornado Database: Verified Events (1980-2009) – Public. Retrieved from: http://donnees.ec.gc.ca/data/weather/products/canadian-national-tornado-database-verified-events-1980-2009-public/