This tornado touched down at 1:10 pm and had a path that was 4 km long and 50m wide. Trees were snapped and uprooted and five houses damaged, one of which had most of its roof torn off. Witnesses observed watching a circular cloud of debris swirling through the street.
This was one of three tornadoes to touch down in Southern Ontario on August 4; the others were an F1 at Clear Creek and a damaging F2 that hit Flamborough and Burlington.
Figure 1 depicts the surface observations at 2:00 pm, which shows a low pressure system exiting Ontario with a cold front across Lake Erie. The low pressure would have brought southwesterly winds across Toronto and Hamilton, which could have activated the lake-breezes across Lake Ontario. Figure 1 depicts an ongoing thunderstorm over Hamilton (marked as an "R"), which is responsible for this F1 tornado.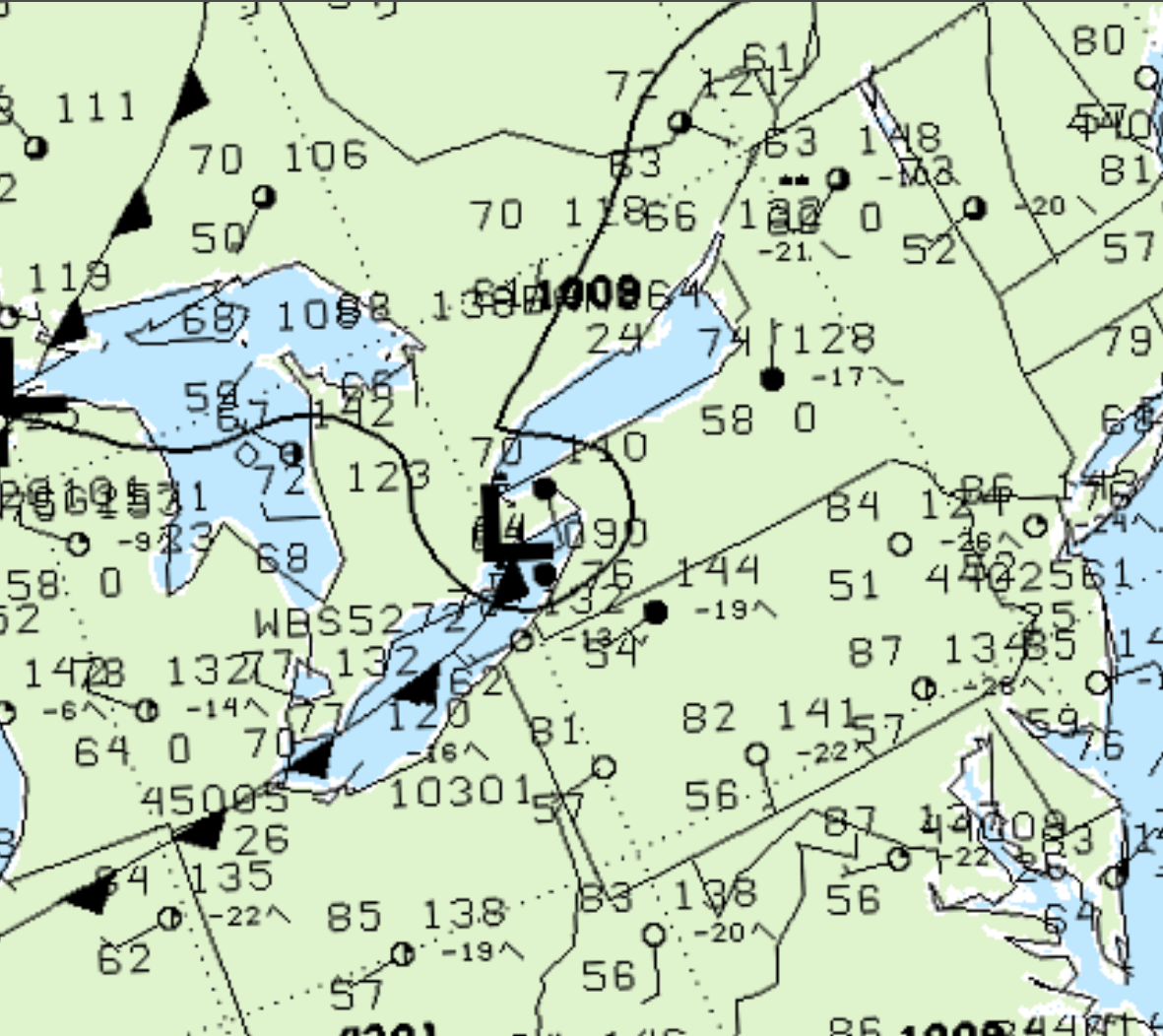 According to Environment and Climate Change Canada (2018), an F1 tornado touched down at 1:10 pm EDT near Hamilton Mountain, ON. The tornado travelled for 4 km with a maximum width of 50 metres. The tornado caused no fatalities or injuries, but caused $100 thousand dollars in property damage.
---
Sources
NWS Weather Prediction Center Surface Analysis Archive. (2017). Surface analysis 18Z Wed Aug 4 1999. Retrieved from: https://www.wpc.ncep.noaa.gov/archives/web_pages/sfc/sfc_archive.php

Environment and Climate Change Canada Data. (2018). Canadian National Tornado Database: Verified Events (1980-2009) – Public. Retrieved from: http://donnees.ec.gc.ca/data/weather/products/canadian-national-tornado-database-verified-events-1980-2009-public/