Touching down in the Littles Corners area of Cambridge and travelling for 15 km to the Westover area in northwest Burlington, this F1 tornado had a width of 300 metres and caused the most damage in Kirkwall. The tornado took down power poles and snapped and uprooted large numbers of trees which came down and caused damaged to buildings and vehicles. Some houses also received minor damage, including one that had it's chimney toppled and sent crashing through the home's roof.
This was one of three tornadoes that touched down on August 24, 2011. The others occurred at Nairn (F1) and Neustadt (F0). In addition, this event occurred just a few days after the deadly and destructive tornado that ravaged Goderich (F3) on August 21, leaving tornado-weary Ontarians with frayed nerves.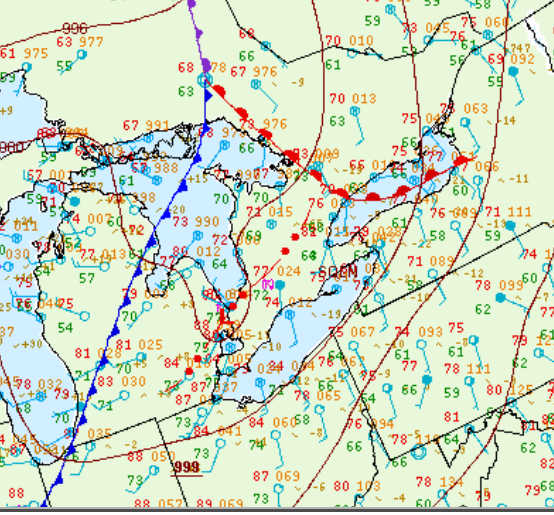 Figure 1 depicts the surface observations at 8:00 pm EDT, which shows a cold front across Michigan and a warm front extending from north to south across southern Ontario. A squall line is also depicted across southwestern Ontario at this time. This line of thunderstorms was responsible for several tornadoes across southern Ontario in the evening hours of August 24th.
---
Sources
NWS Weather Prediction Center Surface Analysis Archive. (2017). Surface analysis 00Z Thu Aug 25 2011. Retrieved from: https://www.wpc.ncep.noaa.gov/archives/web_pages/sfc/sfc_archive.php