This powerful tornado touched down at around 7:30 pm EDT near Rowntree Beach on the shore of Georgian Bay, then passed over Little Lake and travelled across the south end of Midland. After receiving reports of the tornado and damage, Environment Canada issued a tornado warning for the area at 7:04 pm.
The tornado was caught on video by a number of Midland residents as it churned through town. It was a large cone tornado with a swirling plume of vapour being drawn up into the funnel. Debris from trees and buildings could be seen floating down, falling from the sky away from the twister.
On the east side of Little Lake, at Smith's Camp Trailer Park, more than seventy trailers and mobile homes were destroyed, dozens more had significant damage and hundreds were left with minor damage. Because the tornado struck on a weekday when the park was largely unoccupied, only fifteen injuries were reported, eight of them serious; had the tornado ripped through the park on a weekend when it would have been filled to capacity, it is almost certain that the human toll would have been dire.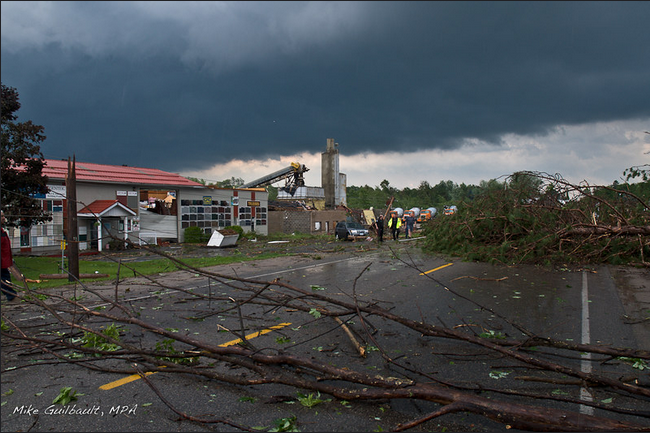 Exiting the park, the tornado levelled swaths of forest and then damaged over 100 factories and businesses near the intersection of King Street and Highway 12. Several had their roofs torn off, and a group of industrial buildings were demolished at a cement factory that was hit. At a nearby car dealership, Midland Honda, windows were smashed, the roof was ripped off and cars were reportedly 'flung around'.
Throughout the south end of town, homes were damaged, trees were snapped and power poles toppled. The twister was well documented in eyewitness photos and videos, a large cone tornado with an expansive debris field as it passed through town.
---
The Forecast
Figure 2 depicts the Storm Prediction Center's Day 1 outlook for June 23rd, which shows a MODERATE risk of severe weather extending into southern Ontario and a 5% probability of tornadoes extending into Simcoe, Grey and Bruce counties in Ontario.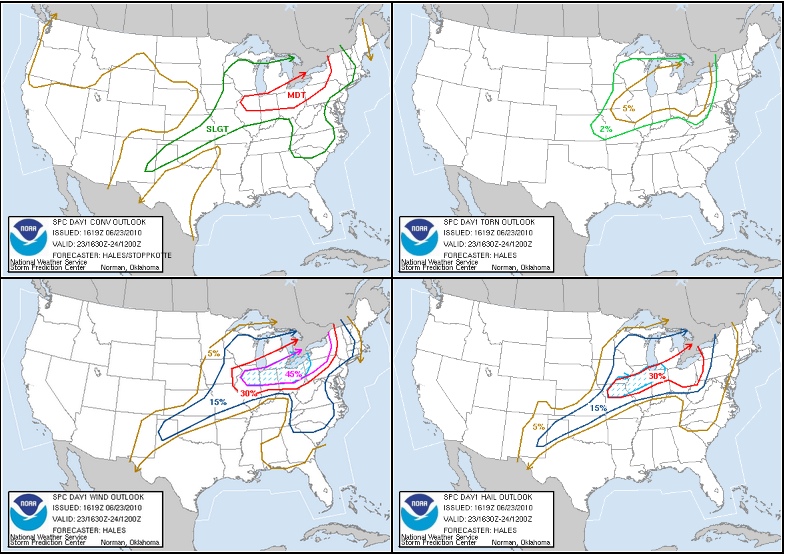 Figure 3 depicts the surface observations at 5:00 pm EDT, which shows a warm front across Michigan and entering Ontario. This front moved into southwestern Ontario throughout the evening hours of June 23rd and with the help of an outflow boundary (observed at 15Z south of Midland), initiated intense thunderstorms, which ultimately led to a long-track F2 tornado in Midland and a long-track F1 tornado that ended in Washago.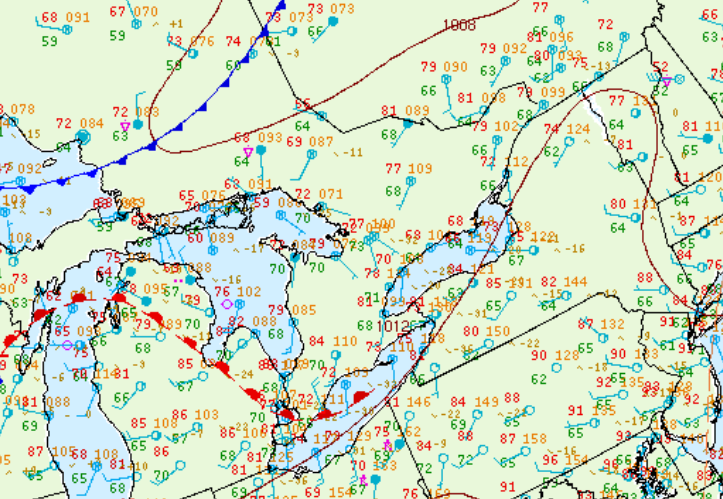 Figure 4 shows the radar at 7:30 pm EDT, which shows a cluster of storms over Orillia.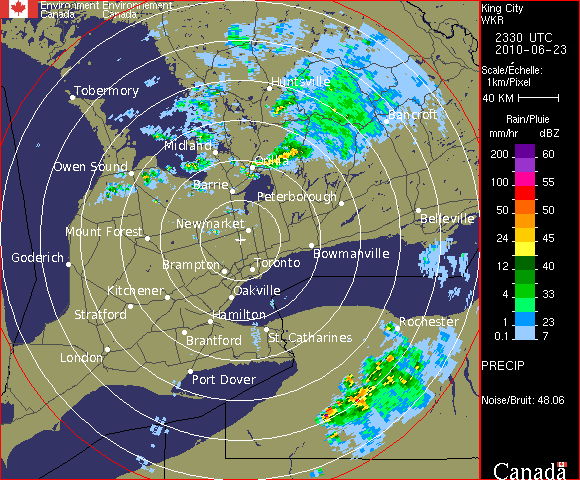 ---
Recap
The tornado was up to 300 metres wide and travelled for 25 km before it dissipated just to the west of Waubaushene, leaving a trail of destruction that was estimated at $15 million dollars. This tornado was rated F2 with winds of up to 240 km/h. This was one of three tornadoes that touched down in Southern Ontario on June 23rd.
---
Sources
Guilbault, M. (2010). Midland Tornado 2010. Retrieved from https://www.flickr.com/photos/mikeguilbault/4750227995/in/photostream/

Kourounis, G. (2010). F-2 Tornado Damage – June 23, 2010 Midland, Ontario. Retrieved from http://www.stormchaser.ca/Tornadoes/2010_06_23_Midland/2010_06_23_Midland.html

NWS Weather Prediction Center Surface Analysis Archive. (2017). Surface analysis 21Z Wed Jun 23 2010. Retrieved from: https://www.wpc.ncep.noaa.gov/archives/web_pages/sfc/sfc_archive.php

Environment and Climate Change Canada. (2020). Canadian Historical Weather Radar – King Cit (near Toronto). Retrieved from https://climate.weather.gc.ca/radar/index_e.html