The second of three tornadoes to strike near the town of Mildmay, this one touched down at 7:00 pm and, for a period, was on the ground simultaneously with a second tornado. Its path was 300 metres long and 40 metres wide, destroying a drive shed and moving a heavy combine several metres. Debris from the shed was thrown up to 1.5 kilometres away.
The tornado was reported by Canwarn spotters Dave Patrick and Ron Gravelle, as well as local residents who captured photos and videos of the event. The tornado was a stovepipe tornado condensed fully to the ground.
This was one of five tornadoes that touched down in Southern Ontario on July 8; the others were an F0 near Pinkerton, an F0 near Mildmay, another F0 near Mildmay, and an F0 near Listowel.
Figure 1 depicts the surface observations at 5:00 pm EDT, which shows a stationary front across southern Ontario. This front became the focus for convergence, which led to thunderstorm development across southern Ontario in the evening hours of July 8th.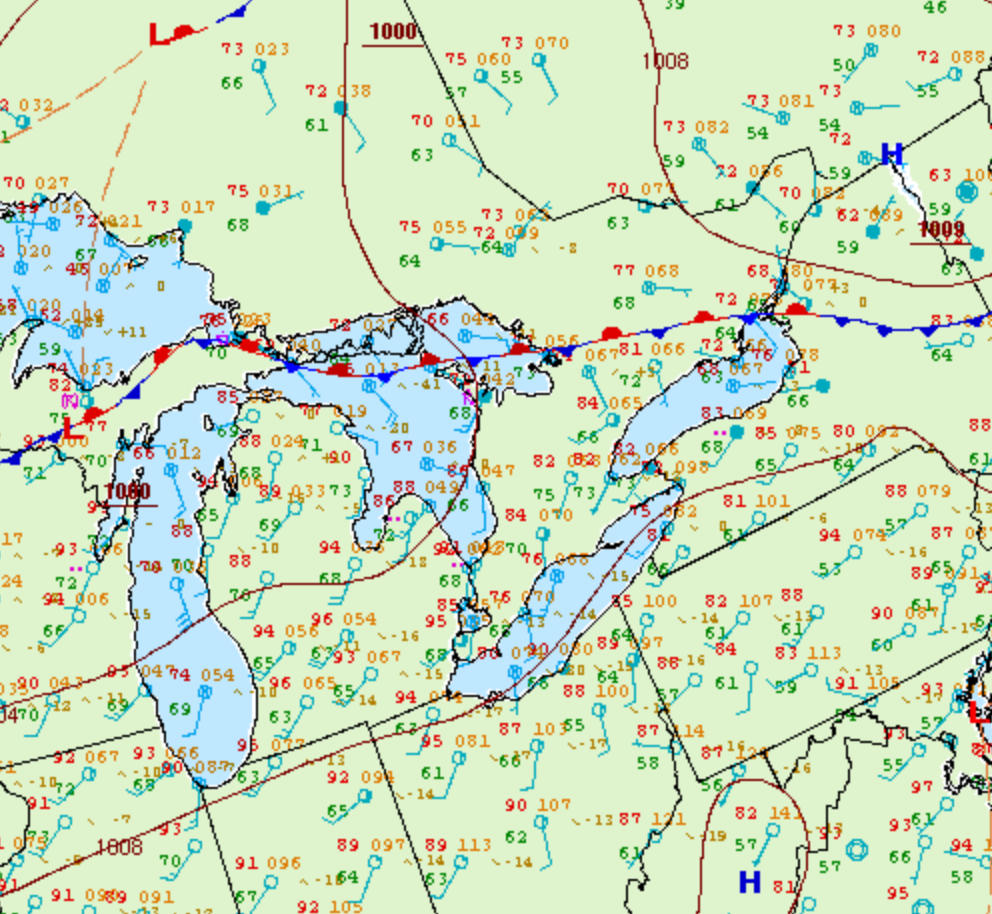 According to Environment and Climate Change Canada (2018), an F1 tornado touched down at 7:00 pm near Mildmay, ON. The tornado travelled 900 metres and had a maximum width of 40 metres. The tornado caused no fatalities, injuries or property damage.
---
Sources
NWS Weather Prediction Center Surface Analysis Archive. (2017). Surface analysis 21Z Sun Jul 8 2007. Retrieved from: https://www.wpc.ncep.noaa.gov/archives/web_pages/sfc/sfc_archive.php

Environment and Climate Change Canada Data. (2018). Canadian National Tornado Database: Verified Events (1980-2009) – Public. Retrieved from: http://donnees.ec.gc.ca/data/weather/products/canadian-national-tornado-database-verified-events-1980-2009-public/