This tornado touched down east of Tottenham, then travelled to the northeast for 10 km through New Tecumseth. The touchdown occurred shortly after 4:00 pm and high-end EF1 damage occurred at rural properties along its path; at places damage approached EF2 intensity.
It was caught on video by a couple driving through the area, ripping up trees as it crossed the road in front of them. Their video shows a narrow but fast moving cone tornado, fully condensed to the ground but was heavily wrapped in rain.
Extensive damage was done to a house early on in its track. The home had windows shattered and its walls pierced by flying debris. In addition, shingles and roofing were ripped off and its attached garage destroyed, collapsing in on itself.
Continuing on, the tornado caused serious damage as it tore through rural properties near New Tecumseth. Barns were damaged, a large riding arena was torn apart, trees were snapped and uprooted and debris scattered. Two horses were killed in one of the destroyed barns.
This was one of two tornadoes to touch down on June 24, 2014. The other:
AWCN11 CWTO 250844
UPDATED WEATHER SUMMARY FOR SOUTHERN ONTARIO AND THE
NATIONAL CAPITAL REGION ISSUED BY ENVIRONMENT CANADA
AT 4:44 A.M. EDT WEDNESDAY 25 JUNE 2014.

FIFTH TORNADO OF THE SEASON CONFIRMED FROM JUNE 24 STORMS.

A CLUSTER OF STRONG TO SEVERE THUNDERSTORMS DEVELOPED TUESDAY
AFTERNOON AHEAD OF OF A COLD FRONT. A TORNADO HAS BEEN CONFIRMED
FROM THIS EVENT. IT OCCURRED IN THE NEW TECUMSETH AREA EAST OF
TOTTENHAM AROUND 3:30 PM.

SURVEY TEAMS HAVE RATED THIS TORNADO AS A ENHANCED FUJITA SCALE 1
(EF1) EVENT WITH MAXIMUM WINDS BETWEEN 135 AND 175 KM/H. PRELIMINARY
INVESTIGATION SUGGESTS THAT THE TORNADO HAD A PATH LENGTH OF AT LEAST
10 KILOMETRES. FURTHER INVESTIGATION WILL BE CONDUCTED TODAY.

THE FOLLOWING IS A SUMMARY OF DAMAGE INFORMATION RELATED TO THE
TORNADO.

LOCATION        EVENT

NEW TECUMSETH   HOUSE WITH GARAGE AND ROOF DAMAGE.

NEW TECUMSETH   TREES DAMAGED

NEW TECUMSETH   DEBRIS TOSSED, RIDING STABLE DAMAGED

PLEASE NOTE THAT THIS SUMMARY MAY CONTAIN PRELIMINARY OR UNOFFICIAL
INFORMATION AND DOES NOT CONSTITUTE A COMPLETE OR FINAL REPORT.

END/OSPC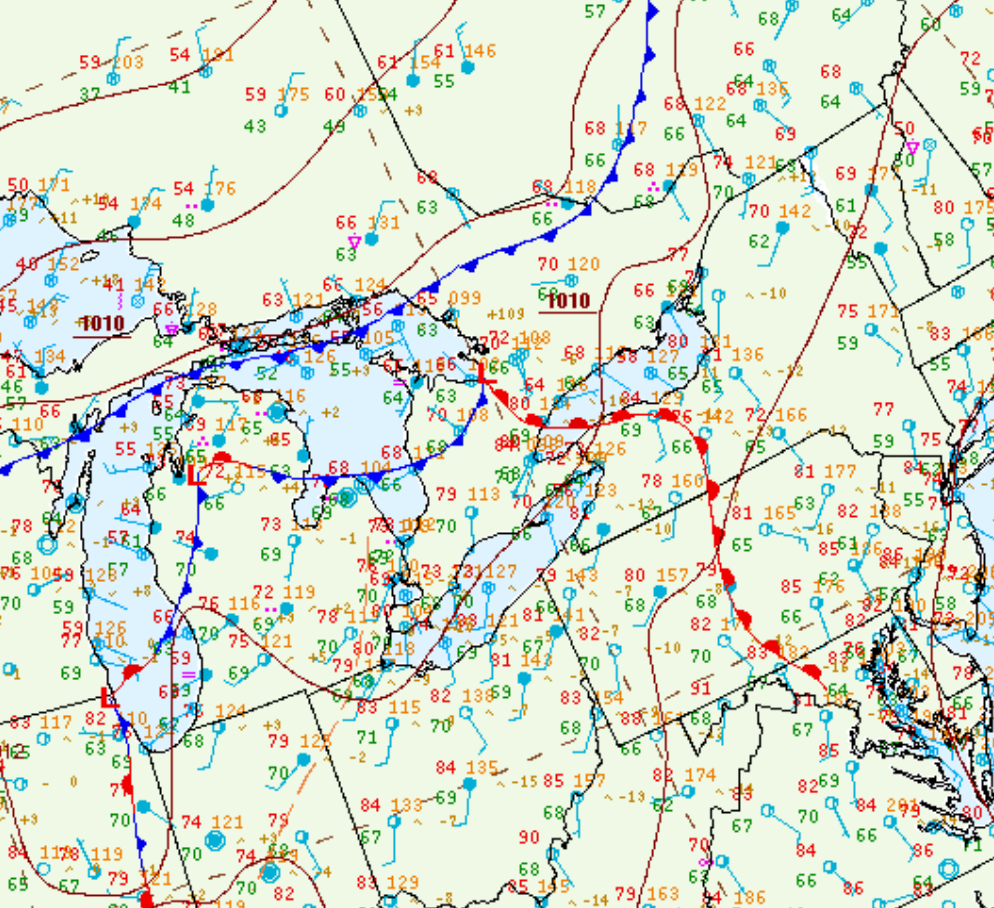 Figure 1 depicts the surface observations at 5:00 pm EDT, which shows a low pressure near Barrie with a warm front extending across the GTA and Lake Ontario and a cold front extending across Lake Huron. Another cold front is seen extending across central Ontario/Quebec. The interaction between the warm front and cold fronts led to intense thunderstorm development across southern Ontario, which ultimately led to two EF1 tornadoes.
---
Sources
NWS Weather Prediction Center Surface Analysis Archive. (2017). Surface analysis 18Z Tue Jun 24 2014. Retrieved from: https://www.wpc.ncep.noaa.gov/archives/web_pages/sfc/sfc_archive.php