A significant and violent tornado impacted rural areas of Manitoba on August 7, 2020 around 8:00 pm CDT. Scarth is a small rural town about 13 km south of Virden.
Weather summary
for Manitoba issued by Environment Canada at 6:25 p.m. CDT Saturday 8 August 2020.

Discussion.

Tornado Near Scarth, MB on August 7, 2020 Confirmed 

On the evening of August 7, a severe thunderstorm moved through the rural municipality of Pipestone. Environment and Climate Change Canada (ECCC) received reports of large hail near Virden and a tornado near Scarth, MB. 

The Northern Tornadoes Project, in association with the University of Manitoba and in collaboration with ECCC, facilitated an on-site storm damage survey. The results of this survey, including a rating of the tornado's strength, are preliminary and subject to change if more information becomes available. 

Preliminary storm assessment: 
Time: 7:55 pm CDT 
Location: Scarth, 13 km south of Virden 

Impacts 
Injuries/fatalities: Two fatalities reported by RCMP and one person injured and transported to hospital 
Damage: power lines and a farm were damaged, silos were tossed and trees were snapped 

Preliminary Rating: EF-2 
Estimated Wind Speed: Approximately 190 km/h 

ECCC meteorologists are seeking additional pictures of the damage this tornado may have caused. Should you have any information regarding this event, or to report severe weather at any time, please call 1-800-239-0484, send an email to mbstorm@canada.ca, or tweet to #mbstorm. 

Note that these storm assessments are considered preliminary and may be changed if more information becomes available.

Please note that this summary may contain preliminary or unofficial information and does not constitute a complete or final report.

End/PASPC

According to the RCMP in Manitoba, the tornado touched down near Highway 83 and Road 50N, where is struck a farm and threw vehicles into a nearby field, killing two people. The tornado moved in a northeast motion and cross Highway 83.
A path of 10 km was estimated based on videos and personal accounts from storm chasers in the area.
---
The Forecast
Figure 1 depicts the surface observations at 4:00 pm CDT, which shows an occluding low pressure across Saskatchewan, a warm front across southern Manitoba moving northward and a cold front in extreme southeastern Saskatchewan moving eastward. The cold front would move eastward across southern Manitoba and trigger supercells along the Manitoba Escarpment.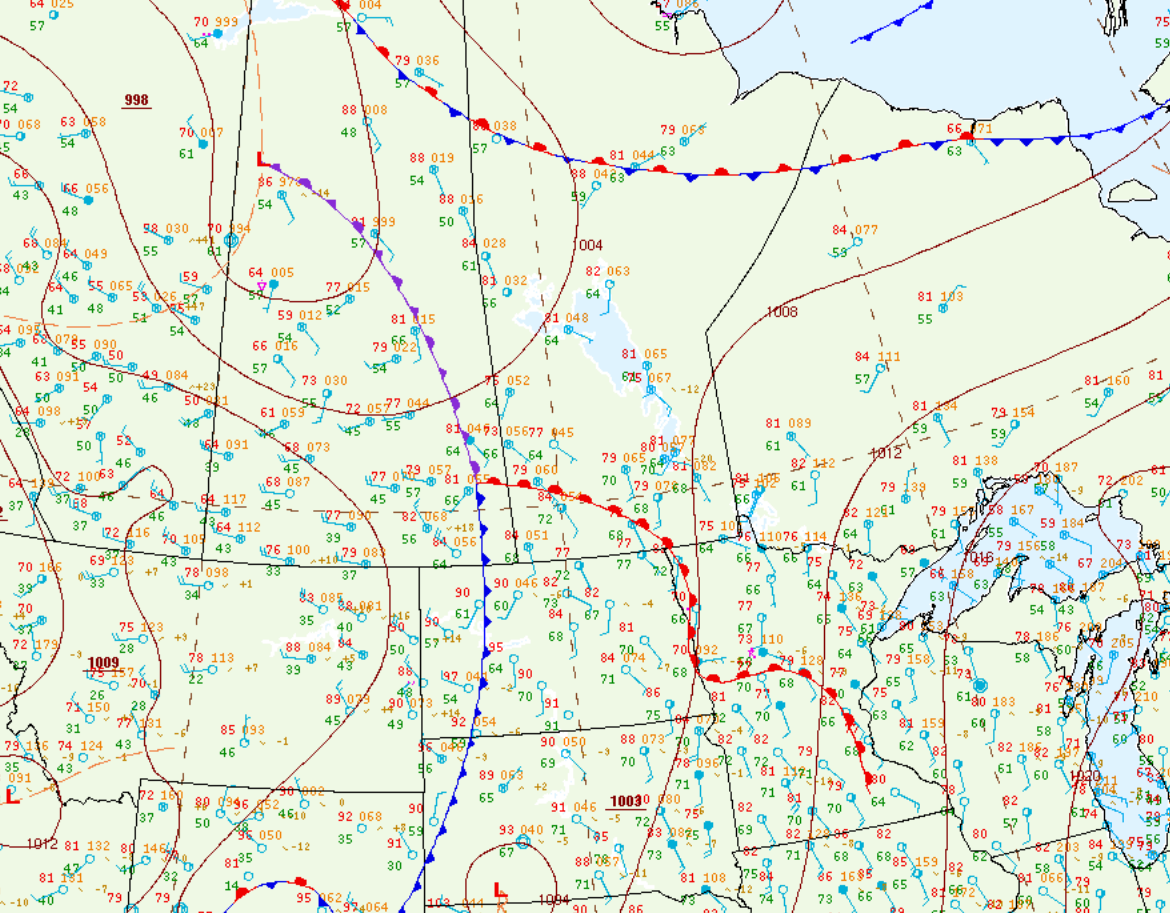 The PASPC in Winnipeg had issued a SEVERE risk of severe storms, meaning there was a fairly high risk of severe thunderstorms on this day.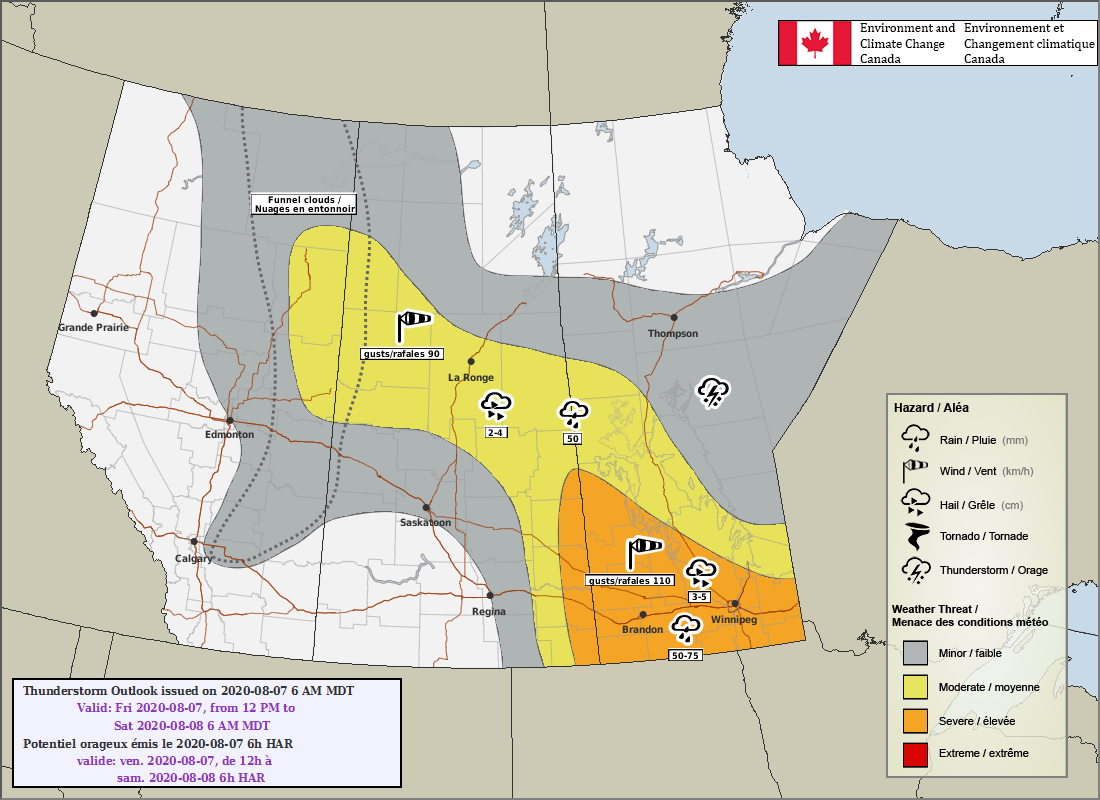 Seen below is the storm depicted on satellite along the cold front, which exploded near Virden and was associated with the observed tornado near Scarth.
Below is the Doppler Radar depiction of the supercell south of Virden, MB that was responsible for the violent tornado near Scarth.
---
The Aftermath
---
Sources
NWS Weather Prediction Center Surface Analysis Archive. (2017). Surface analysis 21Z Fri Aug 7 2020 Retrieved from: https://www.wpc.ncep.noaa.gov/archives/web_pages/sfc/sfc_archive.php

Thumbnail image courtesy of Jordan Corruthers from Manitoba Storm Chasers. Used with permission.