Figure 1 depicts the surface observations at 2:30 am EDT, which shows high pressure dominating the northeastern coast of the United States and a strong low pressure ejecting across the Great Lakes. It is unclear how exactly this tornado came to fruition due to the lack of further surface observations. Therefore, we can only speculate.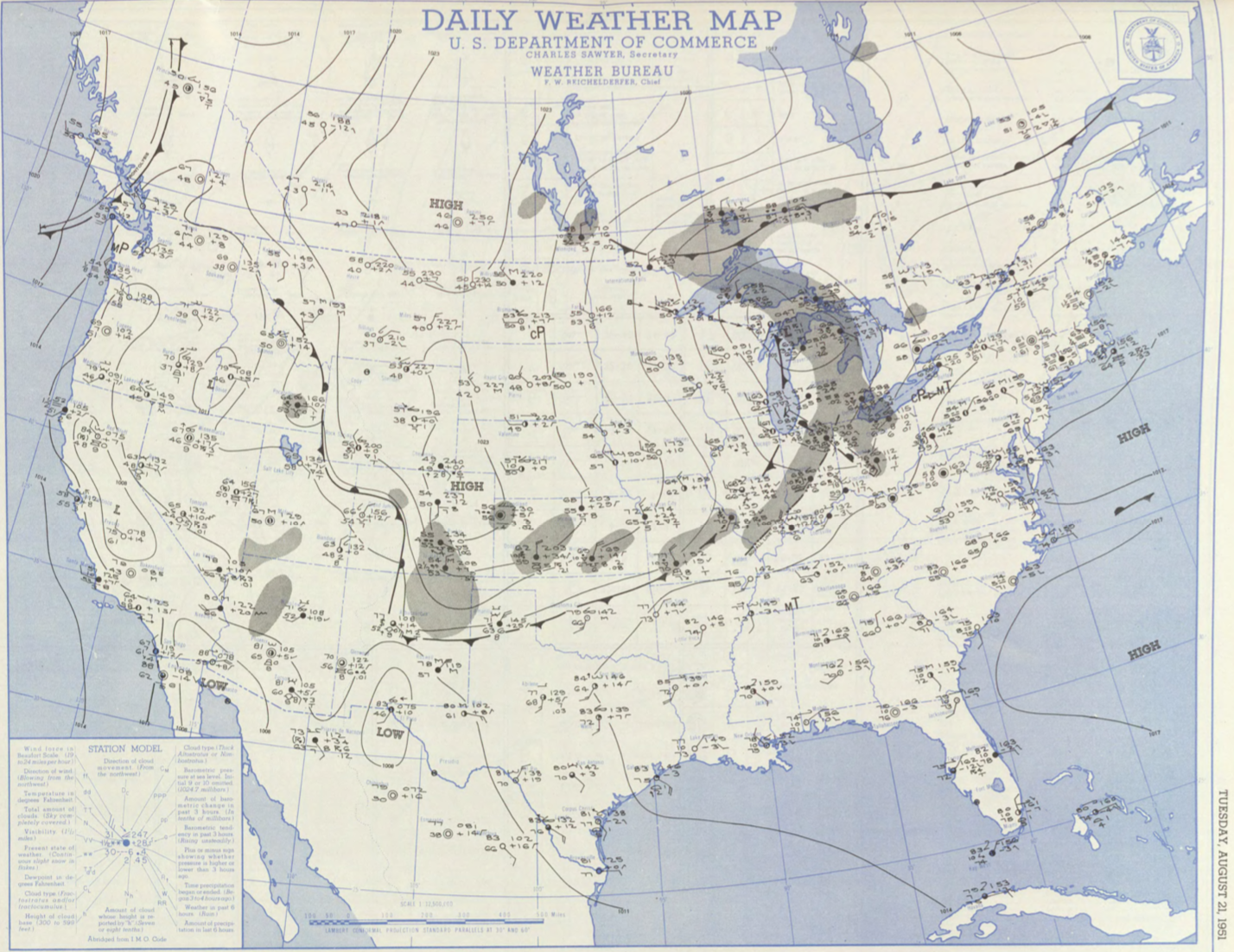 It is possible that this tornado occurred as a result of the modified air near Lake Erie. There seems to be convergence around Boston at the time of Figure 1. It seems that the Continental Polar (cP) airmass is being modified to Maritime Tropical (mT) air. This could have resulted in a trough to develop and help initiate thunderstorms further east.
However, the most likely scenario would have been the cold front, which is observed near Lake Michigan at the time of Figure 1, moved eastward throughout the afternoon. This front would have initiated some storms with the help of possible sea-breeze interaction in western or central Massachusetts, which ultimately led to this tornado.
---
Recap
The Suttons Mills, MA F2 tornado of August 21, 1951 impacted Essex County in Massachusetts. According to NOAA (2019), the F2 tornado caused no fatalities or injuries, but caused $2.5 thousand dollars in property damage. The tornado touched down in Essex County southeast of Suttons Mills at 4:00 pm EDT and travelled 9.3 miles to lift near Crane Neck Street. This F2 had a maximum width of 100 yards.
---
Sources
NOAA Central Library. (2019). U.S. Daily Weather Maps. Tuesday August 21, 1951 [PDF]. Retrieved from https://library.noaa.gov/Collections/Digital-Collections/US-Daily-Weather-Maps

NOAA National Centers for Environmental Information (2019). Storm Events Database. Retrieved from: https://www.ncdc.noaa.gov/stormevents/