This tornado cut a path that was 3 km long and 400m wide, downing trees and tossing large objects. It tracked from County Road 17 to Lesperance Road, east of the Windsor airport.
Damage was considerable along County Road 42. At Danilo's restaurant, a heavy air conditioning unit was ripped off of the roof and flung to the ground. At nearby house owned by the DiCarlo family, the windows burst into the room in which the family was sheltering, however they managed to emerge unscathed. Theirs and a neighbouring house had shingles and siding torn off, and a garage on the property was torn apart with its debris scattered. Further down the road, another house had a large section of roof torn off entirely.
At a farm on 11th Concession Road owned by the Lavin family, a horse barn was destroyed with all but a few walls left standing. Fortunately, fifteen horses inside the building survived. Other farms along the path had roofs torn, antennas bent and debris tossed into fields.
Figure 1 depicts the surface observations at 5:00 am EDT, which shows a warm front extending over Lake Erie. This front brought southerly winds into southern Ontario and became the focus for intense thunderstorms in the early morning hours of May 1st in southwestern Ontario.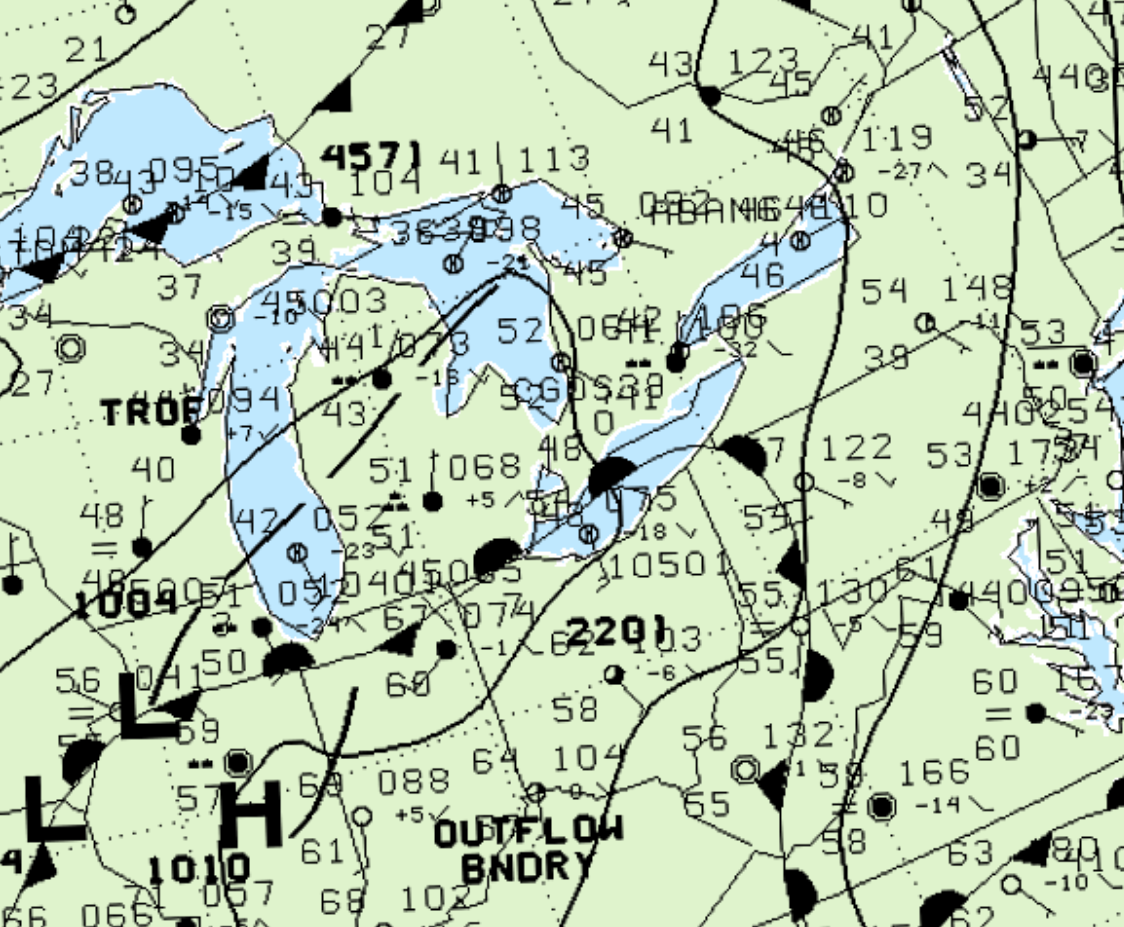 According to Environment and Climate Change Canada (2018), an F1 tornado touched down at 5:15 am EDT near Tecumseh, ON. The tornado travelled for 3 km with a maximum width of 400 metres. The tornado caused no fatalities or injuries, but caused $100 thousand dollars in property damage.
---
Sources
NWS Weather Prediction Center Surface Analysis Archive. (2017). Surface analysis 09Z Thu May 1 2003. Retrieved from: https://www.wpc.ncep.noaa.gov/archives/web_pages/sfc/sfc_archive.php

Environment and Climate Change Canada Data. (2018). Canadian National Tornado Database: Verified Events (1980-2009) – Public. Retrieved from: http://donnees.ec.gc.ca/data/weather/products/canadian-national-tornado-database-verified-events-1980-2009-public/