Figure 1 depicts the surface observations at 11:00 am EDT, which shows a cold front moving moving across New York State. This front became the focus for intense thunderstorms across western Massachusetts throughout the early afternoon hours of July 11th, which ultimately led to this tornado.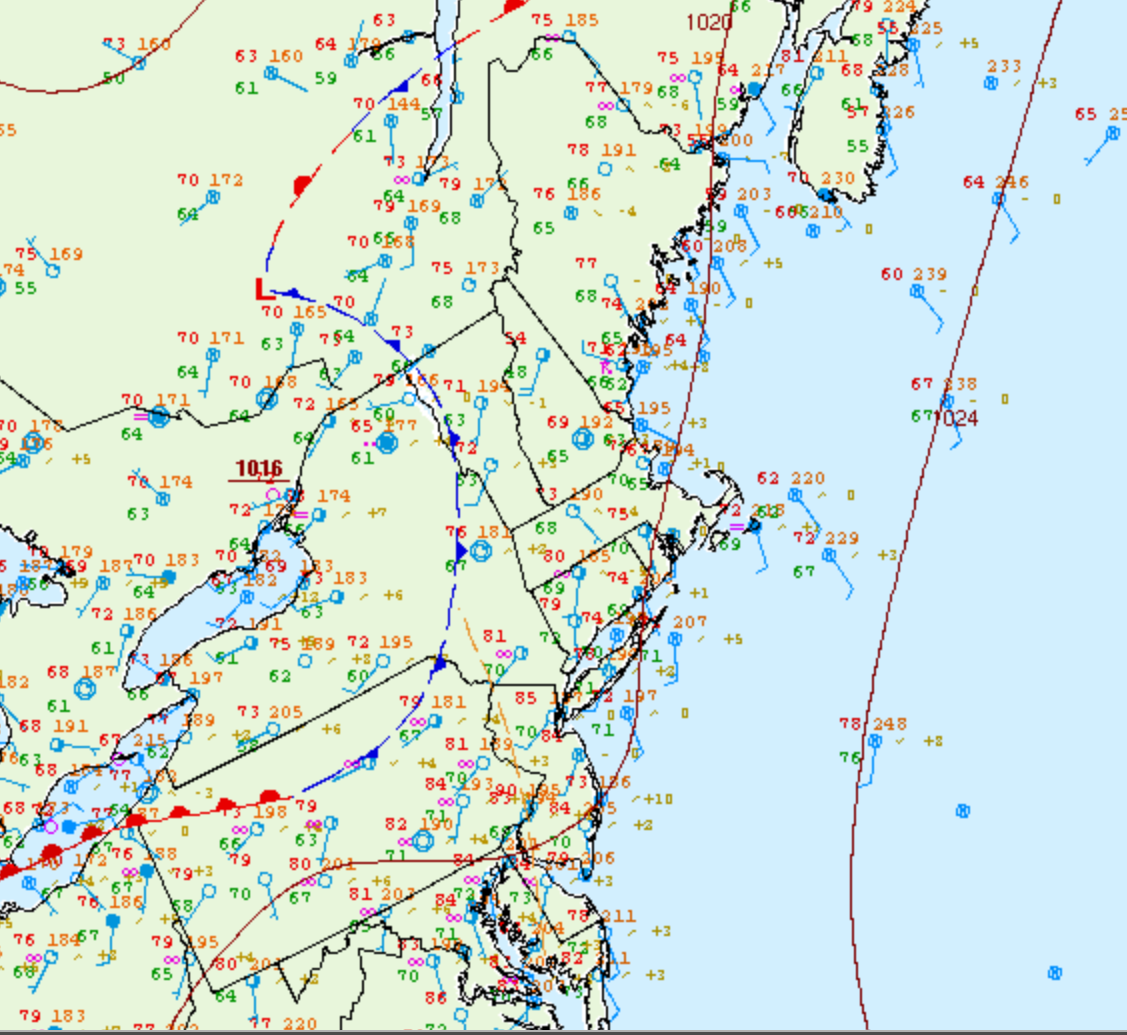 The Wendell, MA F2 tornado of July 7, 2006 impacted Franklin County in Massachusetts. According to NOAA (2019), the F2 tornado caused no fatalities or injuries, but caused $200 thousand dollars in property damage. The tornado touched down near Wickett Pond Road at 2:35 pm EDT. The tornado travelled for 2.9 miles and had a maximum width of 200 yards.
---
Episode narrative for August 20, 2006 (NOAA NCEI, 2020):
Hot and humid air in place over southern New England set the stage for severe thunderstorms throughout the Bay State during the afternoon and early evening. Although storm damage was reported from the Connecticut Valley region to the Worcester Hills and Merrimack Valley, damage was especially severe in eastern Franklin County as well as Boston's North Shore.

Early in the afternoon, one cluster of thunderstorms formed in Franklin County and rapidly became severe, causing considerable damage in Montague and especially Wendell.

A damage survey conducted by the National Weather Service concluded the damage in Wendell was caused by a combination of straight-line wind damage and a tornado, which was rated as a strong F2 on the Fujita Scale with winds estimated near 155 mph.

Damage began around 230 pm EDT, about 200 yards west of Montague Road. Wind damage extended from Montague Road about 1.5 miles east to Wicket Pond in the Wendell State Forest. Large oak, maple, and pine trees were uprooted and snapped in this area. Some oaks over two feet in diameter were snapped about 10 to 15 feet from the ground. Damage from this microburst extended along a path of one and a half miles in length, and anywhere from 50 to 300 yards in width. Wind speeds were estimated near 90 mph.

Tornado damage first appeared on the northeast corner of Wicket Pond. An eyewitness reported seeing a six foot wave form on the pond. On the west side of the pond, many trees were snapped 15 to 20 feet above the ground, with debris left in a chaotic pattern.

The next area of damage was on Wicket Pond Road, which is where the most severe damage occurred. Trees as large as 3 feet in diameter were uprooted. Bark was stripped off trees and a house had part of its roof torn off. The tornado tracked to the east along Wicket Pond Road, passing over Depot Road which is in Wendell Center. Part of a roof was torn off an old barn and many trees were uprooted.

After crossing Depot Road, the tornado continued to track to the east, passing north of Morse Village Road. A construction storage trailer was completely destroyed and its roof was wrapped around a tree. Trees were also uprooted or snapped in this area. Damage came to an end about one half mile east of New Salem Road.

The path length of the tornado was approximately 3 miles. Its average width was 200 yards, varying from 100 to 300 yards.

A little more than one hour later, another cluster of severe thunderstorms brought significant damage to Cape Ann, in particular Marblehead Neck and the adjacent coastal waters. Initially, the storms produced hail as large as 3 inches in diameter – just larger than baseball size – which are considered to be the second largest hailstones reported in Massachusetts.

A National Weather Service storm survey concluded that multiple wet microbursts, or sudden outflow of damaging straight-line winds combined with torrential rainfall, impacted the area around Marblehead Neck between 357 pm and 430 pm EDT. The survey noted that westerly winds gusting as high as 90 mph occurred in an area centered from Marblehead Harbor across Corinthian Lane and Barker Lane, and then out to sea. The land damage path was short, primarily because the land is only about 700 feet wide in that area.

The main damage path was about 150 feet wide. It consisted of tree damage and minor structural damage, although substantial damage was noted to sailing vessels and at least one car. Damage was more sporadic near Manley Street, about 600 feet farther north, and also to the south and southwest on Foster Street, Harbor Avenue, and Ocean Avenue.

Interviews with eyewitnesses provide more detail as to how the storms affected the area. Between 340 pm and 345 pm EDT, winds shifted to the northeast and produced sea spray at the mouth of Marblehead Harbor. This was the result of earlier thunderstorms passing north of the area. Then, from 357 pm to 405 pm EDT, a white tempest developed over Marblehead Harbor on the neck side of the harbor, estimated by the Corinthian Yacht Club chair to be about 300 yards upstream from the dock. This curtain of water and high winds advanced toward the yacht club, lifting 30-foot vessels approximately 20 feet in the air and catapulting them end over end toward the dock. An anemometer on the dock was viewed to have reached 95 mph before it blew off its mast.

Damage was less severe, but still significant, from the Connecticut Valley to the Worcester Hills and Merrimack Valley. There were many reports of downed trees, large branches, and hail up to the size of quarters from the Springfield area to Grafton, Westborough, and Framingham as well as farther northeast into Hardwick, Wilmington, and Boxford.

Torrential rainfall caused significant urban flooding, especially in Springfield, Oxford, Wakefield, and Beverly. In Salem, two cars on Pope Street were submerged by up to 3 feet of water when about 2 inches of rain fell in 20 minutes. Other cars were flooded in Salem and Lynn due to other roads being flooded, including a stretch of Route 129.

Lightning struck Athol Memorial Hospital, causing minor damage to the facility.
---
National Weather Service damage survey:
NOUS41 KBOX 122316
PNSBOX
CTZ002>004-MAZ002>024-026-NHZ011-012-015-RIZ001>008-132200-

PUBLIC INFORMATION STATEMENT
NATIONAL WEATHER SERVICE TAUNTON MA
715 PM EDT WED JUL 12 2006

...MICROBURST AND F2 TORNADO CONFIRMED IN WENDELL MASSACHUSETTS ON
TUESDAY JULY 11...

A DAMAGE SURVEY WAS CONDUCTED IN WENDELL MASSACHUSETTS TODAY BY THE
NATIONAL WEATHER SERVICE IN TAUNTON...IN COOPERATION WITH THE SKYWARN AMATEUR RADIO COORDINATOR FOR WESTERN MASSACHUSETTS...THE
MASSACHUSETTS EMERGENCY MANAGEMENT AGENCY...THE MASSACHUSETTS
DEPARTMENT OF CONSERVATION AND RECREATION...AND THE ATHOL FIRE
DEPARTMENT.

BASED UPON THE DAMAGE SURVEY...INTERVIEWS WITH EYEWITNESSES AND
DOPPLER RADAR DATA...THE SEVERE THUNDERSTORM PRODUCED A COMBINATION
OF STRAIGHT LINE WIND DAMAGE AND A TORNADO...WHICH HAS BEEN RATED AS
A STRONG F2 WITH WIND SPEEDS NEAR 155 MPH.

DAMAGE BEGAN AROUND 230 PM EDT...ABOUT 200 YARDS WEST OF MONTAGUE
ROAD. STRAIGHT LINE WIND DAMAGE EXTENDED FROM MONTAGUE ROAD 1.5
MILES EAST TO WICKET POND IN THE WENDELL STATE FOREST. LARGE
OAK...MAPLE AND PINE TREES WERE UPROOTED AND SNAPPED IN THIS AREA.
SOME OAKS JUST OVER TWO FEET IN DIAMETER WERE SNAPPED ABOUT 10 TO
15 FEET FROM THE GROUND. DAMAGE FROM THE MICROBURST EXTENDED ALONG A
PATH OF ONE AND A HALF MILES IN LENGTH...AND ANYWHERE FROM 50 TO
300 YARDS WIDE. WIND SPEEDS WERE ESTIMATED AS HIGH AS 90 MPH.

TORNADO DAMAGE FIRST APPEARED ON THE NORTHEAST CORNER OF WICKET
POND. AN EYEWITNESS REPORTED SEEING A 6 FOOT WAVE FORM ON THE POND.
IN ADDITION...THE PARK SUPERVISOR REPORTED THAT THE LEVEL OF THE POND WAS LOWERED 6 TO 8 INCHES BY THE STORM. ON THE WEST SIDE OF WICKET POND MANY TREES SNAPPED 15 TO 20 FEET ABOVE THE GROUND...WITH DEBRIS IN A CHAOTIC PATTERN.

THE NEXT AREA OF DAMAGE WAS ON WICKET POND ROAD WHERE THE MOST SEVERE DAMAGE OCCURRED. TREES AS LARGE AS 3 FEET IN DIAMETER WERE UPROOTED. BARK WAS STRIPPED OFF TREES AND A HOUSE HAD PART OF ITS ROOF TORN OFF. THE TORNADO TRACKED TO THE EAST ALONG WICKET POND ROAD...PASSING OVER DEPOT ROAD WHICH IS IN WENDELL CENTER. PART OF A ROOF WAS TORN OFF AN OLD BARN AND MANY TREES WERE UPROOTED.

AFTER CROSSING DEPOT ROAD...THE TORNADO CONTINUED TO TRACK TO THE
EAST...PASSING NORTH OF MORSE VILLAGE ROAD. A CONSTRUCTION STORAGE
TRAILER WAS COMPLETELY DESTROYED AND ITS ROOF WAS WRAPPED AROUND
A TREE. TREES WERE ALSO UPROOTED OR SNAPPED IN THIS AREA. DAMAGE
CAME TO AN END ABOUT ONE HALF MILE EAST OF NEW SALEM ROAD NEAR A
POWER LINE.

THE PATH LENGTH OF THE TORNADO WAS APPROXIMATELY 2.9 MILES LONG.
ITS AVERAGE WIDTH WAS 200 YARDS...VARYING FROM 100 TO 300 YARDS.

A DAMAGE SURVEY IS ALSO ONGOING IN MARBLEHEAD MASSACHUSETTS...TO
DETERMINE IF ANOTHER TORNADO TOUCHED DOWN THERE TUESDAY AFTERNOON.
ANOTHER PUBLIC INFORMATION STATEMENT WILL BE ISSUED ONCE THAT SURVEY
HAS BEEN COMPLETED.

$$

DUNHAM/DELLICARPINI
---
Sources
NWS Weather Prediction Center Surface Analysis Archive. (2017). Surface analysis 15Z Tue Jul 11 2006. Retrieved from: https://www.wpc.ncep.noaa.gov/archives/web_pages/sfc/sfc_archive.php
NOAA National Centers for Environmental Information (2020). Storm Events Database. Retrieved from: https://www.ncdc.noaa.gov/stormevents/
Sironaitis, T. (2006). Wendell, MA F2 Tornado Photographs by Tony Sironaitis of Tully, MA. Retrieved from http://newxspotters.bizland.com/photoAlbums/20060711WendellMAF2/index.htm