Figure 2 depicts the surface observations at 2:00 pm EDT, which shows a cold front moving across the northeastern United States. This front became the focus for thunderstorms throughout the afternoon hours July 24th, which ultimately led to this brief tornado.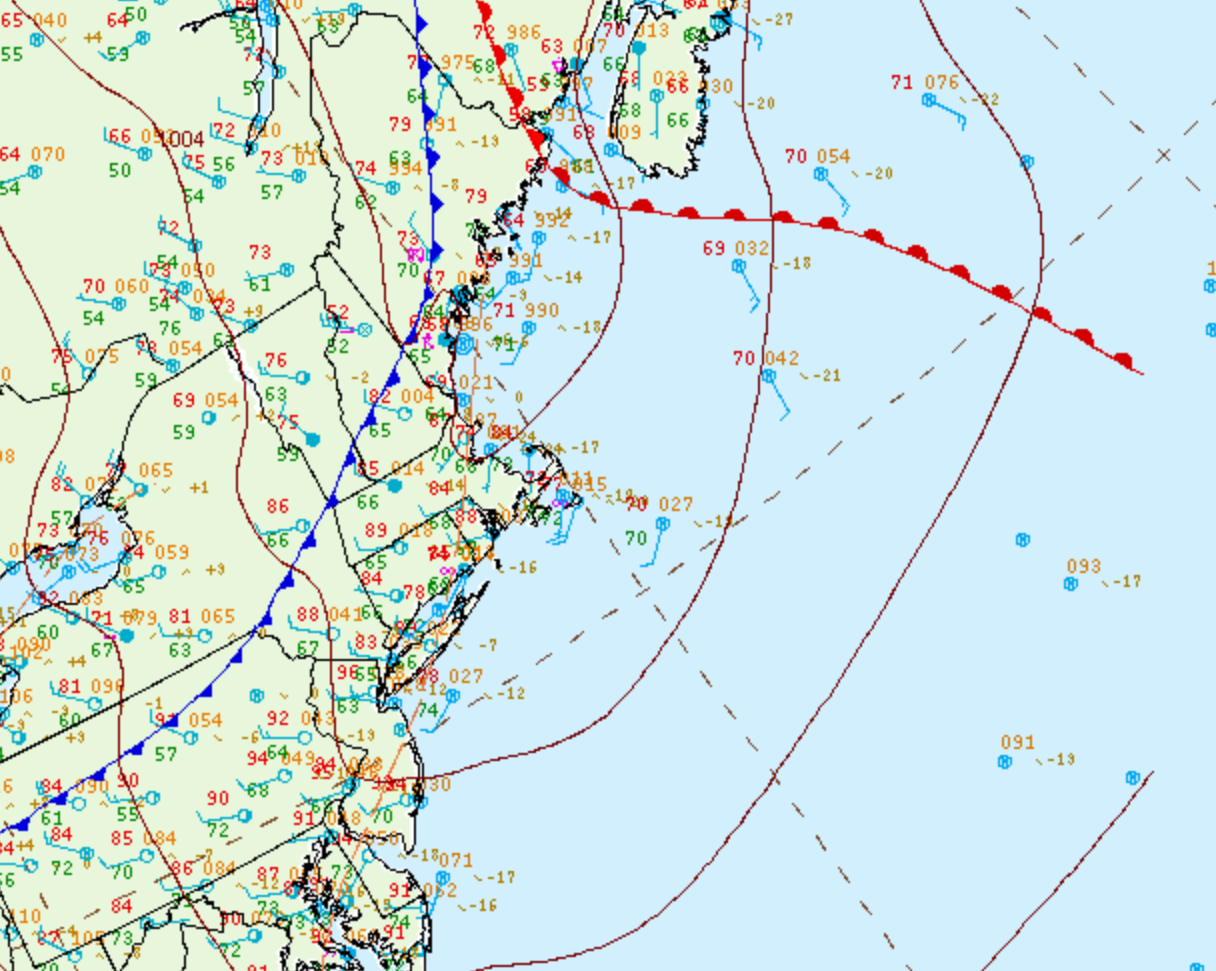 The White Horse Beach, MA EF0 tornado of July 24, 2012 impacted Plymouth County in Massachusetts. According to NOAA (2019), the EF0 tornado caused no fatalities or injuries, but caused $3000 dollars in property damage. The tornado touched down near White Horse Beach at 4:08 pm EDT. The tornado travelled for 0.03 miles and had a maximum width of 15 yards.
---
National Weather Service Storm Survey:
PUBLIC INFORMATION STATEMENT NATIONAL WEATHER SERVICE TAUNTON MA 1111 AM EDT MON JUL 30 2012 …EF0 TORNADO CONFIRMED IN MANOMET SECTION OF PLYMOUTH MA ON TUESDAY JULY 24 2012…

LOCATION…MANOMET SECTION OF PLYMOUTH IN PLYMOUTH COUNTY MA

DATE…JULY 24 2012

ESTIMATED TIME…408 PM TO 409 PM EDT

MAXIMUM EF- SCALE RATING…EF0

ESTIMATED MAXIMUM WIND SPEED…65 MPH –

MAXIMUM PATH WIDTH…15 YARDS

PATH LENGTH…45 YARDS BEGINNING LAT/LON…41.94 N 71.57 W ENDING LAT/LON…41.94 N 71.57 W *

FATALITIES…0 * I

NJURIES…0

* THE INFORMATION IN THIS STATEMENT IS PRELIMINARY AND SUBJECT TO CHANGE PENDING ANY FINAL REVIEW OF THE EVENT AND PUBLICATION IN NWS STORM DATA.

…SUMMARY…

THE NATIONAL WEATHER SERVICE IN TAUNTON MA HAS CONFIRMED THAT THREE WATERSPOUTS FORMED OFF THE COAST OF MANOMET IN PLYMOUTH COUNTY AT 406 PM ON TUESDAY JULY 24 2012. THEY THEN RAPIDLY MOVED ONSHORE…CAUSING MINOR DAMAGE AT WHITE HORSE BEACH BETWEEN 408 PM AND 409 PM…AND THEN DISSIPATED. THESE WERE PHOTOGRAPHED WITH A TIME STAMP. TECHNICALLY…A WATERSPOUT MOVING ONSHORE AND CAUSING DAMAGE IS CLASSIFIED AS A TORNADO. DAMAGE WAS VERY MINIMAL. A WINDOW OF THE CRANK-OUTWARD TYPE WAS RIPPED OFF ITS HINGES AND THEN SHATTERED WHEN IT HIT THE SIDE OF A HOUSE. A BEACH UMBRELLA AND A FEW AWNINGS WERE DAMAGED. SAND AND OTHER DEBRIS WERE HURLED INTO THE AIR ABOVE THE LEVEL OF BEACHSIDE CONDOS. WIND SPEEDS WERE LIKELY LESS THAN 65 MPH…HOWEVER THAT IS THE MINIMUM SPEED ALLOWED FOR A CLASSIFICATION OF AN EF-0 TORNADO. THE PATH LENGTH WAS ONLY 45 YARDS AND THE WIDTH WAS NO MORE THAN 15 YARDS. THERE WERE NO INJURIES OR FATALITIES. THIS INFORMATION CAN ALSO BE FOUND ON OUR WEBSITE AT WEATHER.GOV/BOX.

FOR REFERENCE…THE ENHANCED FUJITA SCALE CLASSIFIES TORNADOES INTO THE FOLLOWING CATEGORIES:

EF0…WIND SPEEDS 65 TO 85 MPH.

EF1…WIND SPEEDS 86 TO 110 MPH.

EF2…WIND SPEEDS 111 TO 135 MPH.

EF3…WIND SPEEDS 136 TO 165 MPH.

EF4…WIND SPEEDS 166 TO 200 MPH.

EF5…WIND SPEEDS GREATER THAN 200 MPH.
---
Sources
NWS Weather Prediction Center Surface Analysis Archive. (2017). Surface analysis 18Z Tue Jul 24 2012. Retrieved from: https://www.wpc.ncep.noaa.gov/archives/web_pages/sfc/sfc_archive.php
NOAA National Centers for Environmental Information (2020). Storm Events Database. Retrieved from: https://www.ncdc.noaa.gov/stormevents/