Published on
April 12 began in a way that I generally don't like to start chase days: with an Atmospheric Dynamics exam. Earlier in the week, anticipating a possible storm chase, fellow meteorology student and close friend Kaylan Patel and I had convinced our professor to allow us to take our midterm early (Thank you Professors Henderson and Tripoli!!!). Attempting to study the night before was somewhat futile as we watched each successive run of the HRRR initiate convection in a beautiful warm sector absolutely primed for tornadogenesis in Northwest Iowa. As we rolled out of bed, further distractions were dispatched from the Storm Prediction Center as an upgrade to a moderate risk including a 15% hatched tornado contour was issued at the 1300z outlook update.
We departed Madison around 11:00, stopping to pick up another friend, UW-Madison meteorology student and first time storm chaser Leila Gabrys, and embarked towards Dubuque on one of my favorite pre-chase drives. We had been targeting the Fort Dodge area for several days now, given that this is where we thought open warm sector initiation and favorable storm-warm front interaction were most likely. In the driver's seat, I was thankful for not having the opportunity to view incoming forecast data for the most part and avoid my usual vacillations between extreme optimism and pessimism. Today, however, seemed to be somewhat different. Watching the level of clearing behind the rapidly northward-moving warm front and seeing impressive moisture advection left me with a feeling that we were going to see something excellent, a feeling that grew with each passing mile.
After about 4 hours of driving, we stopped in our original target of Fort Dodge, Iowa to procure some traditional pre-chase Casey's pizza and evaluate data. We were all immediately struck, both literally and figuratively, by the intense east-southeasterly surface winds and low cumulus clouds screaming northward overhead. After a look at visible satellite, we elected to head about an hour further south and west towards Sac City, Iowa. This decision was reinforced by a Tweet from meteorologist and fellow storm chaser Andrew Pritchard alerting us to the presence of the World's Largest Popcorn Ball in Sac City. None of us could pass up the opportunity to watch potential storm initiation from such a location.
Arriving in Sac City, we were greeted with a large contingent of chasers in the parking lot of the Casey's across the street from the aforementioned popcorn ball. It was wonderful to see my close friends Alex Goldstein, Colin Davis, Andrew Pritchard, and Adam Penney after last seeing most of them during the Sterling City, Texas tornado of May 17, 2021. It was also excellent to meet Richard Sample and Anthony Yattoni among many others.
Shortly after arriving, I noted impressive towering cumulus exploding skyward directly to our south (henceforth referred to as the 'Popcorn Ball' storm). These towers rapidly gained strength, exhibiting an early "bean" shape on reflectivity. After about 10 minutes of watching, a deep rumble of thunder was heard, and fairly shortly afterward we all went back to our vehicles. The chase was on.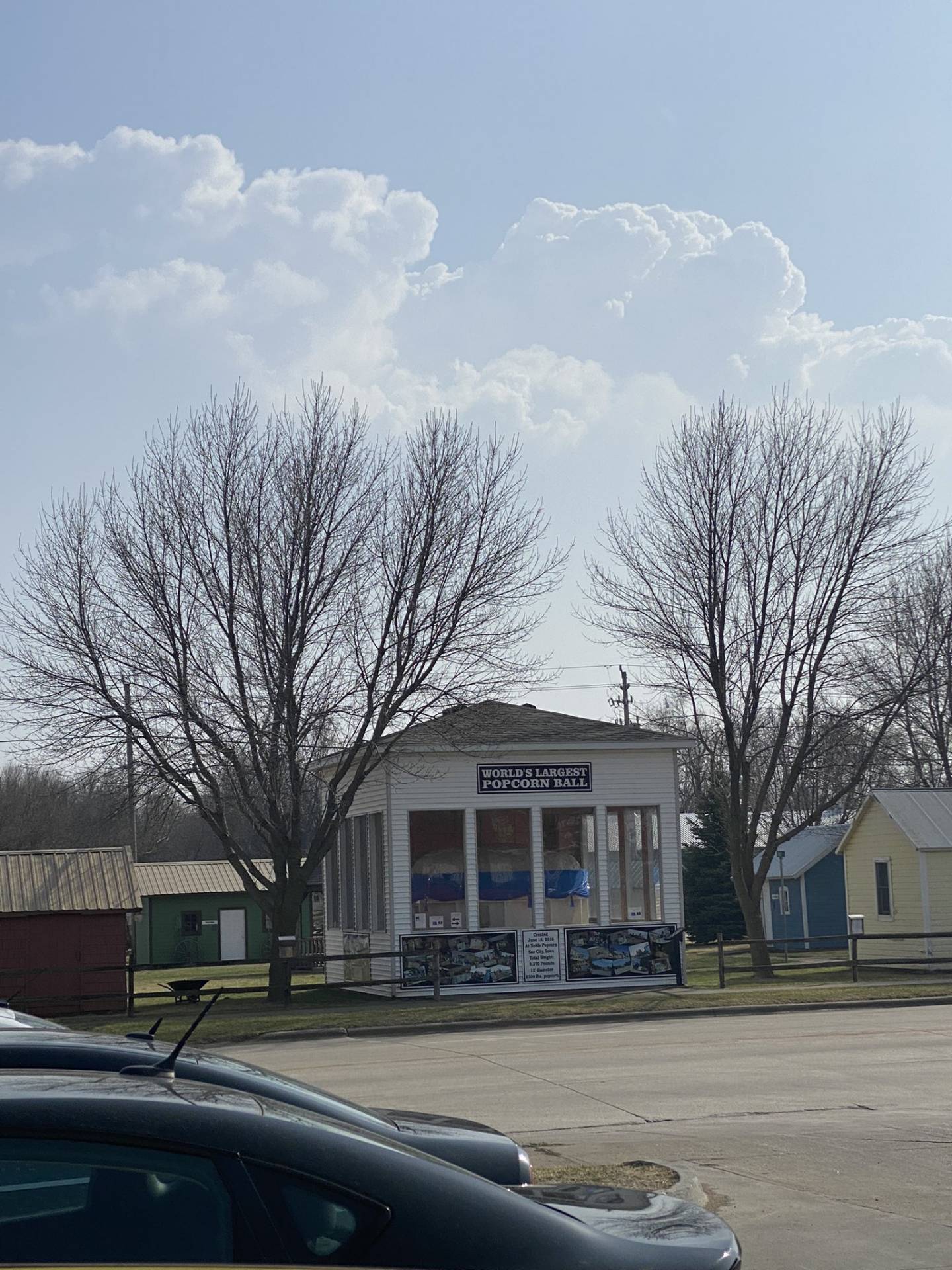 Although these storms were already looking quite promising, Kaylan and I were fresh off the disappointing chase of March 5th, 2022 where we lagged just behind a sadly deadly EF-4 wedge tornado after getting too aggressive with the storm initially. Wary not to make the same mistake again, we moved north out of Sac City to Highway 20 to fly east to stay well out ahead of the storm until it could establish a more permanent mesocyclone. Of note on our journey here were the gargantuan raindrops we experienced in the forward flank of the now severe warned storm.
Following a 15 mile or so jog east, we exited 20 and began to stairstep northeastward in order to keep all of our options in play. More storms were initiating further north and west, and I wanted to make sure that we kept them within striking distance, especially given the apparent visible strength of their updrafts. It had now been around 45 minutes since we first started chasing, but there still existed some ambiguity as to which storm to latch onto. Resultingly, we stopped near the tiny town of Pioneer to look around and further evaluate our options. Oddly enough, it was here that I experienced one of my favorite moments I've yet had in storm chasing.
The dark rain shaft of the severe warned 'Popcorn Ball' storm dominated the horizon to the southwest, with an expansive anvil casting shadows across the Iowa fields. Inflow winds buffeted the group, howling into the rapidly developing supercell. Incredible cloud-to-ground lightning began to spark out of the forward flank of the storm, and to the north, more crisp white updrafts were visible. I found the scene exceedingly beautiful, and also felt confident, at this point, that we were only a short time away from seeing a tornado.
By now, the storm had developed an extremely impressive mesocyclone on radar. It was time for us to commit. We began to head back west towards the storm on 570th street. Knowing it was only a matter of time before a tornado warning was issued, Kaylan and I elected to turn the volume all the way up on the stereo of the minivan I was borrowing from my parents and deploy the luckiest song in all of storm chasing, the legendary Child in Time by Deep Purple. Sure enough, the tones of Roger Glover's bass were soon mixed in with EAS Alerts as our phones informed us of the tornado warning.
Soon, we were able to see the base of the storm. The expansive, flat base in conjunction with extreme CG action was enough to get me animated.
Shortly after gaining visual on the base, we elected to stop and watch for a moment, as it didn't appear imminently tornadic. We pulled over to the shoulder of the road, and piled out to experience the absolutely gorgeous storm. Moments later, we saw a familiar-looking sedan crest the hill behind us. Recognizing us, Alex and Adam stopped just in front of us and joined us in the field. Besides being great friends, I generally have good luck when observing convection with Alex and Adam (June 8, 2020, and May 16-17 2021 come to mind), so I was ecstatic to see them.
The base of the storm rapidly became lower and lower, and the storm looked more impressive on each consecutive radar scan. Alex remarked that he'd never seen a storm look like this and not produce a tornado. He was about to be proven correct.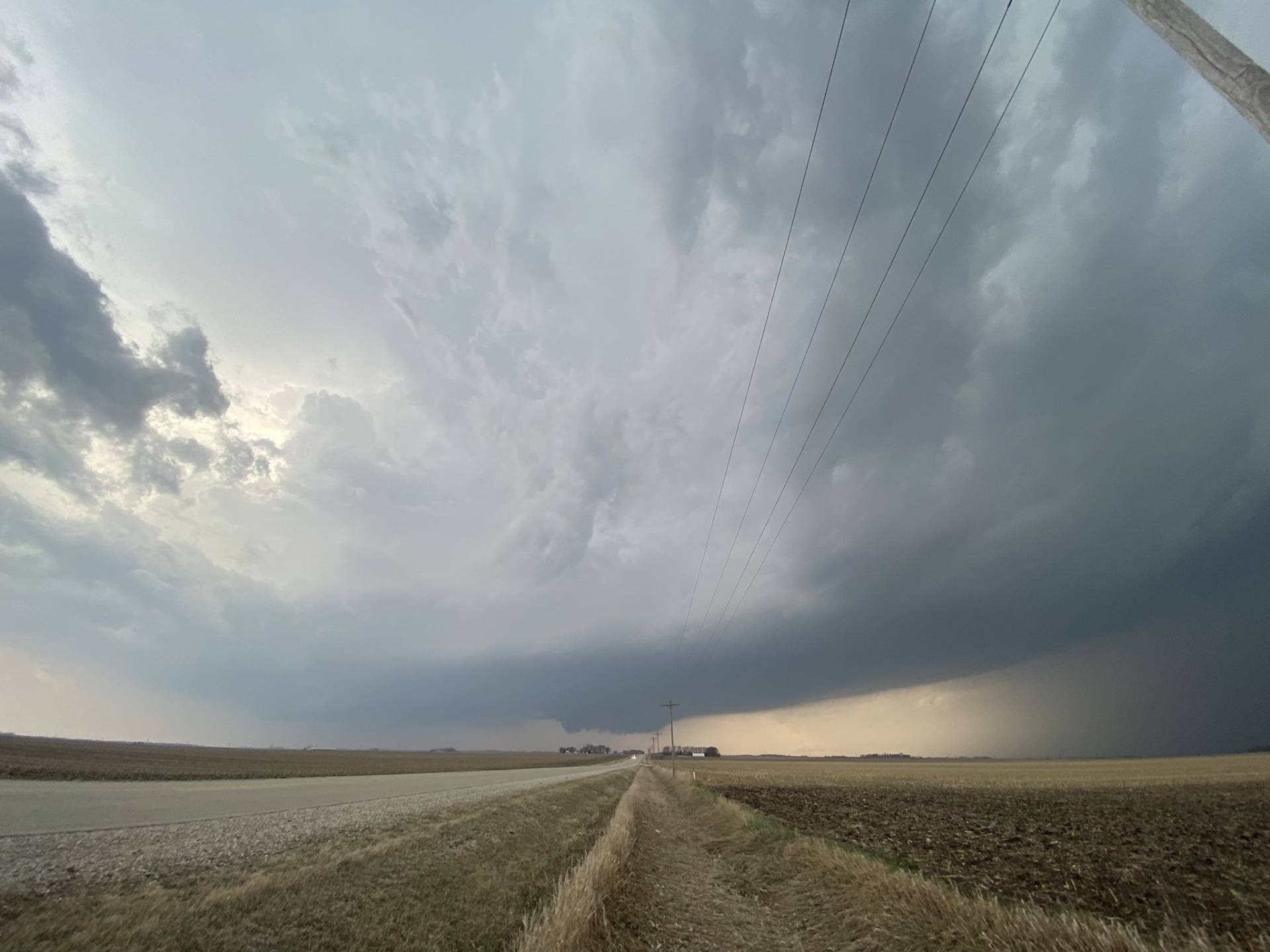 Less than 2 minutes later, dust began to circulate on the ground below the wall cloud as it was crossing the east-west road we were on. A tornado!!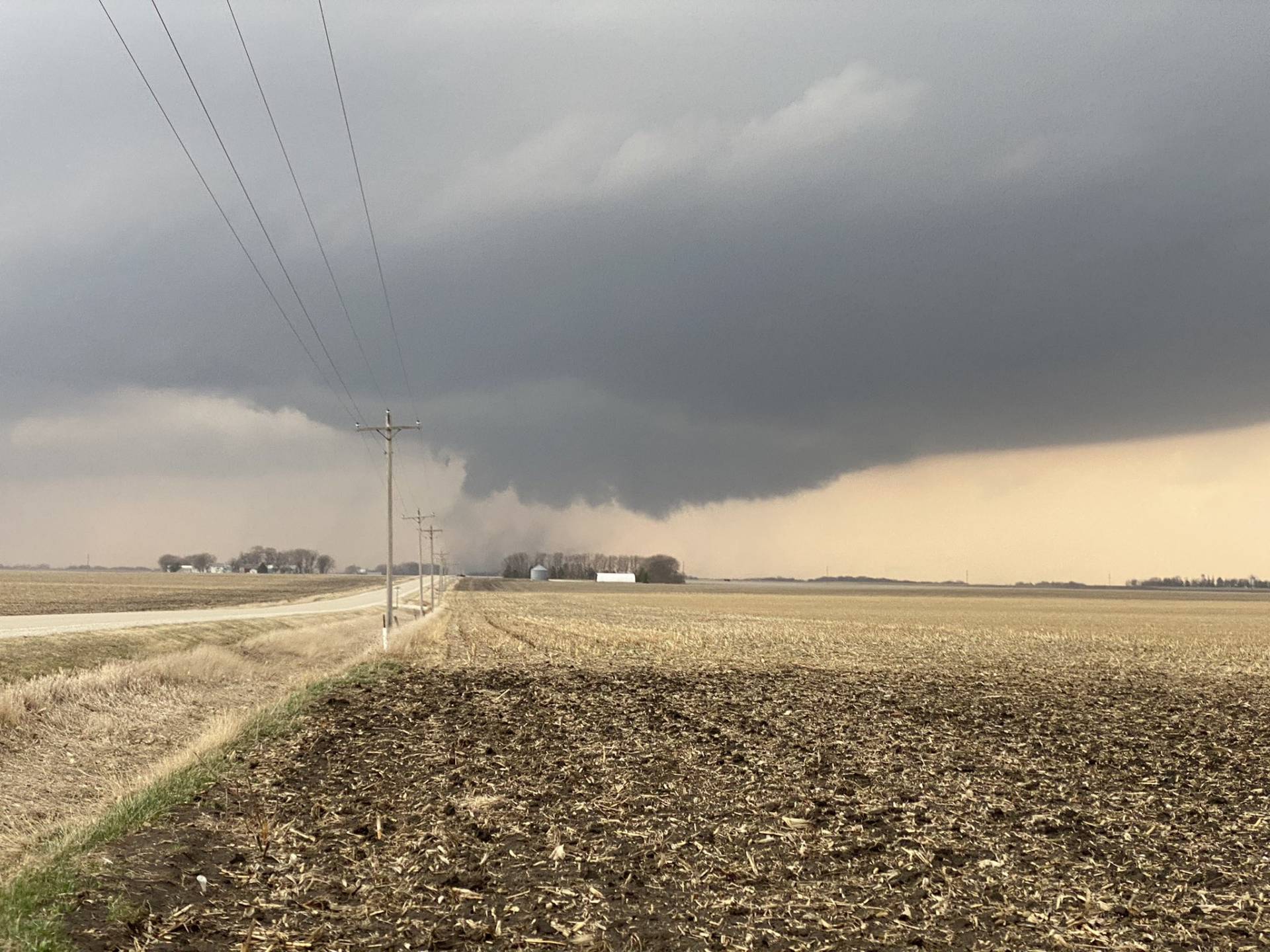 However, this tornado was only just beginning. As it transited the road, an impressive cone funnel began to emerge from the wall cloud, eventually touching down to become the single most beautiful tornado that I've yet seen. It exhibited incredible and strong motion, leading me to believe it may have achieved a rating higher than the EF-2 it was given had sufficient damage indicators been available.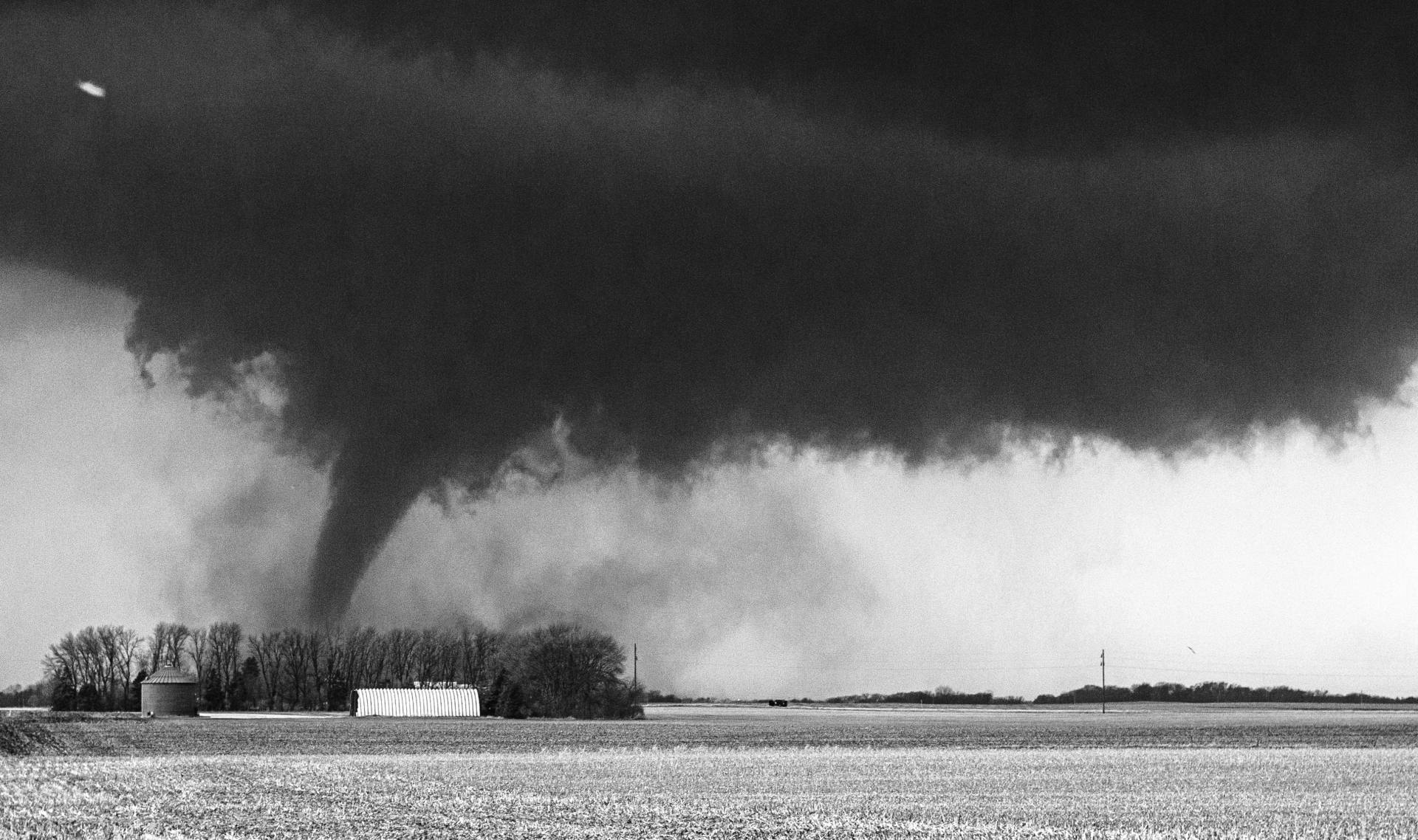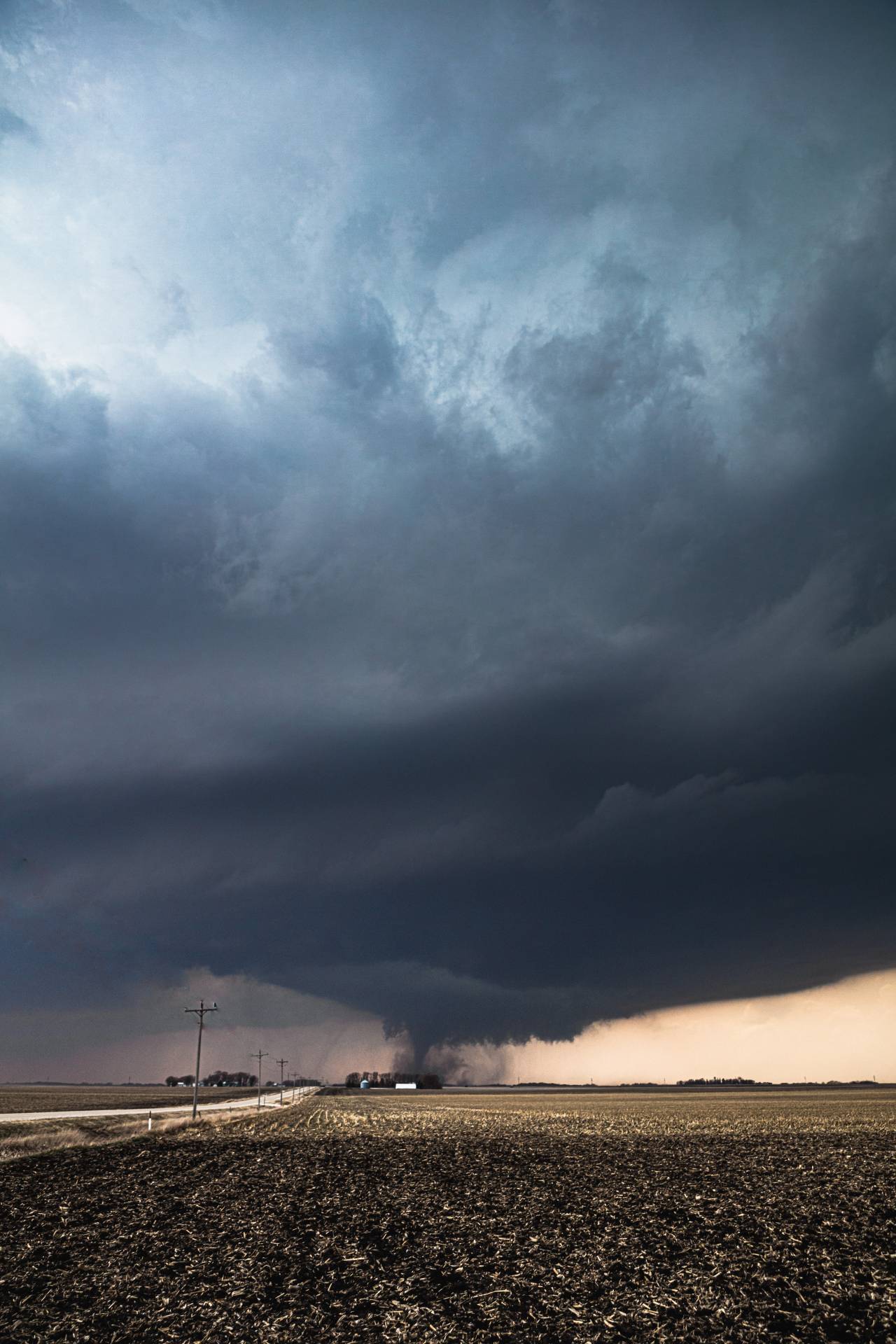 Our group was ecstatic. Most of the video I shot is unusable because of my excited yelling. Alex's account includes some excellent stills and video, which I highly recommend checking out. It was at this point that I took one of my favorite photos I've ever taken.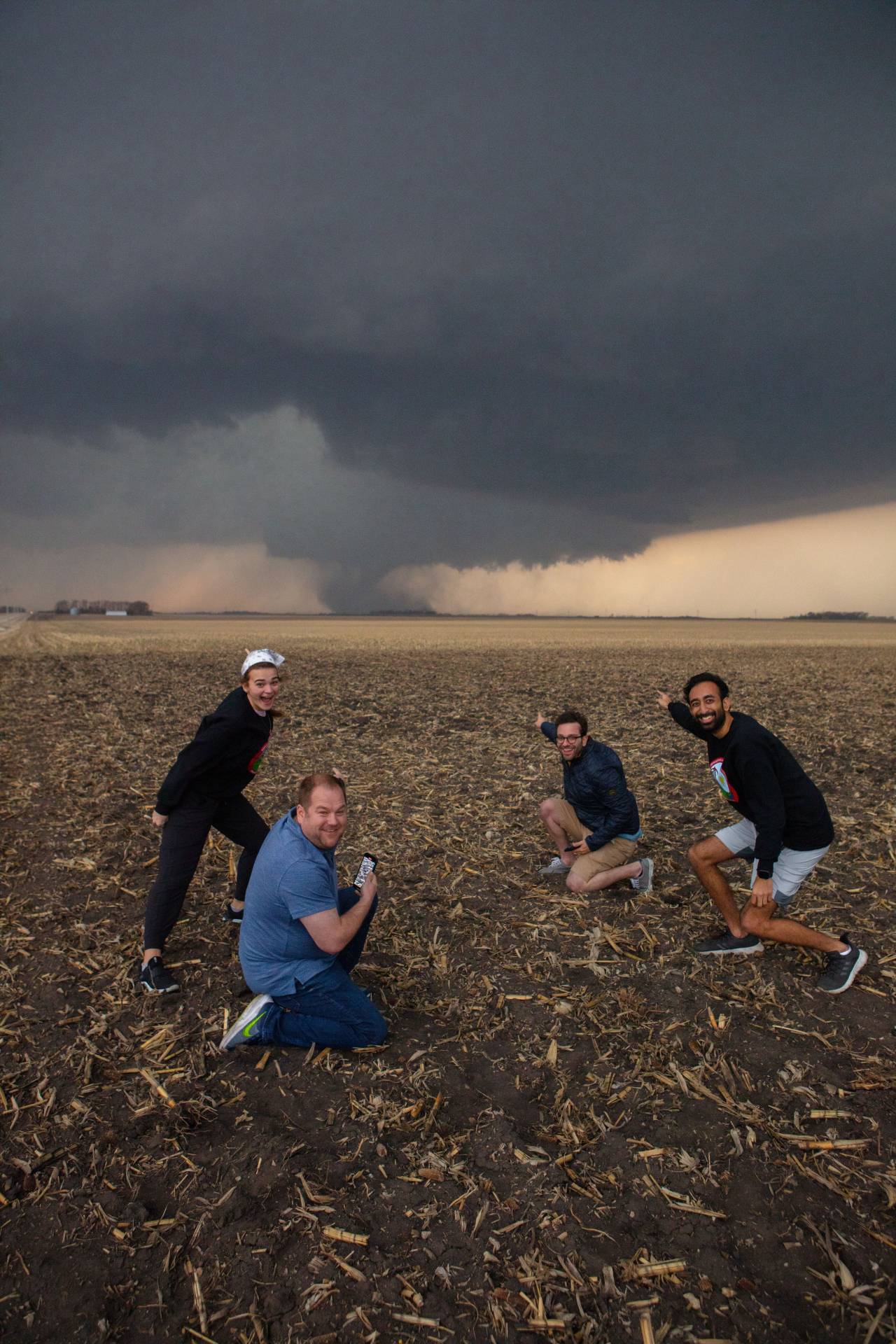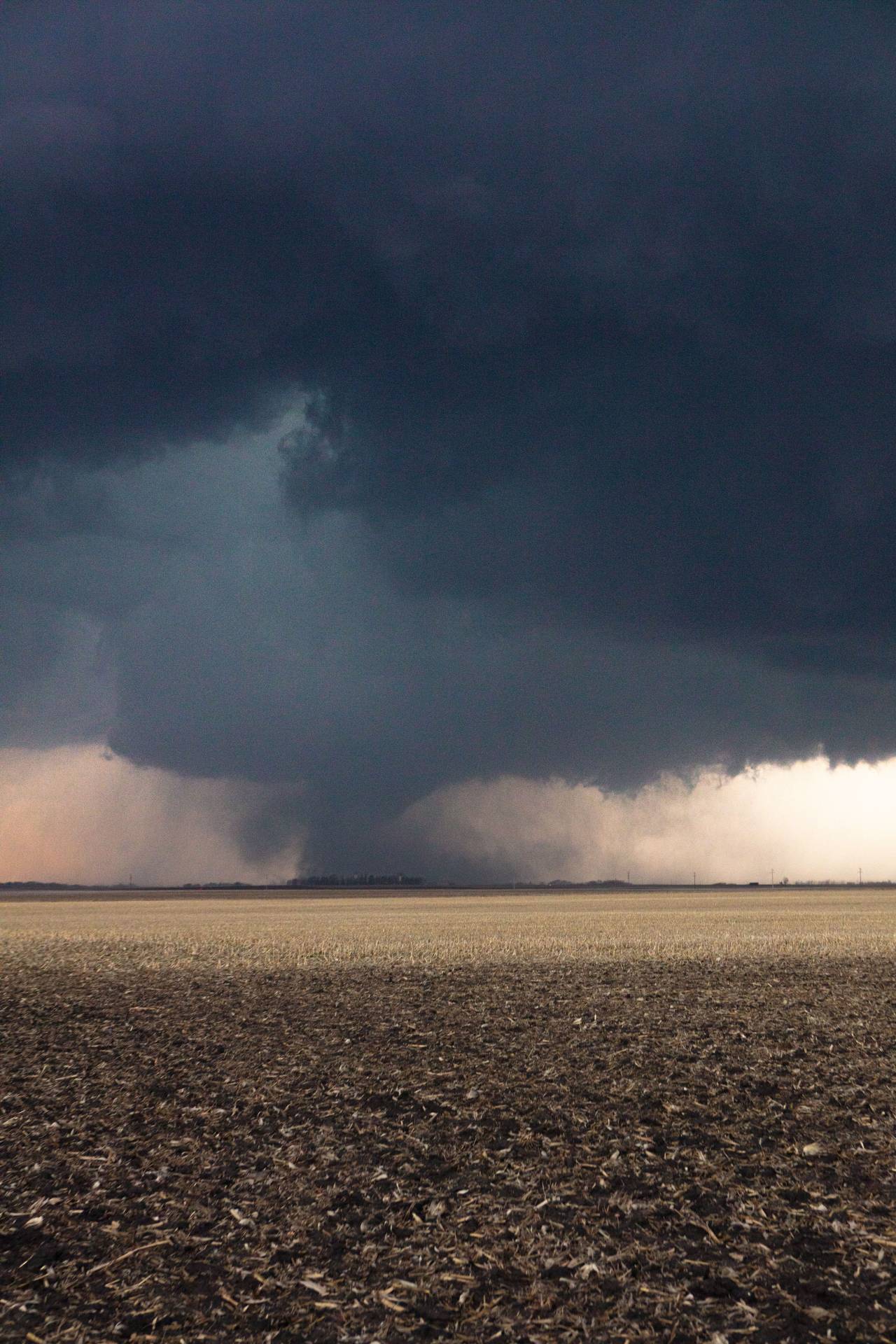 After about 10 of the most exhilarating minutes of my life, the tornado seemed to lift and become rain-wrapped. Judging by storm survey reports, a second tornado touched down around this time, but we were unable to view it. We elected to head east and then north to take another pass at the storm. As we turned our vehicles around, I struggled to control my breathing, still in some level of awe at what we had just witnessed.
Now following Adam and Alex, the group turned west out of Humboldt, Iowa, a small town about 20 minutes northeast of where we saw the original tornado. Traveling west we were met with a sight that made me pause for a small moment in consternation.
An incredibly striated 'mothership' supercell completly dominated the sky. As we approached it, we noticed a large plume of white dust following our path, compelled to rise into the storm by the incredibly intense inflow winds. Kaylan, Leila, and I shared a short look of concern.
A tornado was also on the ground somewhere in the rain at this point, but arriving under the outer edge of the mothership, we determined viewing this would be exceedingly difficult. Thusly, we continued east to attempt to stay ahead of the storm.
The storm continued to produce incredible structure for the next hour or so, but given fading light and high precipitation, tornado viewing was nearly impossible. As we contemplated ending the chase, we were treated to the most incredible lightning show I've ever seen just west of Goldfield, Iowa.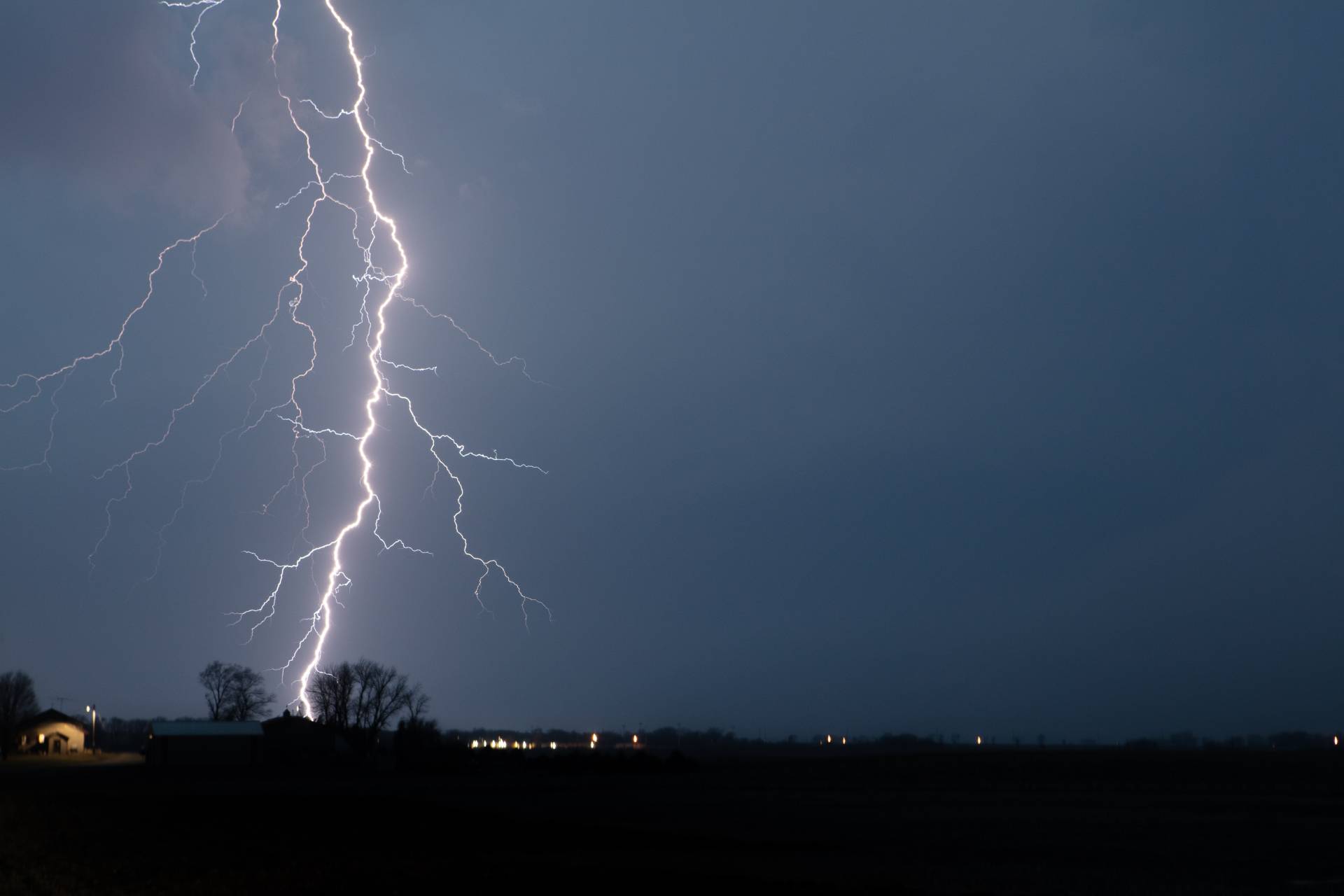 Given the setting sun and messy storm mode, we decided it was time to end the chase here. It was by far my favorite chase experience I've ever had. A perfect forecast, great friends, and an absolutely incredible tornado came together for an event that had me running out adjectives. What an amazing day.