Published on
This was the third day of a week-long trip to the plains and the first heightened possibility for strong supercells.
The setup featured a negatively tilted upper level trough over the western US that put southwesterly flow over the plains. This led to the formation of a surface low over southwest Kansas with a dryline draping from the low down through the panhandles. Rich moisture being advected into the area on southeast surface winds brought dewpoints in the mid to upper 60s through the southern and central plains and up to 70 degrees into Kansas. All the moisture and heating coupled with steep lapse rates led to mixed layer cape values in the extreme range from 3 to 4 thousand j/kg.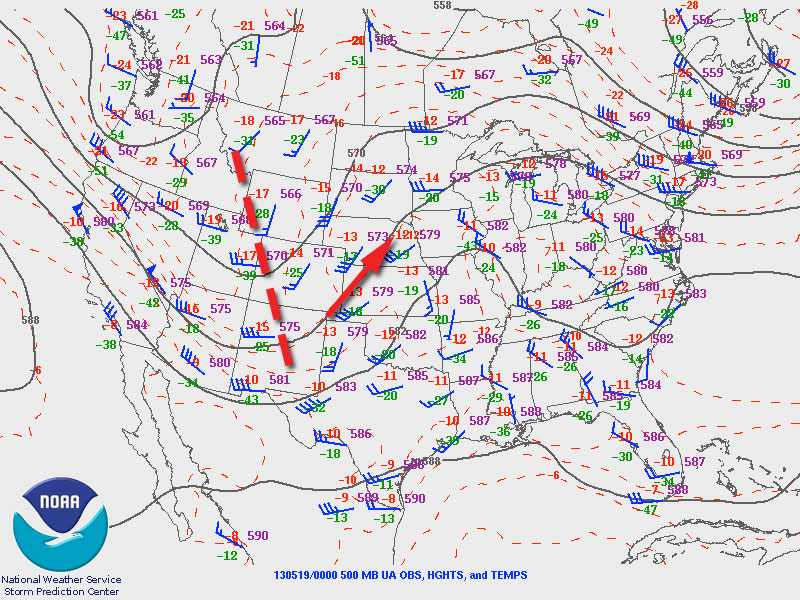 With these conditions in place, agitated cumulus began to develop along the dryline and north of the surface low, and by mid afternoon storms were firing in eastern Colorado and northwest Kansas.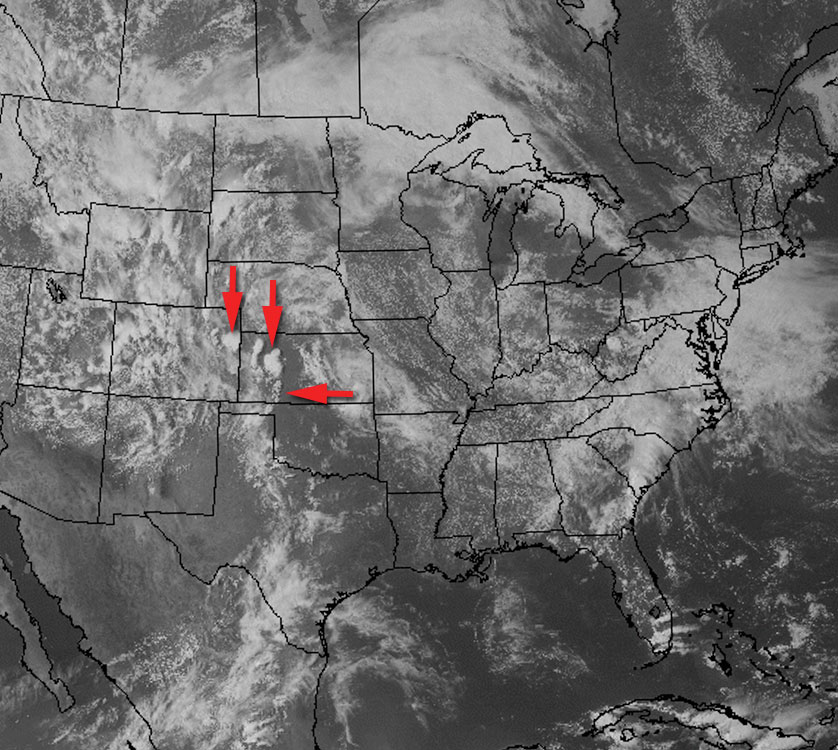 A shortwave ejecting over the panhandles and Kansas by mid to late afternoon along with strong heating along the dryline helped convection overcome the strong cap and develop further south along the dryline. By 7 to 8 pm, deep layer shear had reached 40 to 50 knots along a corridor from northeast Colorado to west central Kansas. Low level storm relative helicity also ramped up with the strengthening low level jet, reaching 200 m2/sec2. The combination of adequate deep layer shear and storm relative helicity combined with extreme instability led to supercells capable of producing tornadoes.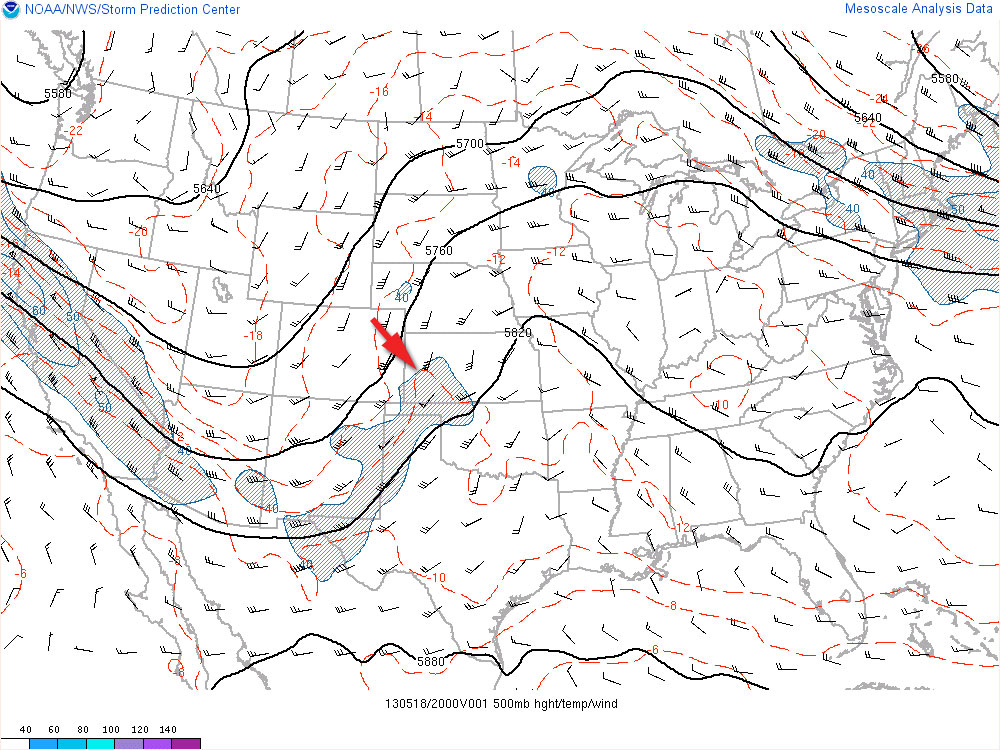 My initial target was the vicinity of Ashland in far south Kansas. After noting where development was occurring along the dryline, I moved up to southwest of Greensburg and waited for convection along this section of the dryline to take off. I followed a cell that finally started to strengthen southeast of Spearville. And it eventually produced two tornadoes near Rozel and Sanford.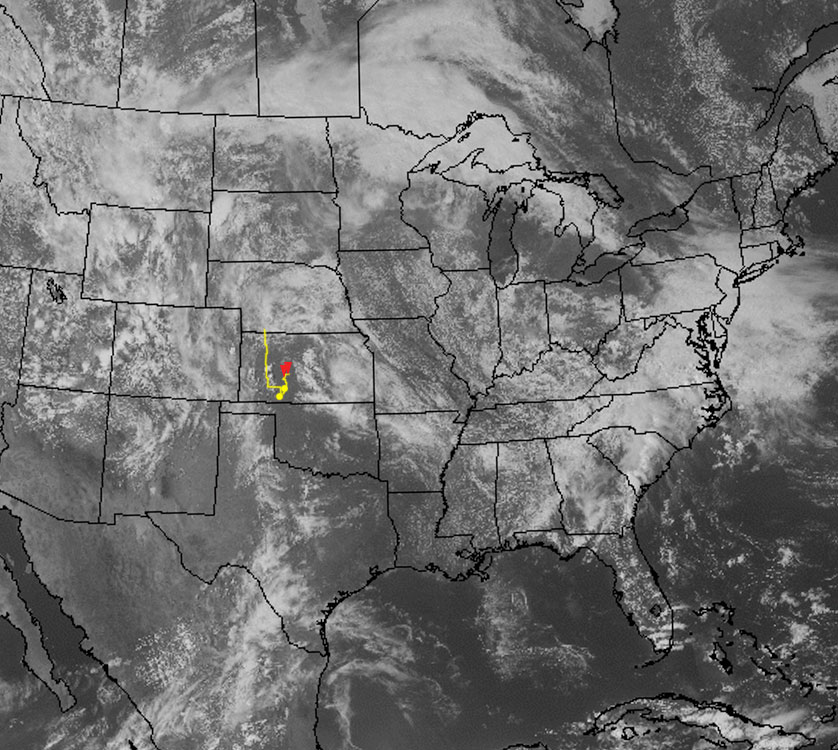 After car camping for the night, south of McCook Nebraska, I made my way south through Kansas, toward my initial target near the Oklahoma border.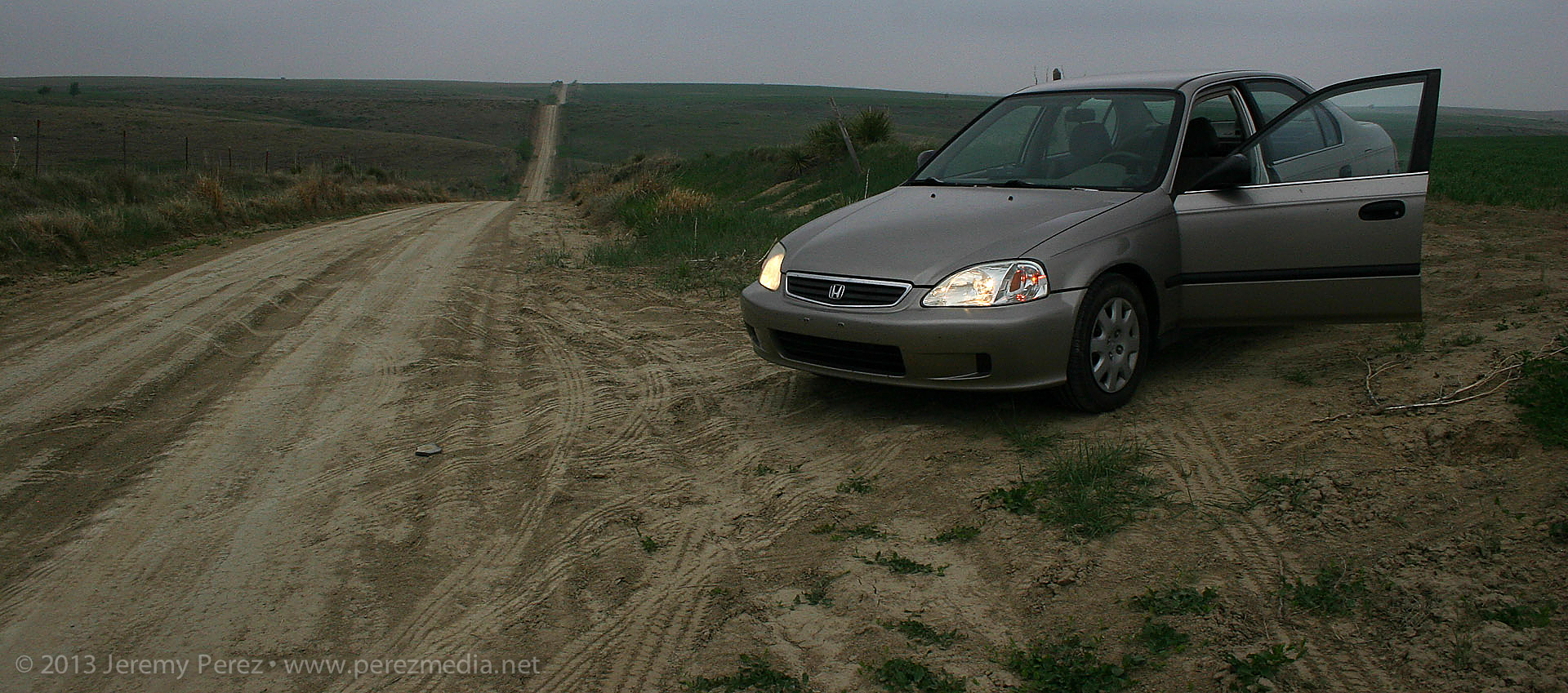 Along the way, I took advantage of a few photo opportunities. As I drove down one farm road, looking for a secluded spot to brush my teeth, wash my face and do a Clark Kent clothing swap—because I'm Super that way—and I ran across this blaze of yellow flowers beneath a series of wind turbines. It's hard to capture how striking that was in a photograph, but here you go: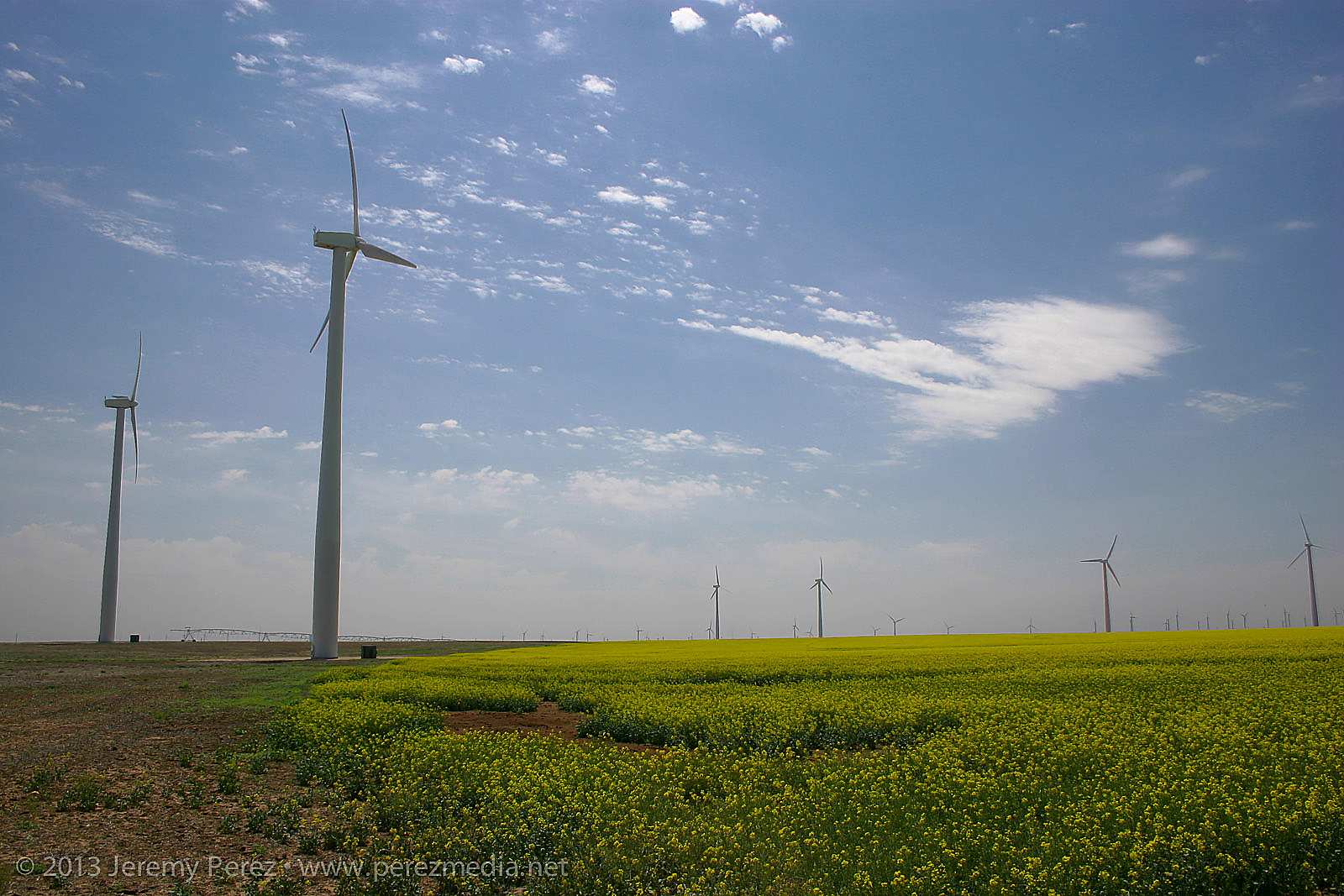 Skies were clearing the further south I went, and really priming the atmosphere for storms later in the afternoon. As I cruised along the dryline from Ashland towards Greensburg, towers started going up. And then dying…leaving behind a bunch of sad orphan anvils that were drifting away in disappointment.
The past couple days, I had been working on being conscious of foreground elements to complement the sky in any photographs. It's so easy to see this awesome sky and shoot with a bland, flat foreground that you don't notice how boring it is until later when you're processing images. So: mailboxes, wind turbines, farmsteads, any given stand of trees…I took them where I could get them. (Doesn't mean my heat-of-the-moment tornado & funnel photos always benefited from decent composition…see down the page.)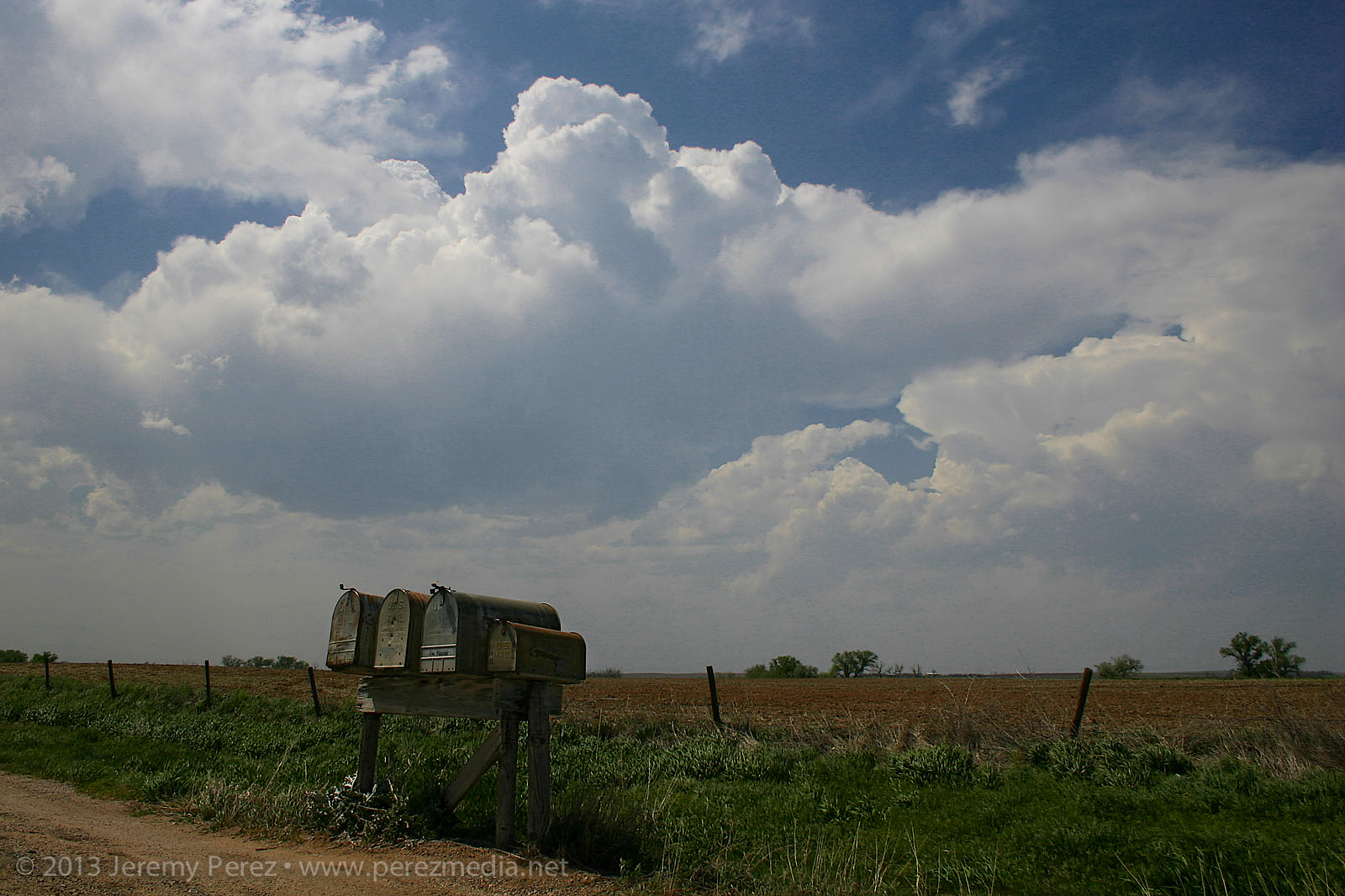 Finally a cell managed to outwit the cap near Spearville and the chase was on.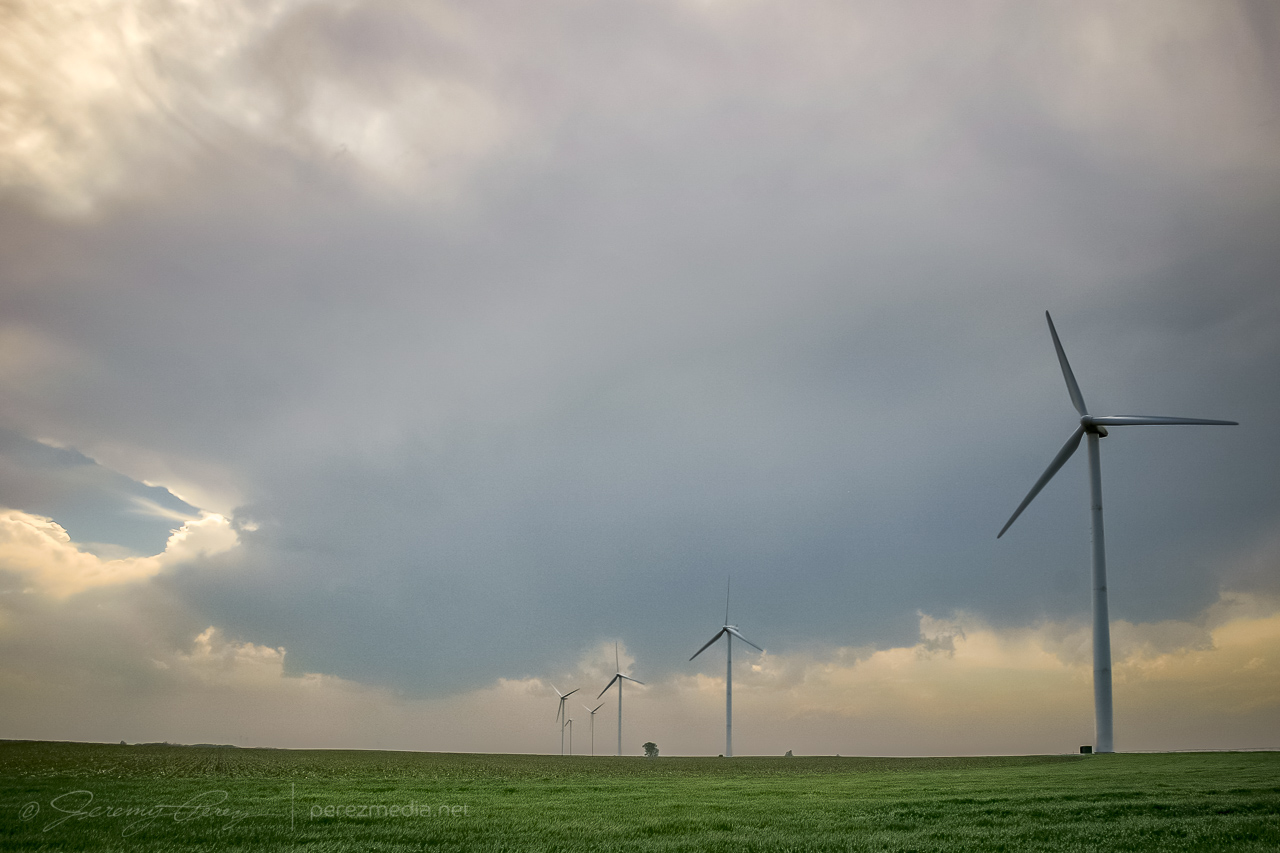 As I made my way east of Kinsley, the cell started to get rooted into the boundary layer. And now we finally had a nice looking supercell with structure that really started to beef up. It had a bit of the mothership flavor to it. The way I see it, this is a Star Trek (The Next Generation) model dropping down out of the clouds. And because after the J. J. Abrams' reboot, Federation Starships goof around in the atmosphere these days like it weren't nothin' but a thing.
I was working the dirt roads as much as possible, which turned out pretty nice as long as I was paralleling the storms. (I didn't get too comfy with those roads though when things were more inbound.) As I was driving north on 50th Avenue, about 4 miles west of Kinsley, I was surprised to see a little shear funnel up in the vault. It was very persistent and lasted several minutes.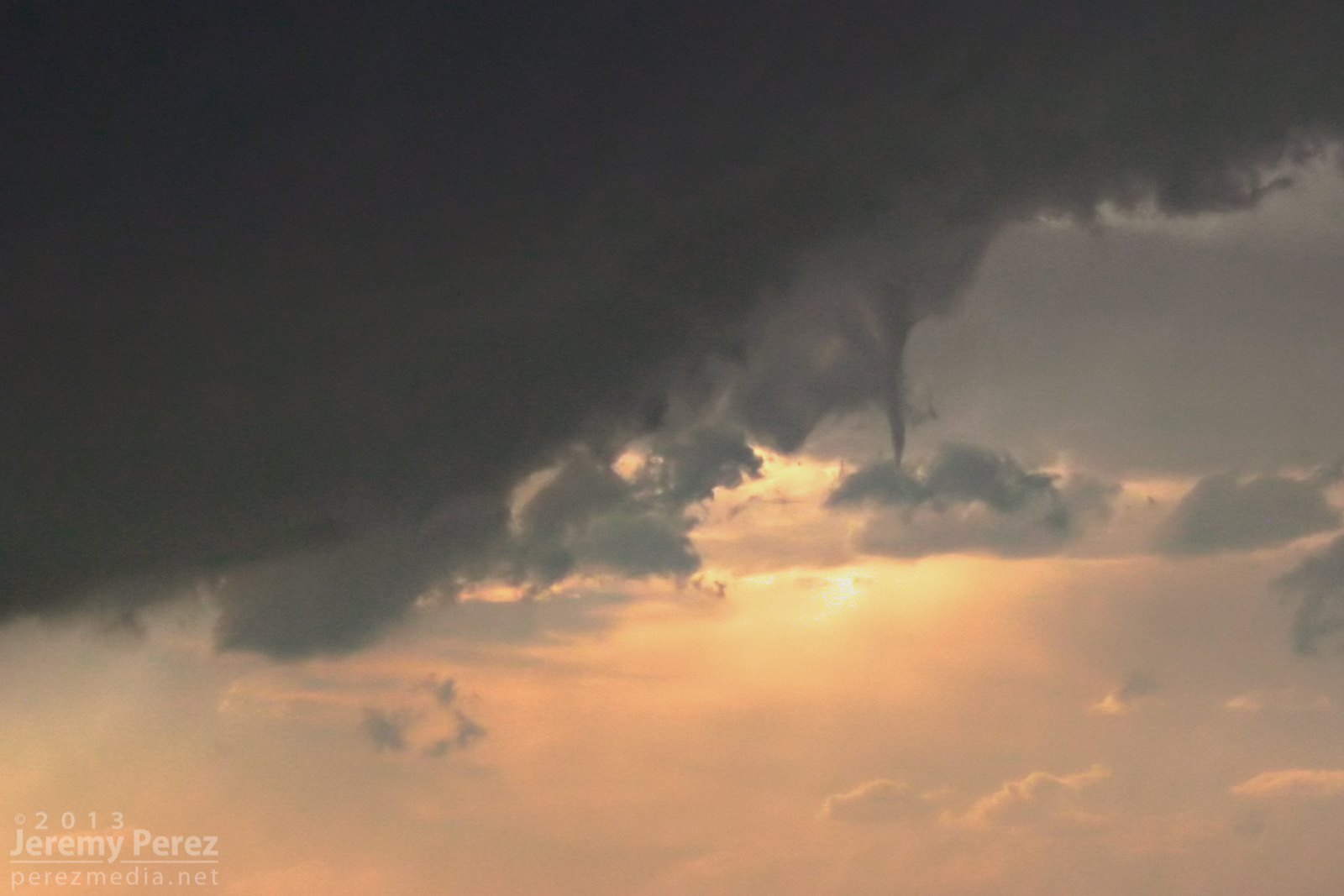 RFD was making various attempts at nudging into the base when another cell popped up and started encroaching from the south. I wasn't sure if it was going to wreck the leading cell or which base to focus on. So I split the difference and got a bit behind the lead cell I was originally pacing.
The lead cell ended up eating the trailing cell, and then it really took off. The RFD started making a major push and digging a deep pocket into the rain free base. Rotation started ramping up behind the clear slot and it was looking pretty imminent.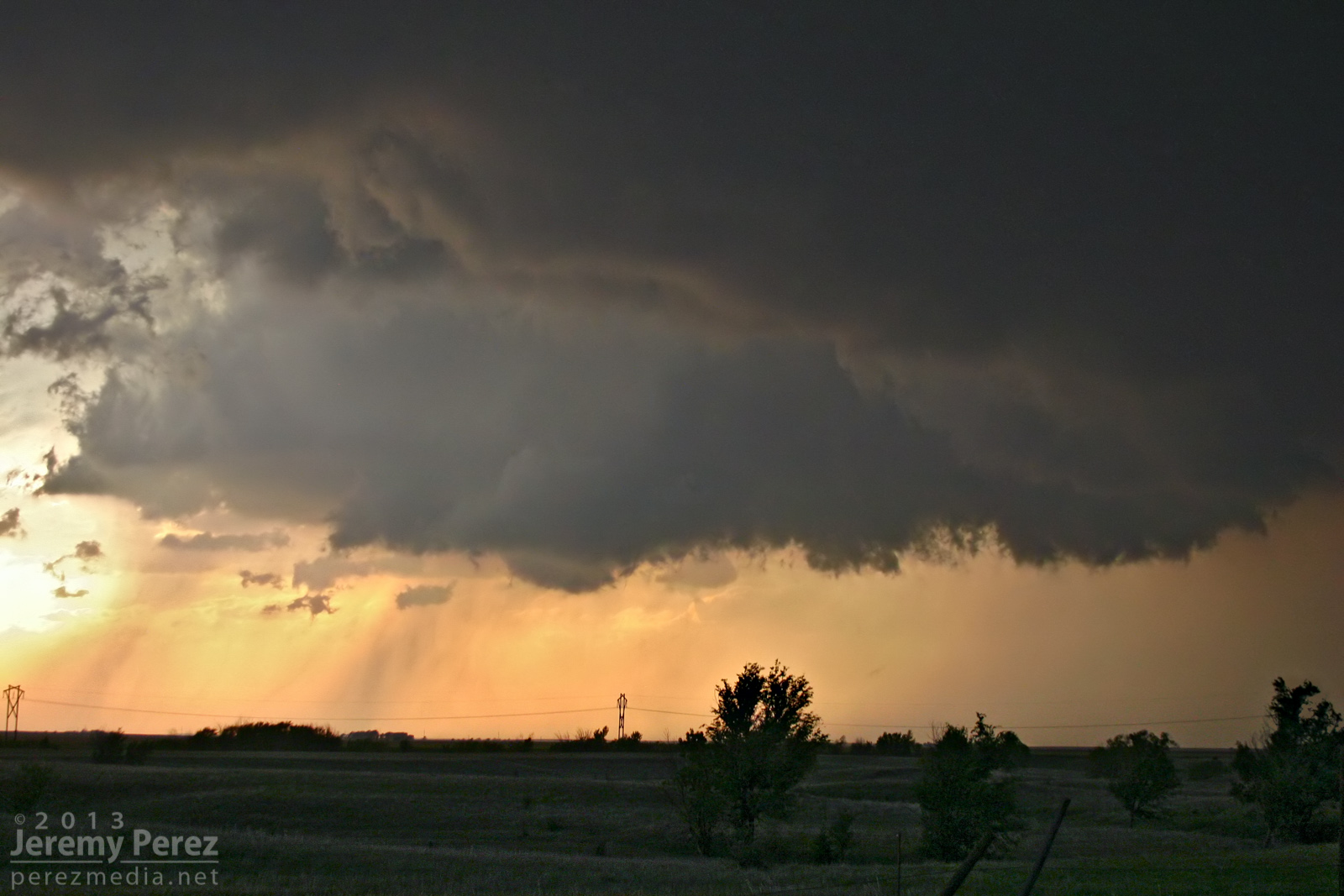 About 5 miles southwest of Rozel, it started winding up a funnel that gradually made its way to the ground and grew into a sturdy, long-lived tornado spinning away behind a remarkably clear RFD slot.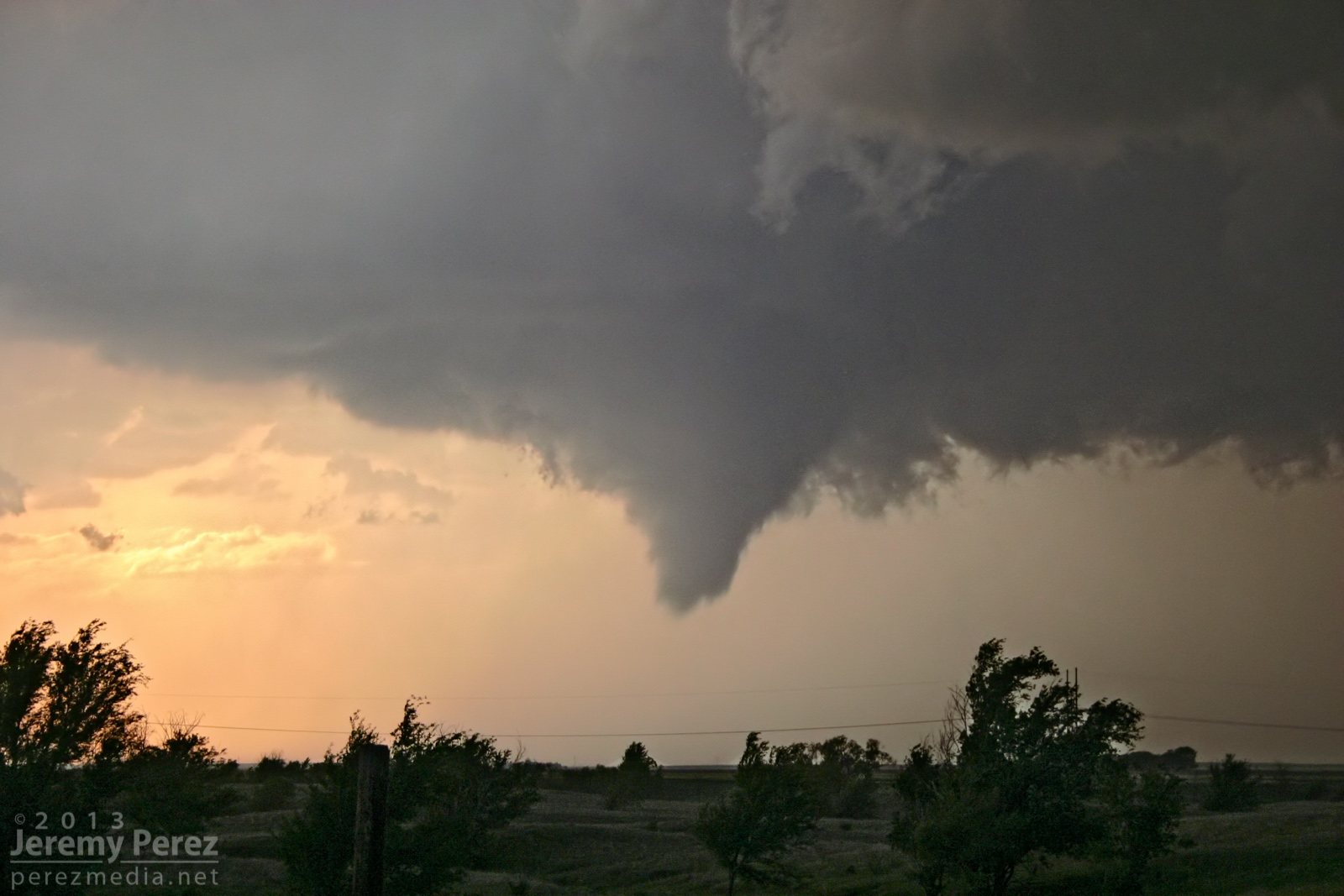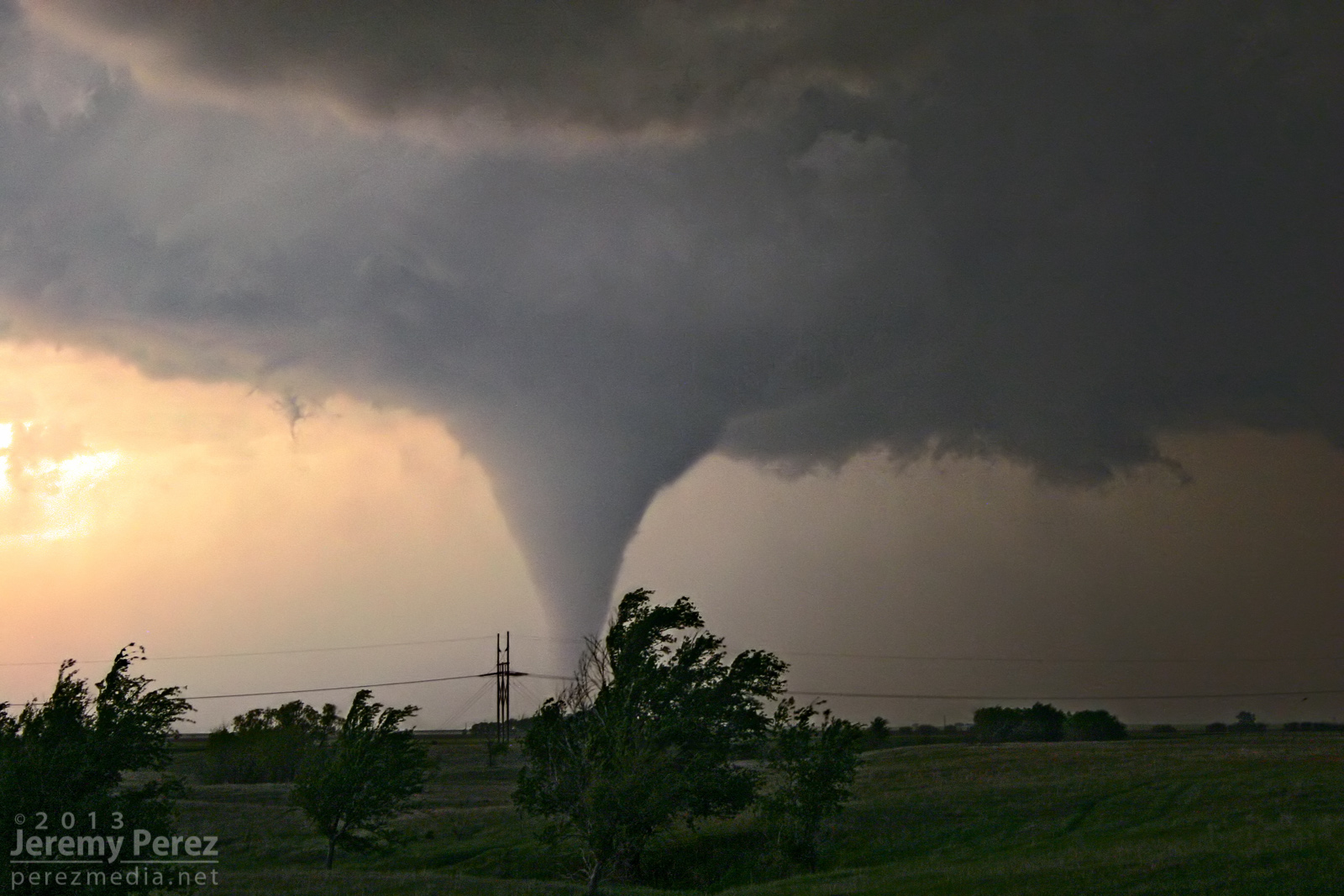 After photographing and filming it for several minutes, it started to dissipate. So, I moved up to keep pace, and noticed a new funnel condensing and then roping back out. This was actually still the original circulation, which was apparently still on the ground, and more of a last, condensational hurrah.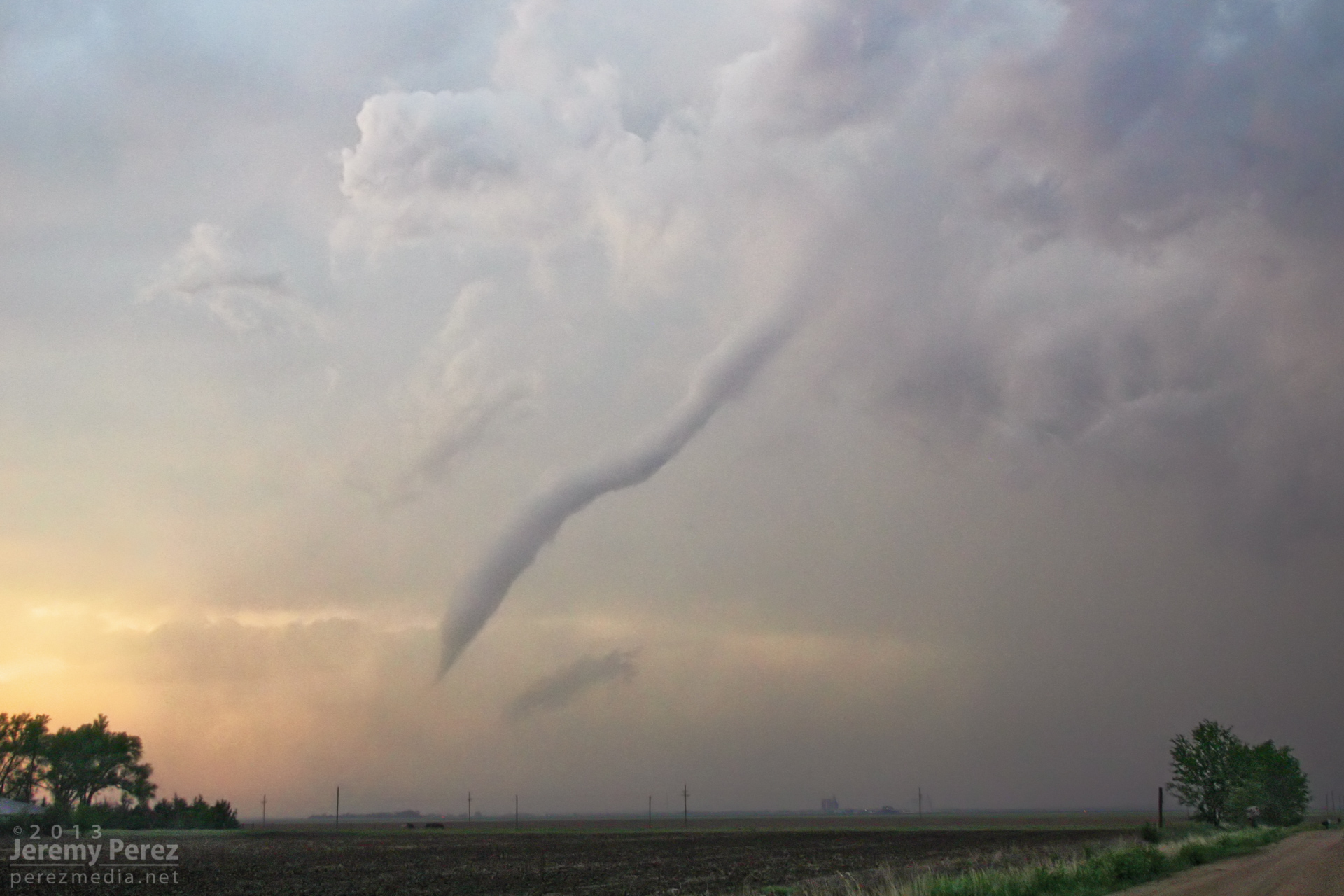 I made my way further east on L Road, another hefty funnel appeared to my northeast, near Sanford. Light was starting to fade and it was backed by its forward flank. So contrast was low, and camera noise was high. I sampled some frames from the video where lightning helped silhouette the tornado. It was interesting to watch the axis of the tornado move counterclockwise around the larger meso circulation. So it was drifting westward for a while before running its cycloid pattern back eastward.
It eventually started to rope out and bend back way to the west, lit by purple, turquoise and orange twilight colors. There's so much going on—I wish I'd have popped the camera on a tripod and gotten a decent low-ISO exposure. As it is, still lots of high-ISO noise so I could go hand-held.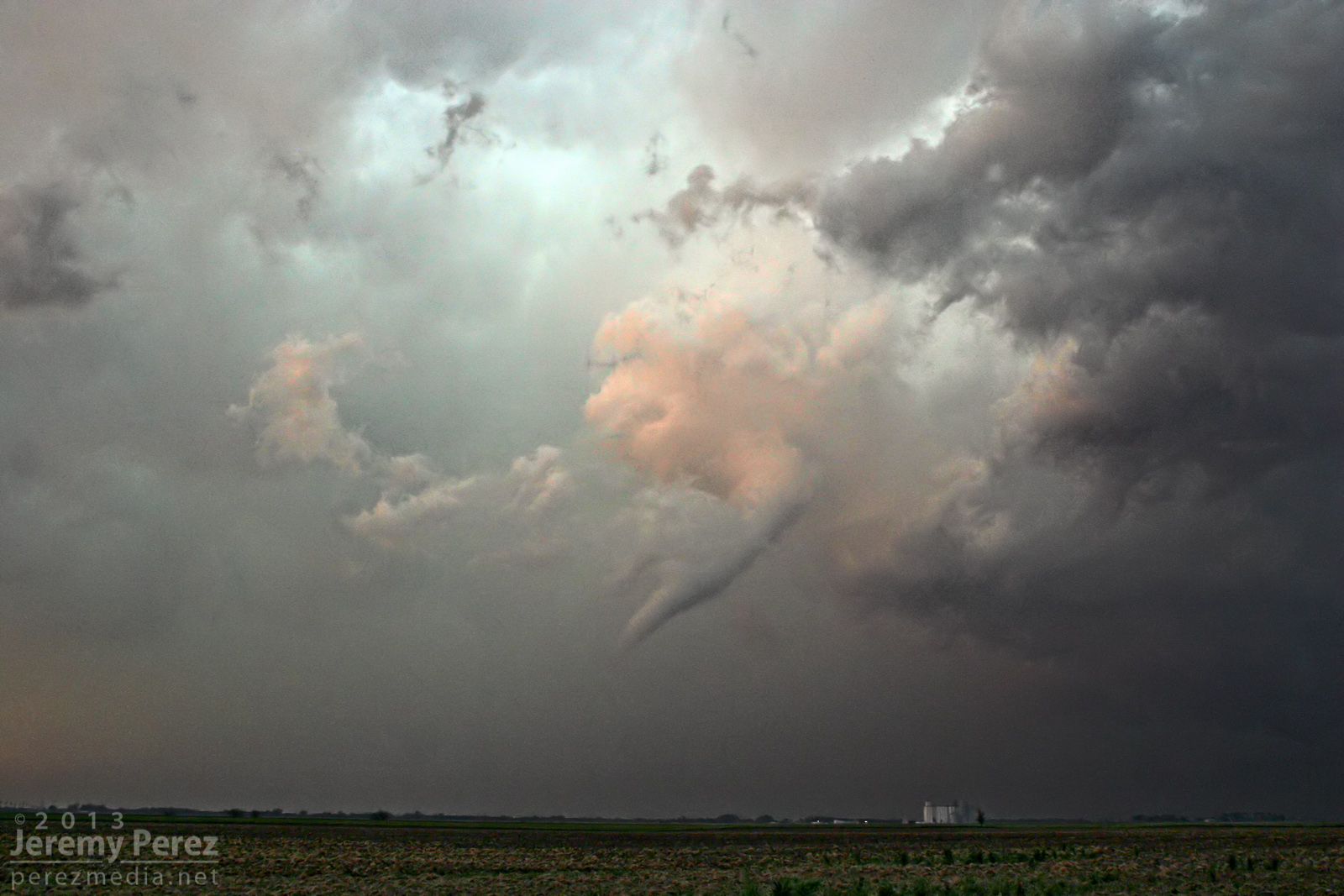 Just when I thought it was done, I called my wife to see how things were going and talk about everything I had just seen. While talking on the phone, this floating earthworm of a funnel suddenly popped into view, off to the northwest. Just this cool little disembodied funnel twisting around, way west of its parent storm. Circulation was still on the ground as it drifted westward before finally winking out.
Unfortunately, a home and a couple farm buildings were damaged by the tornadoes; thankfully however, there were no injuries. It was an amazing spectacle. Slow storm speeds. Clear RFD. Incredible structure and an assortment of tornado morphologies. If only the next two days had worked out that way…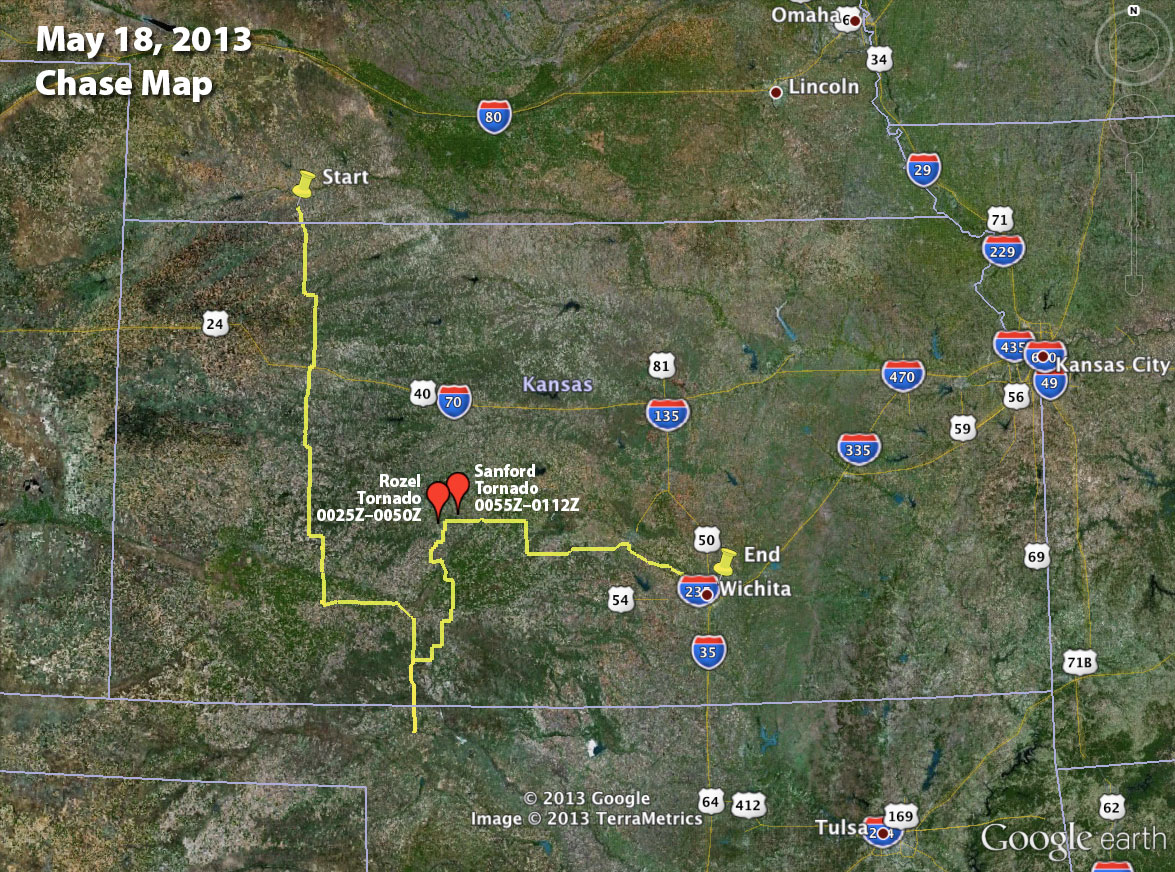 Video of the chase and tornadoes is here: