Published on
Chasers have been waiting for this.
It appears increasingly like that the next seven to fourteen days will feature a very active pattern across the Central United States, and one that is favorable for the development of severe thunderstorms in the Plains. The last three years have, by and large, featured suboptimal patterns for severe thunderstorm activity in the Central United States. That is about to change.
From a storm chasing perspective, it has been a frustrating stretch. During this period of time, which arguably dates back to 2016, significant and chase-worthy events have been few and far between. What's more, the events that have had the potential to be significant have largely underperformed. 2017 and 2018 were both rather quiet from a tornado perspective, and while the statistics can be debated, storm chasers will tell you that they have had a tough time of it.
For those of us who enjoy watching the beautiful and powerful processes that the atmosphere unleashes on the most prolific severe thunderstorm days, the upcoming pattern is raising eyebrows. As we draw closer to the tail end of this week and look forward to next, the steady beating drum of potential significance seems to get louder and louder.
A long time coming
The period we are about to enter has been signaled for quite some time now. Back in March, we began the long range forecasting process (which we always do) and started to look ahead to April and May. While storm chase planning is obviously quite ambiguous at that range, we've made a conscious effort to hone in and develop our long range forecasting skills over the past few years.
This paid off in 2018, when the long range forecast we developed (analogs included) gave us an early tip-off that the season would be a flop, save for some potential in Colorado and Wyoming. 2019 has been different from the start, but analogs in particular have been pointing to an active back half of May for quite some time.
May 2018 Analogs

Reality
When looking at years similar to 2019 – including the evolution of the pattern during February and March, the stratospheric polar vortex, ENSO, and several other variables – we were able to compile a weighted package of analog years. This composite guided us to a pattern that was quite favorable. Most notable, however, was the fact that many of the years in the weighting had a very active second half of the month of May.
Here's the thing about long range forecasts, especially analogs: They will never be perfect. They will constantly need to be adjusted, and when it comes to tornado forecasting in particular, there is a tremendous level of difficulty. Still, I'm of the opinion that if we put our very best into understanding how the atmosphere is behaving in the earlier months of February, March and April, we can create a base forecast and adjust it as we get closer, therefore helping us gain a conceptual understanding of how the atmosphere could behave in May.
When it came to analogs this year, it was "all systems go" from the middle to latter part of May, with a deep trough in the Western US and ridging in the East.
ECMWF EPS 10 Day 500mb Height Anomaly Forecast

May 2019 Analogs (from February 2019)
Coming in to focus
Approaching May with these concepts in mind, we were able to confidently analyze model guidance. Using models as guidance is such a major component of forecasting, even in the long range. In todays day of at-your-fingertips technology, it can be easy for meteorologists to simply "rip and read" weather models.
Still, it was nice to see guidance coming in to line with the ideas we had formulated! That's not to say things have been perfect. High latitude blocking, for instance, has thrown a major wrench into the forecast. This kept the first half of May very quiet and cool across the Northern 1/3 of the country (it's finally getting set to lighten up over the next week or two).
Over the past two weeks, it has become increasingly apparent that the hemispheric pattern would shift during the last two weeks of May. As the MJO came alive and a reduction in the AAM budget was realized, the hemispheric waveguide began to shift. This has allowed troughing to push from the Pacific Ocean into the Western United States. The jet extension and angle of approach of the mid level jet are classic for potentially notable and prolonged severe weather.
Analyzing the week ahead
As we move toward the end of the week, the first in a sequence of impressive disturbances will move into the Southwestern United States, and then eject eastward from there. The expansion of a 50-70kt mid level jet streak is expected from Friday into Saturday across the Plains states.
Prior to and during this jet streak's arrival, ample moisture return is expected to occur across the Plains. A stout dryline is likely to develop on Friday afternoon from the Panhandle into Western Kansas and Nebraska. By the late afternoon and evening hours, forcing for ascent is expected to increase and convective development is favored.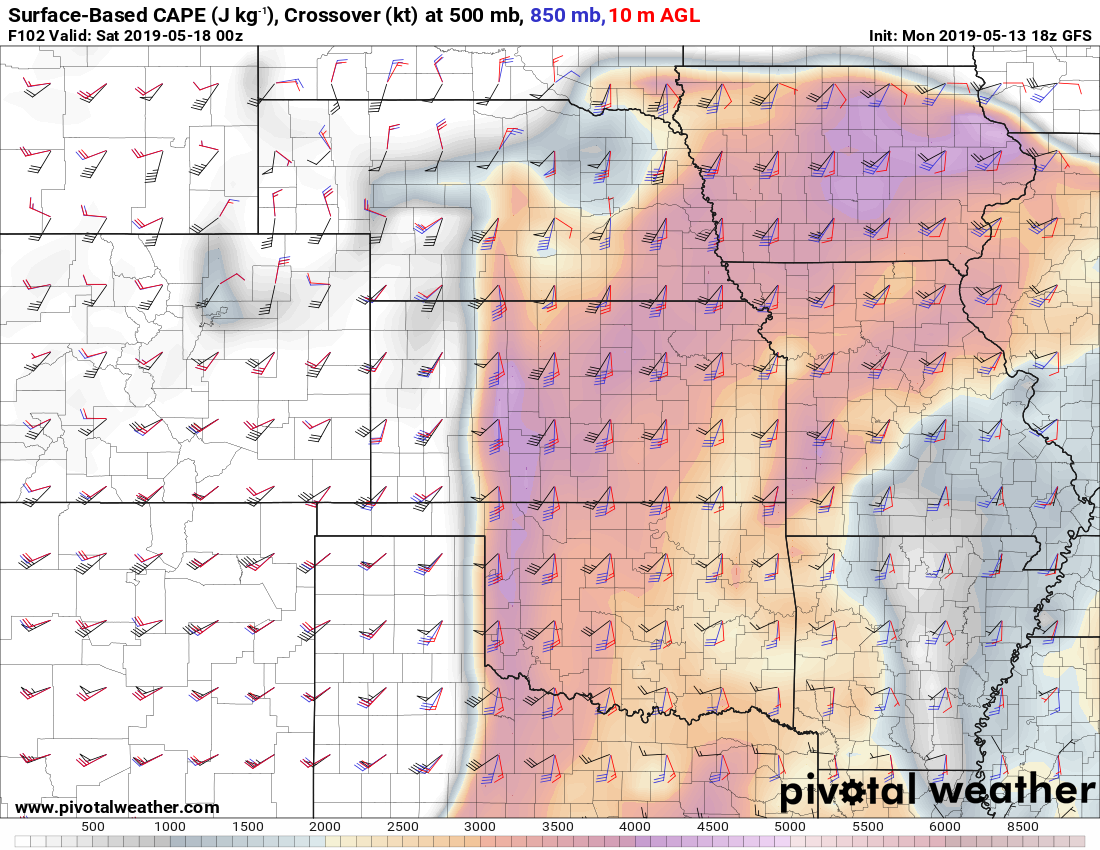 Updrafts will develop in an environment characterized by the juxtaposition of ample thermodynamic and kinematic support. More specifically ample instability (including impressive moisture) will align with favorable mid level wind fields for storm organization, as well as favorable mid/low level lapse rates and notable low level wind shear as well.
As a result, the anticipation (from this somewhat distant range) is for severe thunderstorms in the NE Texas Panhandle, W Oklahoma and W Kansas on Friday evening – with all severe thunderstorm modes, including tornadoes possible. The usual caveats apply, especially at this distance, but the synoptic setup is excellent.
One side note: If I had to pinpoint one specific caveat that may rear its head as we get closer, it would be a very small weakness in the middle to lower level flow near 750-850 hPa. This has been appearing on some area-averaged forecast soundings as well as the middle/lower level jet streak orientation and could somewhat preclude intense supercells. We will see.
Moving ahead to next week
The forecast obviously becomes quite a bit more difficult to pin down as we move ahead to the 6-8 day range. With that being said, the synoptic pattern continues to sound all of the alarm bells during this time. Both the GFS and ECMWF Ensemble are in good agreement that a 60+kt mid level jet will surge eastward toward the Plains, atop a stout and fluctuating dryline with ample moisture return.
Ample moisture is also expected to be in place across the Plains

A strong mid level jet is likely to develop next week
While individual waves and perturbations will be hard to pin down at this range, it appears likely that the potential will exist for one or two significant severe weather days from Monday through Wednesday of next week, possibly featuring the potential for tornadoes as well. It has been quite some time since we've seen a synoptic evolution like this modeled consistently within the Day 7 time frame, and the slipper fits in regards to the evolution of the hemispheric wave guide.
And so that's where we'll have to leave it for now. In all likelihood, the busiest two weeks of the 2019 chasing season are ahead of us. This is the synoptic setup that many chasers have been longing for since 2016.
It's almost showtime.