Published on
Thursday, June 23rd, 2022. The Setup for today Was calling for a high risk of Supercells capable of producing Large Hail, Tornados, and Strong Wind Gusts. My initial target was around Wynyard, SK. However, after picking up my tour guest in Hamiota and taking a look at the latest models, I made the decision to target around Langenburg where there was a more conditional risk of an isolated supercell, with Tornado Potential. High Risk/High Reward. There was a chance that this supercell potential I was targeting would never Materialize, but if it did, it would be in an excellent environment.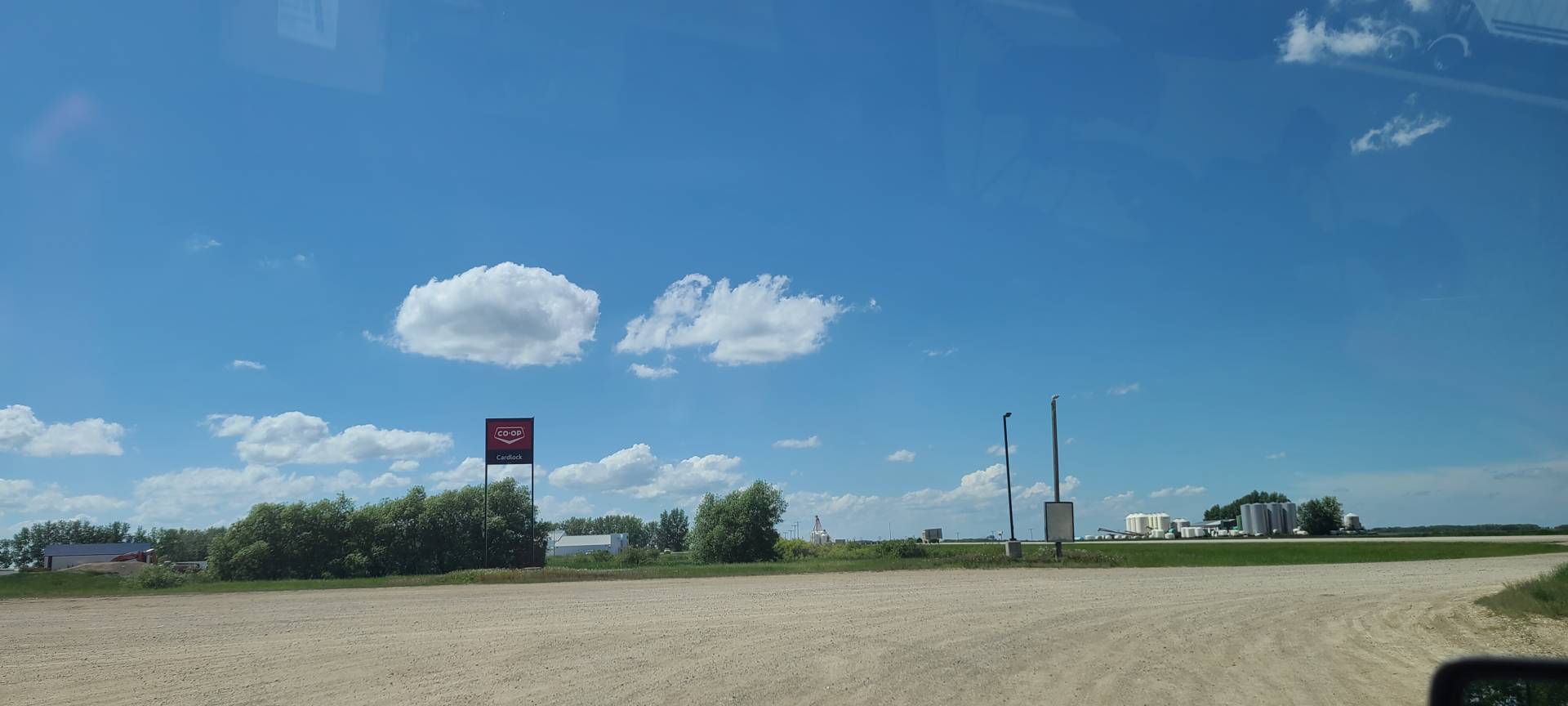 Around 4:00 pm I was watching the radar, and noticed a little bit of convergence occurring just north of Indian Head, SK. After watching this convergence on radar for a few minutes it became clear that this was beginning to develop into a thunderstorm, so I started heading that way to get in front of it, I made it to around Grayson, SK. and pulled over to watch this storm continue to develop, For about the first Hour it sat nearly stationary, fighting with the Cap, trying to become a strong thunderstorm, Finally around 5:30 pm, it became severe warned, capable of large hail, and strong wind gusts. I continued to watch it develop as it began slowly starting to move Eastward towards me, Around 5:45 pm it started forming a rotating wall cloud, It was GO-TIME!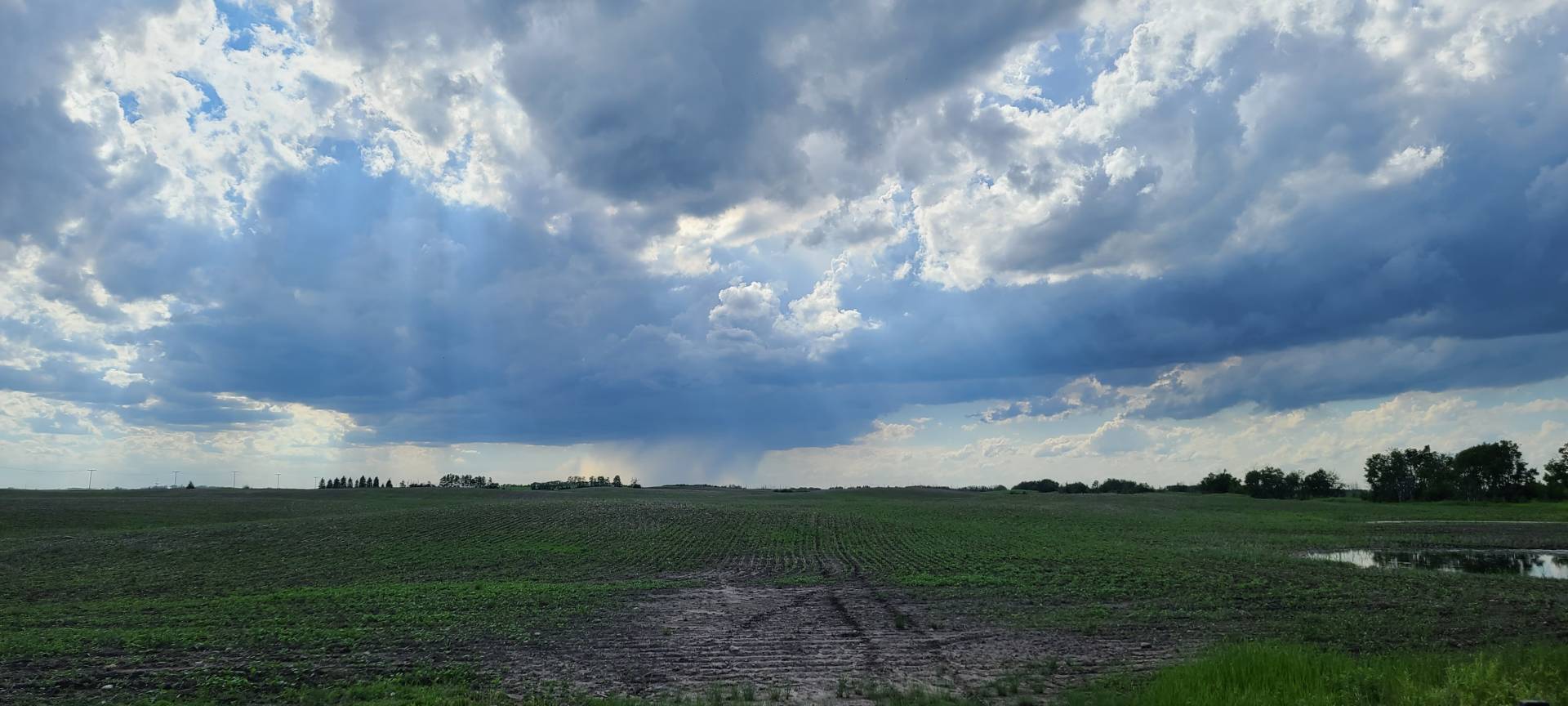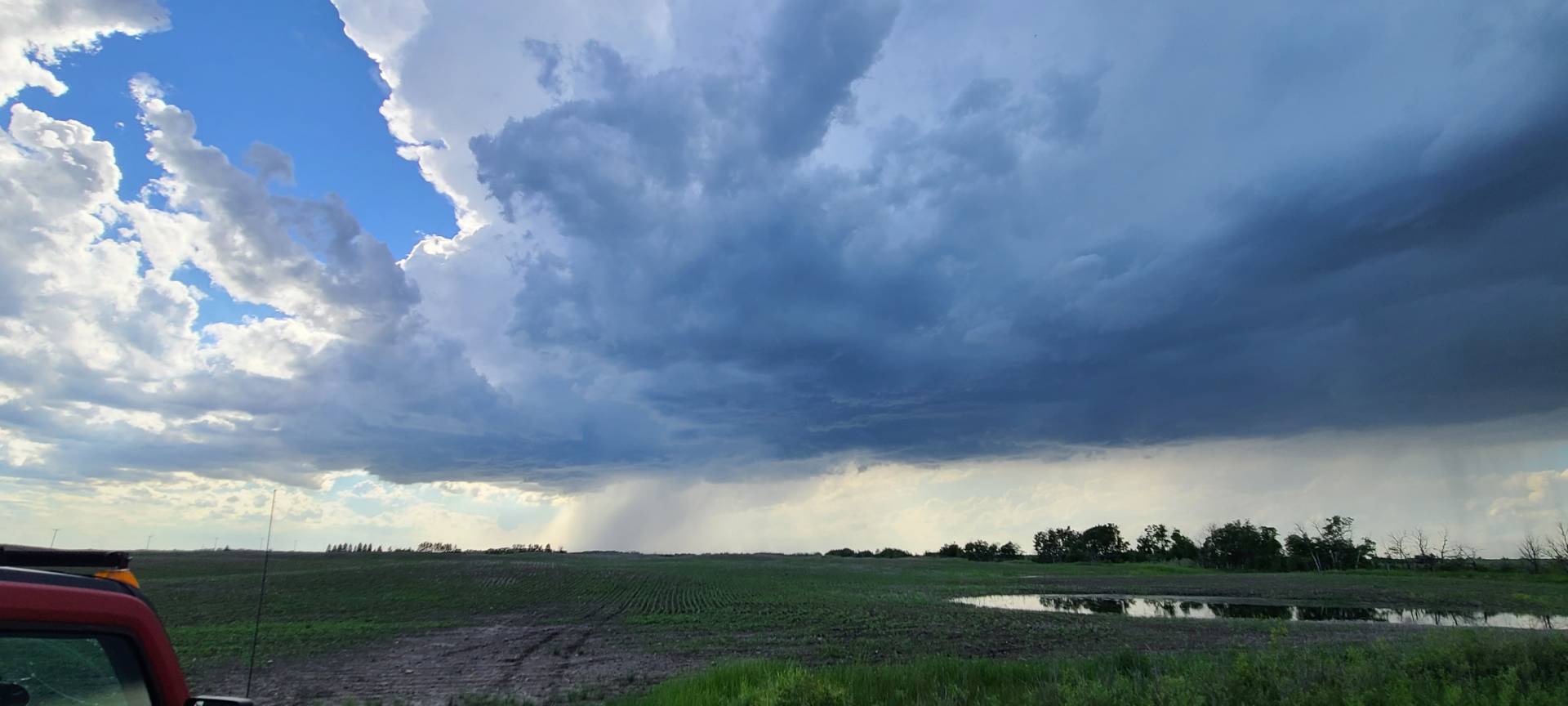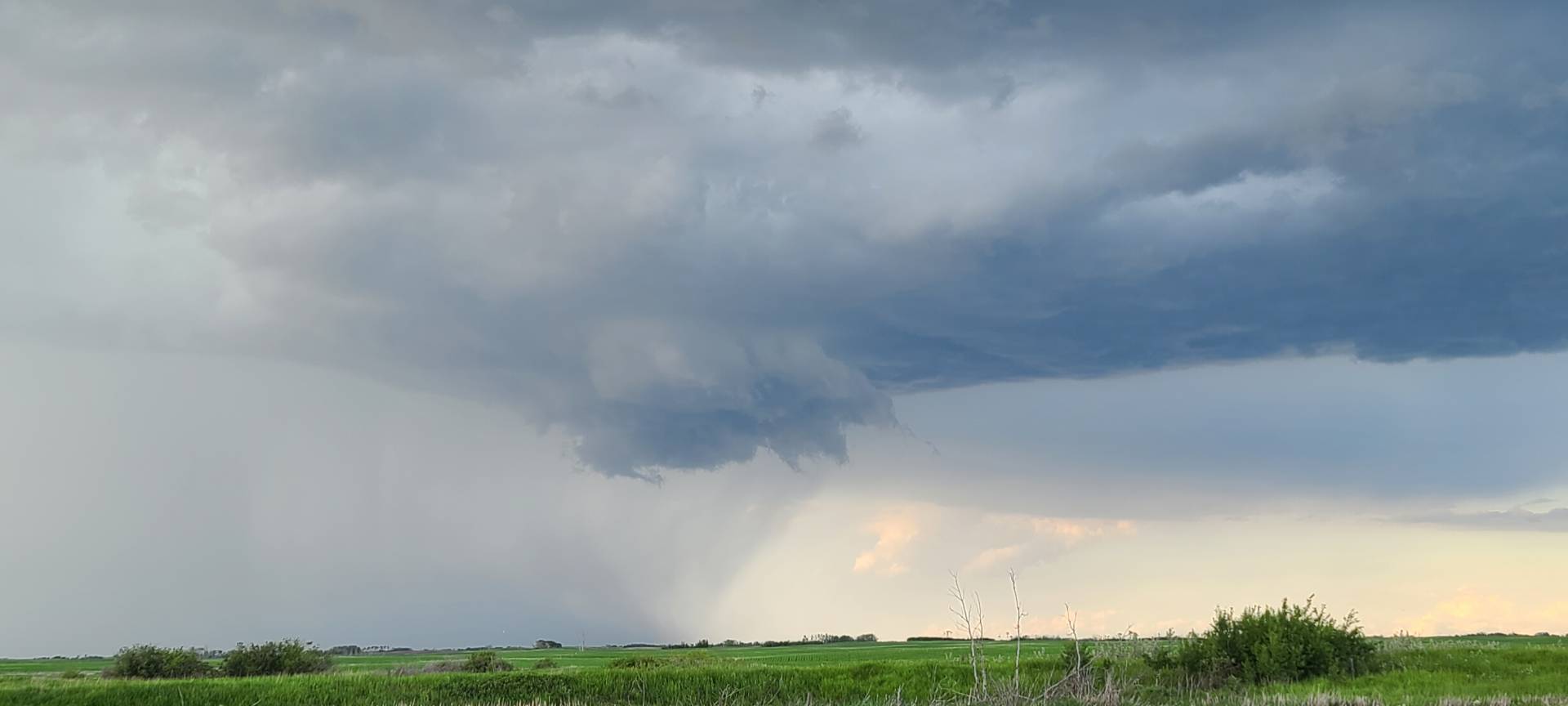 I began moving east with the storm, Staying on the Southeast corner of the storm where it continued to develop multiple wall clouds until I came to a sign that said "No Through Road" near Zeneta, SK. Google maps had this road continuing all the way through, however, the road was barricaded due to repairs being done on the railway crossing, So I stopped, put H3LICITY in park, and hopped out to take a quick look at the sky and think about my best route options.
After getting back in the driver's seat, I went to put H3LICITY in gear and…..nothing. The shifter was stuck, I couldn't put it into any gear, then suddenly "BEEEP BEEEEP BEEEEEEEEEP A Tornado Warning Has Been Issued For The Following Areas" OH CRAP! This storm was now Tornado Warned, And I Was STRANDED! after a few minutes of fumbling with the shifter, I managed to get it unstuck, I was now able to move again, however, I had lost some time, and gotten behind the storm, So my only option was to go a mile and a half back west, then drop south a few miles to a highway, and then east to get ahead of the storm, Thankfully this storm was still fairly slow-moving at this point and I was able to catch back up to it near Gerald, SK. When I got there, I was in Awe as the storm was beginning to take on that classic and rare "Mothership" supercell shape.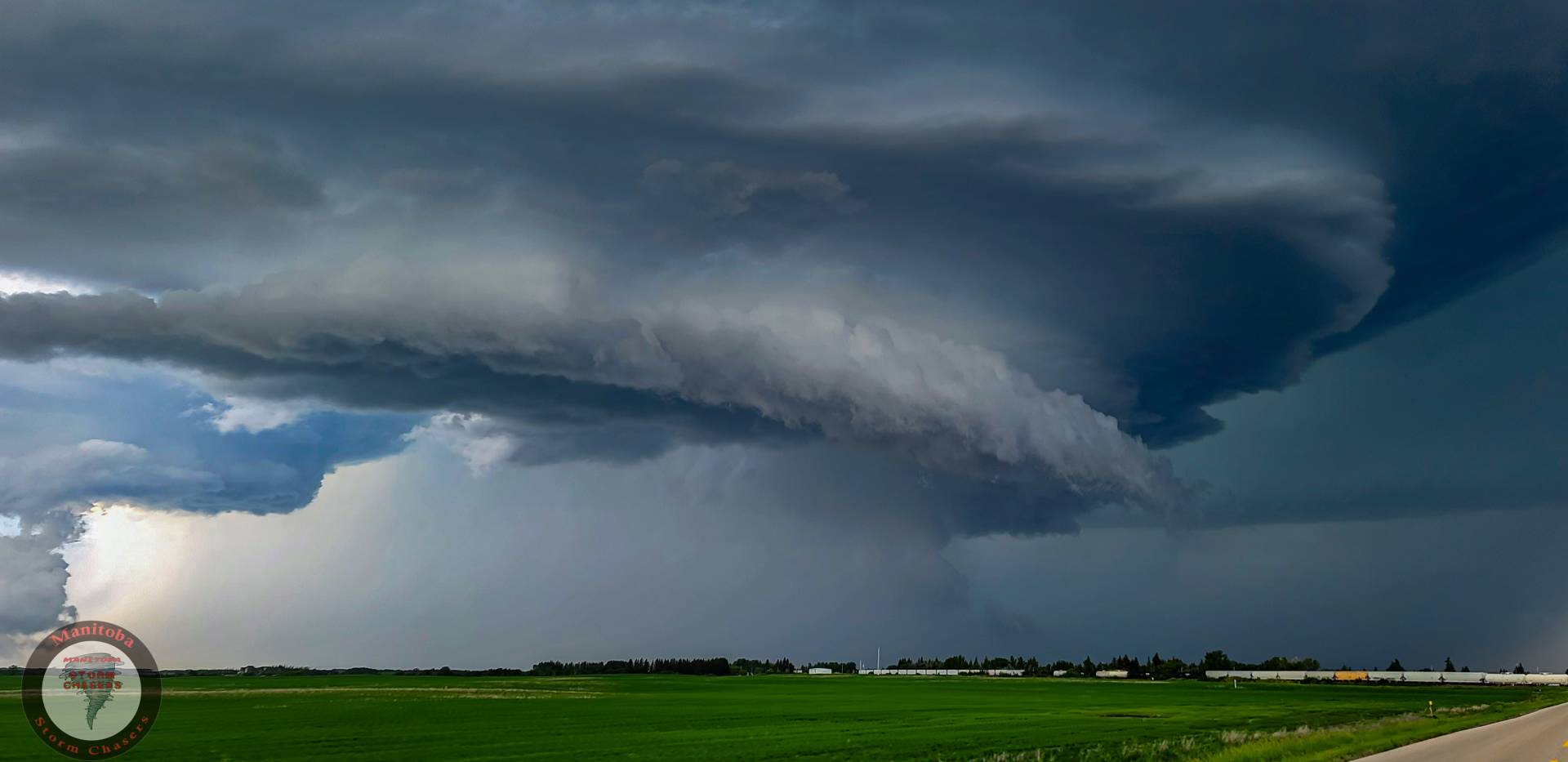 About 10 minutes after I caught up to the storm, I pulled over to watch as it began developing a classic Hook Echo on radar, and producing a funnel cloud, a mere 7 miles South of my target of Langenburg, at this point I couldn't have picked a closer target!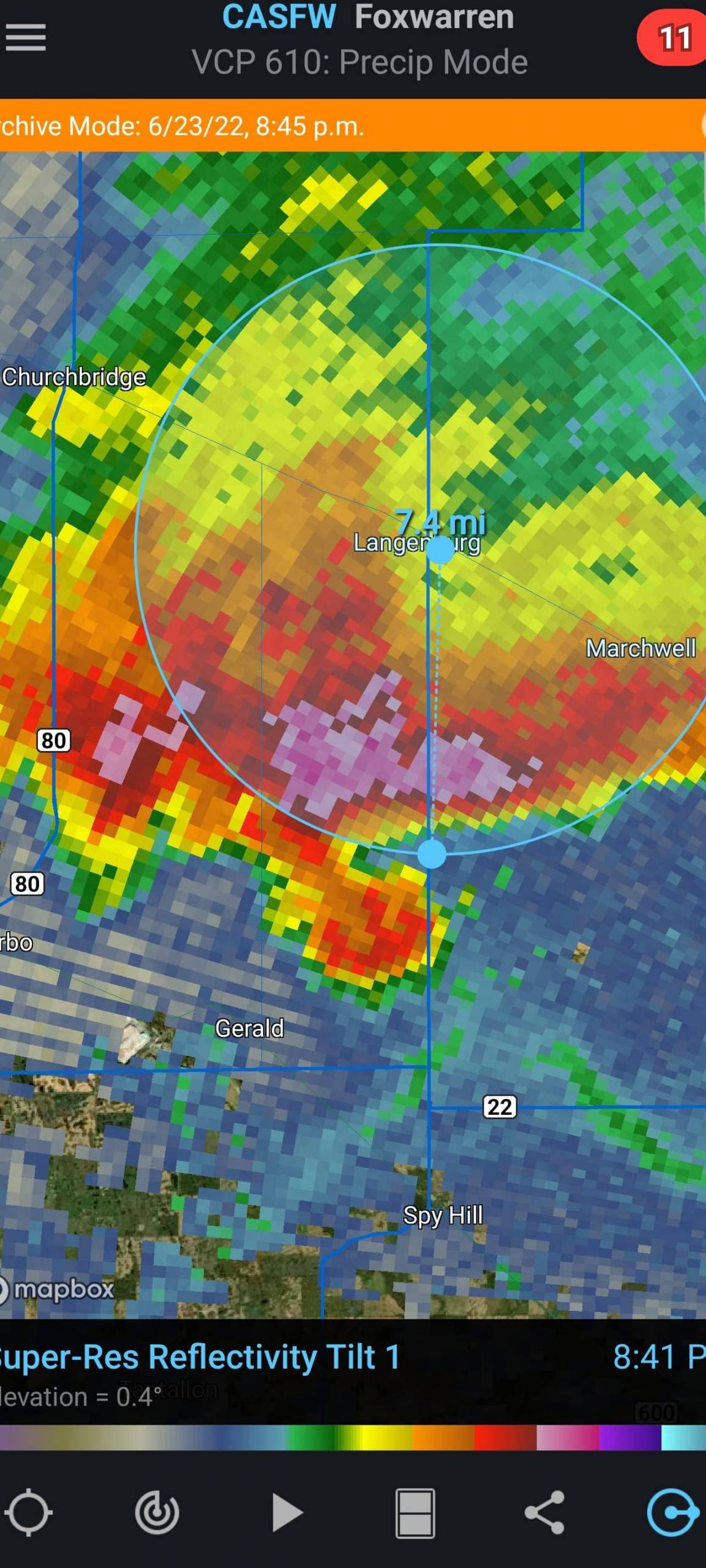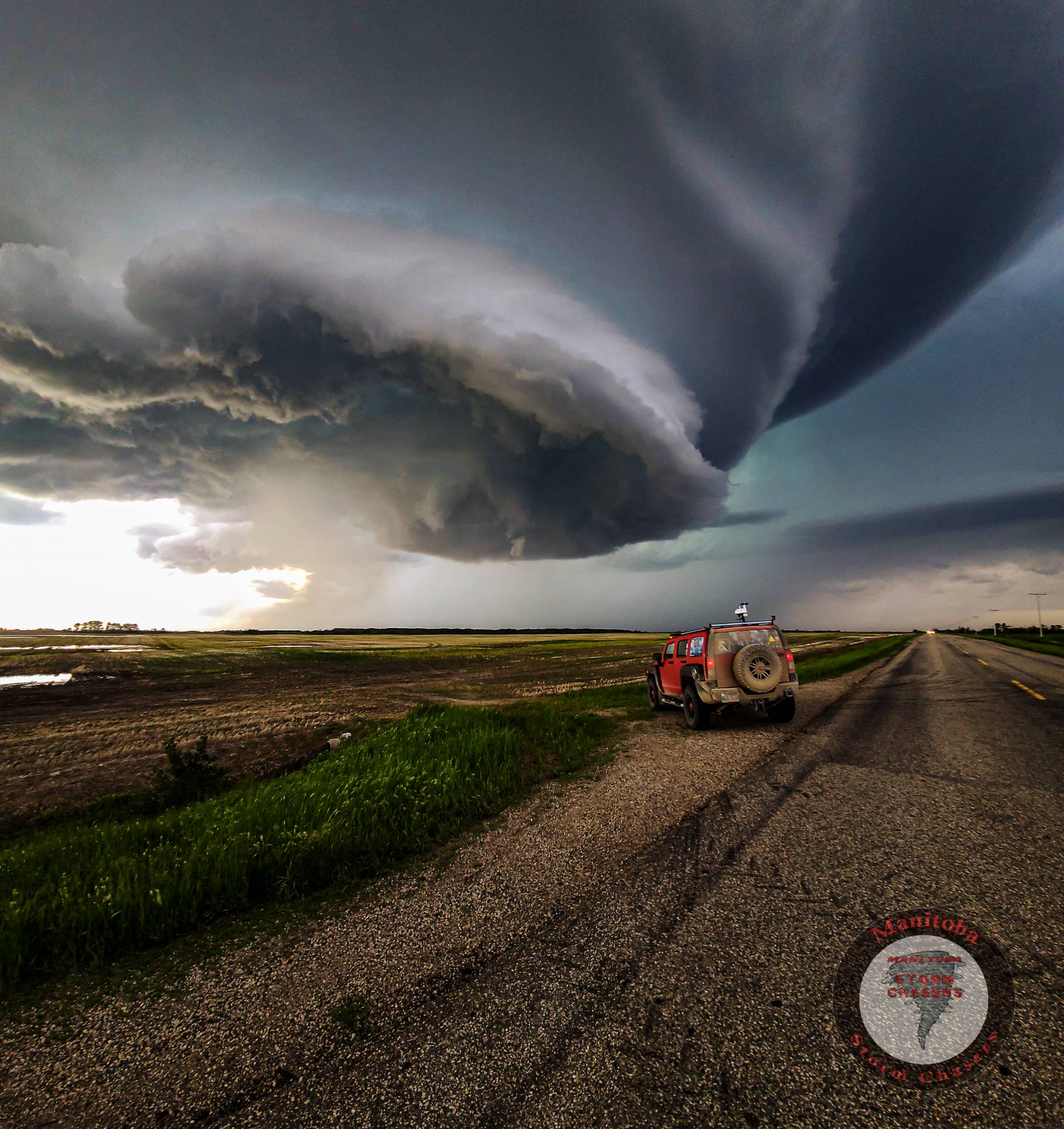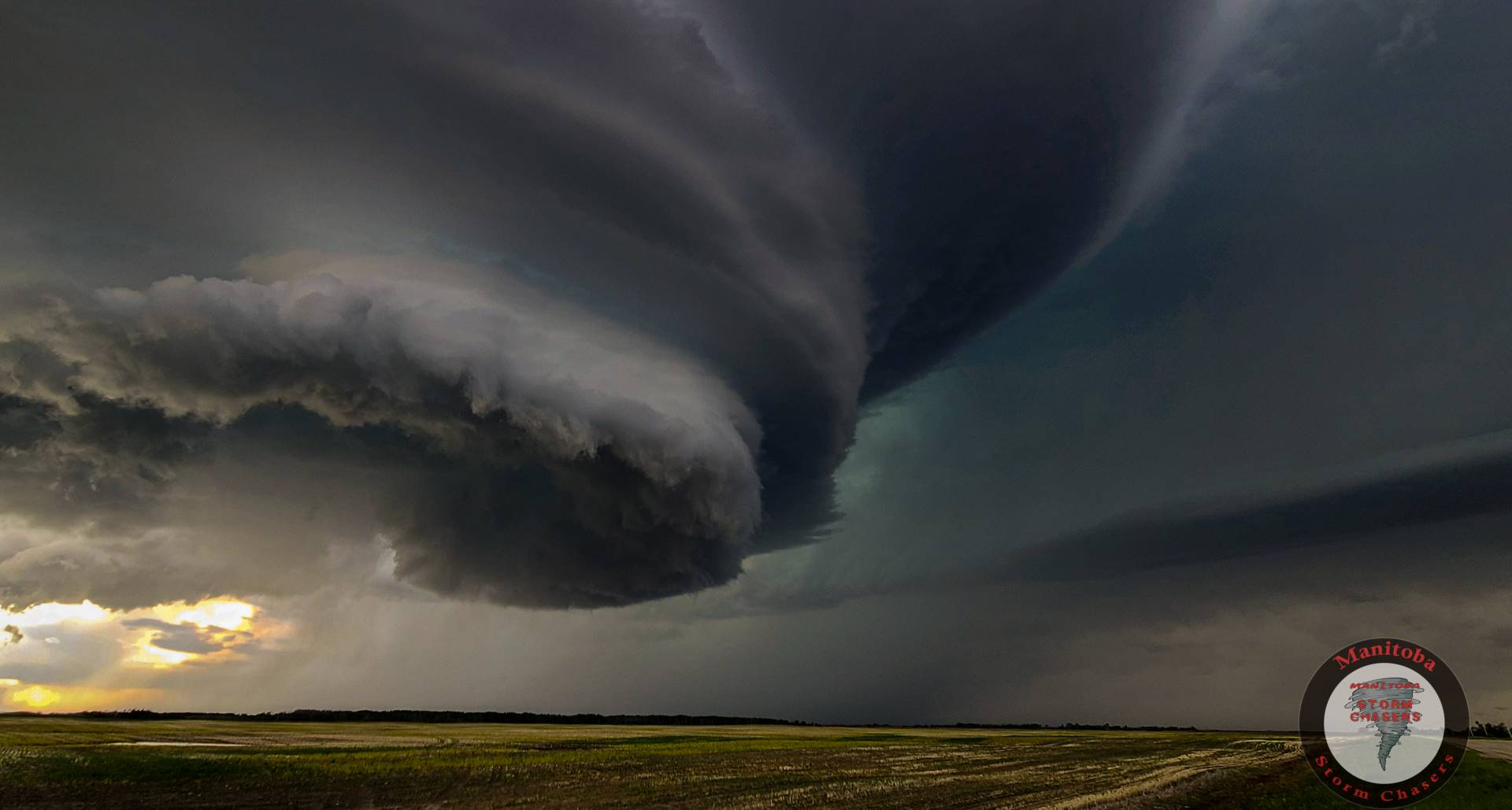 The storm continued to try very hard to plant a tornado, as it developed multiple funnels on its way toward the Manitoba Border.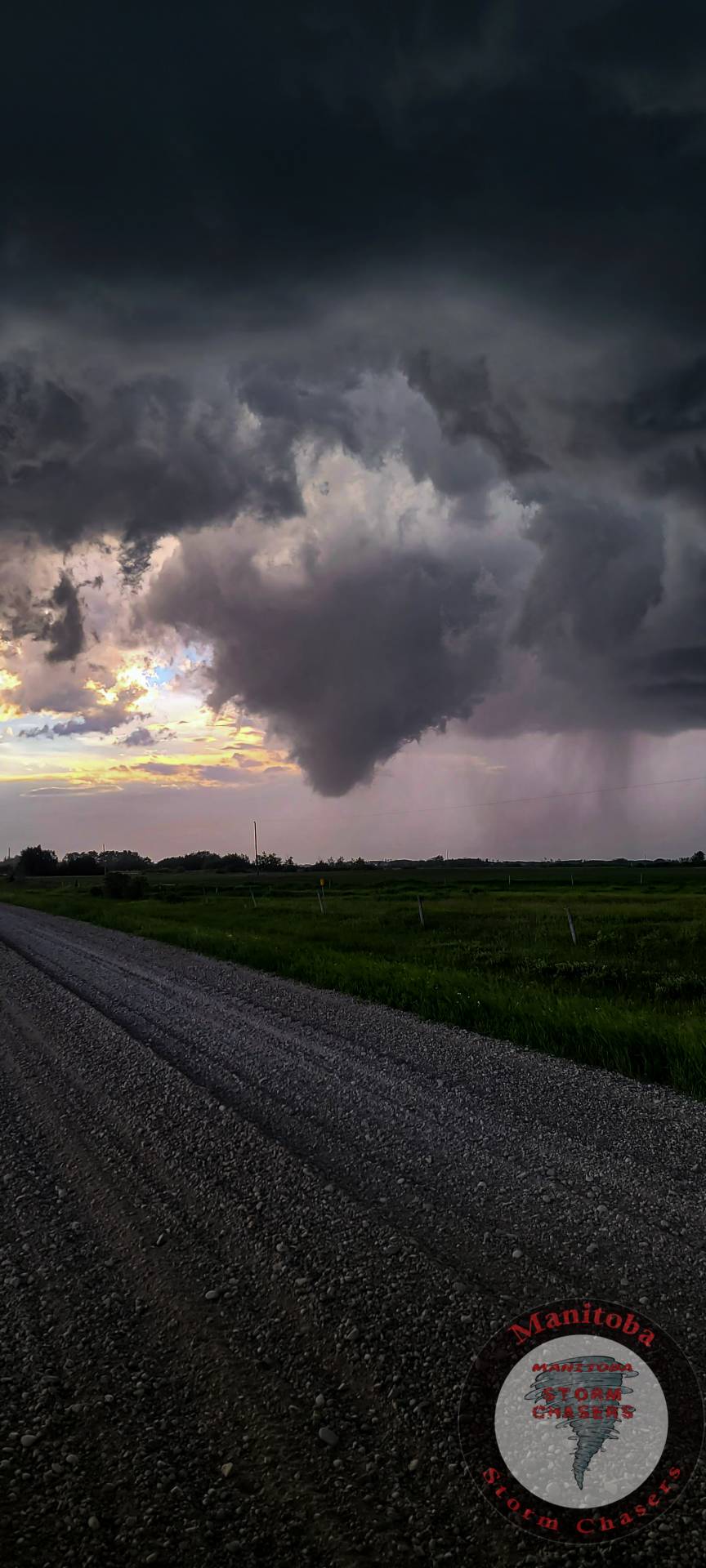 After this storm crossed the Manitoba border it really began ramping up, it quickly took shape into one of the greatest structures I have seen in years, as this MASSIVE mothership soared above the Canadian prairies, and while it didn't end up producing a tornado, It did end up causing extensive damage as it dropped a large swath of golf ball-baseball sized hail along Highway #16, affecting many areas. This storm remained Tornado warned for over 5 hours, from Zeneta, SK all the way to Gladstone, MB. One of the longest Continuous tornado warnings I have ever seen in Canada.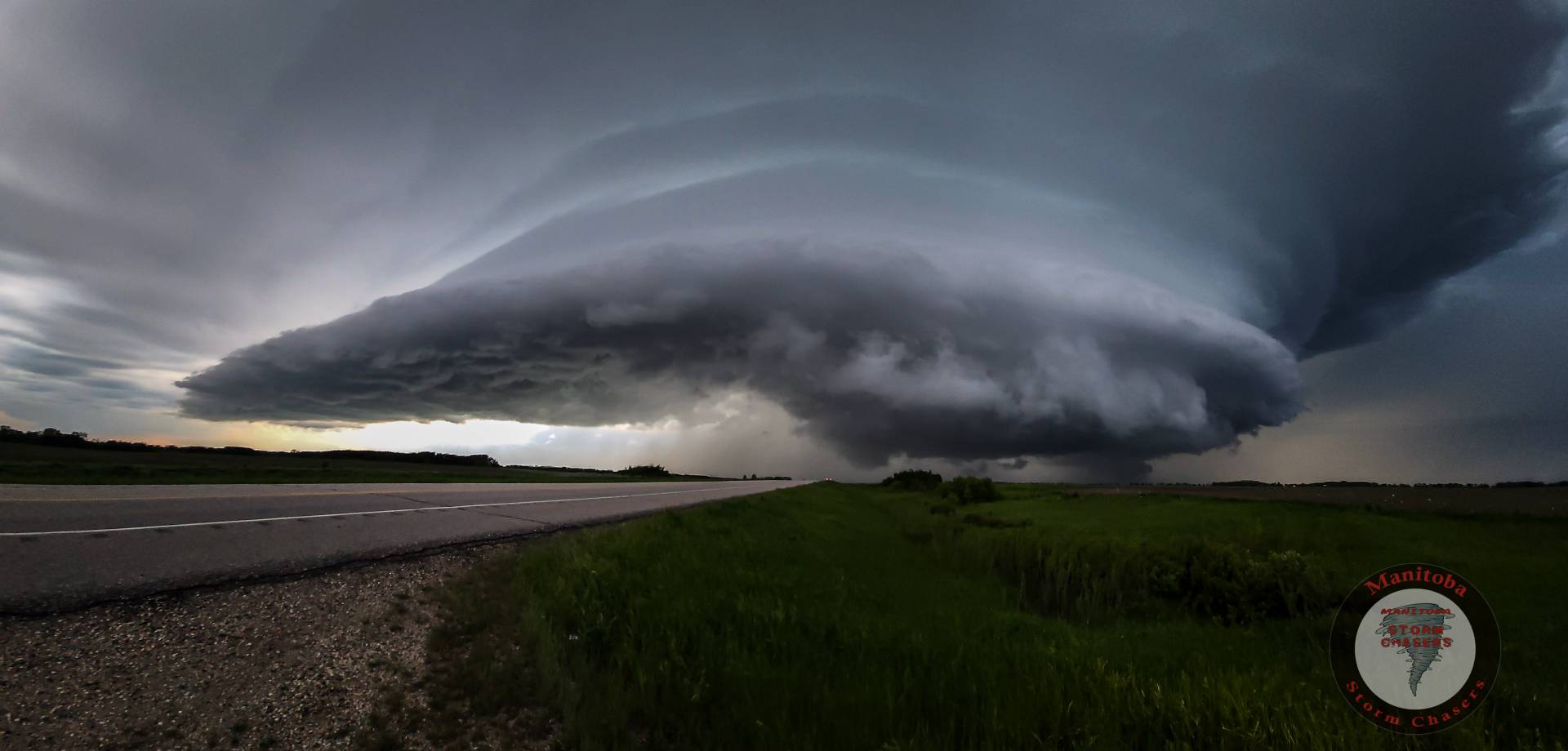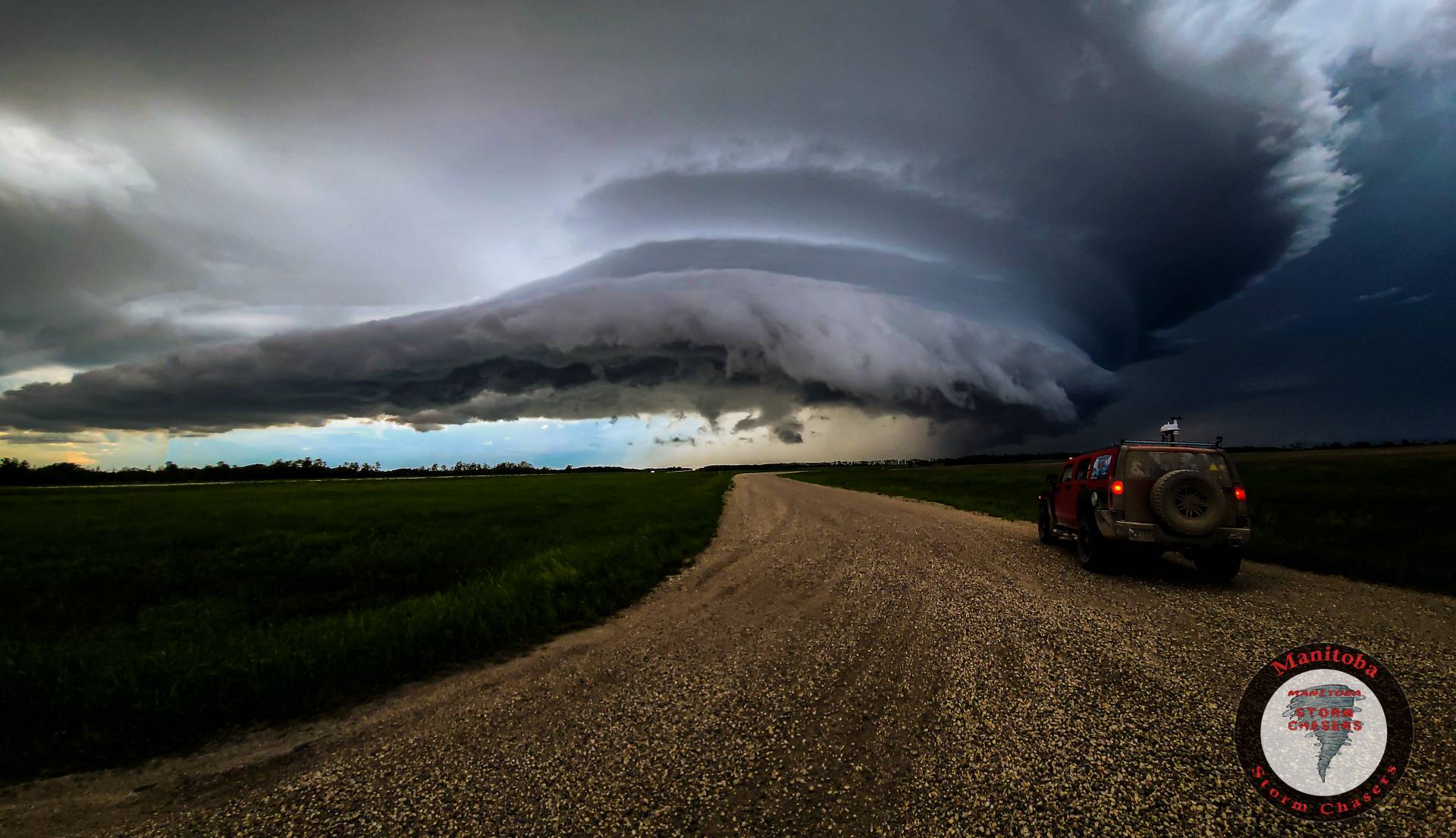 After stopping to take a few photos near Binscarth, MB I had to ditch the storm to drive all the way down to the #1 Highway for gas, as every gas station within reach on Highway 16 was now closed, So I blasted down towards Griswold, MB where there was a 24/7 Gas station, I made it there with about 12 miles worth of fuel remaining, Filled up H3LICITY, and then flew back up towards the storm, as it was still tornado warned and still going strong, It was after dark so I was keeping my distance, but enjoying the show as it put on an absolutely incredible lightning display, Each flash exposing the incredible structure that this storm was still producing, Radar was now indicating up to baseball-sized hail so I attempted to get in front of the hail core just east of Gladstone, MB so that I could verify the hail size, however, the road that I chose was surrounded by flooded fields from a storm that moved through the same area just a few days before, and as soon as the winds began to pick up the road started washing out as the waves from the field started blowing overtop of it, So I made the choice to head back down to the highway before my road disappeared. At this point I decided to call it a night as it was dark, The storm was moving over Lake Manitoba, and I was Practically already home. This chase will go down in the books as one of my top structure chases EVER.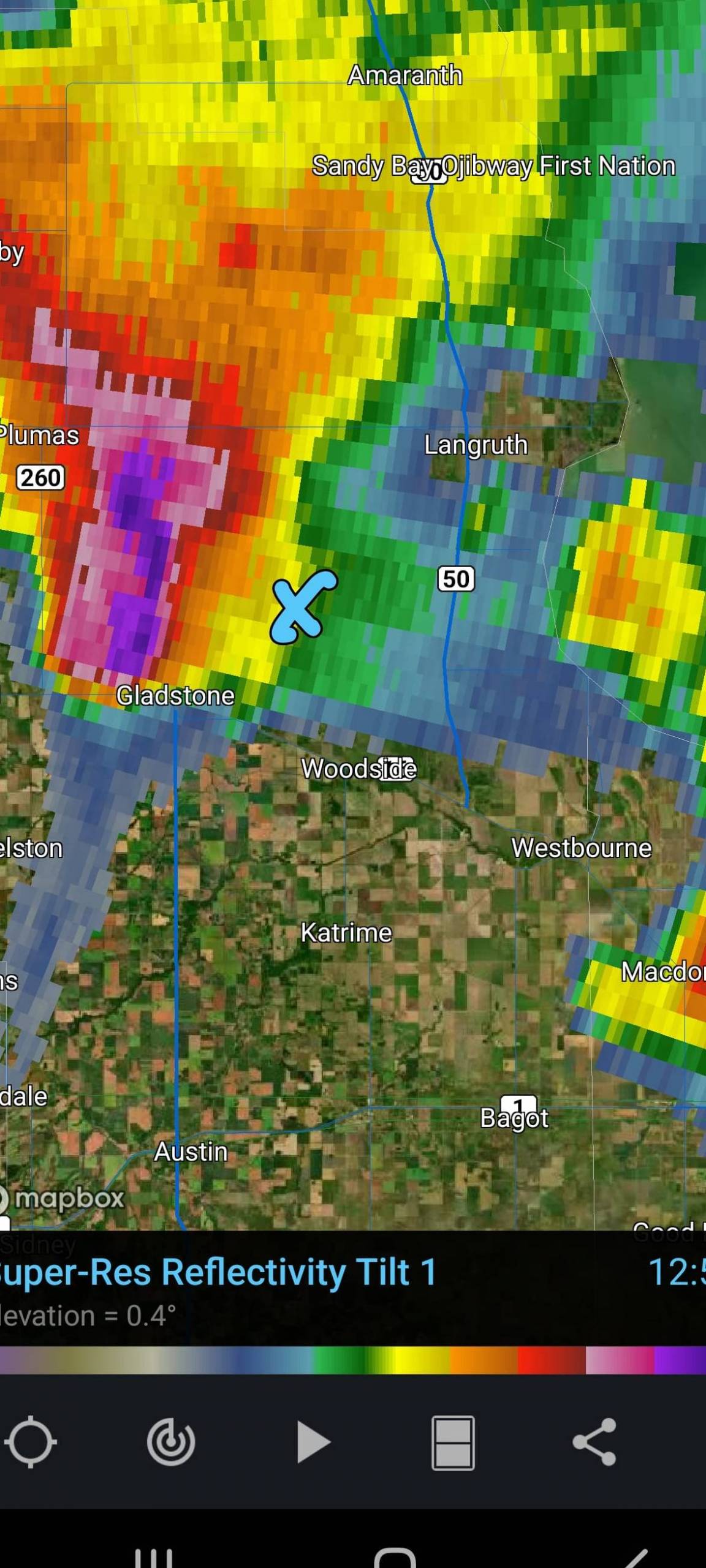 You can watch the replay of my live stream from the road washing out here: https://fb.watch/dVx1J3JAC9/
Watch my full Youtube Video from this chase below!