Published on
HP storm mode & the Palo Duro Canyon make for a challenging chase in the Texas Panhandle
This was my second chase day out with Alex Goldstein and John Homenuk, and there was tremendous potential for this to be a high-impact tornado event. SPC issued a moderate risk for the entire Panhandle and out target was the area east of Amarillo, near Groom. This was the area that we anticipated would have the best combination of shear, instability and wind profiles. By the early evening hours the 0-1km storm relative helicity was forecast to be greater than 200m2 s-2. In this environment, strong tornadoes would be possible.
Today is shaping up to be one of the more active severe wx days in recent years.

NWS Amarillo
We initially set out toward the town of Canyon on the south side of Amarillo, but popped west en route to intercept a tornado-warned storm near Dimmitt. We stayed with this storm for only a short time before deciding to continue south toward our target and a developing storm to the northeast of Lubbock.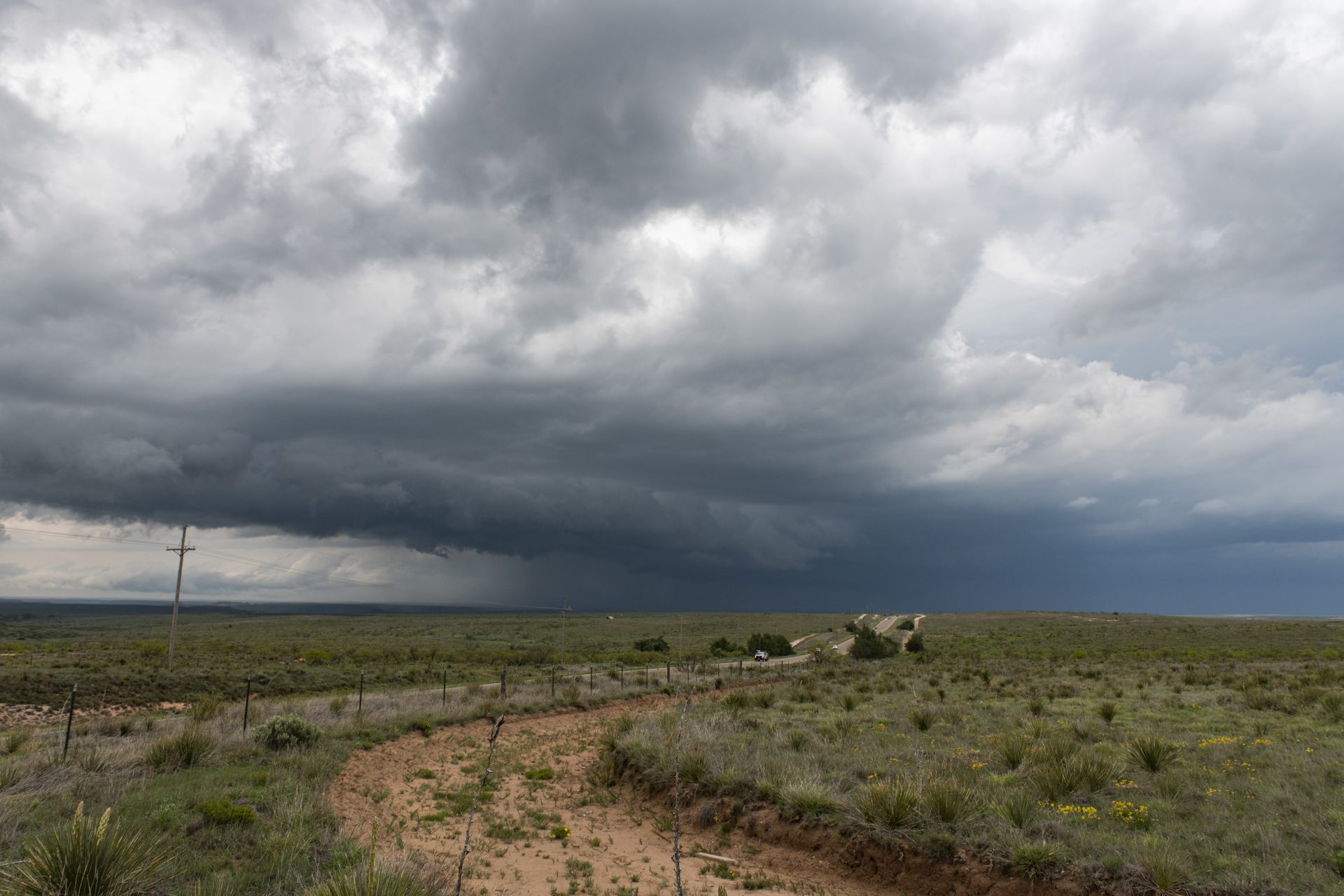 We raced south toward this isolated supercell that was moving northeast toward our target area from Plainview. This storm became tornado warned as we made our approach. We watched a distant tornado – the first of many it would produce – as we moved to get into position. We arrived at Kress just as the storm cycled. As it did it took an unexpected jog to the north, meaning we were out of position for the next tornado it produced to our north near Tulia.
A wall cloud with strong rotation near Kress

It moved just to our north on its way toward Tulia

Brief touchdowns were reported at this time

Even though we were out of position to see a tornado, the storm had beautiful storm structure as we watched from east of Tulia

The storm produced several tornadoes at around this time but we would have needed to be positioned in the notch in order to get a view

A large multi-vortex tornado is ongoing at this time, buried deep in the rain at the right side of the core
Thing Get Hairy: Violent Rotation & Roads into Canyons
We chased the storm to the northeast, however conditions made things extremely challenging. The storm was HP and the multiple tornadoes that it produced were heavily-wrapped in rain. In addition, the storm was moving right for the Palo Duro Canyon.
Due to concerns over chaser traffic, flash flooding and the strong rain-wrapped circulation, we decided to abandon the storm to the south and east. As we made our exit, literally dozens of chase vehicles shot past us in the opposite direction, heading north into the storm! We later heard of a dangerous traffic jam in a risky environment, and we felt our decision to evacuate was validated. We positioned ahead of the supercell at Clarendon but the storm still was not making for decent chasing, viewing or photography. In addition, the road options ahead of the storm remained limited. So, we called off the chase after a good but long and hard day!