Published on
I don't think I have ever had a chase day that was so frustrating, challenging and then ultimately rewarding, as May 23. The day before we had busted hugely; we'd targeted the Clarendon area, missed a tornado near Howardwick by a matter of miles (because of my poor positioning!), all the while chasers who picked a northern target were rewarded with a long-lived and photogenic tornado up near Spearman. Following such a disheartening day, I needed success!
We started the day in Shamrock and I had two targets; one was up near Woodward, the other was southeast of Lubbock. We bided our time on the Caprock as I tried to decide whether to blast north or head south. As the day wore on, a dryline bulge was becoming apparent and it was looking like some pretty mean backed winds would overspread excellent instability just southeast of the Amarillo area. I finally decided to blow off the Oklahoma target in favour of the Panhandle. We positioned near Wellington and watched as updrafts rose and fell, trying but not managing to survive.
Finally, these updrafts fell for a final time and fizzled completely, while a messy cluster of cells began to go up to our south. To add to the frustration, reports were beginning to come in of a tornado on the ground near Woodward! Dejected but unwilling to give up, I decided to hedge our bets and race way south and then west. My plan was to loop around the cluster in the hopes that a Tail End Charlie storm would become dominant.
The radar presentation looked absolutely terrible while we were driving to reposition, but just as we turned north out of the town of Matador, my hopes were realized; within a matter of a few scans, the southern cells congealed and exploded into a classic and powerful supercell. We got a visual as it was maturing, and as we approached, another cell merged into it from the south. As the sun set, we watched as the northern storm absorbed the southern, and then became an absolute, tornadic beast.
We were sitting south of Turkey with the storm passing to our east, scanning its base as the lightning flickered. Then, backlit by a flash, Mackay spotted a it; three miles to our east, illuminated by lightning, was the perfect silhouette of a stovepipe tornado. It remained on the ground for a few minutes before dissipating, soon to be replaced by a second, larger tornado further to our north and east.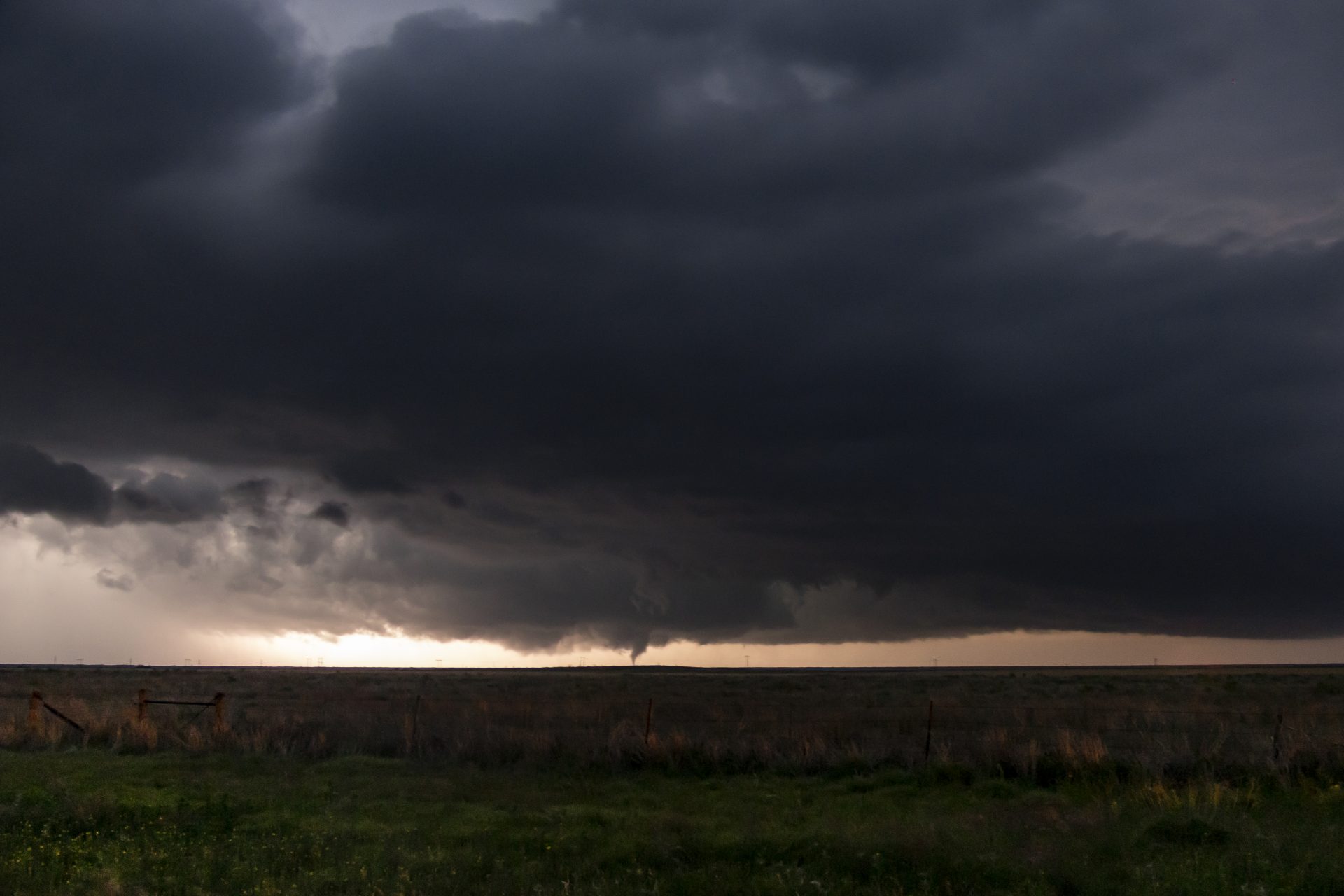 We watched an unbelievable lightning display with intermittent, backlit tornadoes for close to two hours before we finally decided to call it a night. Although our main show for the day happened after dark, it more than made up for the previous day's bust, and for the long and hard day we had chasing these storms. The energy and electricity of our storm, and the eeriness of silhouetted tornadoes in the darkness made this a chase a totally unique experience for Anne, Mackay, Scott and Mike, and a day that none of us will forget.