Published on
This chase day was long, challenging and exhausting, at times frustrating and at times rewarding! There appeared to be a risk for tornadoes all the way from West Texas, up through northeast New Mexico and into Colorado, but as the morning evolved, more and more I liked the southern target. I expected storms to fire earlier to the north, so my plan was to chase whatever we encountered as we made our way south.
We drove south into New Mexico as clusters of supercells began to develop and I set my first target of the day: Las Vegas, New Mexico. As we reached the town storms were maturing to the south, so we blasted down to Santa Rosa where we caught our first storm of the day, just as it went tornado warned. We position and watched as stunning storm structure came into view, a clear slot developed and a rapidly-rotating wall cloud spun by just west of town.
Unfortunately the storm didn't produce a tornado, despite coming very very close. At this point I evaluated the cluster of storms racing northward to our west, and the potential for more isolated development to our south and east, and opted for the latter. My decision was reinforced by the fact that the New Mexico storms were clustered together and messy, with complex storm interactions and not the best visibility. So we made our way toward my second target of the day: Clovis, New Mexico.
We arrived at Clovis not long after a storm exploded southwest of town, so we positioned and let it come into view. As it did, a tornado warning was issued and for the second time of the day, we watched as a rapidly rotating wall cloud developed. Again, though it exhibited impressive structure and motion, it too was unable to produce a tornado.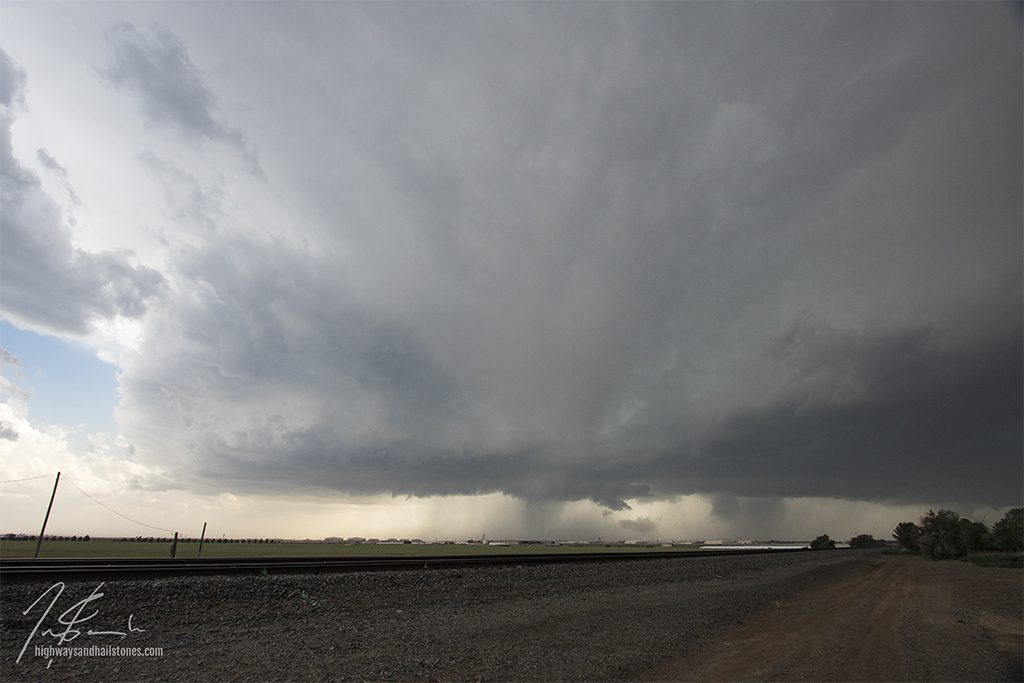 Northeast of town the storm became disorganized and waned in intensity, so I briefly paused to debate our options; we could stay with this storm and hope for it to cycle, or we could blast southeast to my original target from that morning, Plains, Texas. I decided to stay with the storm and so we kept pace with it as it moved to the northeast. For the third and final time of the day, our storm became tornado warned as it neared the town of Hereford, Texas. As the sun finally set, we were treated to awesome structure and an active lightning display but, again, no tornado.
Several brief tornadoes did touch down during the day, but not from the storms we ended up on; three tornado-warned supercells and not a tornado to show for it! It's just part of chasing. In retrospect, I don't think there's too much I would have done differently. We made it to Amarillo for the night, pooped.