STORM DAMAGE FLYOVER FOLLOWING POSSIBLE DOWNBURST OR TORNADO EAST OF BLACKSTOCK, ONTARIO, JULY 2, 2018
During the early afternoon on July 2, a line of severe thunderstorms formed over Durham and Victoria counties. The southernmost cell produced significant damage at a farm near Blackstock. The next day we captured areal images of the impacted area and these were passed along to Environment Canada and researches with the Northern Tornadoes Project, as well as damage waypoints.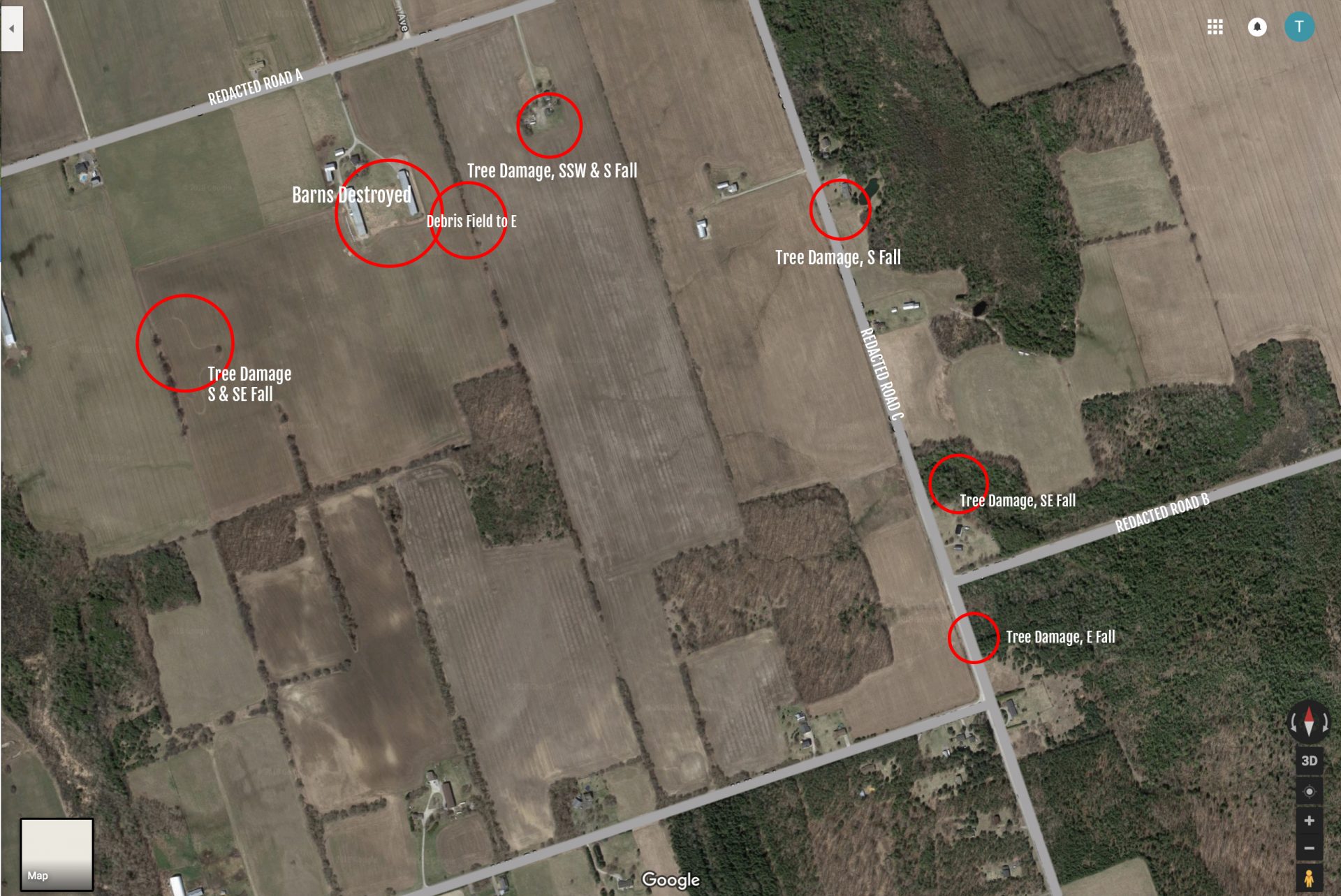 First sign of damage was to a tree grove in a field south of Redacted Rd A: a few trees / limbs snapped and fallen to the S or SE
~450m to the ENE of there, two barns totally demolished (no apparent damage to trees, house or outbuildings less than 10m to their N)
field of building debris spread ~300m to the E
~300m to the ENE of the barn sites, damage at neighbouring property; a few trees / limbs snapped and fallen to the SSW or S
~ 550m to the ESE of there, a tree snapped to the S
~650m to the S of there, a few additional trees snapped with fall to the SE on the north side of Redacted Rd B, and to the E on the south side of Redacted Rd B
Researchers with the Northern Tornadoes Project assessed this damage to determine the cause. They determined that it was most likely occurred as the result of straight-line winds during the development of a bow echo, or perhaps during a downburst. However, since no conclusive evidence could be found, it is also classified as a possible tornado.