This damaging F3 tornado formed just north of 16th Line in Wellington County, about 5 km east of the community of Riverbank and 8 km southwest of the town of Arthur. Its initial touchdown occurred at 6:10 pm, not long after another F3 tornado ripped through the east side of Williamsford up in Grey County. Initially it appeared as a lofted funnel with a plume of debris swirling below, but quickly condensed to the ground and became a large cone tornado as it began its trek to the northeast.
Approaching the west side of Arthur, the tornado grew into a massive stovepipe and was at it's largest, close to 500m wide. It was a terrifying sight, filled with debris, and it slammed into homes and farms as it crossed Highway 109 and Highway 6. As it ripped through the west side of town, it swept away barns and left homes with only a few interior walls standing; fields were littered far and wide with the debris of destroyed buildings. At one home that was demolished, a woman received a call from her boyfriend to warn her of the tornado; she made it downstairs seconds before the entire second story of the house was torn away.
Near County Road 14 and the 2nd Line on the north side of Arthur, the tornado's path crossed that of the May 31 1985 F4 tornado that devastated Grand Valley and Tottenham. There, it destroyed a home and farm that had also been hit by the previous tornado.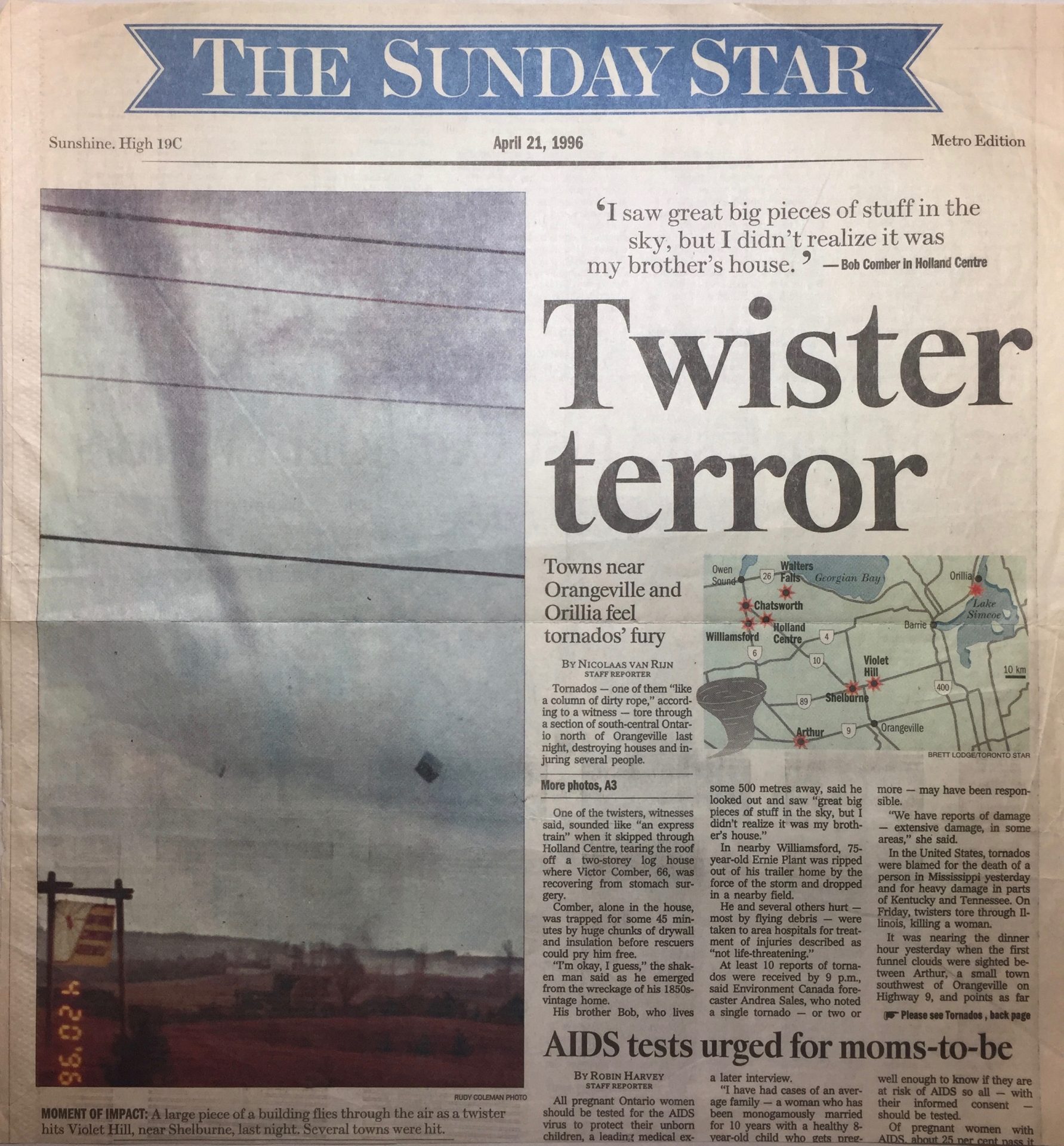 Passing between the communities of Damascus and Mount View, the tornado sliced through the Luther Marsh, taking down tracts of forest and devastating rural homes and farms along the way. It crossed Highway 25 north of Grand Valley, entering Dufferin County and a more sparsely populated area. It skirted the communities of Campania, Blacks Corners and Crombies, but then approached a more populated area near Shelburne. South of town, a number of houses received F2 and F3 damage and were damaged or destroyed; in town, large pieces of debris rained down from the sky and littered streets and properties.
The tornado began to rope out as it approached Violet Hill, and it entered the village as a slender but damaging tube. It struck a subdivision of large and newly built homes; damage here was at F1 and F2 intensity with about two dozen houses shattered and unroofed. Just northeast of the community the tornado finally lifted. It was 7:05 pm; the tornado had been on the ground for just shy of an hour and travelled 63 km.
This was one of three tornadoes to touch down in Southern Ontario on April 20; the first was a damaging F3 at Williamsford, the last was an F0 near Orillia.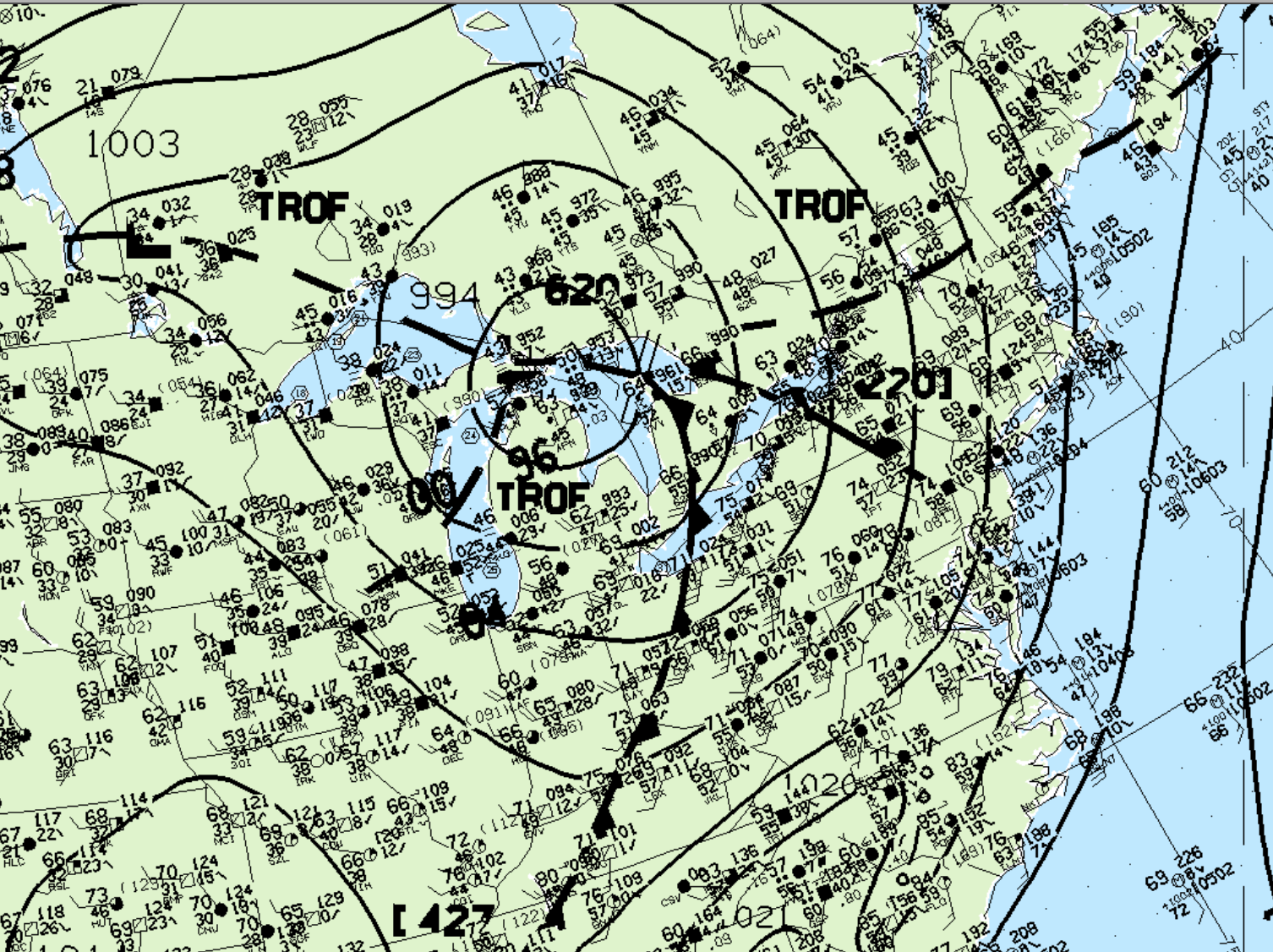 According to Environment and Climate Change Canada (2018), an F3 tornado touched down at 6:10 pm EDT near Arthur, ON. The tornado travelled for 63 km and had a maximum width of 500 metres. The tornado caused no fatalities, but injured three and caused $6.5 million dollars in property damage.
---
Source
NWS Weather Prediction Center Surface Analysis Archive. (2017). Surface analysis 00Z Fri Jul 14 1995. Retrieved from: https://www.wpc.ncep.noaa.gov/archives/web_pages/sfc/sfc_archive.php

Environment and Climate Change Canada Data. (2018). Canadian National Tornado Database: Verified Events (1980-2009) – Public. Retrieved from: http://donnees.ec.gc.ca/data/weather/products/canadian-national-tornado-database-verified-events-1980-2009-public/