This event at Halfway Lake Provincial Park, north of Sudbury, was originally determined to be a downburst. Radar analysis, witness descriptions of the storm and an initial survey of the damage led Environment Canada to classify this as a straight-line wind event, however subsequent analysis led to its reclassification as a probable tornado.
The damage path at Halfway Lake Provincial Park was compared to those of other tornadoes that struck Northern Ontario in years that would follow, and the similarities between blowdown patterns and damage was determined to be undeniable. In addition, that analysis suggests that the tornado likely had a similar intensity to the Pine Lake Alberta F3 tornado of July 14, 2000. However, because the trees at Halfway Lake bore the brunt of the winds, trailers were not thrown or inflicted devastating and deadly structural damage, as was the case at Pine Lake.
The damage path was 4 kilometres long and 200 metres wide, and the park was devastated. Entire tracts of forest were leveled with almost every tree snapped or uprooted, damaging trailers and vehicles and injuring four people.
This was one of two tornadoes to touch down on July 28, 2002. The other was a classic cone tornado that cottagers caught on camera, an F0 twister that struck Kasshbog Lake.
Figure 1 depicts the surface observations at 11:00 am EDT, which shows a stationary front near Sault Ste. Marie. This front became the focus for intense thunderstorms in the early morning hours of July 28th, which ultimately led to this F2 tornado.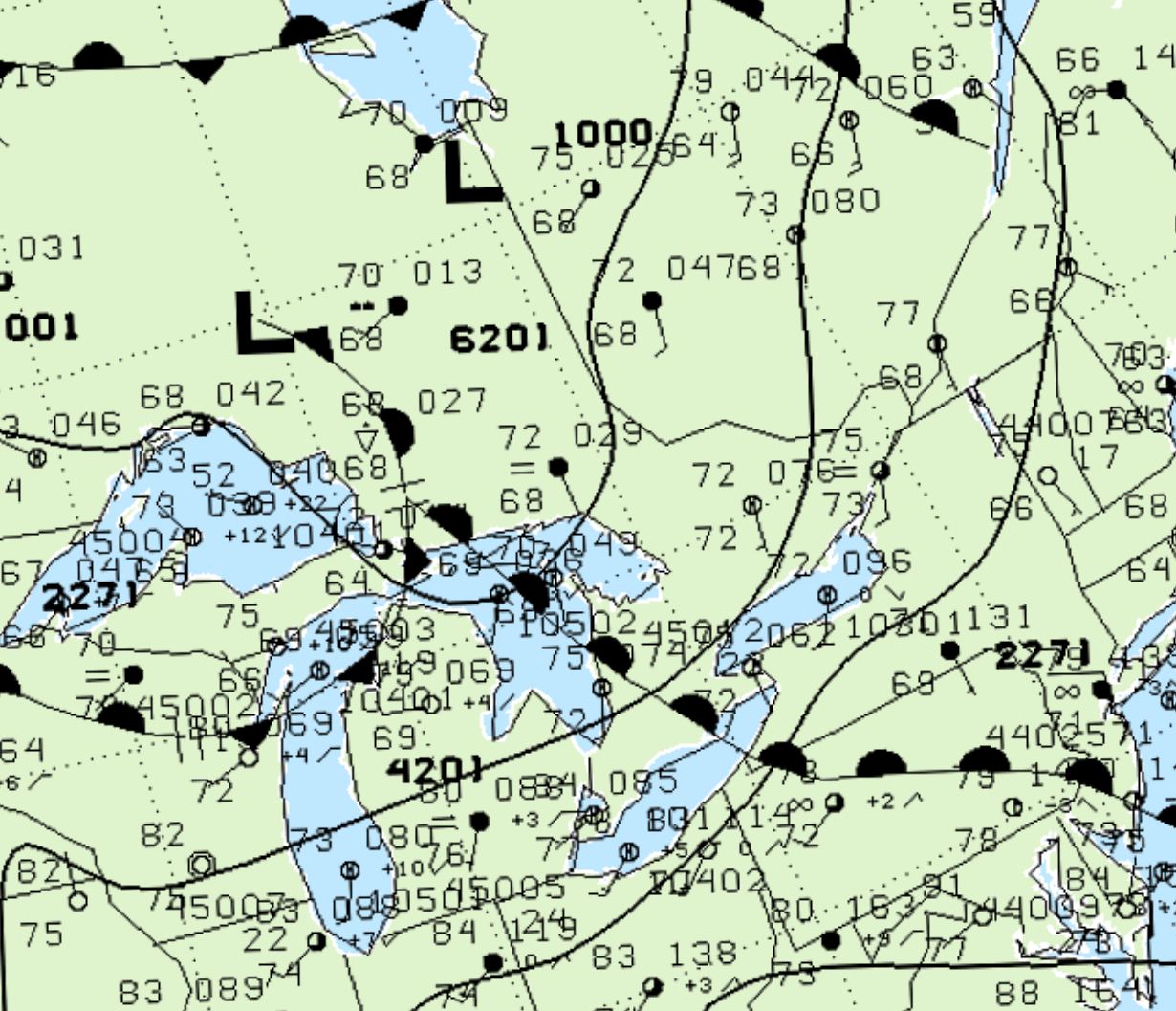 According to Environment and Climate Change Canada (2018), an F2 tornado touched down at 10:00 am EDT near Halfway Lake Provincial Park in Ontario. The tornado travelled for 5.4 km with a maximum width of 1.12 km. The tornado caused no fatalities or property damage, but injured six people.
---
Sources
NWS Weather Prediction Center Surface Analysis Archive. (2017). Surface analysis 15Z Sun Jul 28 2002. Retrieved from: https://www.wpc.ncep.noaa.gov/archives/web_pages/sfc/sfc_archive.php

Environment and Climate Change Canada Data. (2018). Canadian National Tornado Database: Verified Events (1980-2009) – Public. Retrieved from: http://donnees.ec.gc.ca/data/weather/products/canadian-national-tornado-database-verified-events-1980-2009-public/