This, the first of two damaging, rain-wrapped, kilometre-wide tornadoes that ravaged Wellington County, initially touched down in Perth County, near the tiny hamlet of Peffers, north of Milverton, at around 12:40 pm. It traveled for 17.6 kilometres, passing just north of Dorking and then onward to Conestoga Lake.
As it tracked through the Dorking area, trees were twisted and snapped, and farm properties suffered extensive damage. Several barns were damaged, one of which was totally demolished and swept clean from its foundation. A number of houses had their roofs ripped up and windows shattered. According to Environment Canada's survey of this tornado, one house had its entire roof ripped off.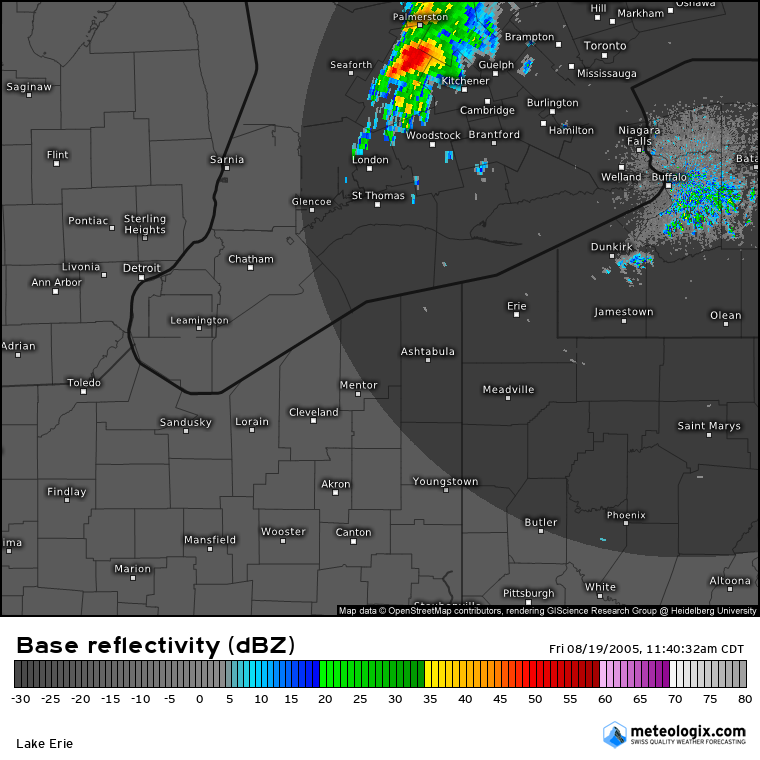 Though damage in these rural areas was extensive, the tornado saved its most significant impact for Conestoga Lake. There, through the Grand River Conservation Area, whole swaths of forest were decimated by the tornado. Trees were uprooted, snapped and shorn off at the tops, one of which had a ballpoint pen deeply embedded in its trunk.
On the shores of Conestoga Lake several cottages were hit, many of them suffering varying degrees of structural damage and others smashed by falling trees. One well-built cottage was totally blown apart, its debris scattered and nothing more than a wall or two left standing. That cottage, owned by Mary Thompson, was empty when the tornado struck.
When the tornado crossed the lake, it passed just north of the Conestoga Lake Girl Guides Camp and just south of the Conestoga Bible Camp, narrowly skirting the two and leaving camps – occupied at the time – relatively unscathed.
This was one of three tornadoes to touch down in Southern Ontario on August 19, 2005. The others:
Figure 2 depicts the surface observations at 11:00 am EDT, which shows a strong low pressure system over Lake Huron with a warm front extending into southern Ontario and a cold front extending into Michigan. The environment at 11:00 am was already primed for severe thunderstorms in the warm sector (southern Ontario) with 68/66 F dew point spread near Kitchener, which is favourable for tornadoes.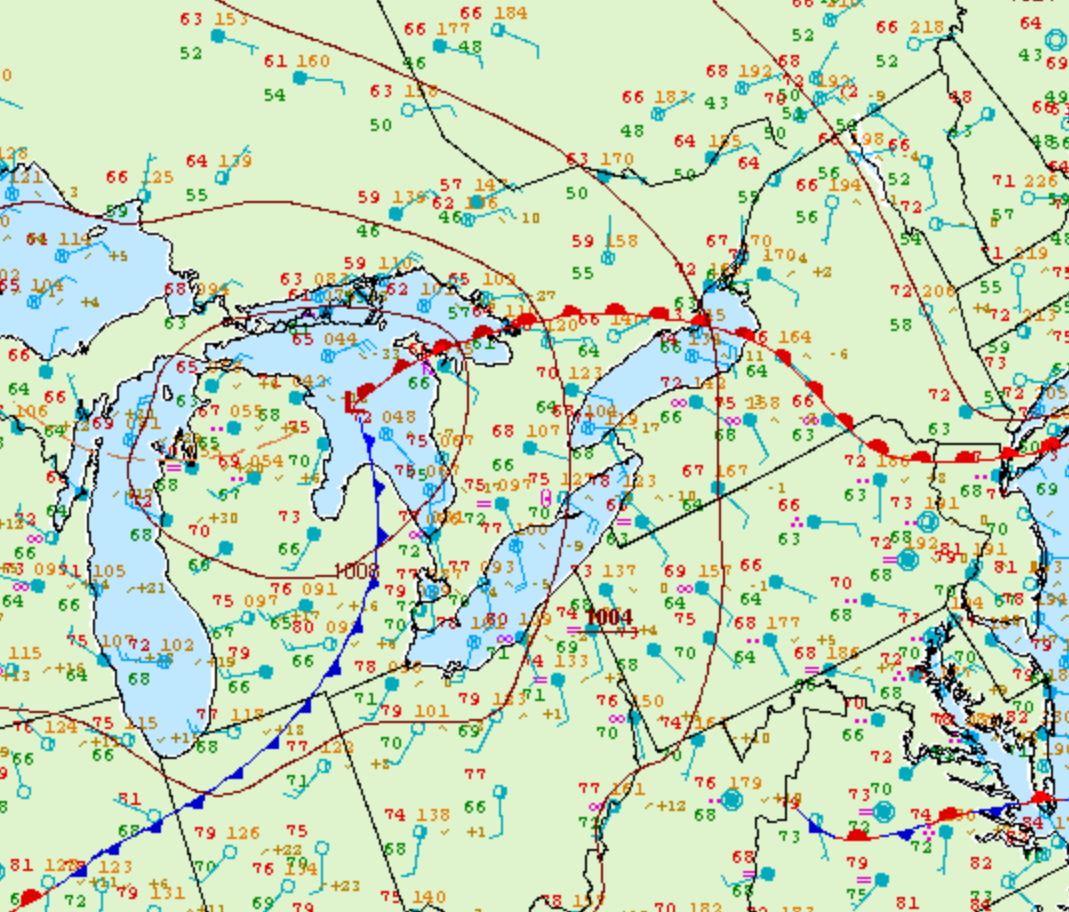 According to Environment and Climate Change Canada (2018), an F2 tornado touched down at 12:40 pm near Milverton, ON. The tornado travelled for 17.1 km with a maximum width of 300 metres. The tornado caused no fatalities or property damage, but injured three people.
---
Sources
NWS Weather Prediction Center Surface Analysis Archive. (2017). Surface analysis 15Z Fri Aug 19 2005. Retrieved from: https://www.wpc.ncep.noaa.gov/archives/web_pages/sfc/sfc_archive.php

Environment and Climate Change Canada Data. (2018). Canadian National Tornado Database: Verified Events (1980-2009) – Public. Retrieved from: http://donnees.ec.gc.ca/data/weather/products/canadian-national-tornado-database-verified-events-1980-2009-public/